Japan's Kagura ski resort boasts light, dry powder
by
Seth Robson
January 10, 2018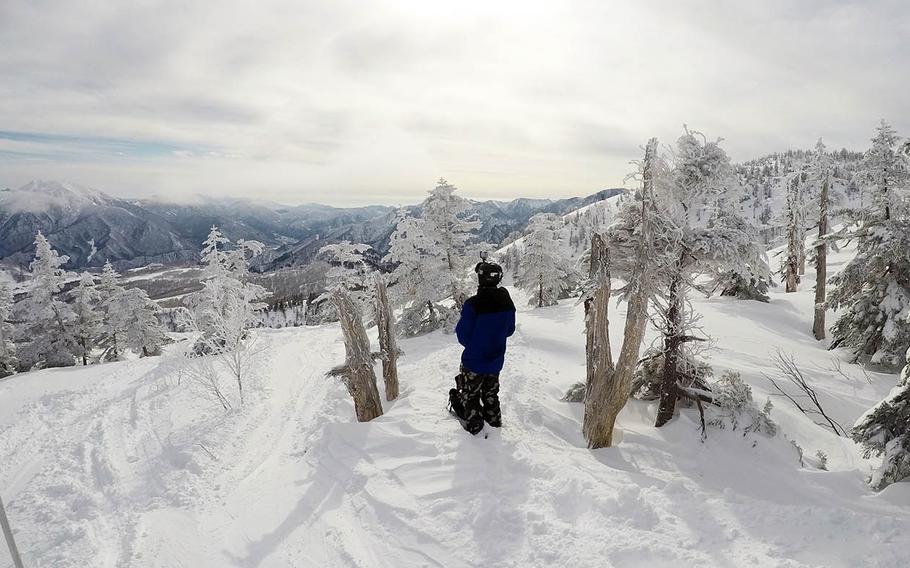 It takes a while to reach the highest point of Kagura, a sprawling ski resort in mountainous Niigata Prefecture, but it's worth the journey to ride some of the lightest, deepest snow in Japan.
There are several ways to get to Kagura, but the easiest is via the Mitsumata Ropeway. You can follow expressways to its parking area in as little as two hours — three with traffic — from western Tokyo. Make sure you have snow tires or chains, because the roads are often icy near the expressway exit at Yuzawa.
There's a small shop, changing rooms, food vendors and gear rental near the parking area, but it's not easily accessible from the slopes.
Beginner skiers might want to base themselves at the Snowman Cafe at the top of the ropeway. A two-seater chairlift near the cafe has some easy, groomed runs beneath it that are a perfect spot to practice.
It doesn't take a lot of skill to head higher, via a long gondola, and check out the rest of the resort. If you're into exploring, you can follow a relatively easy route around Tashiro Lake and even as far as the nearby Naeba ski resort via the Dragondola lift, which requires a slightly more expensive pass.
There are close to a dozen restaurants scattered around the area if you get hungry along the way.
A covered quad chairlift at the top of the gondola is the spot for intermediate skiers and boarders to hone their skills. However, the prime terrain is reached by traversing from the top of the quad to another two-seater chairlift. Up there, at 6000 feet, there's no groomed snow, just a couple of vast bowls that include open hillsides and tree runs.
The top lift is open from 9 a.m. to noon at this time of year, so it pays to leave the parking area by 8 a.m. to get a full three hours at the top.
Ski tourers can hike through a gate that leads into the backcountry. However, avalanches are a risk, so it pays to hire a guide and carry safety equipment.
Barreling under the top lift is an opportunity to show off to people riding up, but watch your head because you might clip their skis if there's enough snow.
Once that route gets tracked out you can traverse through the woods on your left to reach a massive open slope that takes you back down to the lift.
Perhaps the best run from the top is on the right where there's a massive powder bowl. It's important to turn and head through a patch of trees before the last ridge, which leads into a tight creek bed. If you get stuck, plan A should be to climb back the way you came. It's possible to follow the creek bed back to another lift, but it's tough going in chest-deep snow.
Kagura's altitude makes for lighter, drier powder than most other places on mainland Japan, and if you're looking for a day-trip from Tokyo, this should be your go-to area.
Kagura ski resort, Japan DIRECTIONS
From Tokyo, take the Kanetsu expressway and exit at the Yuzawa interchange. Turn left and follow the road up the hill for about 5 miles until you come to the parking area on the right. Parking is free on weekdays and about 500 yen (or about $4.40) on weekends.
TIMES
8 a.m. to 5 p.m. weekdays; 7:30 a.m. to 5 p.m. weekends
COSTS
A day pass costs 4,700 yen (or about $41.50). Senior citizens and high school and junior high students get a discount. Lifts are free for ages 12 and younger.
FOOD
The Snowman Cafe serves steak and has large windows with a view of the nearby slope. Wada Goya, at the top of the gondola, serves rice and noodle dishes. A meal runs at about 1,000 yen (or about $8.85).
INFORMATION
Website: www.princehotels.com/en/ski/kagura/index.html