It's time for wine
by
John Taylor
April 8, 2010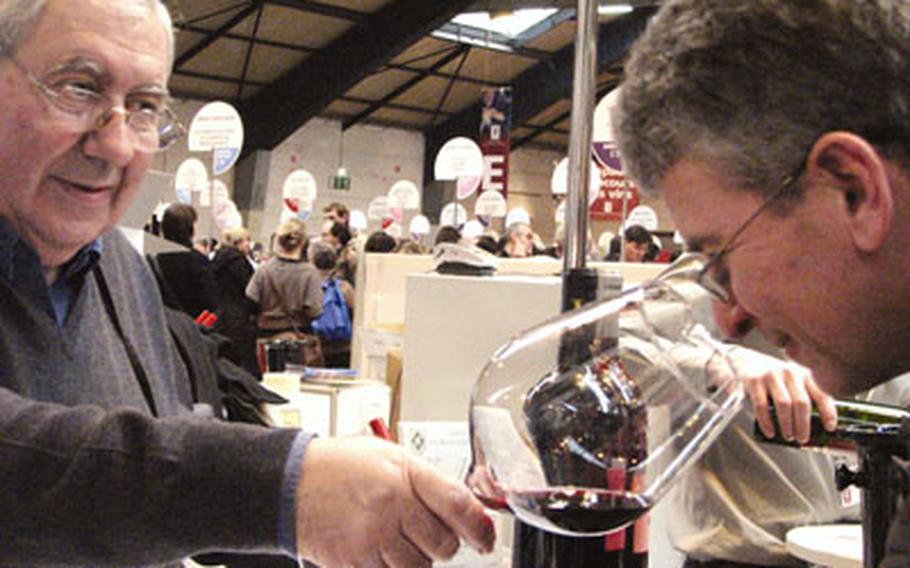 Related stories:
Complete list of wine festivals and eventsFine vintages from VullyExcellence of Côtes du Rhône grapes rivals wines of France's better known Burgundy, BordeauxFrench salons introduce new wines to potential customersGerman's seminar describes how to recognize a good wineSpring is in the air, and that means wine festivals can't be far behind.
Before you head out to take part in this fine European tradition, the Travel section's annual wine issue would like to help you learn a little more about the wine you might be drinking.
We begin with a wine seminar in Wiesbaden, Germany. There, a wine expert explains the relationship between a wine's aroma and its taste, and how being more aware of one increases appreciation of the other. The class ends with everyone sampling 12 wines — as good a way as any to cap off the day.
Next is a trip to a wine fair in Strasbourg, France. This is a matchmaker's heaven: Winemakers and shoppers get together in an effort to find the perfect wine for the consumer to take home, perhaps to even form a long-term relationship. It comes with a glossary of French wine terms to help you make the most of the experience.
Then it's off to southern France and the area around the Rhône river. It is the home of the country's second-largest wine region and Côtes du Rhône wines, which, if one winemaking cooperative has its way, will become as prestigious as the products of Burgundy and Bourdeaux. A taste test indicates they could be on their way.
Going from big to small, the final stop is in Vully, Switzerland. This is the smallest Swiss wine-growing region and most of its wines are consumed locally. But that doesn't mean that if you are in the area sightseeing or hiking you shouldn't stop in at one of its wineries to try its white wines.
And you certainly shouldn't hesitate to join in the fun at one of Europe's wine festivals. Although no one does wine fests like the Germans, the list in this week's section has festivals from 13 countries. The first are this month, but they continue through the fall.
Next week, there will be more on wine. Want something from Italy? The Enoteca of Cormons, about an hour's drive from Aviano Air Base, Italy, brings together the products of 33 local winemakers for tastings and for sale. How about something different from Austria? Learn about Blaufränkisch red wines and how they can round out the perfect meal.
When you're done reading, pick up the list of festivals, find one near you and make plans to go. An evening under the stars spent sipping wine, laughing with friends and meeting your neighbors is one European tradition you won't want to miss.