In Seoul's Itaewon district, Lobster Bar fills up quickly
by
Erik Slavin
March 24, 2015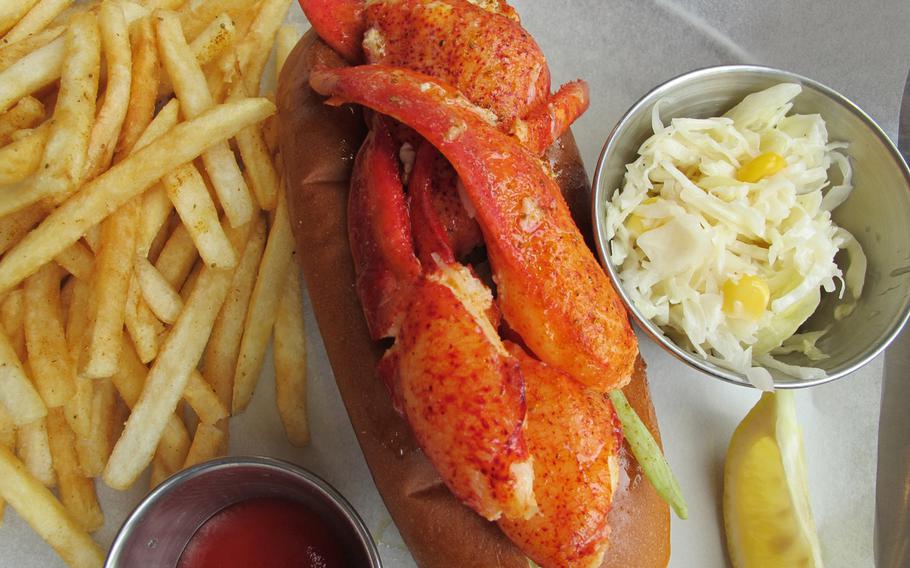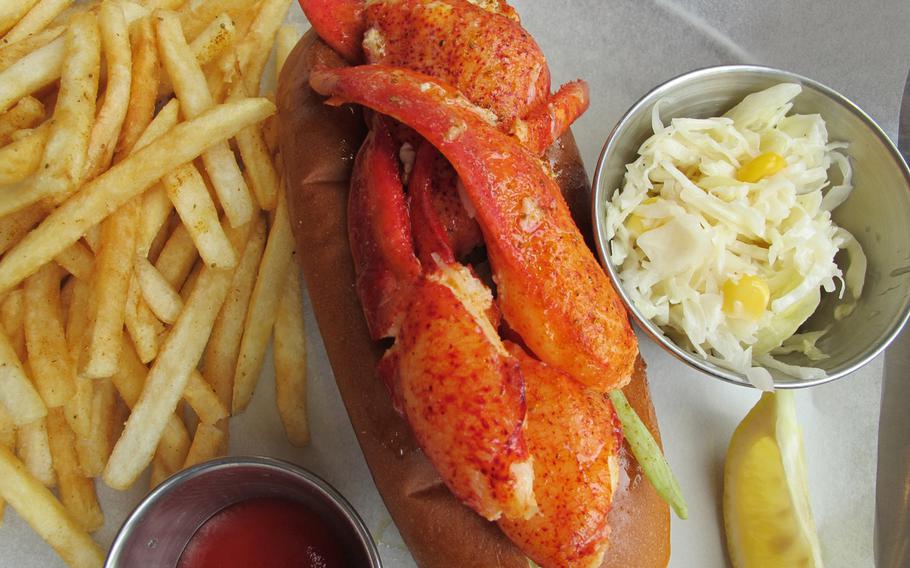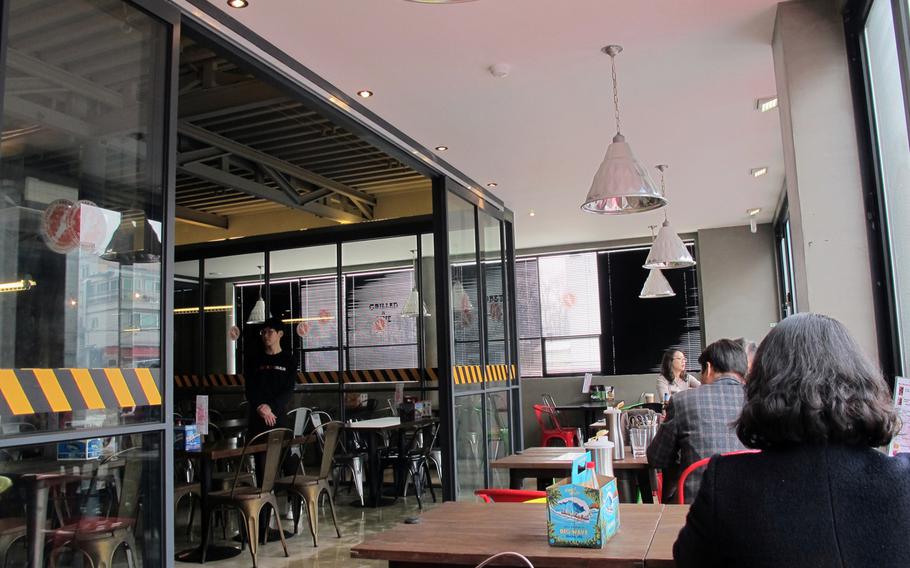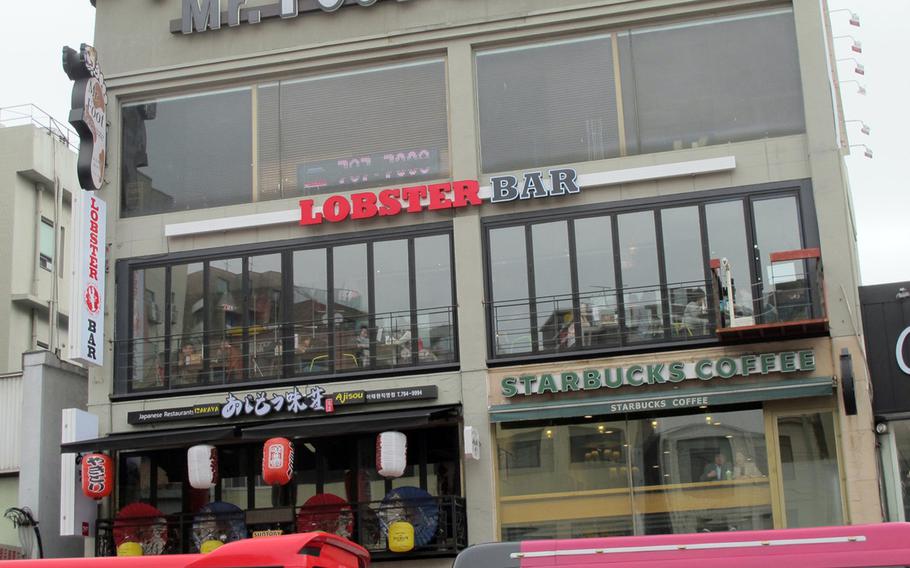 Seoul's Itaewon neighborhood remains recognizable to visitors from 10 years ago, but only barely so.
Mainstays like the Seoul Pub and the Hamilton Hotel remain. The grit and late-night raucousness do, too, but they seem a little more pushed to the periphery, overshadowed by the gleaming new eateries and a broader base of clientele than years past.
Perhaps nothing embodies the new Itaewon quite as much as the idea that a casual lobster restaurant can not only exist but also prosper on a weekday.
On a recent visit, Lobster Bar opened at noon, and by 12:15, nearly half of its ample seating was taken. The crowd was a mix of office workers on break and hipsterish Koreans armed with single-lens reflex cameras, taking the perfect pictures of their food. No doubt their social media followers were impressed.
Looking around the restaurant and judging by online reviews, the lobster grilled cheese is a favorite. The sandwich combines American and gouda cheese with arugula on flat sandwich bread.
Personally, when I order lobster, I don't want to taste much else other than lobster. Mayonnaise in the right proportion can work well for a New England-style lobster roll; inartfully applied, it becomes a pricey version of a school lunch.
Lobster Bar doesn't overdress its more traditional sandwiches, thankfully. The Maine roll has its mayonnaise, but isn't drowning in it. On my choice, the Connecticut roll, the lobster topped the sandwich and came accented with only lemon, butter and chives. Inside the grilled bun, there were some iceberg lettuce shreds and a thin line of mayonnaise.
The lobster meat came entirely from claws, so a portion of what comes out is going to be the reddish bit deep inside the claw. It's perfectly fine to eat, but some don't like it as much as the whiter flesh from the claw or the tail.
The three claws topping the sandwich varied in quality. The first was overcooked. It was good enough to bury in the grilled bread and dress with mayonnaise, but for that, I'd rather spend the money on a different sandwich.
The second was cooked better, at which point the lobster flavor began to show. The third claw was spot on and was best eaten without the rest of the sandwich.
The sandwich portion is reasonable, but not enough in itself to fill up most people. For that, Lobster Bar is betting you like french fries. There are plenty of thin fries tossed with seasoned salt, though they come with a curiously tiny cup of ketchup.
The accompanying cole slaw is a step above the usual supermarket stuff, with a good balance of mayonnaise, vinegar and spice.
For the non-working crowd (or for those with extremely lenient work rules), Lobster Bar offers a full drink menu, with cocktails and a range of craft and imported beers that have recently become standard in Itaewon.
For a splurge, the restaurant offers a roughly two-pound (one kilogram) grilled lobster for about 55,000 won ($48). The lobsters vary from naked to Singaporean-chili style.
Now that prices have skyrocketed at the Dragon Hill Lodge for once-affordable lobsters, this is now the best price you'll find in the neighborhood.
Lobster Bar's website boasts of bringing lobster to the masses, and it does, if you're separating the upper-middle class from the rich. Is it worth 21,000 won ($18) for their lobster sandwich? I can't see eating them regularly, but it does satiate a craving, at least for those of us who won't be on the U.S. East Coast for a long while.
Lobster Bar
Hours: 12 p.m. to 3 p.m., 5 p.m. to 10 p.m.; close at 9 p.m. on Sundays
Prices: 21,000 won for sandwiches; lobsters 50,000-60,000 won. Note: Prices on Facebook page haven't been updated. Current prices are 4,000 more for sandwiches, about 8,000 more for grilled lobster.
English menu: Yes
Directions: From Yongsan Garrison, walk straight up the road to Itaewon. The restaurant is on the right side, next to Starbucks.