In Matterhorn's shadow, Zermatt, Switzerland, hosts climbers and sightseers
by
Leah Larkin
January 2, 2003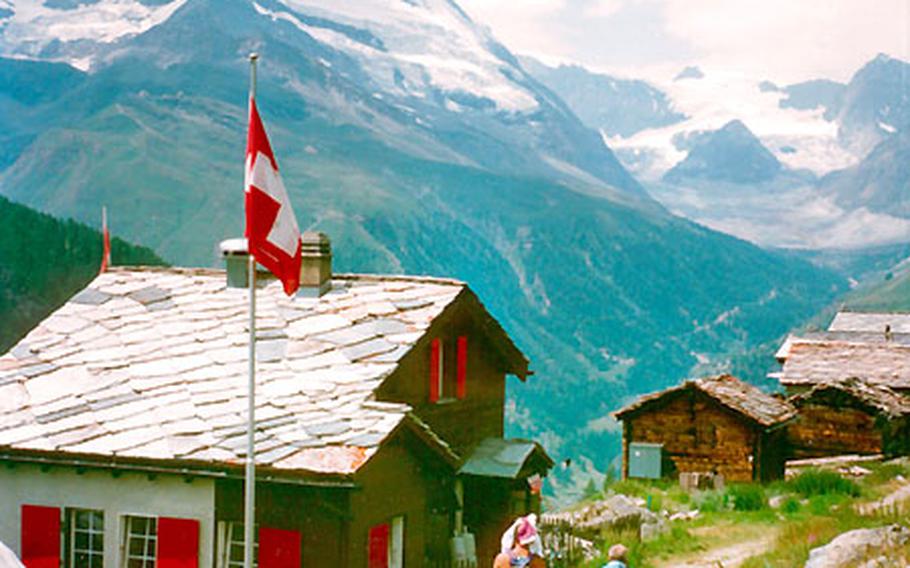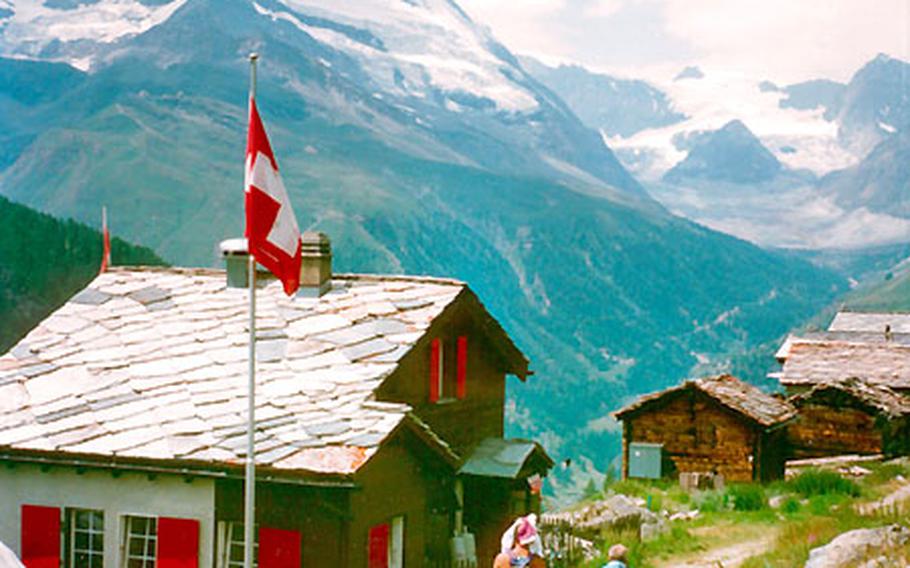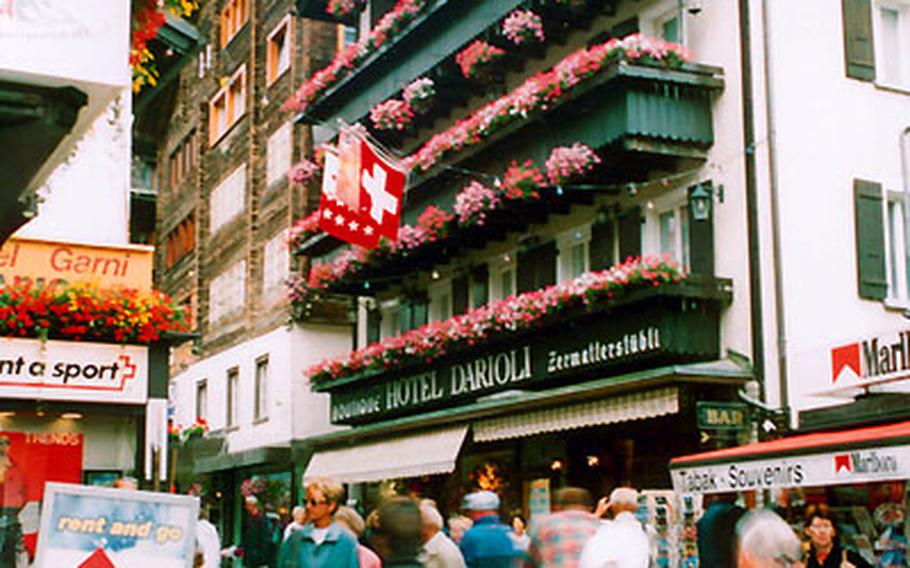 "Here we lost our lives, but we'll find it again on the holy mountain of God."
So reads an inscription on one of the many tombstones of mountain climbers buried in the cemetery at Zermatt, the town at the foot of the mighty Matterhorn.
Zermatt is a real mountain climber's town. When the weather is good, between 100 and 200 climbers try to ascend the Matterhorn every day. Every year about 10 meet their death on the mountain.
"Everyone thinks it's easy, but it's a climbing mountain, not a walking mountain," says Maya Brunner, a guide in the town's Alpine Center.
In the summer, in addition to climbers, Zermatt attracts hikers and sightseers — all hoping for a photo of the famous mountain. The resort offers skiing year-round on its glacier, but most skiers prefer to visit in winter months.
It's also popular with train riders. Those who ride the Glacier Express train through Switzerland can start or end their journey in Zermatt.
As soon as you arrive in Zermatt, you know it's special.
There are no cars — that is no cars with gasoline engines. Traffic is limited to electric cars and horse-drawn carriages, which deliver guests to hotels scattered around the town. Autos, tour buses, vans and campers are parked down the mountain in the town of Taesch where visitors board a train for a 15-minute ride to Zermatt.
The Matterhorn is the magnet drawing visitors to Zermatt. The pyramid-shaped, 14,690-foot-tall mountain stands solitary. No lesser peaks crowd around and detract from its majesty. Often clouds cling to the summit, almost like tufts of cotton candy stuck to its steep and rocky surface. It's a mountain of mystery, legend and danger.
There are taller mountains in the region, but man was able to conquer them. The Matterhorn remained aloof, unattainable, one of the last Alpine peaks to be climbed. Superstitious villagers feared the mountain and called it "the killer Alp."
After eight unsuccessful attempts to scale the Matterhorn, Edward Whymper, an Englishman, led a party of seven to the top in 1865.
The victory was scarred with tragedy. On the way down, ropes broke and four of his group plunged to their deaths. Their graves are among those in the town cemetery.
The cemetery, where nonclimbers also are buried, has become a sort of morbid tourist attraction in Zermatt. One local said it is visited by about 100 visitors daily.
People from all over the world are buried in the cemetery. Prior to World War II, when people died on the mountain they were buried in the mountains as it was too difficult to return their bodies to their home country. These days, however, most of those who die on the Matterhorn are buried in their native land.
Some, however, continue to find a resting place under the peaks that claimed their lives. To make room for more graves of nonclimbers, the graves of climbers are being moved into what will be a special cemetery just for those who died scaling mountain peaks.
No need to dwell on death, however, in this busy, pretty town. Zermatt's main street, Bahnhof Strasse, is jammed with people peering into classy boutiques and souvenir shops. Its hotels, houses and chalets with blossoms tumbling from their window boxes look just like those pictured on many a box of Swiss chocolates.
Wander off the main street into the town's old quarter where 250-year-old houses stand on a type of stilt. Between the post supporting the house and the building are large stone slabs. Meat was dried in the houses, and this stilt-stone design was meant to keep the mice away.
Check out the fountain and statue of Ulrich Inderbinen on Hinterdorf Strasse. Inderbinen, 102 years old and living in Zermatt, is said to be the oldest mountain guide in the world. He has climbed the Matterhorn 370 times, most recently on his 90th birthday.
For more background on climbing the legendary peak, visit Zermatt's Alpine Museum with its extensive documentation and memorabilia from various ascents, including a special exhibit on Whymper. There's a quirky photo from the old days of women mountain climbers wearing long dresses with puffy shoulders, carrying ropes and pics.
A roaring glacier river cuts through Zermatt. Bridges span the water and connect to streets that lead up the mountains.
Exploring these mountains is really what a trip to Zermatt should be. A few minutes and you are in postcard Switzerland: soaring peaks, glaciers and lakes — scenery that takes your breath away.
Of course, if you hike up any of the numerous trails around Zermatt, you'll be out of breath for another reason. Mountain hiking is not for couch potatoes. But there are all kinds of walks in all levels of difficulty.
The less energetic can take mountain trains and ski lifts to spots of spectacular vistas.
If you have an urge to climb the Matterhorn, be advised that you should train for 10 days in the Zermatt area, first climbing lesser peaks, Brunner says.
She also recommends that you hire a guide as the route is difficult and there are no signs telling you where to go. If you take the wrong way, you can end up in big trouble. Falling rocks are especially dangerous, she says.
In an attempt to prevent more climbers' deaths, Zermatt has established a training slope, an area on a steep, uncleared mountain slope without trails. There is a large sign at the bottom of the training area specifying the time in which you should be able to ascend the slope to be considered fit for climbing the big ones.
It is hoped that would-be climbers have a go on the training slope to test their fitness so they don't end up in the Zermatt cemetery.
Leah Larkin is a freelance writer living near Stuttgart, Germany, and is a member of the Society of American Travel writers.
If you go ...
GETTING THERE: Swiss railways are excellent and connect with buses even to the most remote areas. A Swiss rail pass can cut costs considerably. Get a family card and children younger than 16 can travel free with the parents. The Glacier Express from St. Moritz to Zermatt has to be reserved in advance, including meals.
LODGING: Hotels and apartments are usually of good quality. They vary hugely in price, with Zermatt and St. Moritz being among the most expensive. But even these resorts offer reasonably priced package deals, except during the peak school vacation period. Swiss Tourism provides a comprehensive online booking service.
DINING: The food is good quality and caters to international tastes. Winter staples include cheese fondue and raclette — slices of melted cheese served with potatoes and pickles. Follow the natives' example and drink tea or white wine with it as large amounts of water lead to uncomfortable bloating! Meat fondue — slices or chunks of meat cooked in fat or stock at the table — is more expensive. Another perennial favorite is Geschnetzeltes and Roesti — strips of pork or veal with fried potatoes.
INFORMATION: The best starting point is Switzerland Tourism. It has an excellent Web site, www.mySwitzerland.com, offering tailor-made information on how to travel from your own country, as well as advice on packages, accommodations and activities, and with links to all the individual resorts. Its free international line for bookings and information is (+ 800) 100 200 30 (Fax: (+800) 100 200 31).
Most resorts have their own Web sites, including: http://www.zermatt.ch, http://www.arosa.ch, http://www.grindelwald.ch, http://www.crans-montana, http://www.saas-fee.ch, http://www.klosters.ch, http://www.davos.ch, http://stmoritz.ch.
Swiss Federal Railways: Phone: (+41) (0) 900-300-300; fax: (+41) (0) 512 20 42 65. You can order tickets on the Web at http://www.sbb.ch.