Hop to it: German Easter egg markets are popping up
---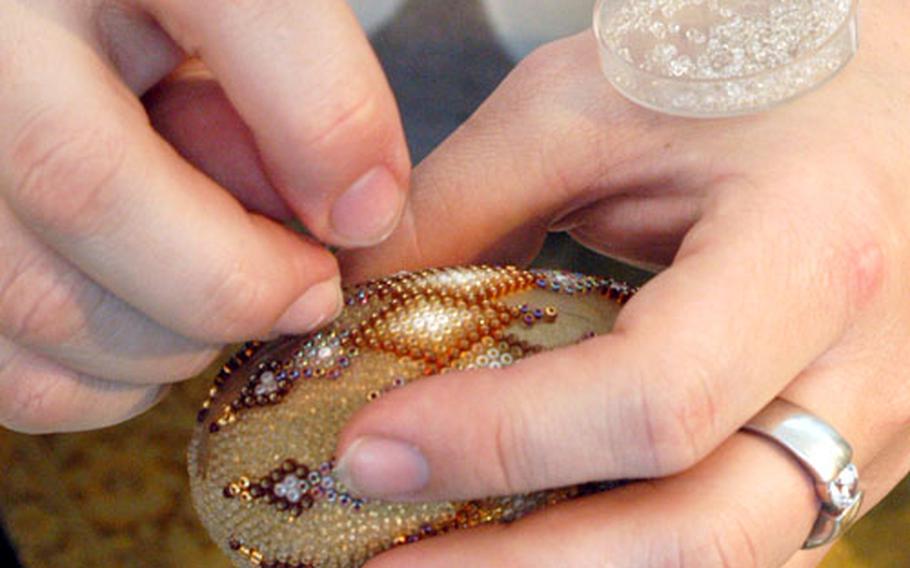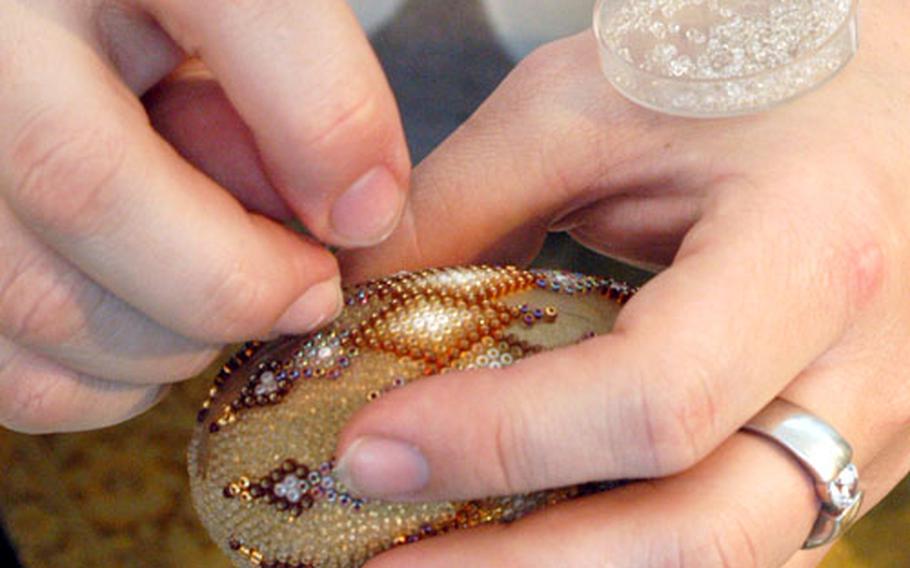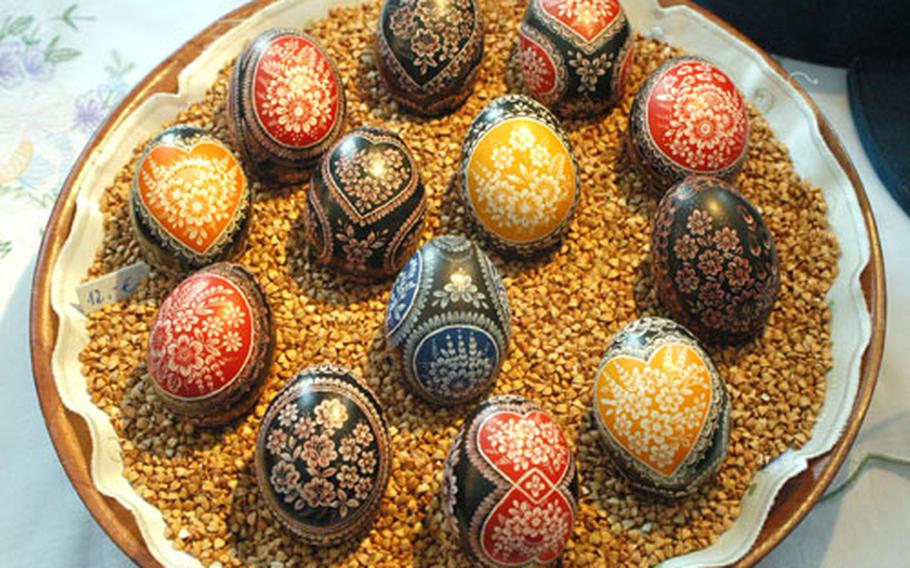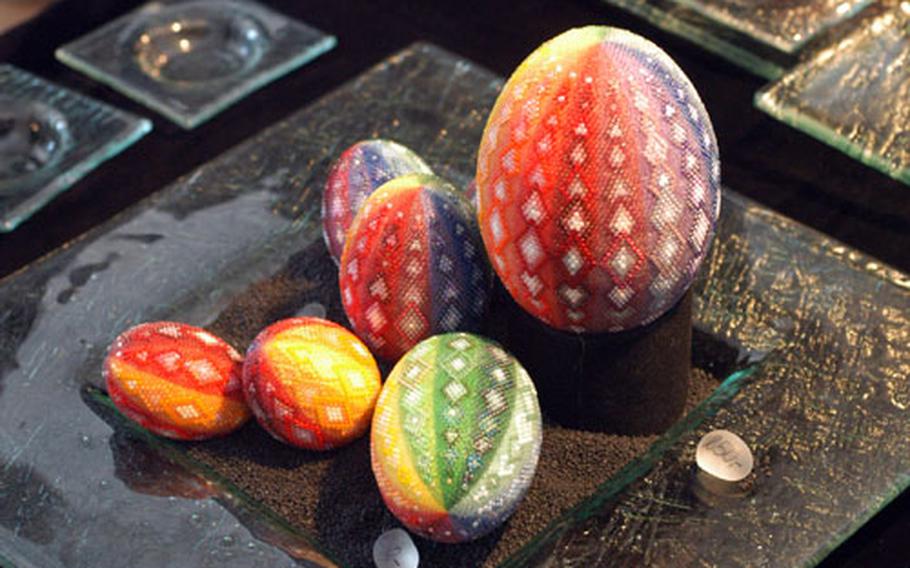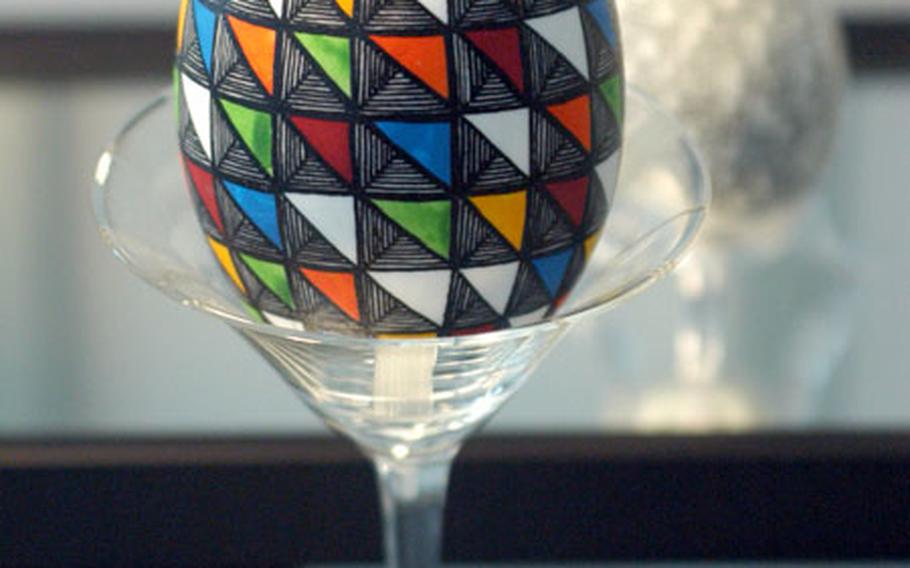 If you think an Easter egg is just a hard-boiled egg dunked in dye, think again.
Sure, those are good enough to hide for the kids to find on Easter morning. However, if you want to decorate your house for the holiday or get into some serious collecting, those eggs just won't do.
Instead, head for one of the Easter egg markets that, like spring flowers, pop up all over Germany this time of year.
Here you'll see what an artist can do with an egg. They might be covered with thousands of tiny, colorful beads or hollowed out and perforated. They can have lace stitched around them or geometric designs drawn on them with India ink. Some have sayings or even the Lord's Prayer written on them.
Silhouettes cut with scissors can be pasted on eggs, and so can blossoms, crumbled leaves and herbs.
Some eggs are covered with wax, then exquisite designs are etched into them with a sharp blade. There are patchwork eggs and eggs with Easter bunnies painted on them.
And it is not only chicken eggs that are decorated, either. There are tiny quail eggs, duck eggs, large goose eggs and even huge ostrich eggs.
Some of the eggs are not even made of shell. There are wooden eggs, stone eggs and porcelain eggs.
They don't necessarily come cheap. You can buy a nice one for as little as 6 euros, but some cost in the hundreds. It depends on the size, the material and the artistic value. And, of course, if you do buy one, it depends on the size of your pocket book.
There is always the question of what to do with the eggs. A colorful Easter decoration is a vase full of pussy willows or forsythia branches with the decorated eggs hanging on them. They make nice presents for the folks back home. Or, as with Hummels, baseball cards or Beanie Babies, you can start a collection.
It is pretty amazing, all the things that can be done with an egg.
Upcoming marketsHere are some of the Easter egg markets taking place in the next couple of weeks:
March 11, 12
Seligenstadt Kloster
Maulbronn Kloster
Eltville am Rhein Kloster Eberbach
Veitshöchheim Haus der Begegnung
March 18, 19
Erlangen Redoutensaal (near Markgrafen Theater)
Schwetzingen Schloss
Ulm Kornhaus
March 24-26
Fellbach bei Stuttgart Schwabenlandhalle
Neckarsulm-Obereisesheim Festhalle
March 25, 26
Michelstadt/Odenwald Odenwald and Spielzeugmuseum
Otzberg-Hering Veste Otzberg
April 1, 2
Otzberg-Hering Veste Otzberg
Lampertheim Altrheinhalle
April 8, 9
Neu Anspach Hessenpark
Otzberg-Hering Veste Otzberg
---
---
---
---