Hooked on a harbor town
by
Charlie Coon
November 8, 2007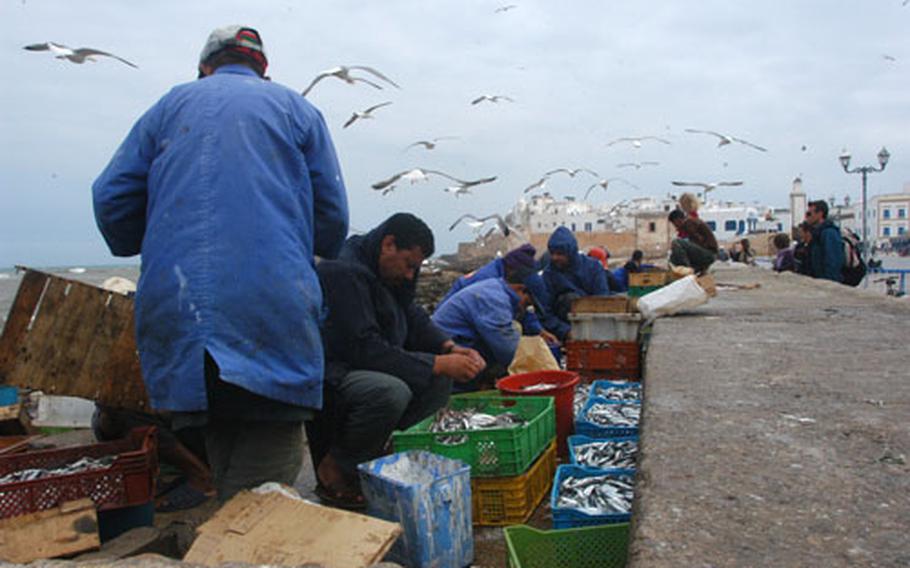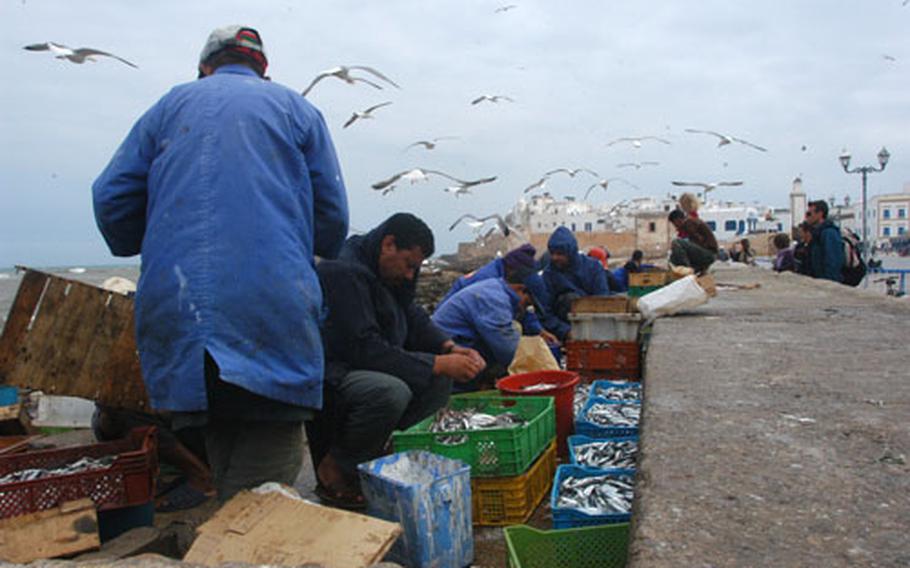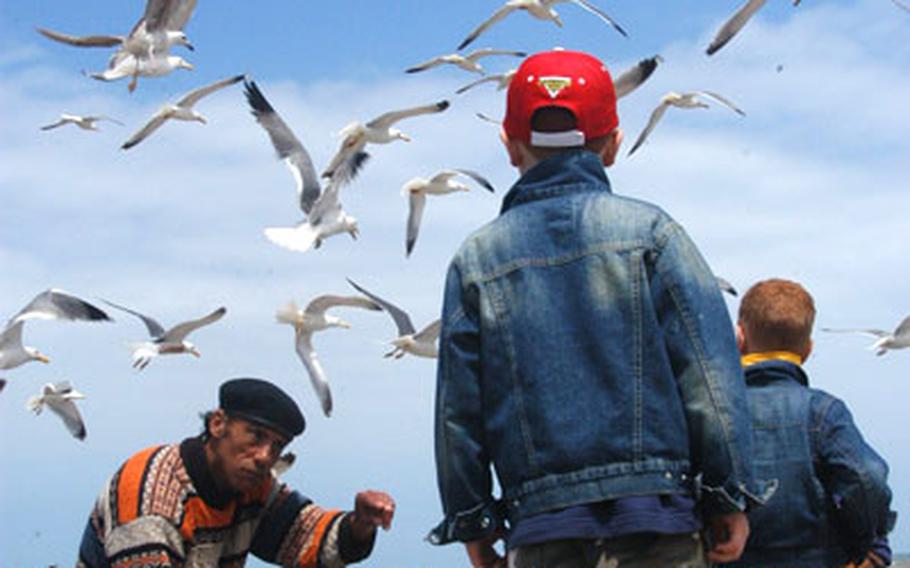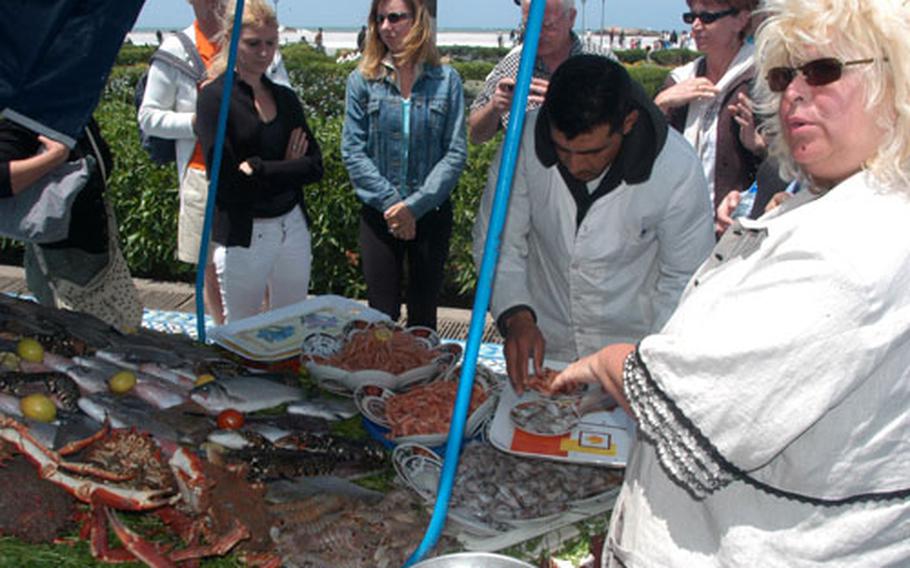 Every day the fishermen in Essaouira, Morocco, bring in their catch — sardines, sea bass, squid and eels.
Piles of fish are cleaned next to the docks by men who toss aside the guts while hundreds of sea gulls hover in midair and make cawing sounds. You can imagine the birds licking their chops and thinking, "Mmm, fish guts."
Much of the cleaned fish is then sold to men at nearby kiosks, who lay it on ice in neat rows and wave in the lunch crowd. Tourists study the selection, choose their lunch and sit at picnic tables covered in plastic waiting to be served.
There's nothing quite like inhaling the smoke of fresh fish cooking on the grill while watching small rowboats and big trawlers come and go on in a busy little harbor.
Essaouira is a small fish in the world of Moroccan tourism. Its name, pronounced ESS-oo-EAR- ah, is not as catchy as "Casablanca," nor is the old seaport town as mystical as Marrakech.
But Essaouira has a wide, windswept beach famous for windsurfing, and its medina — ancient alleyways with hundreds of shops — has merchants far less pushy than those in Marrakech.
Maybe it's the sea and beach that make them more laid-back.
On this day, about 15 kiosks were serving lunch. Browsing from stall to stall, I saw a man with a friendly face and nice smile who seemed eager to please.
"Yes, sir, lunch — no problem, sir!" he said, just as happy as could be.
"Which is your best fish today?" I asked.
The man grabbed directly for a big, fat sea bass that looked good and fresh and held it up. Clear eyes, firm to the touch, no funny smell. "Let's do it," I said.
"Yes, sir!" the man replied as he placed my fish on his grill. Soon it was sizzling and smoking, which in the sea breeze made for an intoxicating aroma. His waiter hustled over a salad of tomatoes, onions, peppers and lemons and a basket filled with baguette hunks. And a Coke.
Morocco is a Muslim country. Beer and wine are not readily available in many places. Old-school Essaouira is one of those places.
I liked Essaouira because it was manageable. It is small enough to experience fully in just two or three days.
For those who are into such things, the medina is an official historic site of the United Nations Educational, Scientific and Cultural Organization.
"An exceptional example of a late-18th-century fortified town," according to UNESCO, "built according to the principles of contemporary European military architecture in a North African context."
You can look up the academic details for yourself. For a common person, let's just say it's really pretty.
And it is like a candy-store for shoppers, or even just window- shoppers. Beads, spices, clothing, hand-carved wood products and, of course, carpets.
Even though Essaouira has a beach, it is not a beach town, like Agadir, 80 miles to the south. Agadir has a milelong grand strand of resort hotels populated by practically naked people getting tanned.
Not that there's anything wrong with that.
Essaouira is more traditional. The beach in the off-season might be nearly empty except for a group of locals and European tourists playing soccer on the sand and a few fully clothed Muslim women splashing in the surf.
But there is something special about the beach — windsurfing. The wide, crescent-shaped beach at Essaouira surrounds a windswept bay, and enthusiasts have identified Essaouira as perfect for the sport.
Those who want to try can rent equipment on the spot.
Night came, and with it time to take a walk. There was a small, old building overlooking the beach. A sign bolted to the exterior wall said "BAR."
Inside was an old dive of a bar — dark and dirty with a sooty 15-inch TV fixed high on a wall showing the news in Arabic and, later, a fuzzy-picture soccer match. Off to the side, there was a small patio that overlooked the beach with small tables and chairs crowded onto it. The place even had a name: The Chalet. There was no food, which was probably just as well.
A handful of female tourists were sitting on the patio overlooking the surf, as were a handful of local men hitting on them.
The drinks selection was Fanta, Coke, tea, coffee and Flag Speciale, the Moroccan national beer that comes in a small green bottle. So I cracked open a Speciale, leaned back in my rickety chair and took a swig.
And do you know what? It was a nice place to watch the birds and the waves and the big fishing boats moored at the docks, silhouetted in black against the red-orange sunset.
Know and Go
Getting there
Flights are few and far between going to and from Essaouira's small airport. One might be better off flying into Agadir or Marrakech and renting a car or taking a taxi or bus. The drive up the Atlantic coast from Agadir to Essaouira is scenic and, in places, majestic. The vast, untouched beaches with waves crashing on them compel one to pull over for photographs. You might find that you're the only person there.
Where to stay
I stayed at the Hotel Tafoukt, where a room costs about $40 per night. The room was a bit of a dive, although the owners were kind and helpful. I'd recommend staying at a riad, a traditional Moroccan residence that has been turned into a guest house. There are several companies on the Internet that can help you book one, or just search for "Essaouira" and "riad" online.
There are also a number of little old hotels within the medina, and a couple of upscale places if you want to spend some cash.
Eating
The fish market by the docks is grand if you like fish. Fill up for about 15 euros at most places. There are plenty of restaurants in the medina, so go hunting for one. Or nibble your way around the old town, spending a couple of dirham here and there at the various food stands, which offer mostly finger foods.
Information
The town's Web site is www.essaouiratourisme.com, but it's in French only. It offers contacts for more information. The town, as a whole, does not cater to English-speaking tourists. French, Arabic and Berber are the languages used. But the old town is small and fairly easily managed by anyone with basic traveling wits.
— Charlie Coon