Holland's Keukenhof garden puts on its spring display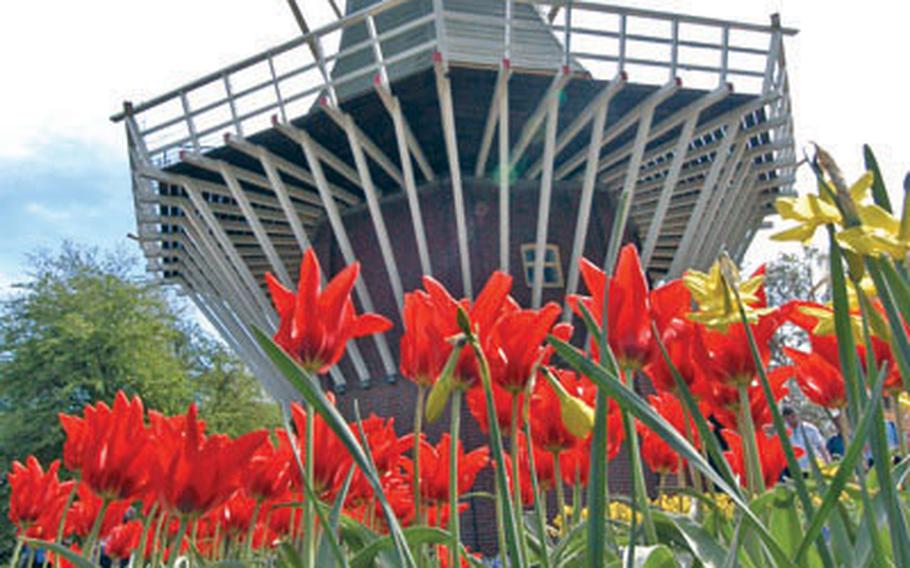 Holland's Keukenhof garden is open for visitors, and that means two things: Spring has arrived in central Europe, and the new travel season is under way.
The landscaped garden, which began its season last week and will remain open through May 19, presents ever-changing fields of color as its more than 7 million bulbs burst into flower.
The show begins with crocuses, daffodils and hyacinths, and continues through the season to its climax of tulips in red, white, yellow and pink. Also adding color are gladiola, azaleas, orchids and rhododendron.
Greenhouses scattered around the grounds encourage late- bloomers to show their color a little earlier, and shield more-delicate blooms from the unpredictable weather. And for those needing a break from flowers, there are play areas for children, a pond with stone steps to cross and swans to feed.
Keukenhof also has special demonstrations and exhibits planned throughout the eight weeks. Among them is the always-popular regional flower parade, which passes near the garden, on April 22.
One special attraction this year runs in conjunction with nationwide events marking the 400th anniversary of the birth of the Dutch artist. Twenty children from nearby Leiden planted bulbs last fall to re-create one of the painter's self-portraits. The 60,000 bulbs will bloom sometime in April, forming a 250,000- square-foot "painting."
Interested groups can also arrange to attend one of the 90-minute workshops by the garden's staff along with flower arrangers and artists.
The garden attracts nearly a million visitors annually, including Americans from bases around Europe.
One of the popular ways to go is on bus tours run by private travel companies and booked through on-base travel offices, or on trips sponsored by Morale, Welfare and Recreation departments or the USO.
Check the Tours & Outdoors listing in this section or your local MWR and travel offices for details. As the spring weather improves, more trips will be added, so if you don't find one now, keep checking back.
Keukenhof can easily be included in a trip to The Hague or Amsterdam. But don't rush yourself: Flower lovers can easily spend a day in the garden examining rare blooms and admiring the colors.
If you go ...When: Keukenhof is open 8 a.m. to 7:30 p.m. daily through May 19. Ticket offices close at 6 p.m.
Where: The garden is on the outskirts of Lisse, Netherlands, between The Hague (Den Haag) and Amsterdam. From The Hague, take A-44 toward Amsterdam and exit at N207 toward Lisse. From Amsterdam, take A-4 toward The Hague and exit at N208 toward Lisse. Near Lisse, there will be signs directing traffic to Keukenhof. By train, travel to either Leiden or Haarlem and take bus No. 54 to Keukenhof.
How much: Adults pay 12.50 euros, seniors (65 and older) pay 11.50, children (4-11) 5.50 euros. Parking costs 5.50 euros.
Information: For a schedule of events, history of the garden and detailed driving directions, see the Web site www.keukenhof.com. There is an English-language section.
— Stars and Stripes