Hakone: Natural springs a geologic delight for visitors
---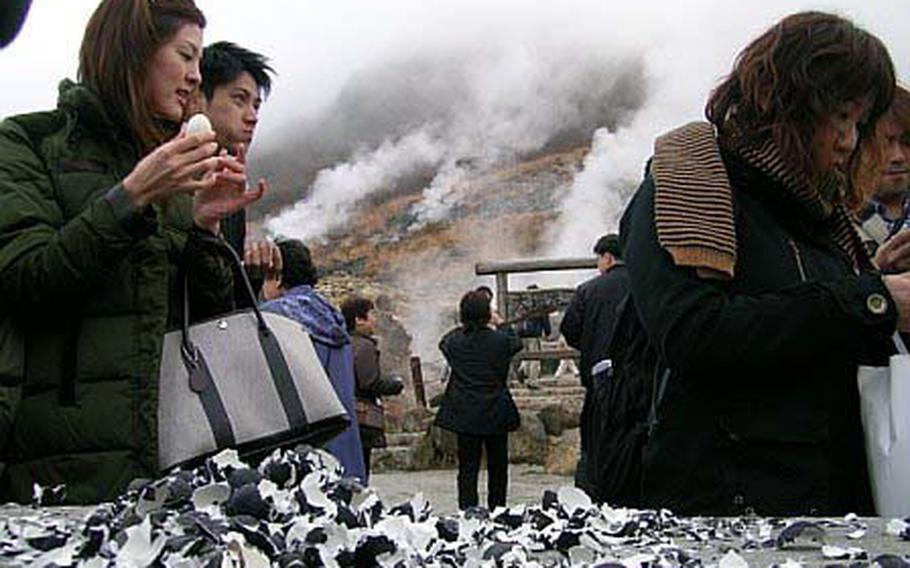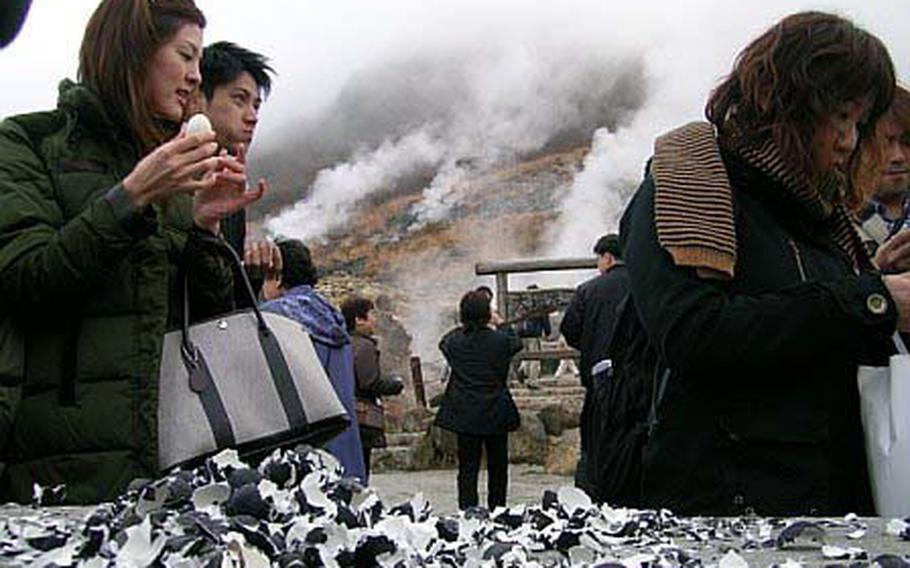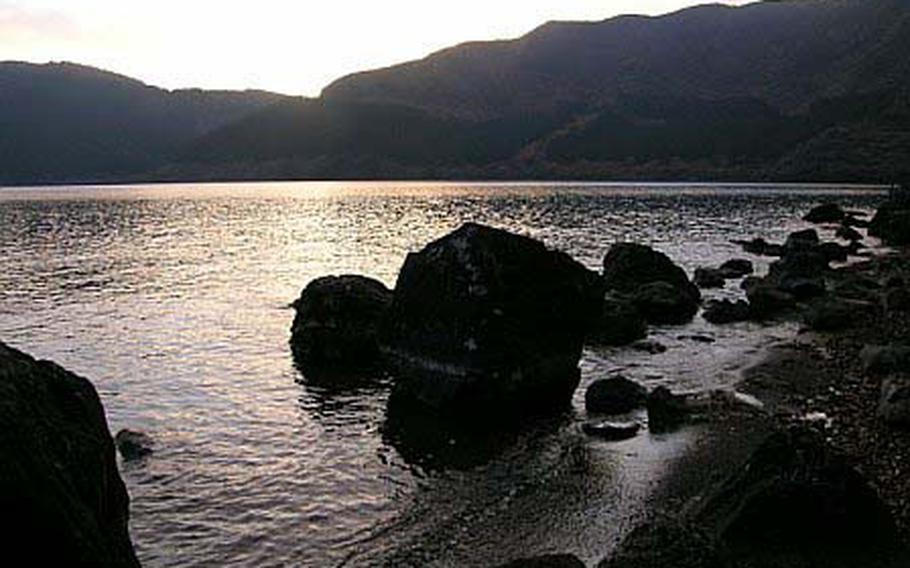 Imagine trying to ask for directions to a spot you know only as the "black egg place" without speaking the local language.
It was a twisted charade — me at a Japanese gas station, doing moves that were part "chicken dance," part pregnant woman, part line cook. That was my second trip to Hakone.
As on my first trip, the famed black eggs from Hakone's Great Boiling Valley that are said to tack on years to your life, eluded me. My dance only succeeded in utterly confusing (and entertaining) the gas station attendant.
But last fall, I finally ate one of the blackened orbs, made that way after being boiled in Hakone's natural hot springs right where the water bubbles to the earth's surface. Two of them, actually, which I think entitles me to 14 more years on the planet. Not a bad deal, considering they cost only 500 yen for a four-pack.
I've been to Hakone three times since I moved to Japan — once with Japanese friends and twice with Americans. It's an easy jaunt (two-and-a-half hours by train, two to four hours by car) from Yokosuka Naval Base, but it's a complete downshift compared to the Tokyo-area hustle and bustle.
Hakone, with its scenery, hot springs, shrines and museums, has been a popular relaxation destination for more than 400 years. Footsore travelers on the long Tokaido Road from Tokyo to Kyoto would stop there during the Edo period, and today, swarms of people head to Hakone for a peaceful break from the city.
This means a lot of people likely will be trying to get to Hakone at the same time you are, making for traffic on those windy mountain roads that's anything but relaxing.
Luckily, cars aren't the only way to get around in Hakone. There's the Hakone- Tozan Line mountain railway, the Hakone-Tozan cable car from Gora to Sounzan, the Hakone Ropeway from Sounzan down to Togsendai on Lake Ashi by the Owakudani sulfur springs (otherwise known as the "black egg place") and the faux-pirate ships for sightseeing trips across Lake Ashi.
Hakone is part of the Fuji-Hakone-Izu National Park, and on clear days, Mount Fuji reigns over the land like a towering headless giant. A popular photo opportunity is down on Lake Ashi, where Fuji is mirrored in the blue waters and folks ripple its reflection with swan-shaped paddle boats.
Also on Lake Ashi is the Hakone Shrine, a striking cedar-flanked palace built in 757 A.D. with a torii that extends into the lake waters.
But amid all the peacefulness, Hakone is a-rumble with geothermal activity. Lake Ashi formed a mere 3,000 years ago when one of Hakone's two major calderas partially collapsed, according to the Smithsonian Institution. The last eruption was about 100 years later, and "seismic swarms" occurred into the 20th century.
All of this geothermal discontent makes for terrific onsens — baths in naturally heated spring water. According to several official Hakone Web sites, the area has roughly 17 major hot springs.
Of course, not all are for bathing. Some have signs warning that you may be overcome by deadly gases released from the earth along with the hot water.
One of the more popular spots in Hakone for Westerners and families is the Hakone Kowakien Yunessun resort, which is a hybrid onsen/water park. Shy violets can wear their bathing suits in most of the pools.
For a more traditional experience, stop at the Tenzan onsen, which is a cheap and beautiful outdoor bath.
But be warned: Make sure you're familiar with onsen etiquette. Otherwise, you will get dirty looks that have nothing to do with your nakedness.
Another good thing to know before heading to Hakone? The words for "black egg" in Japanese — "kuro tamago."
Try some 'shoe-shi'Most visitors to Japan try the sushi.
Though technically named for the rice that holds it, sushi for most people brings to mind eating raw fish, the fresher the better. But Hakone's Yunessun hot springs resort gives fish a chance to strike back. Called "doctor fish," they perform "shoe-shi."
Your human feet are their fish food. They are flesh-eating fish. Seriously. The doctor fish — new this year to the resort – are a popular exhibit that's opened only a few times a day and creates long lines around the feeding pool.
Only 30 or so people can be fed upon at a time. Then the gluttonous gilled gobblers need to rest. Intrigued, perhaps morbidly curious, my friends and I took our places in line — five Americans among a crowd of Japanese. This exercise was supposed to be Barb's breakthrough: A fear of fish kept her out of the water for many years.
Lia is a runner and hard on her feet, while Patti pampers hers with regular pedicures. I'm not familiar with Diane's feet, though they tirelessly drove us all around Hakone, the location of the resort. Me? I've never had a pedicure in my life.
My feet are like little hooves. I once went a month without shoes on a barnacle beach in Cambodia and they've never recovered.
Friends say exfoliating would help. Exfolia-whah? Exactly. I had to look it up in the dictionary.
Anyway, when it was my tootsies' turn to get gobbled, something strange happened. I started a doctor fish feeding frenzy — a roiling, chumming-the-shark-infested-waters kind of frenzy. Five fish between each toe.
Fish trying to crawl up my leg as they jockeyed for position. The sensation of their little mouths ripping away at me made me slightly queasy. It didn't hurt, but I couldn't tear my eyes away from the train wreck at my toes.
When I finally looked up, the rest of the people in the pool were staring at us. Americans were the doctor fishes' favorite patients — everybody else's feet were left in the waiting room. There was no denying an obvious cultural divide — it was proven beyond a shadow of a doubt by the wriggling black cloud of fish at our feet.
Thankfully, it was over in five minutes. We discussed our shared trauma as we dried our feet, which incidentally looked great. Mine were glowing, though I kept checking between my toes for stowaways.
"Can you believe they only wanted our American feet?" asked Barb.
"Japanese people are really into scrubbing," Diane said, adding compassionately, "The fish may have starved without us."
Patti floated the cultural diet theory, saying that American feet probably taste different, like a cheeseburger at a ramen shop. I was not comforted. Though I take a hedonistic pleasure in being dirty, 600 minnows feasting on your toes like they're the Thanksgiving turkey is the stuff of nightmares.
I've since purchased a pumice stone, a scrub sponge and some sweet-smelling glop that's supposed to exfoliate.
And maybe someday — not anytime soon — I'll go back to the flesh-eating fish with hopes that they'll go hungry.
— Allison Batdorff/Stripes
---
---
---
---