Guardian angels of the slopes: Ski patrol commits to being there when it counts
by
Scott Schonauer
March 2, 2006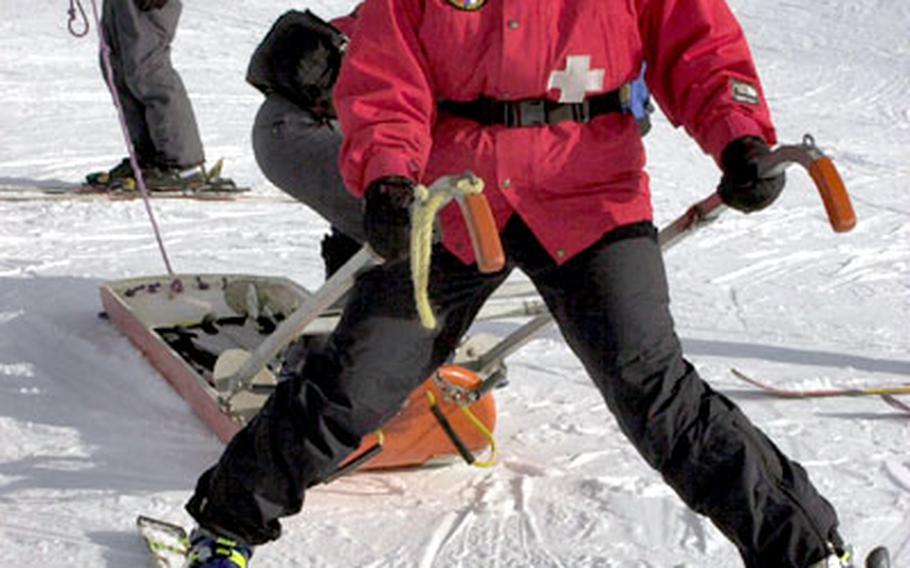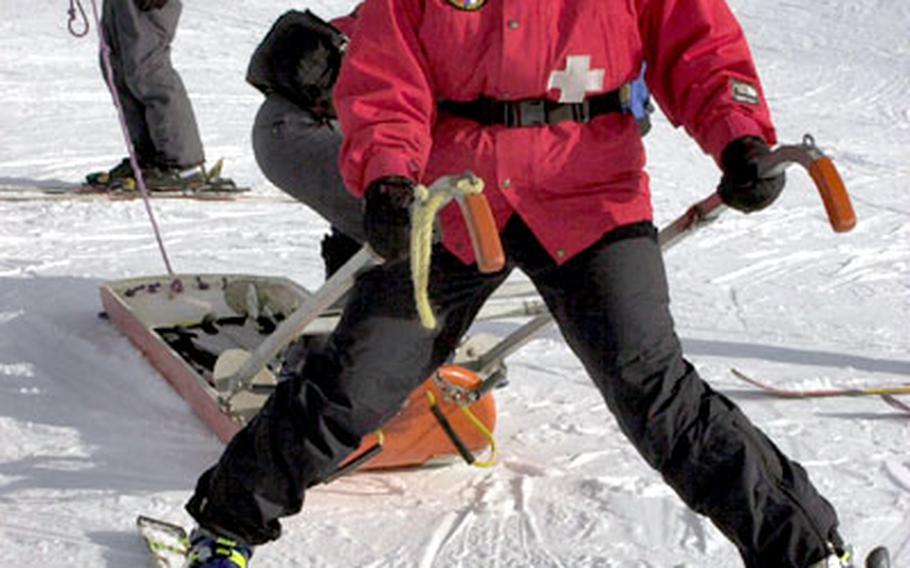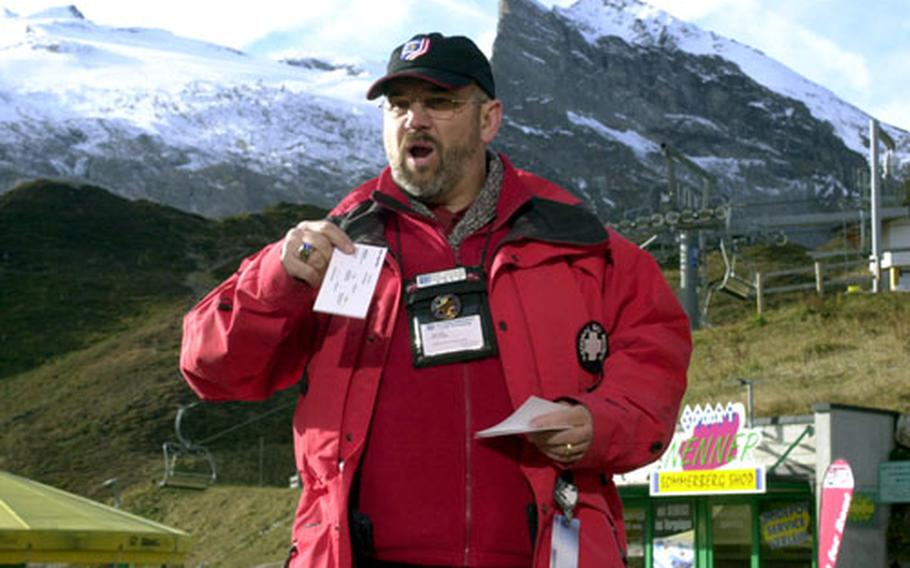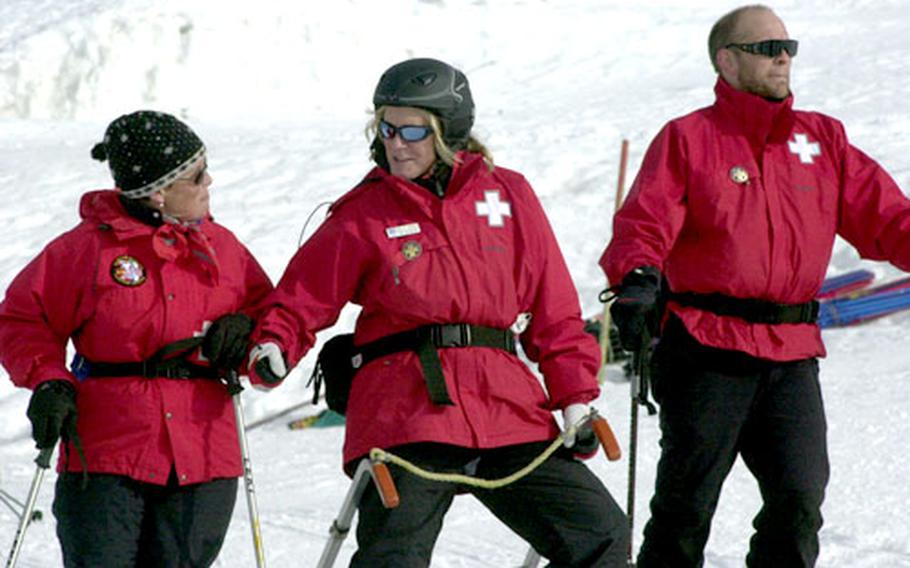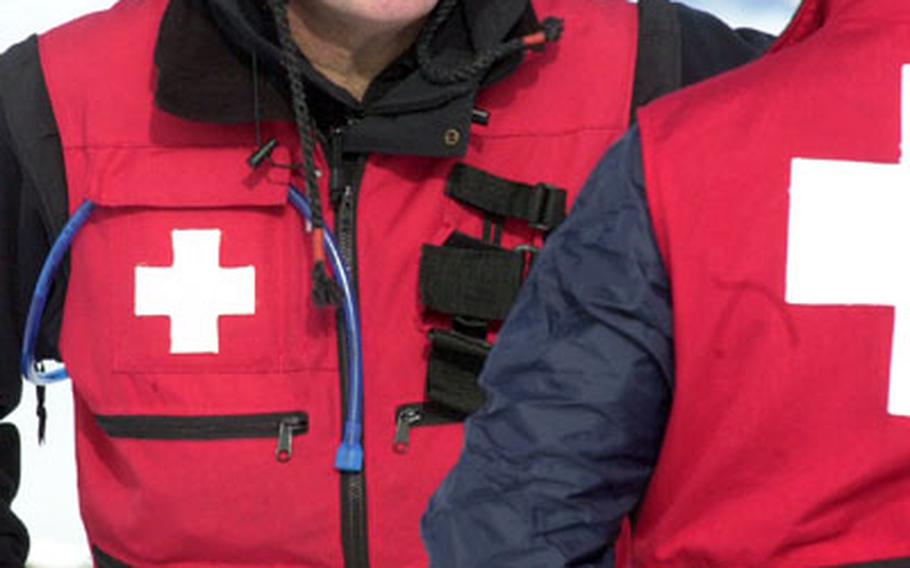 When a skier on Austria's Hintertux glacier twisted her ankle, she probably didn't realize it was her lucky day.
Not far from where she took that spill last fall, a group of ski patrollers was brushing up on first-aid and mountain-rescue techniques.
The volunteer patrollers, who were getting ready for the upcoming ski season, quickly jumped in and helped an Austrian rescue worker tend to the injured woman and rush her to a local hospital. As things ended up, the skier couldn't have picked a better time or place to fall.
Ski patrollers are usually eager to aid an injured skier or snowboarder without hesitation.
"It's all about helping people," said Terry Petze, a defense contractor who lives in Stuttgart, Germany, and has served as a ski patroller for 19 years. "That's what we train to do."
Skiing and snowboarding, like many extreme sports, come with risks. Getting caught in an avalanche, twisting a knee or breaking a bone are among the hazards of having fun on the mountain.
When the worst happens, the ski patrol is usually the first to the rescue. The volunteers are trained in first aid and often can be the difference between life and death for that small percentage of skiers seriously hurt.
There are more than 600 patrol organizations in the United States and 26,000 ski patrollers in the National Ski Patrol. About 220 patrollers are part of the nonprofit organization's European Division, and mostly come from the U.S. military community in Germany.
The group is always looking for volunteers. The European Division typically has a difficult time retaining members. Many patrollers are servicemembers, a good portion of whom transfer to other bases or quit because of the time and money needed to become and remain a certified ski patroller.
Although some patrollers in the United States are paid, patrollers in Europe are not. They serve as "guardian angels" for military ski outings, keeping an eye on people going downhill and encouraging skiers and snowboarders to practice safety.
While some patrollers get free lift tickets and other benefits, most of the time their only reward is the chance to help.
And they don't get to ski as much as they would like because they're constantly working to make sure everyone is safe.
"I think they don't realize what kind of commitment it actually is," said Holly Ginas, a member of the Ramstein Ski Patrol.
Volunteers must attend classes twice a week for three months and complete an on-the-hill training course before becoming a basic patroller. Every fall, patrollers must attend a "refresher" course to review procedures and test new recruits.
Army Capt. Carrie Ann Fain is one of 10 snowboarders who are registered patrollers in Germany.
She wanted to join the patrol to boost her skills and "take snowboarding to the next level." She said being a patroller is a little like being a lifeguard at a pool: You always have to be ready to dive in and help.
"But I actually like it because of the camaraderie," she said after a long day of training on the glacier in Hintertux.
During last fall's refresher course, about 75 patrollers stayed in a nearby hotel and gathered for dinner every night. Many spent the evening drinking beer and sharing stories about their times on the mountain. Some patrollers compared gathering for the training before the ski season to attending a family reunion or the first day of school because it is a chance to visit with friends they haven't seen since last season.
It's also a chance for new members to make friends.
"You'll see everybody kind of yucks it up," patroller Jay Ellingwood said. "We've got a pretty good group and they enjoy each other's company."
Some patrollers say that joining the organization is a calling. Petze, a retired Navy commander and the European Division's director, is particularly passionate.
His daughter signed him up without his knowing it nearly two decades ago. He has treated numerous injuries on the slopes, from minor bumps and bruises to shattered bones.
He will never forget one day in Sölden, Austria, when everything went wrong on the glacier.
One skier hit a thigh-high concrete wall straight on, snapping both femurs. Then, a downhill skier tried to avoid a guy on the racecourse and hit a pole head-on at 50 mph. In the third accident, a man fell and dislocated his shoulder.
Austrian emergency workers were overwhelmed. Although emergency workers in Europe are paid by the number of rescues they perform, they quickly handed off the man with the shoulder injury to American patrollers nearby.
"He knew what we were doing," Petze said. "He knew why we were there. He trusted us. That was a real highlight. That was a biggie."
Even on training days, patrollers are sometimes asked to help — as they were toward the end of their practice run last fall.
After medical personnel took the injured woman to a local hospital, the Austrian rescue worker asked the patrollers in their distinctive red jackets with the white crosses on the back who they were and where they were from.
Before skiing away, he said, "God bless you."
"It's things like that [that] makes all of this worth it," Ellingwood said.
More about the National Ski Patrol ...The National Ski Patrol was founded in 1938 to promote ski safety and to assist and rescue injured skiers and snowboarders. The nonprofit organization's European Division has seven patrol groups in U.S. military communities in
Germany: Frankfurt, Ramstein, Heidelberg, Würzburg, Garmisch, Stuttgart and Off-Piste ski patrols.
The basic requirements:
You must be committed to the program. Candidates must attend classes twice a week from September to November and pass two tests issued by instructors and administration. Recruits must also participate in on-the-hill training from January to March.You must be willing to help people in emergencies. Once certified, patrollers must be able and willing to perform injury assessments and offer emergency medical attention on and off the mountain.You do NOT have to be able to ski. Although this sounds crazy, it goes to the heart of the mission: helping people. Those who ski do so on the mountain; those who don't ski apply their skills in the first-aid room. Both are essential parts of the whole.To volunteer, contact Terry Petze at terrypetze@t-online.de.
Source: The Heidelberg Ski Patrol and the National Ski Patrol's European Division Web pages.