Gross-Zimmern: German Go-Kart course offers Formula-One experience
by
Jessica Inigo
September 21, 2004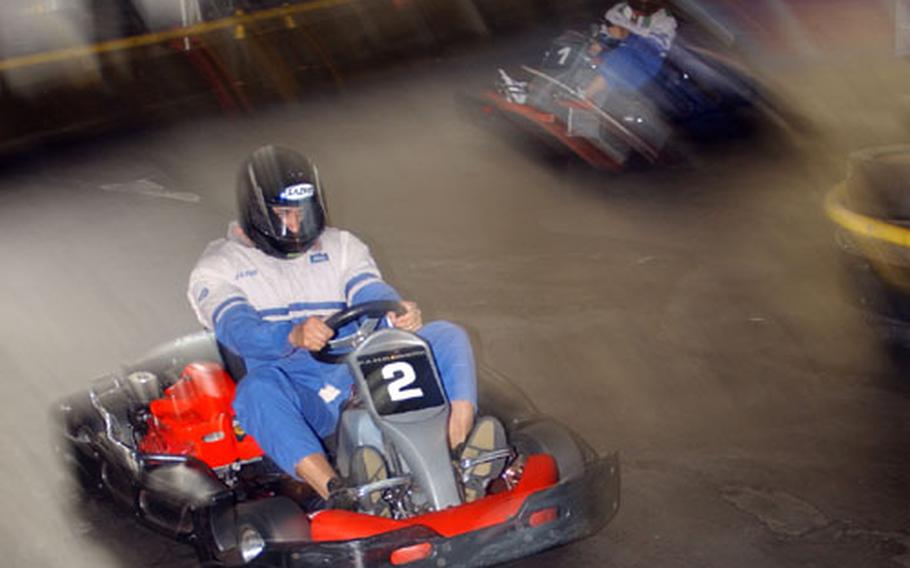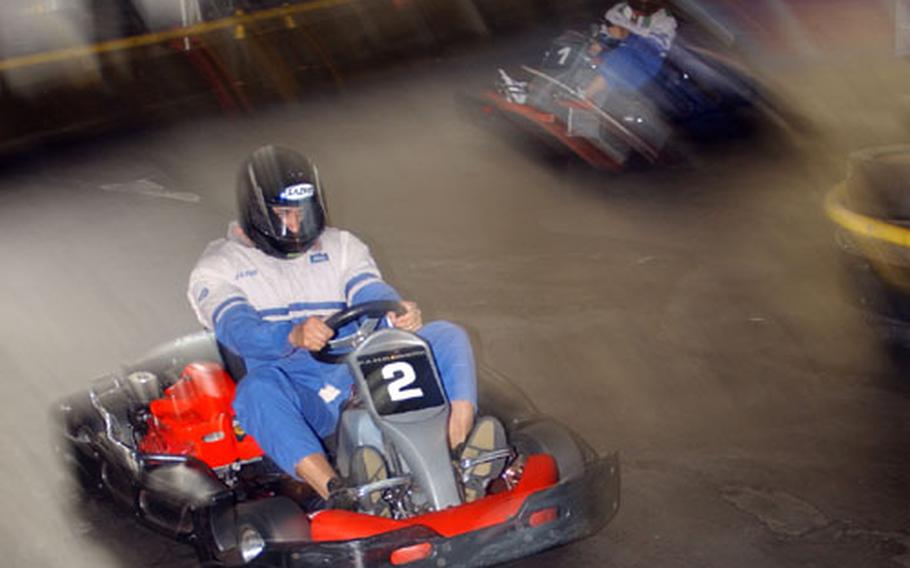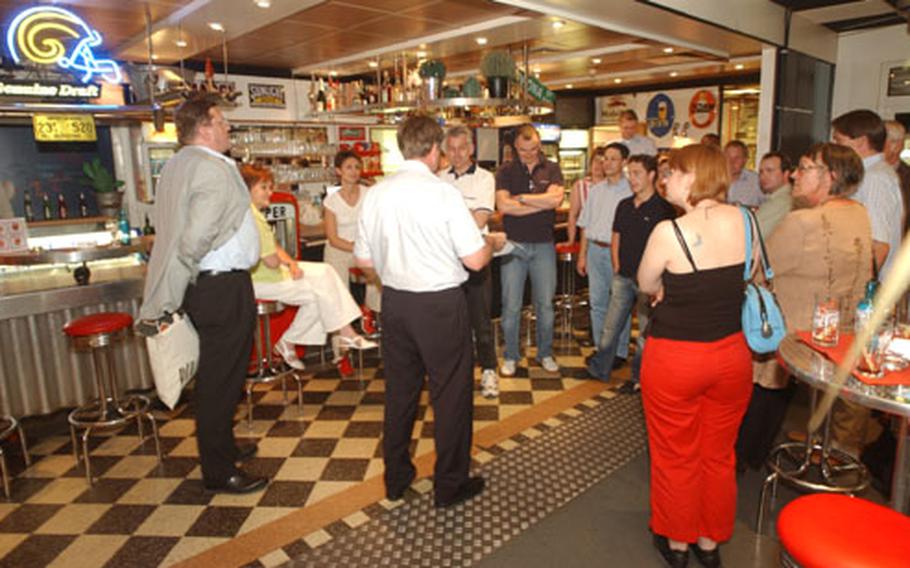 Speed demons in need of some serious adrenaline pumping, white-knuckle clenching, pink-slip-giving-up racing can find it in Gross-Zimmern, Germany.
OK, maybe it's not that serious, but the indoor Go Kart racing track in this town between the Darmstadt and Babenhausen military communities has some of the fastest karts in Germany and has been heralded by German newspapers as one of the finest tracks in European racing.
With speeds of up to 70 kilometers per hour, or around 44 mph, drivers must maintain control of the Formula-One replicated karts to get and stay on the track at the Fahr Werk racecourse.
"Safety is, obviously, very important to us because of the high speeds," said Dean Kemery, the Fahr Werk manager.
"I know in the States karts are used to bump, but that's very dangerous to do with these karts. There is no bumping allowed. Drivers must maintain control of their vehicles throughout the race without bumping the walls or driving recklessly or else they will be taken off the track."
Racers reaching top speeds on the straightaways will discover exactly how fast and responsive these racing machines are. Every turn of the wheel is critical and every touch of the accelerator is the difference between winning and losing.
All drivers first go through a pre-race safety briefing that explains the flags and lights used throughout the 30- minute race. For instance, drivers will learn that when a blue flag is signaled, slower drivers should move to the right to allow faster drivers to pass.
Next, drivers suit up in Formula-One racing suits and head to the track. Only 12 karts are allowed to race at a time and each race includes a 10-minute warm-up drive and a 20-minute race.
A timing system measures lap times for each driver in each race. Results are relayed to monitors in the spectator areas around the track to keep track of race positions, points and fastest times.
The emphasis at Fahr Werk is on fast, flowing racing with a mix of speedy straights and testing corners on three levels. The track is wide enough to allow plenty of space for passing and makes it easy to avoid drivers who have spun out.
The racing surface varies from smooth concrete to light grip, which offers just the right amount of control to be able to slide the karts around a corner with confidence. The karts use mini-versions of actual racing chassis.
In a country where Formula-One race car driver Michael Schumacher is a hero, it's no wonder indoor German Go-Kart racing has mastered the need for speed.
On the QT
Directions: Exit B26, which runs between Aschaffenburg and Darmstadt, at Gundernhausen/Gross-Zimmern industrial area. Proceed on the country road of the Gross-Zimmern industrial area, turning off at the first left into the industrial area. Cross a bridge, turn at the first left and follow the Fahr Werk parking signs.
Hours: The racetrack is open 5-11 p.m. Monday through Thursday, 3-11 p.m. Fridays, 2-11 p.m. Saturdays and noon to 11 p.m. Sundays. The track sometimes stays open later to accommodate more racers.
Cost: U.S. ID card holders can take advantage of the "Red, White and Blue" offer every Thursday and Friday by getting discounted prices on 30-minute races. Single riders can race for the same price as the group rate, 35 euros. American groups of 10 to 12 racing on Thursdays and Fridays also get an awards ceremony, trophies and free soft drinks for the designated driver after the race. An all-you-can-drive Formula 1 special costs 49 euros for a full day. Prices include racing hood, helmet, and race suit.
Food: The track has an American-style diner complete with burgers and fries for 4.60 euros. The track also will catering events for large groups. There is also a full bar in the diner for after the race.
More information: Telephone registrations are mandatory. Call 06071-951122 with the number in your party and requests for racing times. Fahr Werk prefers to accommodate groups of 10 to 12 on the track at one time, though larger groups can be handled and single racers can be integrated easily if you let them know in advance. Children under 16 cannot race on the track with adults and are allowed to race only after training on Saturdays.
— Jessica Inigo