Germany on the Med
by
Lisa M. Novak
September 30, 2009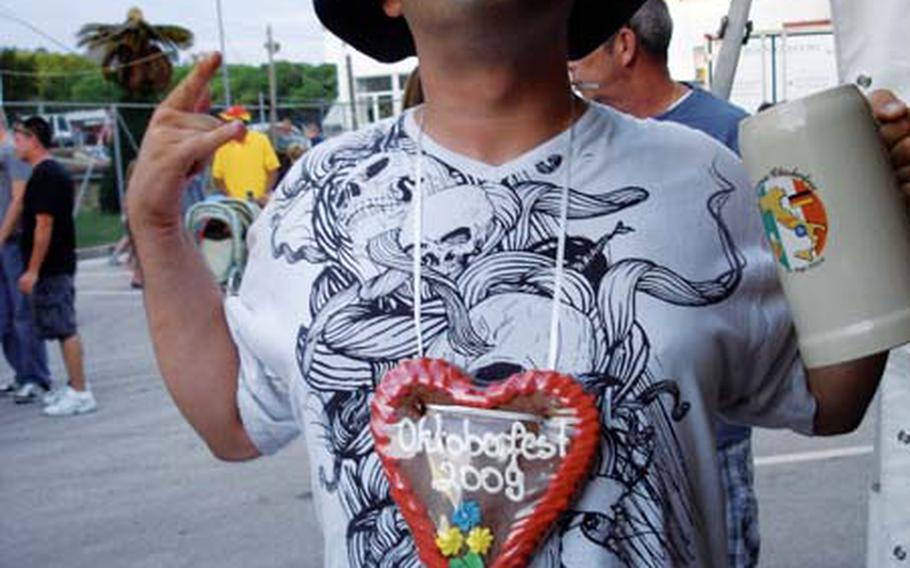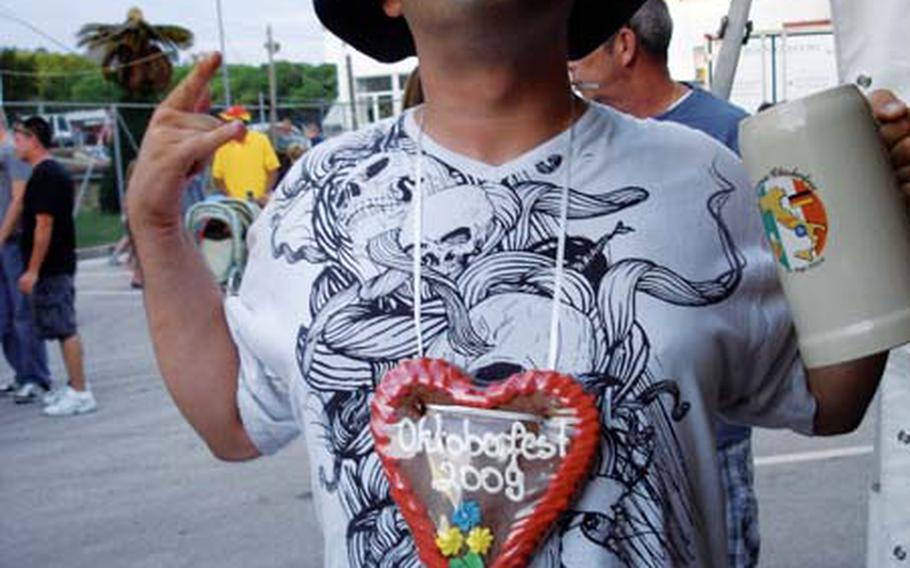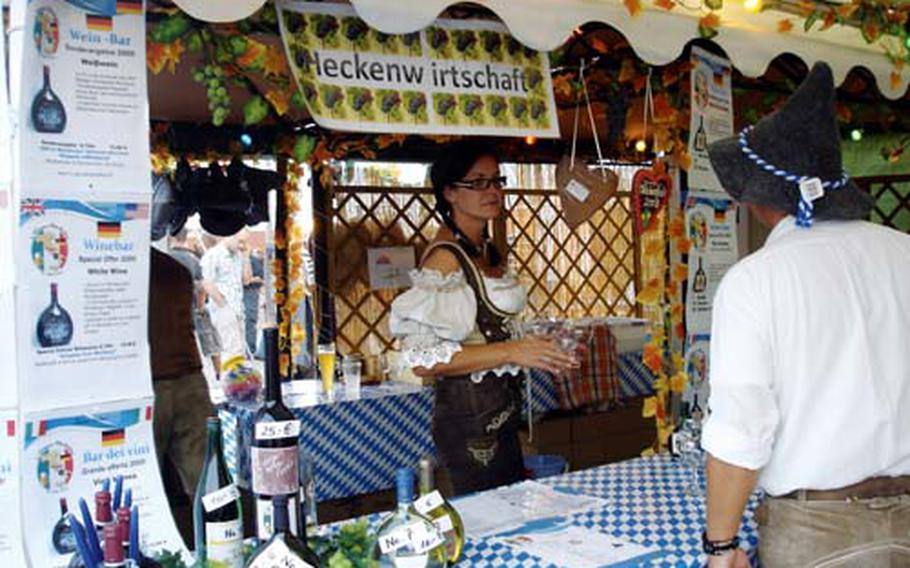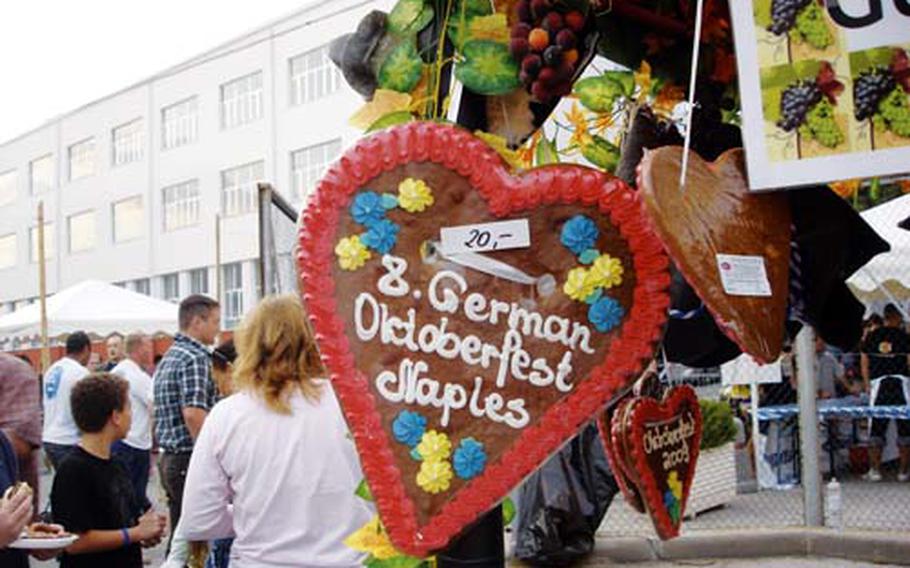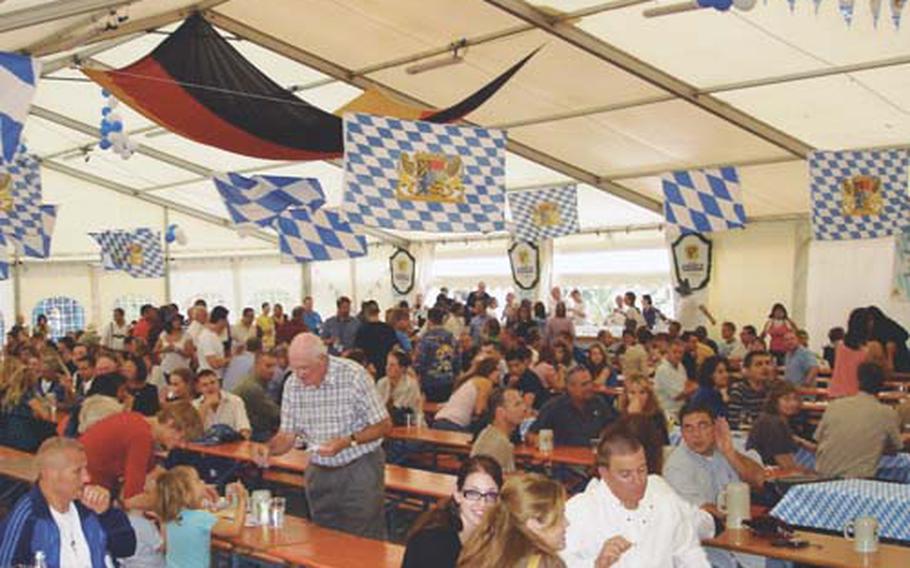 NAPLES - There was a beer tent. There were pretzels. There were men in lederhosen and women serving beer the size of 7-Eleven Big Gulps. Yes, it was Oktoberfest, though the warm Mediterranean breezes and the palm trees may have seemed a bit disorienting at first.
But once through the fest's entrance, the feel of Bavaria wasn't far off.
The eighth annual Oktoberfest celebration held Friday on the NATO base in Bagnoli was hosted by the Joint Forces Command's Morale and Welfare association with the organizing and volunteer work of the German community.
The party is the biggest bash of the year for the small base, drawing thousands of revelers to the 12-hour-plus party. The event kicked off at noon, with a lunch barbecue and ended sometime after 1 a.m. Saturday.
"This is the biggest cultural celebration here in the NATO community," said Lt. Col. Matthias Boehnke, event organizer for the past two years. "The German community puts this on because we, as Germans, are expected to host an Oktoberfest — but we are proud to do this. It's what Germans are famous for."
Setting up for the fest took about two weeks, but planning for it starts a few days after the previous celebration ends. Boehnke said volunteers organize into committees to ensure each element of a typical Oktoberfest celebration is present for the big night. Everything from food, costumes, music and, of course, beer was ready for the roughly 3,500 party-goers who turned out Friday.
On the menu: bratwurst, steak and Leberkäse — a mix of ground meats and onions baked into a loaf. To wash it all down, there was pils beer and the darker and heavier variety that German brewers are famous for. And for the sophisticates, there was a wine tent.
Wine at Oktoberfest?
"In Munich, there is always a wine tent featuring German wines," volunteer Ralf Hess explained. "So of course, we had to have one here!"
Munich, Germany, is the home of Oktoberfest — a two-week-long celebration that attracts about 6 million people from around the world. While the Naples party was only for one day, the organizers tried to pack in as much as possible.
There was entertainment such as a mechanical bull, and, for the kids, a giant bouncy dragon. Aalbachtal Express — a 10-piece brass and rock band — was imported from Bavaria for the event. The band played a mix of traditional and pop tunes throughout the evening.
"The Oktoberfest is an international event, so here at NATO it's similar, but we (the German community) are in the minority putting on this party for everyone," Boehnke said.
And when it was all over, a small party to thank the volunteers — and talk about planning next year's event.
---
---
---
---