Gearing Up: Safety, 'intelligence' lead equipment trend
by
Rick Scavetta
October 30, 2003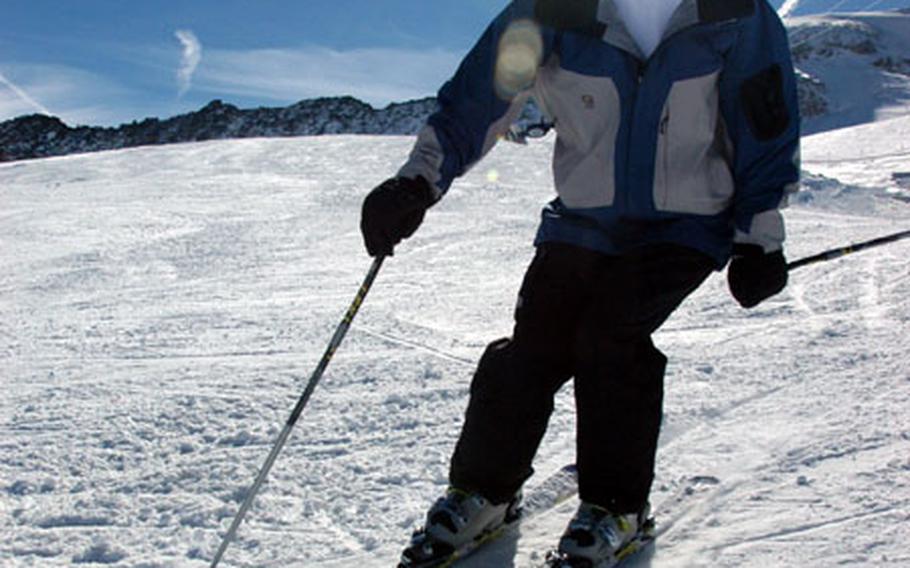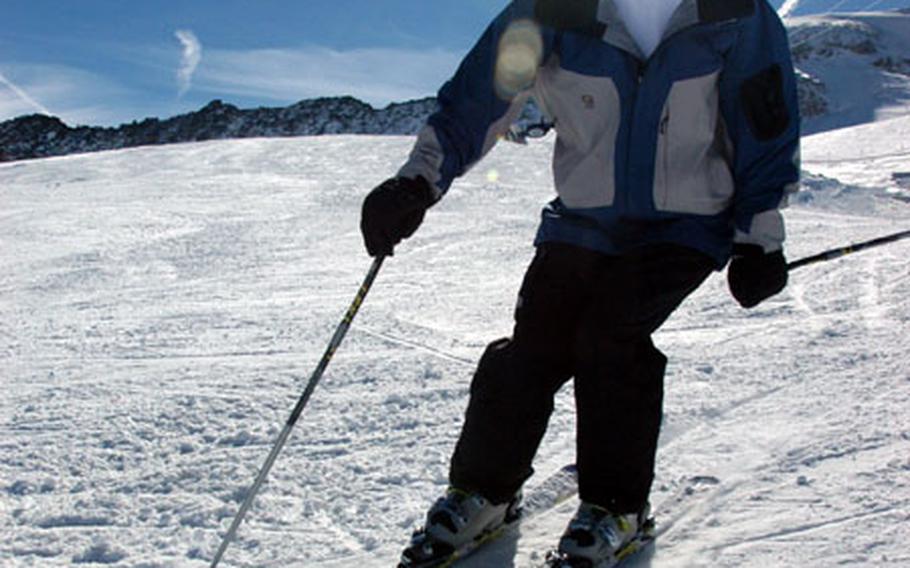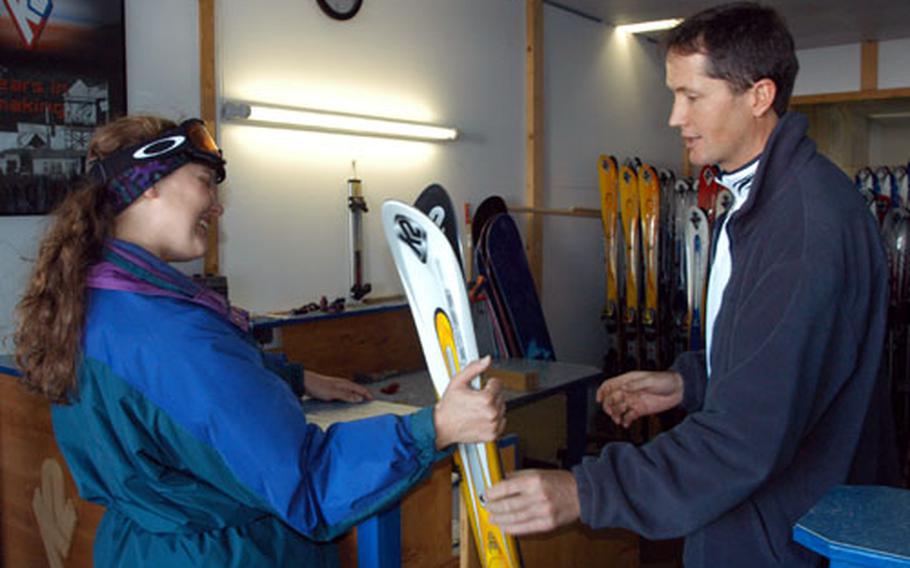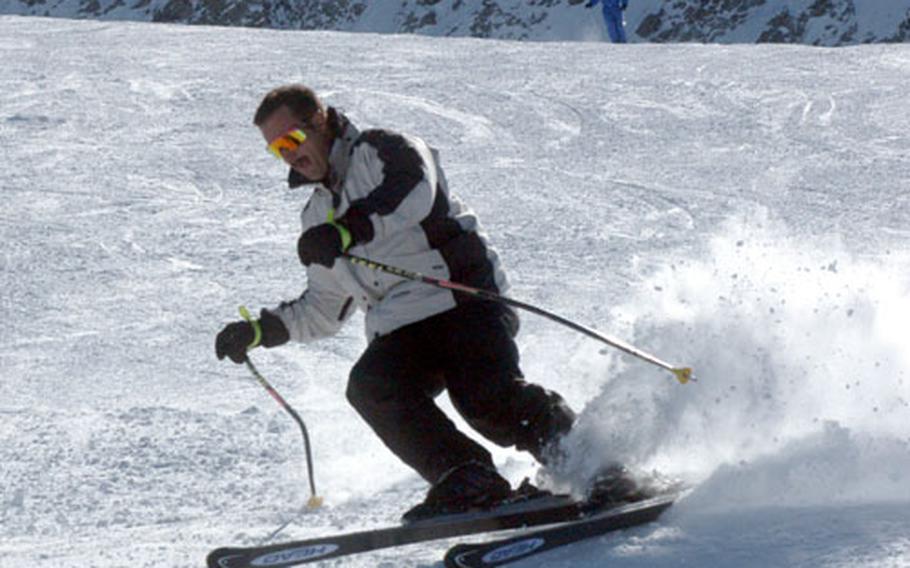 The glaciers perched above the village of Sölden, Austria, may not compete in midwinter with other Alpine skiing resorts.
But during the second weekend in October, the snow packed upon the Tiefenbach and Rettenbach glaciers annually attracts some of the first downhill enthusiasts of the season, along with the best products the skiing and snowboarding industries have to offer.
This year, several ski clubs from U.S. military communities in Germany flocked to the area, hoping to try out new gear.
"Did you ever buy a pair of shoes without trying them on?" Wayne Sellers asked rhetorically as he and his wife, Helga, tried out sets of brand-new K2 skis.
"Here you can test a number of skis and make a better choice when buying," said Sellers, a defense contractor from Mannheim.
Very few developments stood out among new skis this season. And the few changes in technology often bypassed average skiers testing equipment.
For instance, K2 skis have a raised spine along their center, dubbed MOD technology, which is supposed to reduce vibrations. This year, K2 added a monic — a small disk imbedded into the front of the ski — to further smooth out the ride.
Most skiers were glad to just try the latest carving skis, shorter hourglass- shaped skis developed in the mid-1990s that offer a better ride than rectangular downhill skis.
While carving technology has been around for several seasons, many skiers have yet to trade in their older models. At Sölden, Air Force Staff Sgt. Heidi Lawson from Ramstein Air Base was at the K2 shop looking to replace her Alpine skis with the latest carving skis.
"It's like going from eight-tracks to CDs," Lawson said of the improvement.
But trying out new gear was not as easy as in years past, skiers said. This season, clubs coordinated with dealers to test new equipment with special passes.
"In the past there were several tents just set up in the parking lot with vendors," Air Force Lt. Col. Curt Taylor said.
Taylor, a former pilot now stationed at Ramstein, and his family were the first among several Americans to face snubs when venturing into test centers at the base of the Rettenbach glacier. At one center, a staff member hurried them out, jabbering German in a thick Austrian dialect. It sounded like, "only invited guests allowed."
Americans were shuffled out of another test center that they were told was reserved for Swiss clubs.
While the Taylors headed for the slopes, other Americans found the K2 display, where employees welcomed the American skiers and began fitting their boots to bindings.
Snowboarders had more luck trying out a variety of new gear. At the base of the Tiefenbach glacier, several companies offered new boards from tents set in the parking lot.
For the first time in four years, the snowboard and boot maker Nidecker returned to Sölden for test weekend. This year, they introduced a new shape for their freestyle Megalight board that debuted in 2001, said Sasha Ulpke, 31, of Cologne, Germany.
Ulpke, who spent the weekend fitting bindings to boards for test customers, said the 500-euro Legend, a board with a soft nose that dampens the shocks of off-piste runs, is also popular with freestylers this year.
Hank Dunn, 33, of Houston, Texas, who inspects helicopter parts for the Army in Mannheim, was glad to trade in his old board for a few runs with a new Nidecker, he said.
"You see a board at the PX, maybe a Ride or K2, and you can only say 'I heard that was pretty good,' " Dunn said. "Here you get to really test it out."
Both snowboarders and skiers are wearing more safety equipment than in the past, such as helmets and back-protecting shells nicknamed "body armor" by Americans.
"Everyone seems to be wearing helmets this year, and we never did that in the past," said Dave Sowell, of the Kaiserslautern-based West Pfalz Ski Club. "That's a good thing."
Several companies offer helmets that range from $100 to $220. The most popular back shields on the slopes are made by Dianese, an Italian company with an excellent Web site showing pictures of all their gear. Germans call the back protection "Panzer," which means tank.
"If you're going to crash down on rocks, you're not going to do very well without it," Ulpke said of the hardened plastic armor.
There is a definite trend toward safety, several snowboarders said. But with that comes the idea that since they wear more protective gear, they can take more risks.
"It's that feeling of safety," said Ulpke, who's been snowboarding for more than a decade. "You sort of legalize higher jumps and going faster."
Nearby, snowboarding newcomer HEAD offered its Intelligence series, boards that have electronics that respond to changes in terrain, said Jochen Ihria, 31, a HEAD salesman from Bavaria. The idea came from tennis, he said.
According to its Web site, the board uses something called "Intellifibers," designed to generate electricity when they receive vibrations caused by a rough patch. The electricity is captured in a circuit where "disruptive frequencies" are removed, and the charge is multiplied and sent back to the Intellifibers to create a counterforce.
It sounds confusing but the result is that "the board is more stable," Ihria said. "You can go 20-percent faster with this technology."
Three years ago, HEAD took over two snowboard companies, Blax and Generics, and developed the technology for both snowboards and skis, Ihria said. The company hopes its intelligent board, which sells for about $700, will make it a greater competitor among the snowboarding market now dominated by Burton, Nitro, and Rossignol, Ihria said.
"It's our most expensive board. The next step down is 499 euros," he said. "For people who recognize the technology, it's a good price."
Among the retailers at Sölden, Völkl stood out with its wider line of skis that attract snowboarders and folks looking for an alternative to carving skis. Völkl skis, made in Straubing, Germany, are higher priced but are also of higher quality, said Andy Dillinger, a Völkl saleman.
Air Force Col. Jane Serie from Ramstein and her husband, Denny, were the only Americans to visit the Völkl tent at Sölden. But Denny Serie said he's skied Völkl for years. He had already tried the company's all-mountain V-Pro, which "floats through the crud and carves on the groomed," he said.
He then tried out the "big fat Gotama," a thick ski that sells for about 500 euros.
Overall, the weekend on the Alps offered blue skies and plenty of snow, which would have been enough for most of the Americans who traveled to Austria. All the new gear was just a bonus.
"That's the fabulous thing," said Holly Ginas, who ventured to Sölden from Kaiserslautern with her husband, Bill. "Rarely do you get a chance to try equipment before you buy it."