Gardaland: Rating the rides from tame to thrilling
by
Kent Harris
September 8, 2005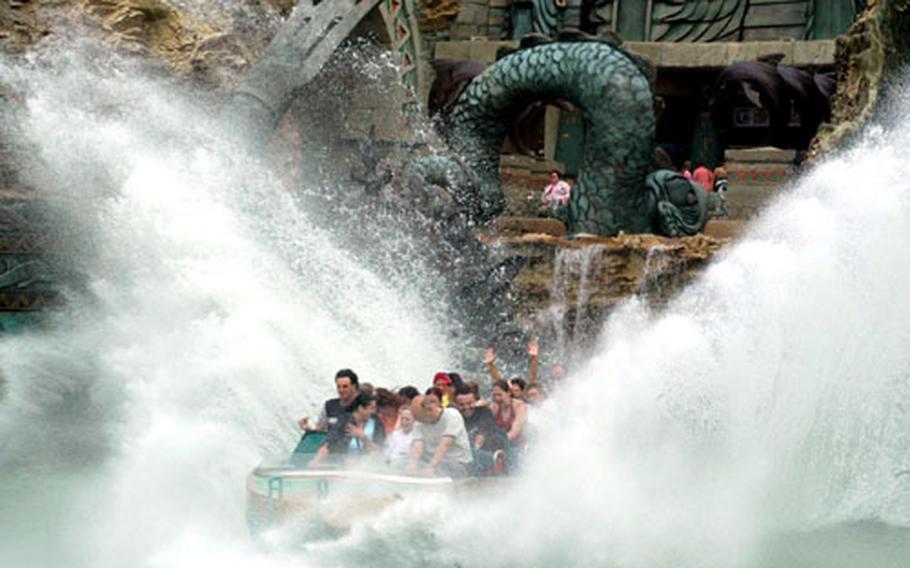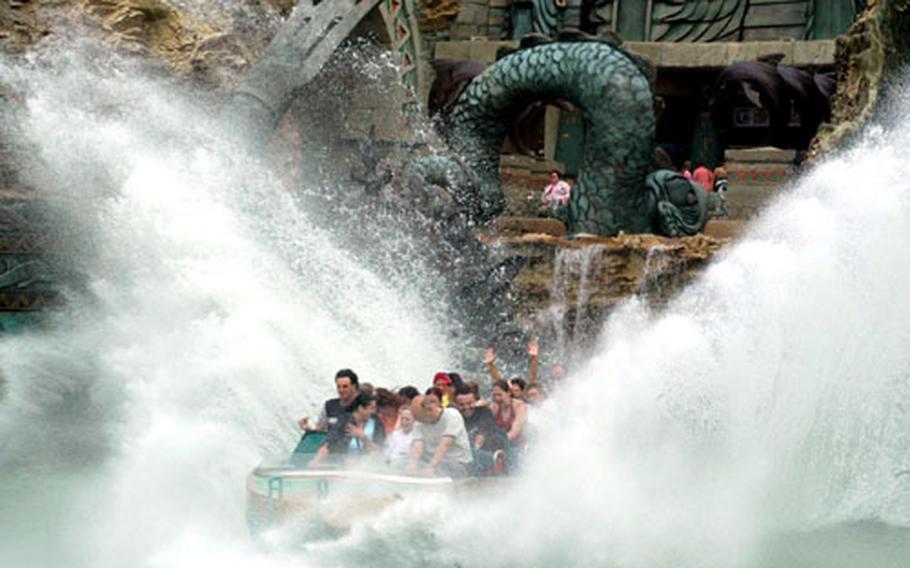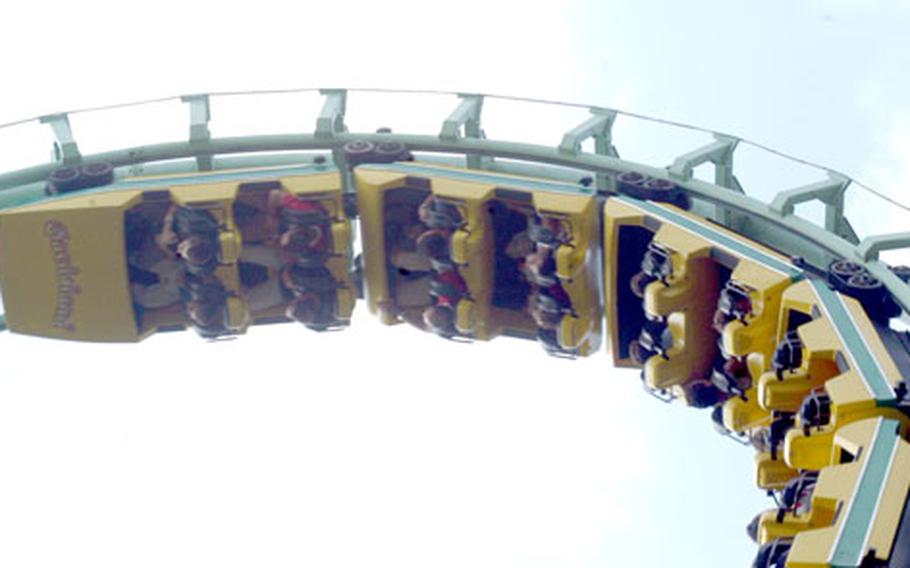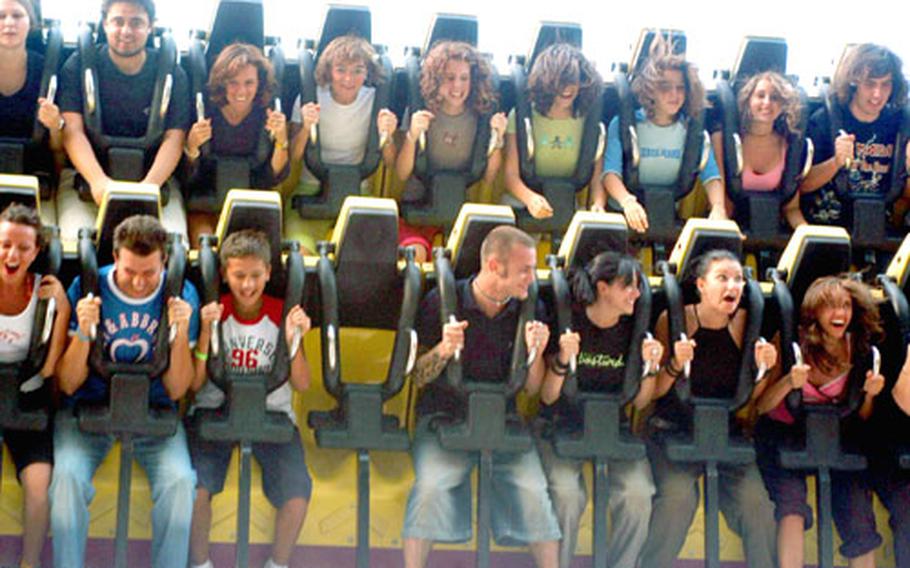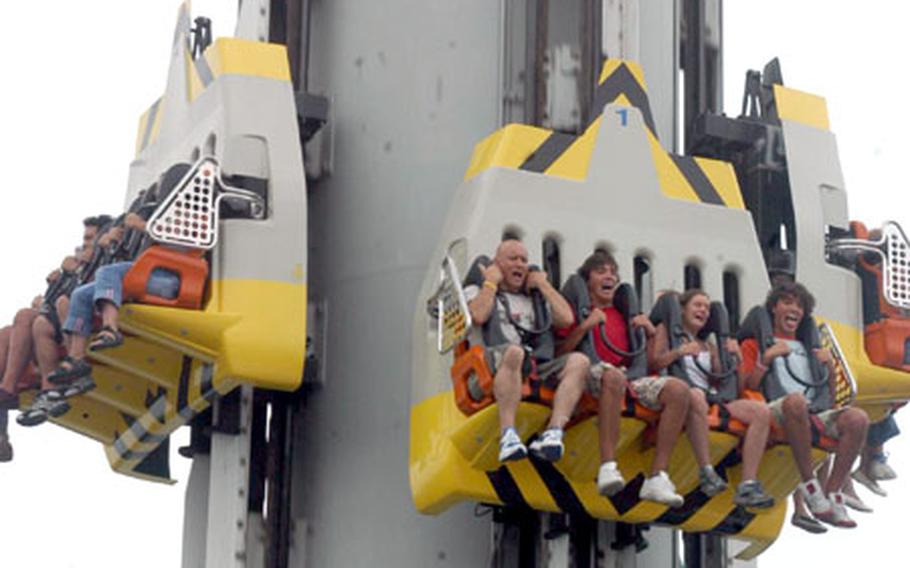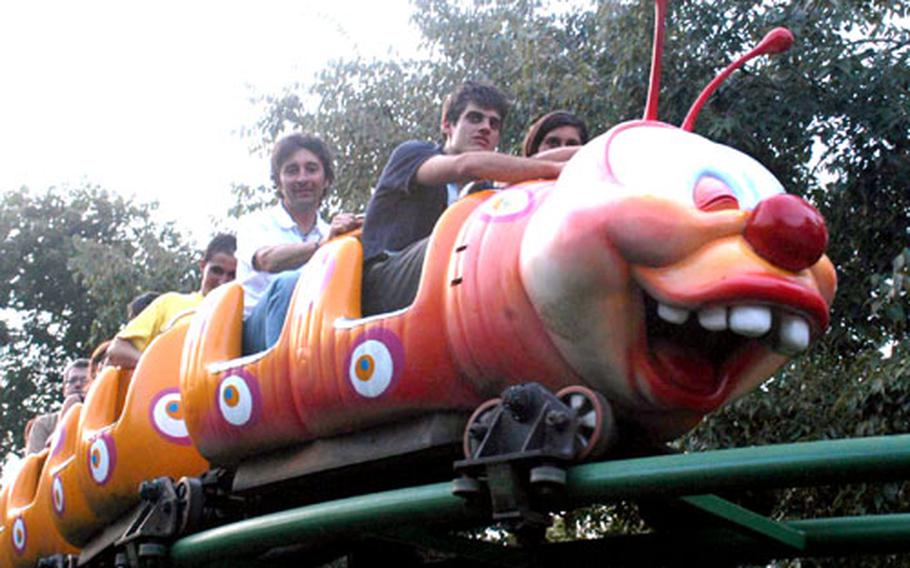 Gardaland features a dozen rides for those who like to go fast, upside down or generally get their hearts beating quickly.
There are five more "adventure" rides that might interest thrill-seekers. Depending on the lines, it might not be possible to try all of them in one visit.
So on a Friday in August, Stars and Stripes sent an intrepid (and, afterward, rather tired) reporter to provide a review, so that servicemembers looking for excitement can better choose their rides. Rides were rated on the amount of thrills they provide on a scale of 1 to 5 heartbeats.
Blue TornadoHeartbeats: 4½
Wait: 21 minutes
The ride: 3 minutes
Synopsis: More thrills than any other ride in the park. Passengers are strapped in harnesses that leave their feet dangling. They then proceed to go along a roller- coaster track — often upside down — at a high rate of speed. Not for kids or the faint of heart.
CanyonsHeartbeats: ½
Wait: 15 minutes
The ride: 5 minutes
Synopsis: Up to four people can get on a mine car that travels through "canyons." It's suitable for all ages. The biggest "chills"? A disappearing waterfall and a quick trip through a tunnel. Skip this if you're only looking for excitement.
Colorado BoatHeartbeats: 1½
Wait: 30 minutes
The ride: 6 minutes
Synopsis: Climb into a "log" and travel along an elevated waterway. In two areas, the logs drop onto lower levels, creating a very strong possibility of getting wet. The day we visited, many passengers enjoyed splashing one another and left the ride soaked. Good on a hot day.
I CorsariHeartbeats: 1
Wait: 20 minutes
The ride: 10 minutes
Synopsis: Enter the pirate ship and take a boat ride underground that's essentially a budget version of Disneyland's Pirates of the Caribbean. There's a small chance of getting wet. The fog rates as the best special effect.
Fuga da AtlantideHeartbeats: 1½
Wait: 36 minutes
The ride: 2 minutes
Synopsis: Travel with a larger group of people (see Colorado Boat above) along an elevated waterway. There are also two drops here. Your chances of getting wet naturally are greater on this ride; the chances of splashing others is less. A lot more scenery than on the Colorado ride.
IkarusHeartbeats: 2
Wait: 3 minutes (after 9 p.m.)
The ride: 2 minutes
Synopsis: This might be the first ride you come to in the park. It consists of four sets of small spaceshiplike cages that rotate and soar into the air at the same time. Don't try to walk a straight line after getting off.
Jungle RapidsHeartbeats: 2
Wait: 26 minutes
The ride: 10 minutes
Synopsis: If you don't mind getting wet, the thrills of this ride are cut in half. Passengers get into a circular float and travel down a riverlike path. There are a few waterfalls where the possibility of getting soaked is fairly high.
La Valle Dei ReHeartbeats: ½
Wait: 1 minute
Ride: 5 minutes
Synopsis: It's similar to I Corsair, except not on boats (and without water) and set in the Middle East. Kids might find the effects special. It's dark and cool on a hot day.
Magic HouseHeartbeats: 1½
Wait: 7 minutes (after 9 p.m.)
The ride: 10 minutes:
Synopsis: This is clearly designed for kids, but adults might get a small thrill out of it. Enter the large tree house and take an elevator down to a room where you'll hear a tale in Italian. Then enter another room, sit down and the fun starts. The chair and the room take turns rotating.
Magic MountainHeartbeats: 3
Wait: 14 minutes
The ride: 2 minutes
Synopsis: Not as full of scares as Blue Thunder, this traditional roller coaster still provides more than a few twists and turns at various angles. It's in the southwest part of the park near several other rides, so it might be a top choice for those not interested in seeing all the park.
Ortobruco TourHeartbeats: 1½
Wait: 16 minutes
The ride: 2 minutes
Synopsis: A roller-coaster ride primarily for kids (check out the caterpillar design), but it's got a few faster twists near the end. Easily the tamest of the roller-coaster rides.
SaltomattoHeartbeats: 1
Wait: 5 minutes (after 9 p.m.)
The ride: 2 minutes
Synopsis: Unless you're a kid or a parent with a kid, you'll feel silly on this version of Space Vertigo (see below). Strap yourself into a small platform that rises 20 feet above the ground, then bumpily drops down.
Sequoia AdventureHeartbeats: 3½
Wait: 1 hour, 5 minutes
The ride: 3 minutes
Synopsis: It doesn't look like much from the ground. And the line takes forever. One of the park's newest rides consists of small "logging carts" that travel up a steep ramp, then slowly descend. The key part of that is "slowly." And the fact that much of it is upside down. The first drop will make you happy you're strapped in securely.
Space VertigoHeartbeats: 4
Wait: 17 minutes:
Ride: 15 seconds
Synopsis: Pretty similar to bungee jumping with a platform. Enter the ride through a set of space station doors and strap yourself onto one of four platforms. The platforms are lifted high above the park, come to a stop, then seemingly free-fall toward the ground. It's over before you have a lot of time to think about it.
The Spectacular 4-D AdventureHeartbeats: 1½
Wait: 45 minutes
Ride: 10 minutes
Synopsis: If you really like wearing 3-D glasses, this is your ride. If you don't speak Italian, don't like a seat with a mind of its own and don't want to watch a cartoon, this isn't your ride. Sit in a row of seats, put on the glasses, and move with your seats as the movie progresses.
Top SpinHeartbeats: 3
Wait: 7 minutes
Ride: 3 minutes
Synopsis: It looks a little like an upside-down blender. Two long rows of passengers are strapped down on a platform that essentially acts like a giant swing. Only for those daredevils who managed a complete circle on the swing set. Just don't try to jump down onto the sand. There isn't any.
Tunga the Ape ManHeatbeats: 1
Wait: 1 minute (after 9 p.m.)
Ride: 10 minutes
Synopsis: Take a boat ride along a river and see Tarzan, errrr ... Tunga, and his animal pals confront wild animals from Africa. King Kong makes a cameo, for some reason. This ride is probably better at night. The only chance of getting wet is falling off the boat (not advised).