French Riviera celebrates carnival, flowers and lemons
by
Peggy Sijswerda
February 8, 2007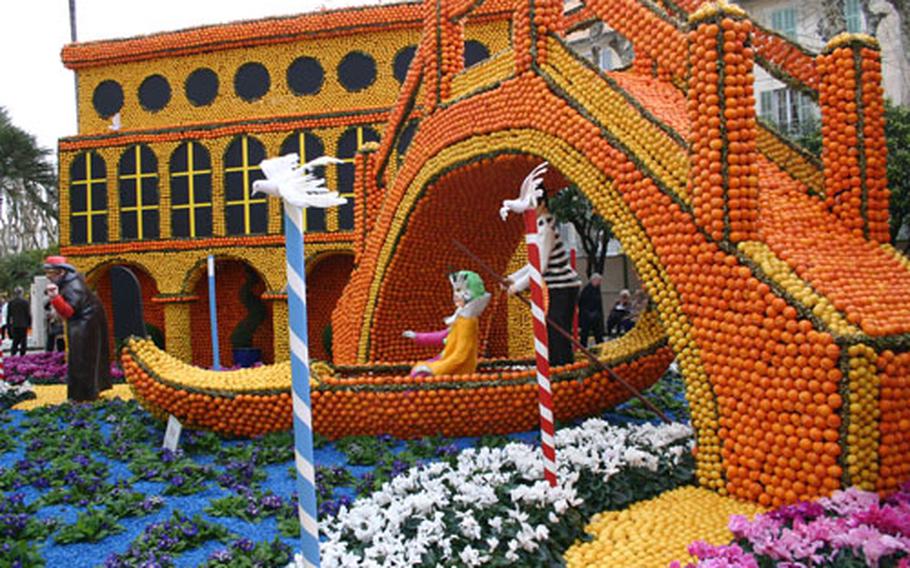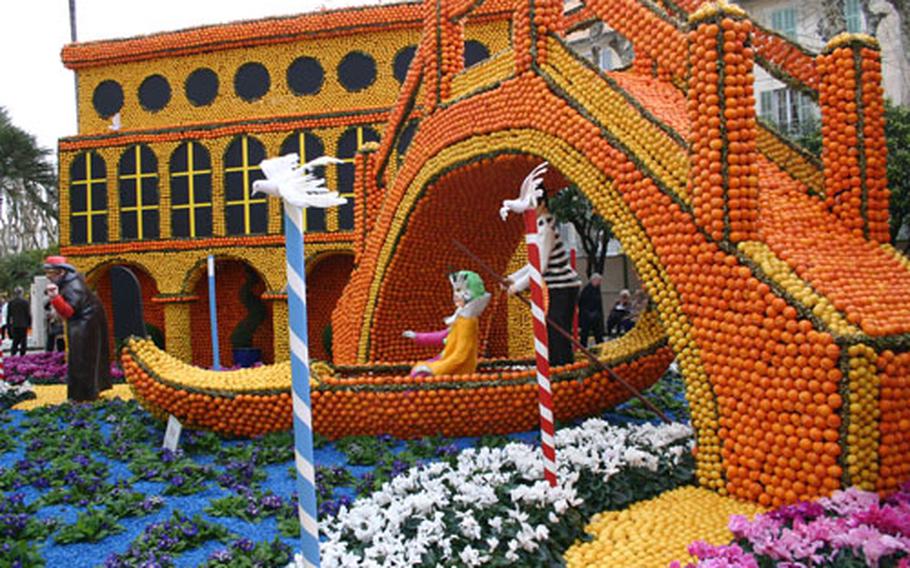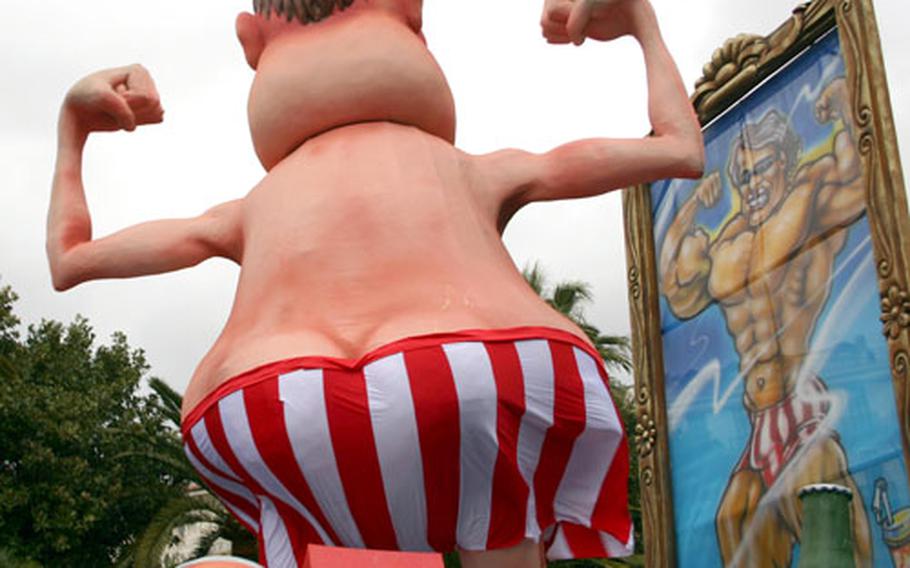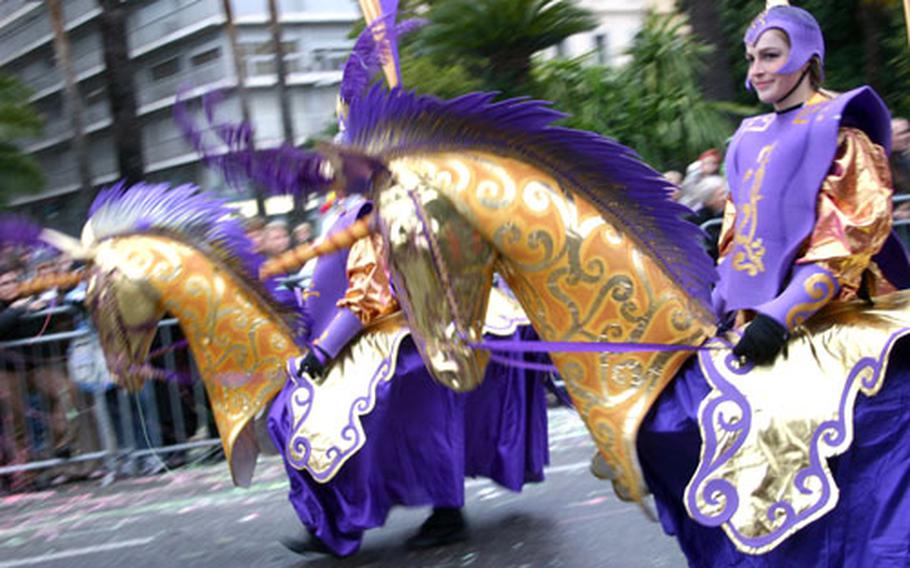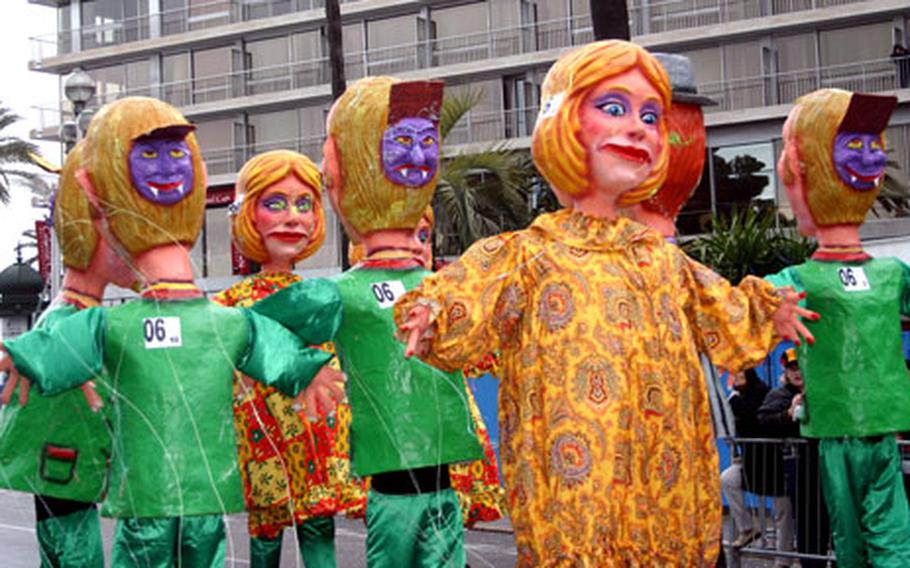 With its short daylight hours, bare trees and overcast skies, winter hardly seems the season for staging outdoor events.
Yet on France's Côte d'Azur, winter is surprisingly festive. Three colorful festivals are held during the annual carnival time period, each attracting thousands of visitors, who go to the region for the cultural festivities and mild winter climate.
The biggest and best-known is carnival in Nice, beginning Feb. 16 and ending March 4 this year. While it is different from many pre-Lenten celebrations, it shares a common purpose: to party with abandon.
Nice CarnivalEach year, the Nice Carnival chooses a theme, and cartoonists from around the world submit drawings for parade floats, each a wildly imaginative interpretation of that theme. One year the carnival celebrated weather; in 2002 the newly minted euro was the theme. Last year, it was "dupery," especially as it relates to politics. This year, the carnival's 123rd edition, the theme is best described as a free-for-all with ties to the Rugby World Cup, held in France this summer, and France's elections.
The first historical reference to Nice's carnival was made in the 13th century, when the Count of Provence mentioned having spent "some joyous days of carnival." However, the city's modern carnival didn't begin until 1873, when the city fathers invited local artisans to create spectacular floats, both fabulous and grotesque, to parade through the streets. Except during the world wars and periods of political unrest, visitors have flocked to Nice every year since to enjoy the citywide celebration.
On an overcast, windy Sunday last February, my family and I went to Nice to watch the Carnival Parade, one of 14 scattered through a two-week period. Rather than buy a ticket and sit in the stands, we found a perfect spot for watching the parade by the Albert Gardens. Overhead, palm fronds swished and lively carnival music with a staccato beat spilled from speakers as we waited for the parade to begin.
When it did, we watched for an hour, enthralled as imaginative montages of the familiar and unfamiliar floated by.
Horn-blowing Blues Brothers look-alikes, fanciful fairy-tale creatures, dancing Don Quixotes and giant caricatures of two-faced politicos kept us entertained from beginning to end. My son, Ross, loved the Silly String and confetti that pelted both onlookers and parade participants. We agreed that this colorful parade, with its international flavor and crazy costumes, was among the best we have seen.
The Carnival Parade repeats at night when, I'm told, everyone makes merry into the wee hours of the morning.
Flower ParadeAnother parade during Nice's carnival is the Flower Parade. It features colorful floats, brilliantly decorated with blooms, 90 percent of them grown locally. Part of the fun is the Battle of the Flowers, during which parade participants shower the enthusiastic crowd with thousands of flowers launched from cannons.
King Carnival is a revered component of Nice's festivities. Presiding over the parades, he embodies the carnival theme each year. From the opening ceremony, when the king arrives on the Promenade des Anglais to receive the keys to the city, to the grand finale, when he is burned on the beach to signal the end of another carnival, his presence provides a link between the past and future, and ensures Nice's carnival traditions will continue for years to come.
Lemon FestivalIn nearby Menton, a charming coastal city close to the Italianborder, a different kind of celebration takes place: the Lemon Festival, Feb. 17 to March 7 this year.
Every year, 140 tons of lemons and oranges arrive from Spain in time for the festival. Using rubber bands, a team of craftsmen and artists converges to create masterpieces from the colorful fruit. Some are used to make fanciful floats that parade through the streets of Menton, while the remainder are formed into spectacular sculptures that decorate the city's Biovés Gardens.
Like Nice's carnival, the Lemon Festival, now in its 74th year, designates an annual theme. When we visited last year, it honored carnivals throughout the world. While we didn't catch a parade, we did enjoy viewing scenes of Venice and New Orleans in the Biovés Gardens, and watching a small parade of Brazilian dancers in feathery costumes wind along a nearby street as drums added a rhythmic beat.
This year, the Lemon Festival honors India so you're sure to see exotic floats and imaginative sculptures.
In addition to parades and enchanting gardens, the Lemon Festival features a craft fair, where local artisans create woodcarvings and pottery. You'll also be tempted by delicious jams and other products that incorporate locally grown Menton lemons, prized for being sweeter than other lemons. You can also opt to visit a lemon orchard, a jam factory or an orchid festival.
Menton is proud of its lemons, as well as its reputation as a garden city. Averaging 300-plus cloudless days annually, the city welcomes visitors to its subtropical climate, lovely beaches and sunny mountains any season of the year.
Mimosa FestivalAnother fest to check out is the Mimosa Festival in Mandelieu-la-Napoule, Feb. 16-25 this year.
Mimosa trees, originally from Australia, were introduced to southern France in the mid- 1800s. The warm, sunny climate provided ideal conditions for growth, and soon mimosa was a booming crop. Europe's largest mimosa forest is in the Tanneron region, southwest of Nice, and February is the perfect time to view its gorgeous yellow blooms, also known as "winter suns."
It's also the perfect time to visit Mandelieu-la-Napoule, a town on the Mimosa Trail that winds through part of southern France. The town's annual festival features parades and flower battles, but lacks the huge crowds and revelry of other events. And that is part of its charm.
The celebration also includes a children's carnival, a provincial craft market and a dance. You can also join an excursion to the countryside and learn about the history of mimosas or take a guided hike through the forest.
The Mimosa Trail stretches from Bormes les Mimosa through six other towns and ends in Grasse, a city famed for its perfume houses. Mimosa is an important ingredient in many perfumes, and its heady scent is prevalent along the trail this time of year.
Peggy Sijswerda lives in Virginia Beach, Va.
Know and go ...• Carnival in Nice: Find details on parade times and entrance fees at www.nicecarnaval.com. For tourist information about the region, see www.nicetourisme.com.
• Lemon Festival: For details, see www.villedementon.com, select English from the language options, and then click on "Events."
• Mimosa Festival: See www.mandelieu.com and click on "Events."
• Accommodations in the area range from youth hostels to upscale hotels. We found a lovely small villa in Vence through the Vacation Rentals by Owner Web site, www.vrbo.com. The 2006 low-season rate was about 500 euros for a week, plenty of time for visiting festivals and exploring the region, including a day's skiing in the Alpes Maritime. For more on the area, see www.azurvacation.com.
— Peggy Sijswerda
---
---
---
---