France's Jura region produces extraordinary golden wines
by
Leah Larkin
April 12, 2007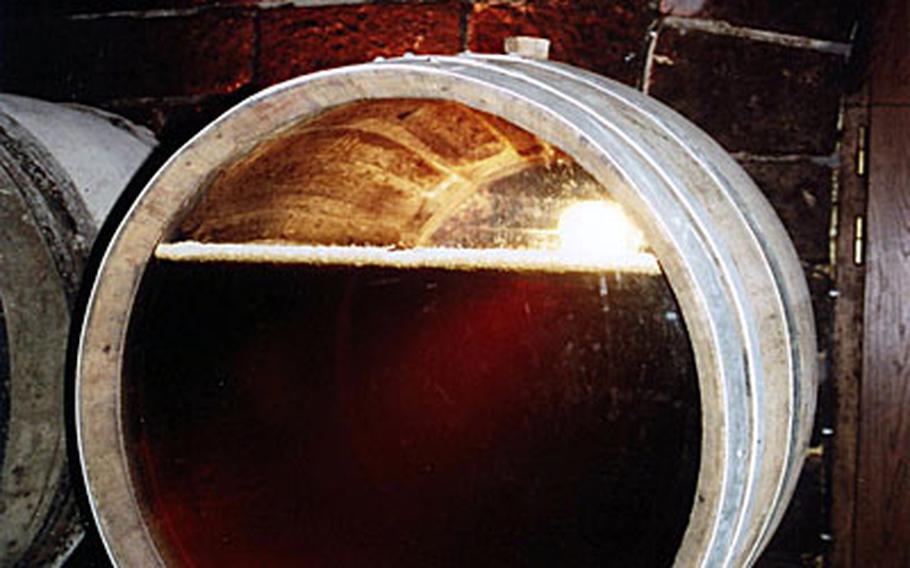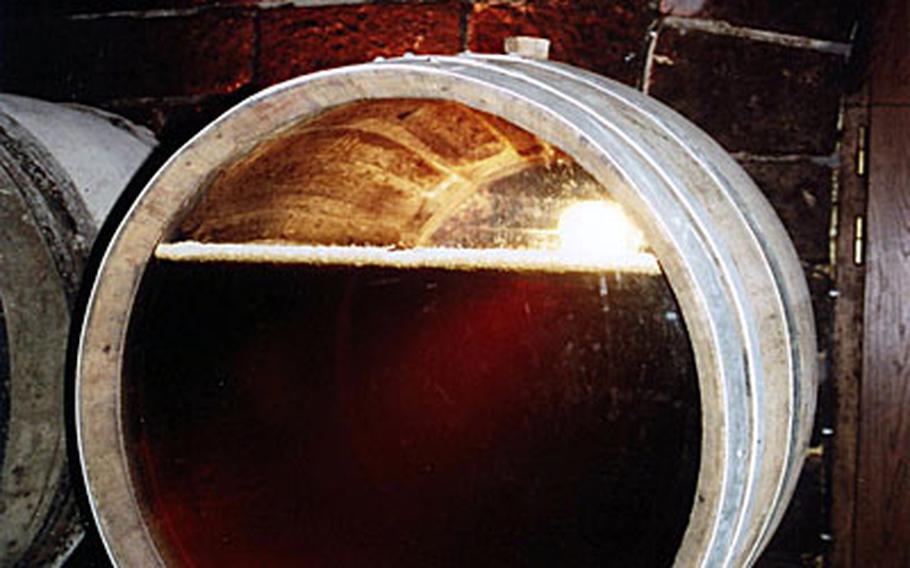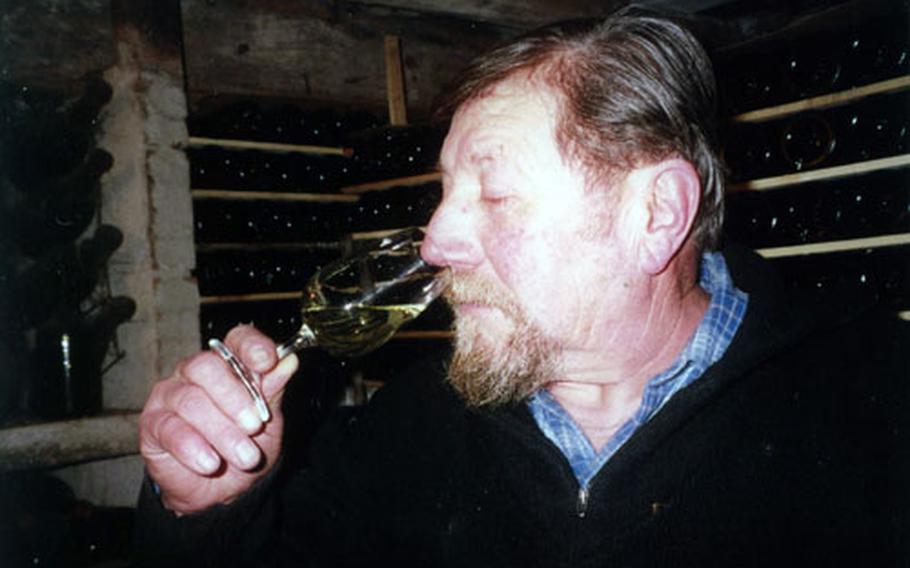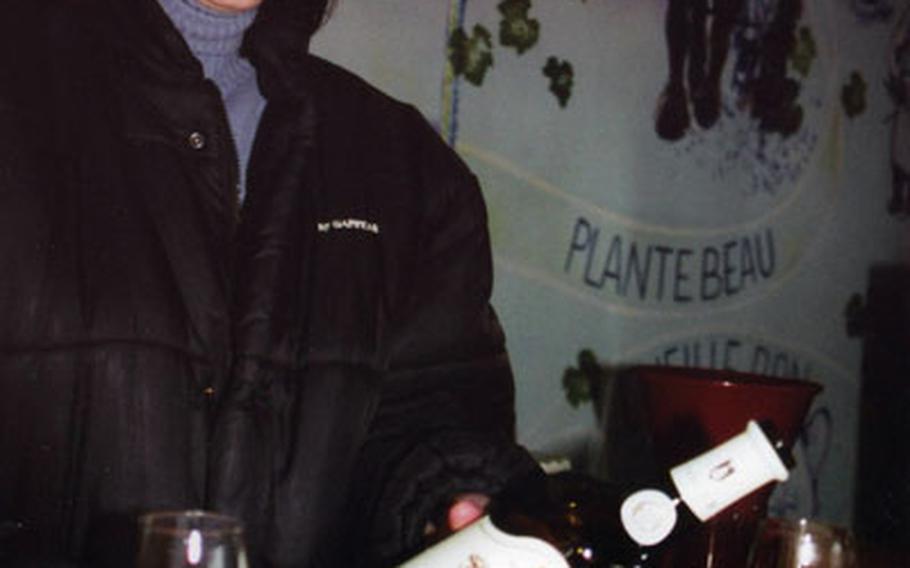 He calls himself "Bacchus." The 70-year-old gave up the cattle business for grape vines in 1960 and, with his wife and son, has been producing some of the distinctive wines of France's Jura region ever since.
"We are artisans. We're not a factory. This is our store," says Lucien "Bacchus" Aviet as he cracks walnuts to accompany the wine he offers visitors.
His "store," the Caveau du Bacchus in a tiny country village, is several dark, damp ramshackle rooms whose ancient stone walls shelter a helter- skelter collection of wine bottles, barrels, hoses, a cobweb-covered statue, dusty old cartons, a gas-burning stove, a cluttered desk and a dirty sign labeled "Prière a Bacchus" ("prayer to Bacchus").
It's the opposite of a classy wine boutique, but the kind of place that reeks of genuine old-world atmosphere, where you expect to discover special, extraordinary wines.
Jura wines are special, if not extraordinary. The winegrowing area of this region of lakes, streams, rivers and gentle mountains in eastern France between the Swiss border and the French region of Burgundy is France's smallest. It covers about 4,500 acres — stretching some 50 miles from Champagne-sur-Loue in the north to Saint- Amour in the south.
Grapes flourish in its clay-limestone soil, rich in fossils. The generic term "Jurassic" stems, in fact, from the rocks in the area, which show the presence of dinosaurs and the first appearance of birds.
Archaeological studies indicate that grapevines were cultivated in the Jura 5,000 years ago. Bacchus tells us his family roots in the area go back to 1474, when his ancestors produced wine for the neighboring monks. Louis Pasteur, who lived in Arbois, a major city in the Jura, used area wine as the basis for his study of the mysteries of fermentation.
Vin jaune — yellow wine — is the area's prize and signature product. It comes from the rare Savagnin grape, a variety grown on only about 2,500 acres in the world.
After the Savagnin juice undergoes conventional fermentation, a complicated process begins. The wine is transferred to old barrels in a special vin jaune "cave." This could be a cellar, but an attic or simple storage warehouse can serve the purpose, as long as it is well ventilated and subject to temperature fluctuations, conditions that allow a voile, or film of yeast, to form on the surface.
According to law, the wine must stay this way for at least 75 months. Some of the wine evaporates during the aging, but topping up is not permitted. The barrels are monitored during the process for dangerous levels of volatile acidity, as well as the formation of ethanol. The latter is an ingredient that gives the wine its distinctive taste. The voile protects the wine and prevents vinegar from forming.
If wines do not measure up during the testing, they are removed and sold simply as Savagnin white wine. Some of the most demanding vintners reject as many as three-quarters of the original barrels.
The result is a rich wine with a nutty taste sold in a 62 centiliter stout bottle known as a "clavelin." Bottles are said to contain what's left of one liter after the more than six-year aging process.
Vin jaune is not cheap: Prices start at about 25 euros per bottle. It is usually served as an aperitif and goes well with Comté, the cheese of the Jura, and walnuts, and is the base for an area specialty, coq aux morilles et au vin jaune — chicken with morels and yellow wine — an exquisite dish that is worth a trip.
Vin jaune and Savagnin are "very different with a strong taste," says Sophie Vitali, a saleswoman at Domaine de la Pinte, a winery just outside Arbois.
"This is the real taste of the Jura," which, she admits does not appeal to everyone.
In addition to Savagnin, four other grape varieties thrive in the area: Chardonnay, Poulsard, Trousseau and Pinot Noir.
Poulsard, a red wine grape, is blended with Chardonnay and Savagnin to produce another Jura specialty, vin de paille or "straw wine." Grapes for this vintage are picked early and allowed to dry in an attic area on straw mats for at least six weeks to elevate the sugar content.
They can age up to another six months on racks before they are pressed. Law dictates that the wine must age in oak barrels for a minimum of three years.
The end result is a honey-flavored wine with hints of exotic candied fruits.
"We sell a lot of vin de paille," says Vitali. A small bottle of the sweet liquid, which is almost like a liqueur, goes for 35 euros. One hundred kilograms of grapes yield just 10 liters of vin de paille, hence the steep price.
In the everyday wine category, Chardonnay is the most widely planted variety in the Jura. The flowery, fruity wines have a pale yellow color, which turns golden as the wine ages and are a perfect accompaniment for seafood.
The region's red wines also have their fans. The Poulsard grape produces a pale red wine that is usually designated as rosé and goes well with almost any food.
Poulsard, Trousseau and Pinot Noir grapes are often blended to form darker, ruby-colored wine that goes well with poultry and game.
Jura grapes are also the base for a potent digestive, Macvin du Jura, and a bubbly Crémant du Jura.
Leah Larkin, a member of the Society of American Travel Writers, is a journalist living in France.
Know and go ...The Jura is an ideal place to stop for wine tasting on the way route to southern France or the Alps from northern Europe. For more about the region, see www.jura-tourism.com
• The Caveau du Bacchus is near Arbois in Montigny les Arsures; its telephone is (+33) (0)3-84-66-11-02
• Domaine de la Pinte is on the Route de Lyon outside Arbois; (+33) (0)3-84-66-06-47. Its Web site is www.lapinte.fr.
• The Hotel des Cépages in Arbois offers reasonable accommodations, double room for 68 euros; (+33) (0)3-84-66-25-25; www.hotel-des-cepages.com.
• The Chalet Bel'air in Mouchard near Arbois is a small, family- run hotel with an excellent restaurant; (+33) (0) 3-84-37-80-34.
• La Finette, a restaurant in Arbois, offers specialties, such as fondue (9.50 euros) made with Comté, the Jura cheese, as well as a tasty poulet au vin jaune, chicken in yellow wine (15 euros); (+33) (0) 3-84-66-06-78; www.finette.com.
— Leah Larkin