Festivals offer glimpse of life in the Middle Ages — without the plague
by
Michael Abrams
June 10, 2004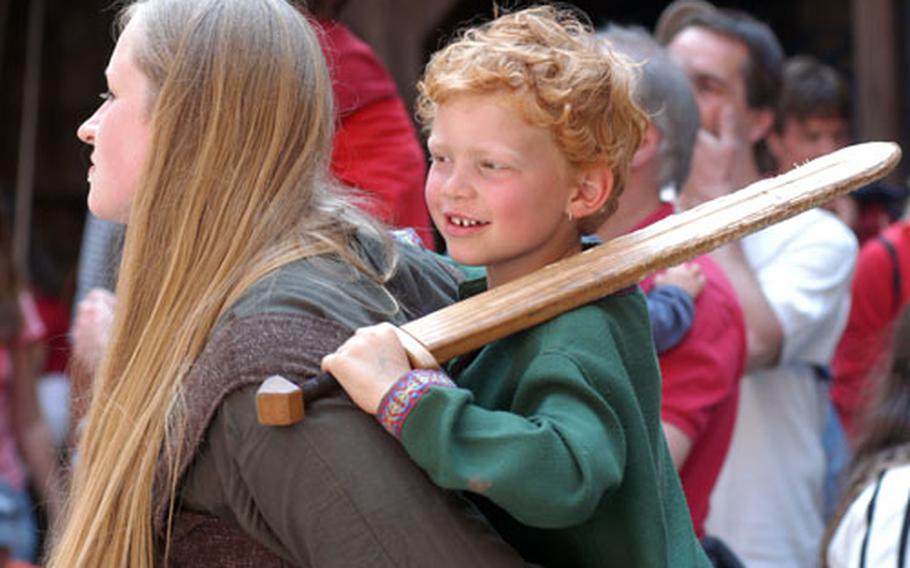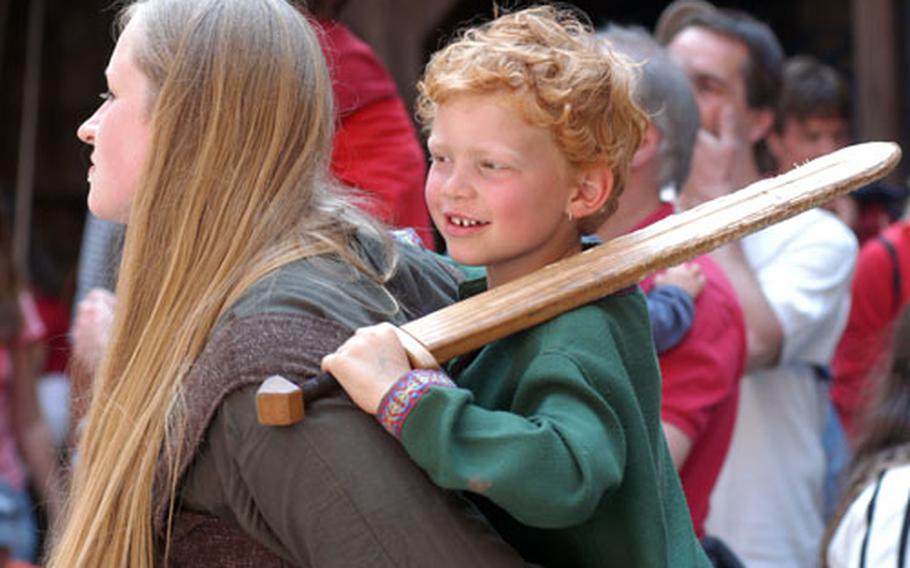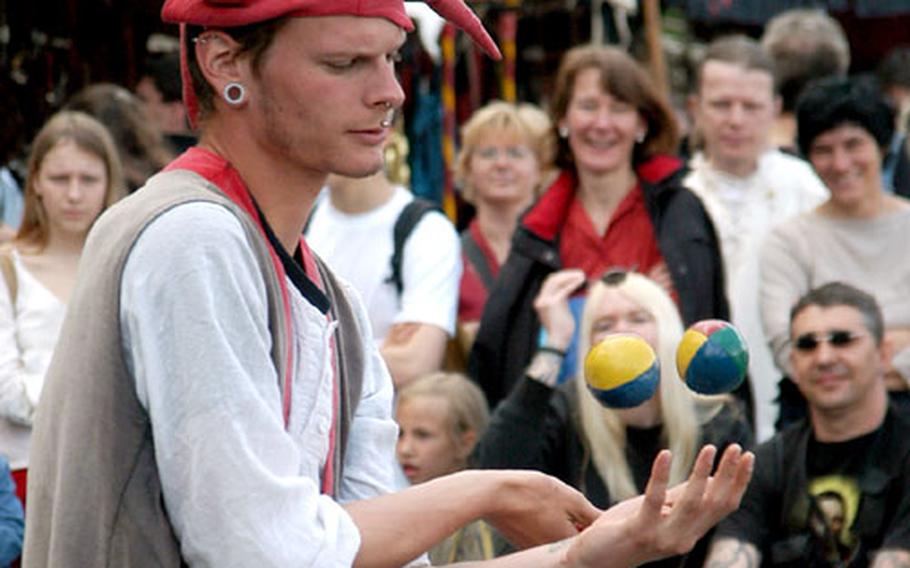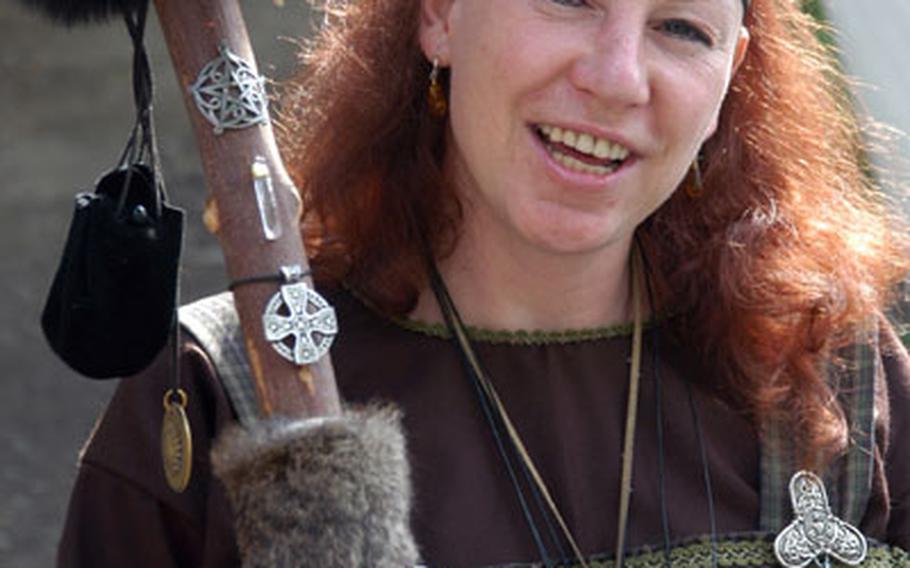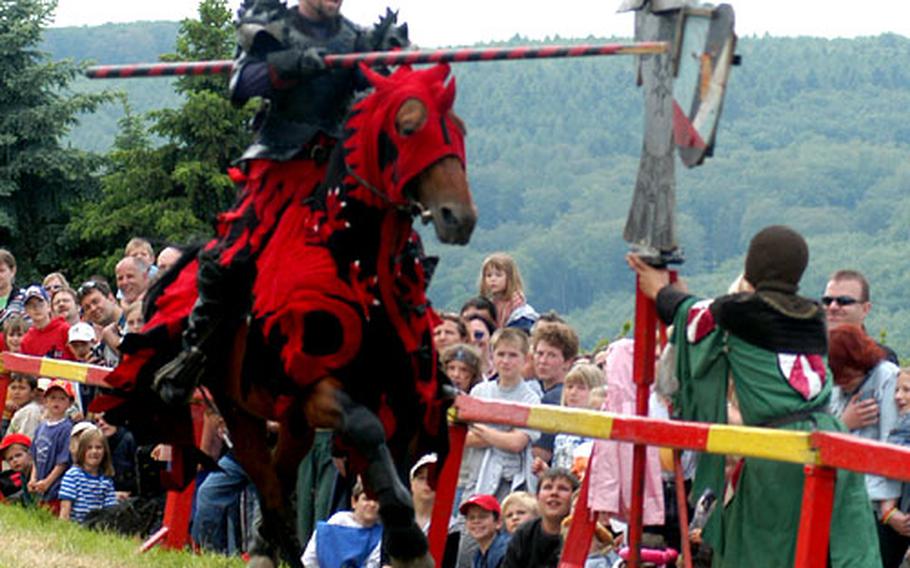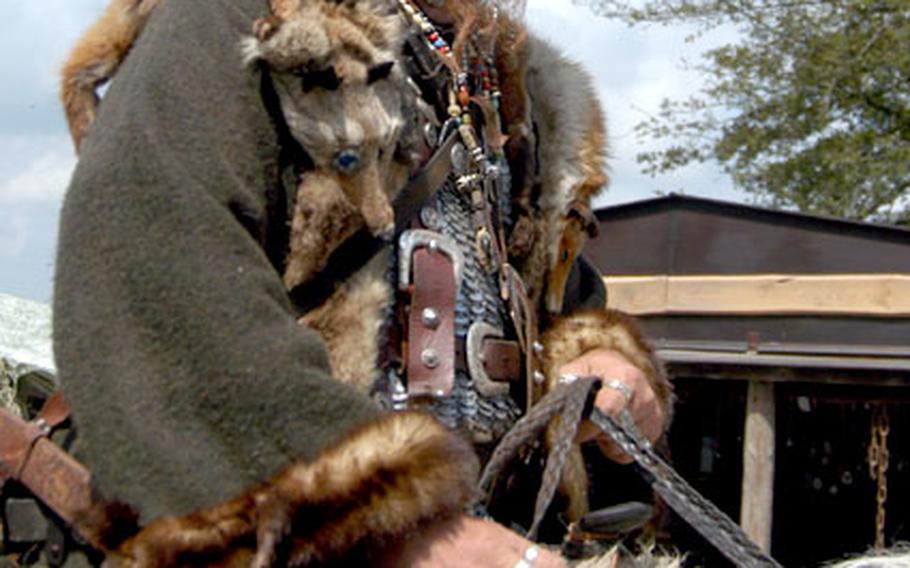 This summer, take a step back into those days of old when knights were bold — and go to a medieval jousting tournament.
Usually held at ancient castles or historic towns, the tourneys are like a page out of a history book.
Gallant knights on mighty steeds meet and compete in various disciplines to see who is the greatest in the land. At galloping speeds, they spear rings with their lances, whack targets with their swords, launch their spears at a wild boar — well, a stuffed sack made to look like one. Then face to face, lance to lance they joust until only one remains — the champion.
At many of the events, like a recent one at Ronneburg castle near Büdingen, Germany, medieval life takes place around the action: Jugglers and minstrels entertain visitors, who can shop at stands selling medieval-style goods. Shirts for the squires; long, flowing dresses for the maidens. Jewelry of silver, belts and boots of leather. Wooden swords for the children and swords of steel for knights and knights-to-be.
There is food for hunger and drink for thirst. Grilled sausage made of game, skewers of pork and freshly baked flat bread, smothered with cheese and herbs. Homemade fruit wine, beer or dark, sticky mead. Even the smells make you think of days long gone.
Near the jousting field stands a village of tents where the knights and other medieval denizens live. They walk through the village and the market. Besides the knights and their squires, there are wild-looking Celts, a family of Mongols, jesters, monks, maidens, Robin Hood look-alikes and princess warriors.
Luckily for visitors, they have come not to fight, but to see who is the bravest knight of all.
Here is a list of some of the jousting tournaments and festivals happening this summer, plus Web sites for more information.
Germany
Kaltenberg Castle (west of Munich) — July 2, 3, 4, 9, 10, 11, 16, 17 and 18; www.ritterturnier.de.
Burg Herzberg (between Alsfeld and Bad Hersfeld) — July 3 and 4; www.burg-herzberg.de.
Schloss Hexenagger (between Regensburg and Ingolstadt) — July 23-25; www.hexenagger.de.
Aub (near Würzburg) — July 30 -Aug. 1.
Füssen — Aug. 13-15; www.kaiserfest.de.
Burg Satzvey (near Mechernich, between Bitburg and Cologne) — Aug. 28, 29; Sept. 4, 5, 11, 12; www.burgsatzvey.de.
Ronneburg (between Hanau and Büdingen) — Sept. 25, 26; Oct. 2, 3, 9 and 10. No jousting tourney, but a medieval market and village on the castle grounds.
England
Hedingham Castle, Essex (south of Bury St. Edmunds) — July 25; Aug. 29, 30; www.hedinghamcastle.co.uk.
Herstmonceux Castle, East Sussex (south of London) — Aug. 28-30; www.mgel.com.
Warwick Castle (near Coventry) — July 17,18, 24, 25, 31; Aug. 1, 7, 8, 14, 15, 21, 22, 28, 29, 30; www.warwick-castle.co.uk.
Sweden
Island of Gotland — Medieval week Aug. 1-8; www.medeltidsveckan.com/English/index.htm
Italy
Arrezzo — Giostra del Saracino (joust of the Saracen) first Sunday in September.
Foligno — Giostra della Quintana (joust of the Quintana) second Sunday in September.