Europe's cities set to celebrate New Year's in style
---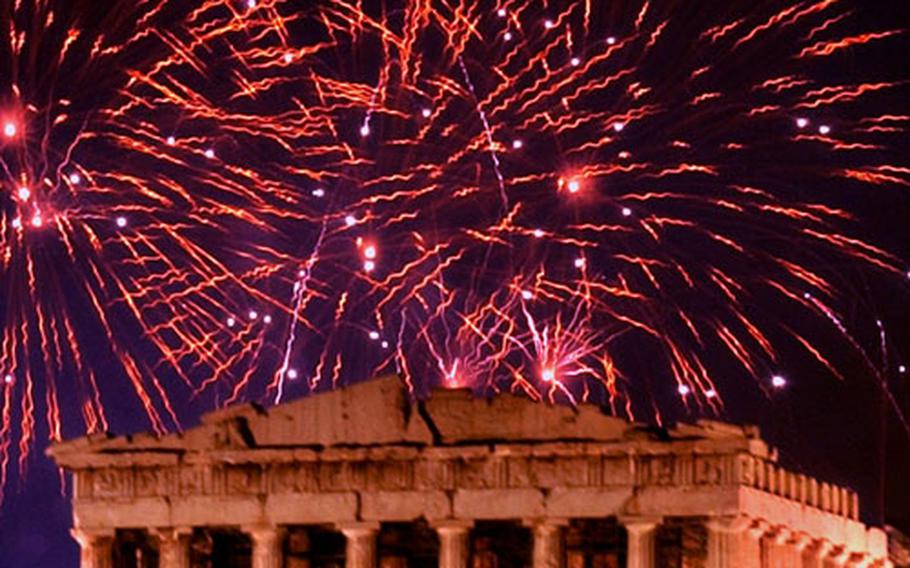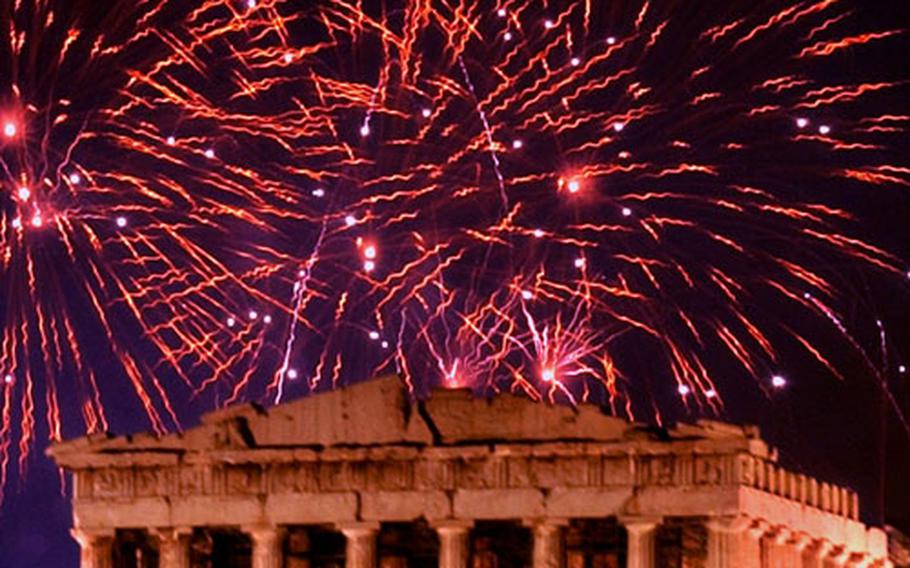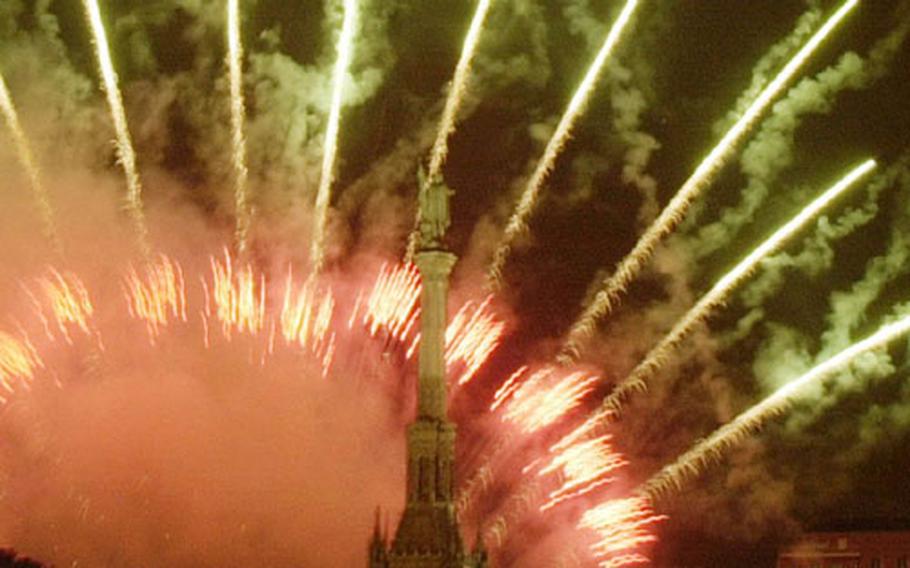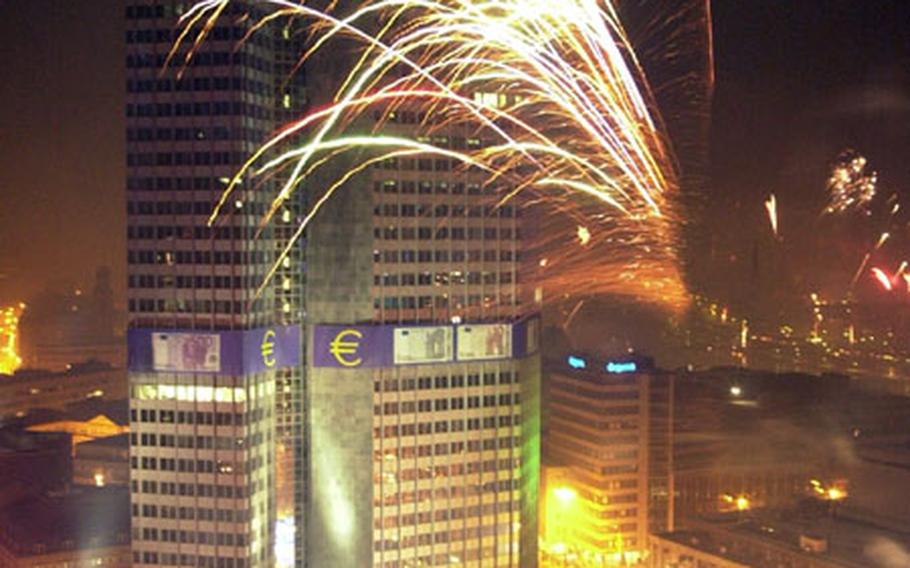 It's that time of year again — time to say goodbye to the old year and ring in the new. If you are planning to spend your New Year's holiday in a big European city, here is what to expect.
If Britain is in your sights for 2003, you can start the year off right by celebrating for two days in London or joining an old tradition in Scotland.
Celebrants can bring in the New Year in style in London's Trafalgar Square on New Year's Eve, and then follow it up with the big New Year's Day parade the next day. When Big Ben strikes noon, the American-style festivity begins with floats, marching bands, cheerleaders, vintage vehicles and live entertainment that spreads throughout the city's West End.
Scotland rings in the New Year with Hogmanay, a celebration of song, dance, drink and at midnight, "Auld Lang Syne" and lots of kissing. The biggest celebrations are usually at street parties in Edinburgh, Glasgow and Stirling (tickets required), but they are also held outside the big cities. These are more traditional with ceilidhs (Celtic songs and dances) torch-lit processions and the lighting of New Year fires.
The United Kingdom is not the only place that will be celebrating.
All the big cities, as well as many smaller towns and villages, will be having big parties. Be ready for fireworks shows, both public and private, that will explode across the continent at midnight.
In Madrid, Spain, the place to be is Puerta del Sol. There are no drinking restrictions, so celebrants can bring their own champagne. Also, take a bundle of grapes to eat, one after the other, in time with the chimes of the clock on the regional government building. Afterward, the crowd heads to local clubs for an all-night party. It's a scene that is repeated all across Spain.
The places to be seen in Paris on New Year's Eve are the Champs-Elysées, the Place de la Bastille or the Boulevard Saint Michel. The Latin Quarter is also a favorite. Many restaurants offer dining and drinking packages in these areas. It is highly recommended that you take advantage of one of these offers if you want to insure a good meal. Cabarets such as the Moulin Rouge offer specials as well. Contact the USO Paris for information at (+33) (0) 140-70-99-68.
Travel to Amsterdam for Oudejaarsavond, Old Year's Eve, if you want to experience the New Year Dutch style. After a lavish meal, featuring oliebollen (fried dough balls with apples, raisins and sugar icing), you can hit the streets to share in the traditional fare.
Be ready to share your champagne with others, as they will offer you theirs. After midnight, bars stay open to keep the revelry going into the wee hours of the morning.
If you're in Italy for the New Year, get ready for food. In Florence, the restaurants offer set menus of endless courses designed to tide you over for several days. Booking is essential. You can try www.english.firenze.net for restaurants ranging from reasonable to posh. After dinner, head for the Centro Storico for the big party.
You can always skip the outside festivities and go clubbing. Florence's night spots on streets such as Vigna Vecchia pull out all the stops. Yab, on Via Sassetti, is one of the city's trendiest clubs.
Piazza del Popolo is to Rome what Trafalgar Square is to London and Times Square for New Year's celebrations. An open-air concert is available for those willing to risk being deafened by the customary fireworks that Roman youths like to set off. Survivors then move to the Pincio Hill to party until dawn.
For a more subdued Roman holiday, there will be a midnight papal Mass in St. Peter's Basilica. Tickets are required — and they're free. Contact the USO Rome for information on how to get a ticket at (+39) (0) 6-686- 4232. There will also be a free concert on St. Peter's Square before the Mass.
The biggest party in Germany should once again be in Berlin. Be sure to look up at midnight for the fabulous skyline fireworks launched from the victory column near the Brandenburg Gate. There will be a combination of music, lights, stage shows and dance floors set up in the area. The party site begins on Strasse 17 Juni, and stretches to the gate for the fireworks display. Marquees along the way will sell international food and drinks.
The European USOs also are offering several packages for New Year's celebrations. Here are some options. Be sure to call as soon as possible, since some trips have limited seating.
• New Year's in Paris, Dec. 29-Jan. 1. $268 adults, $249 children, optional French dinner with boat cruise, optional Versailles, Musée d'Orsay and Louvre trip, price includes transportation, tour guide, two overnights with buffet breakfast in hotel Novotel, sightseeing tour and champagne on New Year's Eve.
Contact the USO Rhein-Neckar at (+49)(0) 621-730-3668 or DSN 385-3668 for more information.
• New Year's Eve in Paris Express Tour, Dec. 30-Jan. 1. $99 adults, $89 children, includes sightseeing tour and New Year's festivities. Contact the USO Hanau at (+49)(0) 6181-56119 or DSN 322-8725 for more information.
• New Year's Eve in Paris, Dec. 28-Jan. 1. $679 per person. Contact the USO Naples at (+39)(0) 81-724-4664 for more information.
---
---
---
---