Easter egg artisans show off what can be done with an egg
by
Michael Abrams
March 8, 2007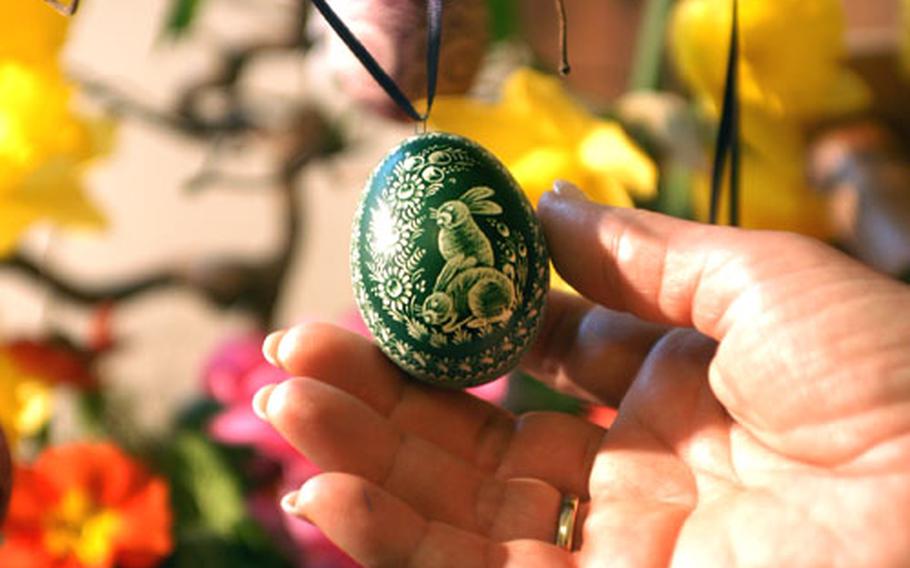 For most people - especially those not artistically inclined - decorating an Easter egg means dunking it in food coloring and hoping it comes out looking nice.
The more adventurous might try dipping one end in one color and the other end in another. Or maybe attaching some sticky pictures of Easter bunnies to them when they dry.
However, there are some artists who can do amazing things with an egg: cover them in beads or wrap them in lace; cover them with wax and then, with a sharp knife, carefully etch beautiful designs into them; or even write the Lord's Prayer on an egg.
And they don't necessarily create their art on a chicken egg, either. They do it on quail eggs, duck eggs and even ostrich eggs. Some are made of wood or stone.
You can find these artists and their eggs at the Easter egg markets that, like crocuses, pop up all over Germany at this time of year.
Often, they take place in historic settings, such as monasteries, in fortresses like Kronberg, or in castles like the Veste Otzberg.
Although all the artists take finished works with them to the markets, many also decorate eggs while there so visitors can watch how it is done.
The eggs make beautiful decorations for Easter, great presents for the folks back home and prized pieces for collectors.
The nice thing is, the eggs come in all price ranges, from about 6 euros to hundreds of euros. The price depends on size, the amount of work put into an egg and the materials used to decorate it.
So if you get a chance, visit one of the markets listed on this page, and be amazed at what one can do - besides frying, boiling, scrambling or poaching - with an egg.
---
---
---