Crete: Museum, ruins at Knossos take you to a millenium before the Parthenon
by
Ward Sanderson
January 23, 2003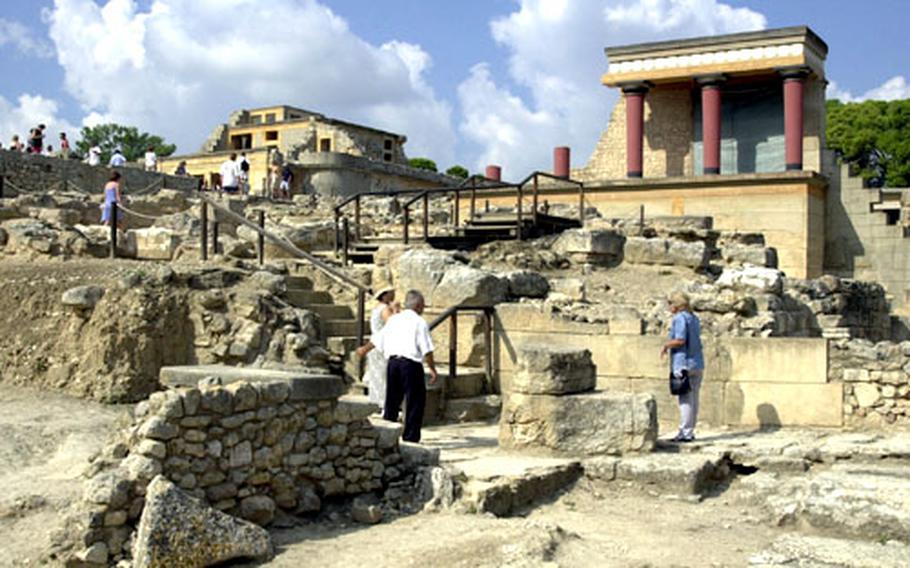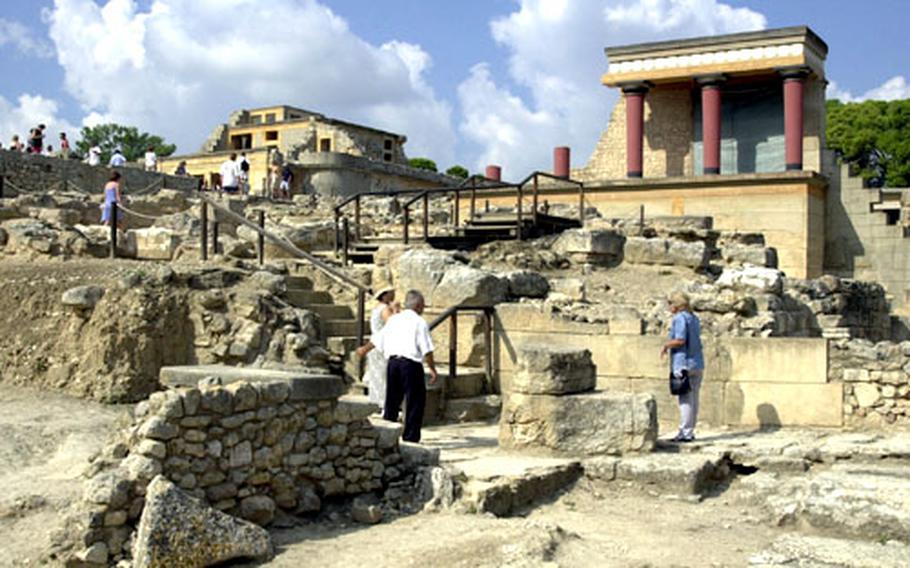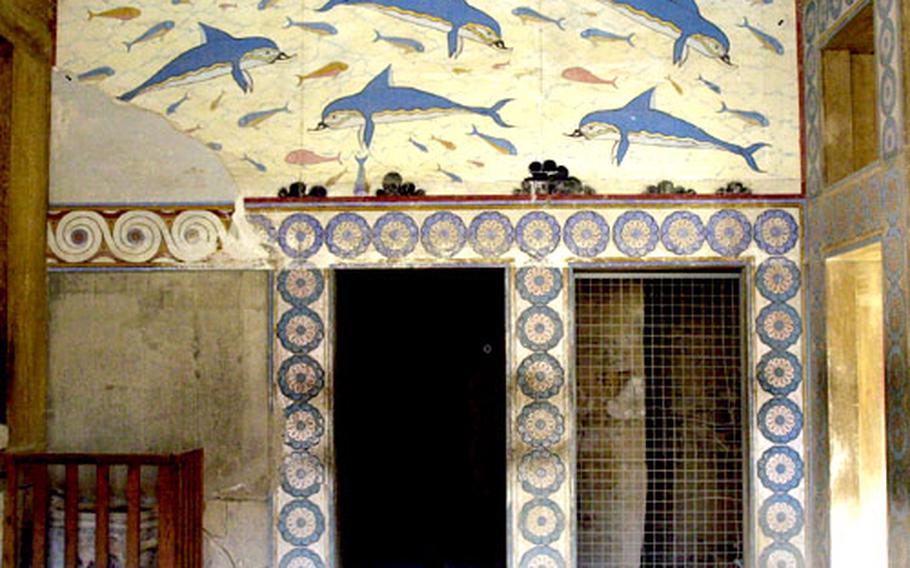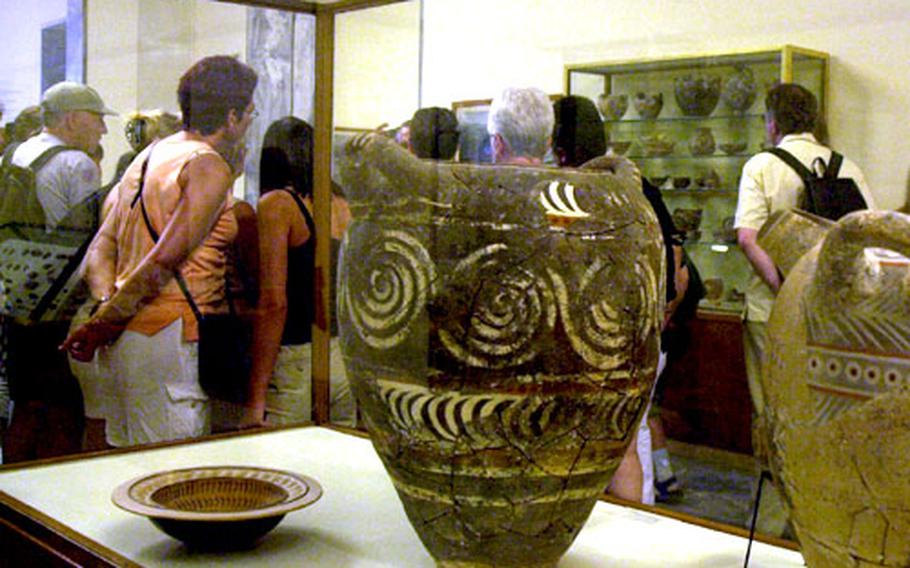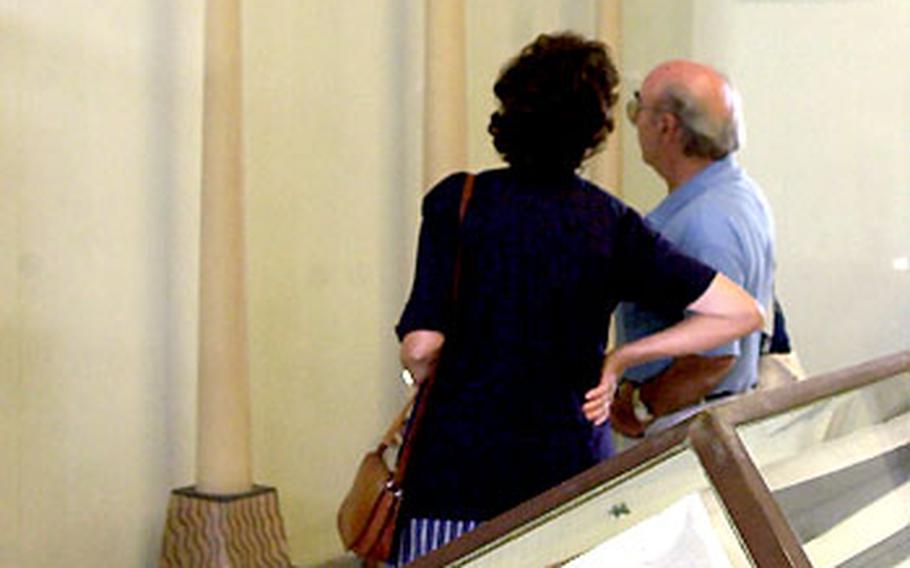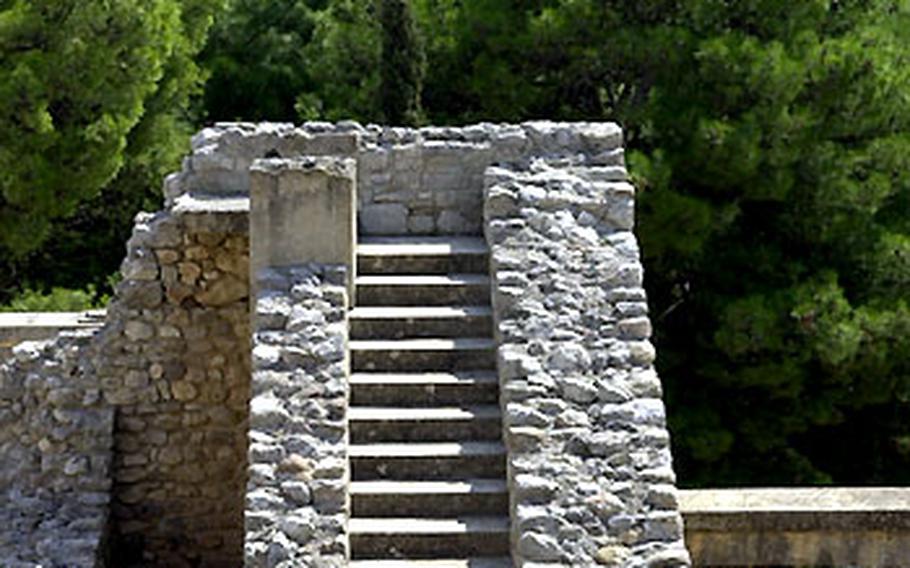 For the history buff, Crete's Iraklion Archeological Museum and the nearby Knossos ruins offer glimpses of Europe's fierce genesis. Before Plato, before Caesar — even before Strom Thurmond — Minoans thrived in their island empire.
You know: King Minos and the Minotaur. Theseus and that ball of twine he used to escape the labyrinth. Daedalus and Icarus on the lam via wax wings. Icarus' fateful plummet when he flew too close to the sun.
People are probably more familiar with Minoans than they realize. The Minoans lived, they played, they apparently sacrificed people and were really into bulls. They were not particularly nice, but they had a way with pigment on fresco. So there you go.
The museum is chockablock with things like figurines of serpent-waving goddesses in need of brassieres, a bull's head that doubles as a wine decanter, and pottery decorated with creatures of the deep.
A strange reality sets in when you look closely at a swirled vase and see the flow and depth of the paint and the thickening in the dot at the end of a stroke. Whoever deposited that dollop is long since dust, but there it is, proof the anonymous ancient once set brush to clay.
Generation Xena will also appreciate the swords, time-twisted like holiday ribbons after the scissors, and the big double-bladed axes with heads that look uncannily like the Batman logo. There's also a celebrated golden ring, possibly that of King Minos himself, which turned up only last year.
Though it would help, you don't necessarily need to be a professor to get off on this stuff. What with the mythological nuance, the swords, the axes flashing the bat signal, and now, the One Ring, the collection would likely thrill comic book conventioneers.
Still, breathing the academic air of museums can drain after a while, regardless of what's inside. For an outdoor stroll and a chance to see where these things came from, we traveled to nearby Knossos, home to the controversial Palace of Minos.
Sir Arthur Evans reconstructed the place between 1900 and 1929. His effort is controversial because he used concrete and hunches to put it back together. But Evans, a learned and imaginative chap sporting cane and brimmed hat, was an enthusiast of Aegean retro. He would not be stopped.
A colleague and I arrived at Knossos, passed the benches of gawking old men at the entrance, and joined the hordes of foreigners fumbling toward whatever guide called out in their tongue.
Inside, we found restored color along with old stone — pillars of red and black and gold, a pastel copy of a fresco of frolicking dolphins. It reminded me of Roman ruins I'd seen, but almost tribal. Like some lost jungle city smashed by King Kong.
All this keeps those who live around the palace in business. Locals run parking lots with spaces for rent, shops with fake artifacts, restaurants that tempt with quick tastes of tentacle. According to palace staff, the site can see as many as 5,000 tourists per day during summer. That plummets to 500 daily come winter.
Yet despite this conveyor belt of wallets, locals have some issues with the whole program. And it has little to do with scholarly dust-ups over Evans.
"We feel pride from all the people," said Andreas Michelakakis, who runs the Knossos bookshop. "… But they also have some problems. People can't build their houses too close."
Development woes or no, rural folk still recall the Minoans in their routines.
"In the villages, higher in the mountains, you can see a lot of customs they have that are almost the same as Minoans," Michelakakis said. "The way they fix the oil, the wine."
He said his grandmother made bread using the same stone-grinding techniques as the ancients.
But never fear. These days, human sacrifice is passé.
If you go ...
The Iraklion Archeological Museum is open from 8 a.m. to 7 p.m. Tuesday through Sunday, and 12:30 p.m. to 7 p.m. on Monday. It is closed on Saturday. Admission is 6 euros.
The Knossos ruins are open from 8 a.m. to 7 p.m. daily March through October, and 8 a.m. to 5 p.m.daily from November through April. Admission is 6 euros; tours with translators cost another 10 euro.