Crete: Gorgeous — and demanding — Samaria Gorge
by
Ward Sanderson
January 23, 2003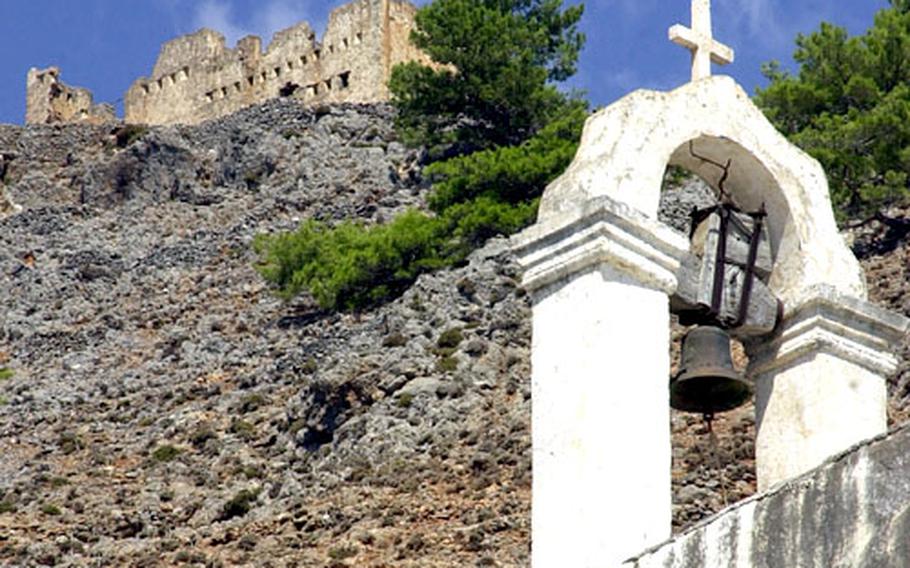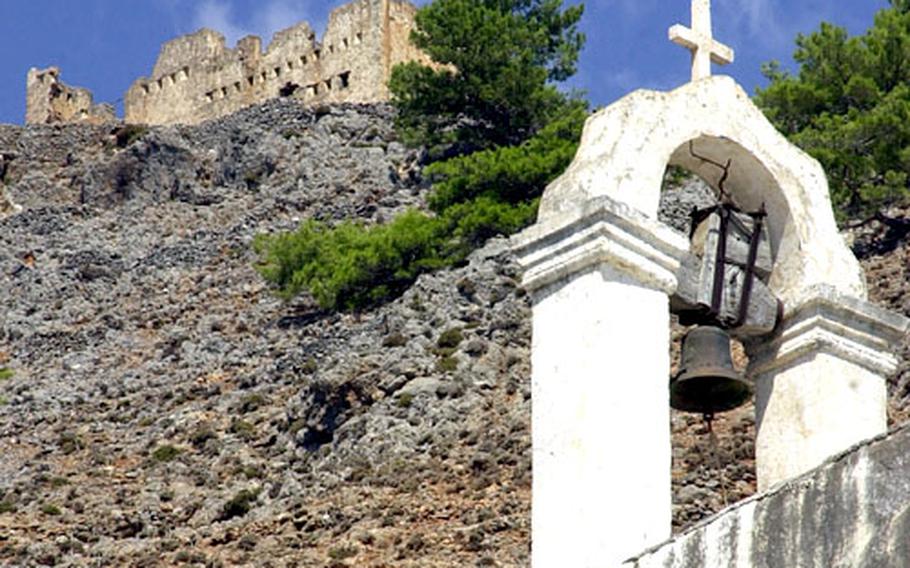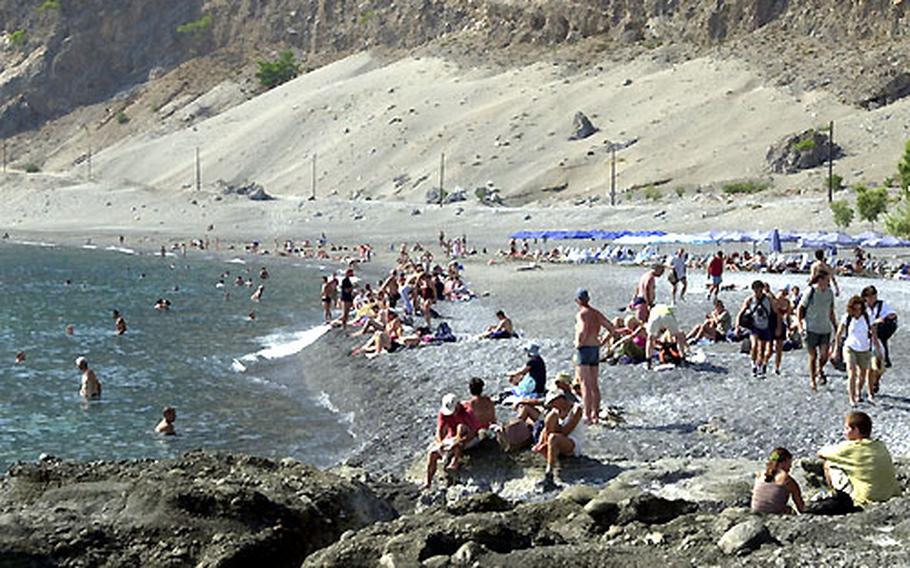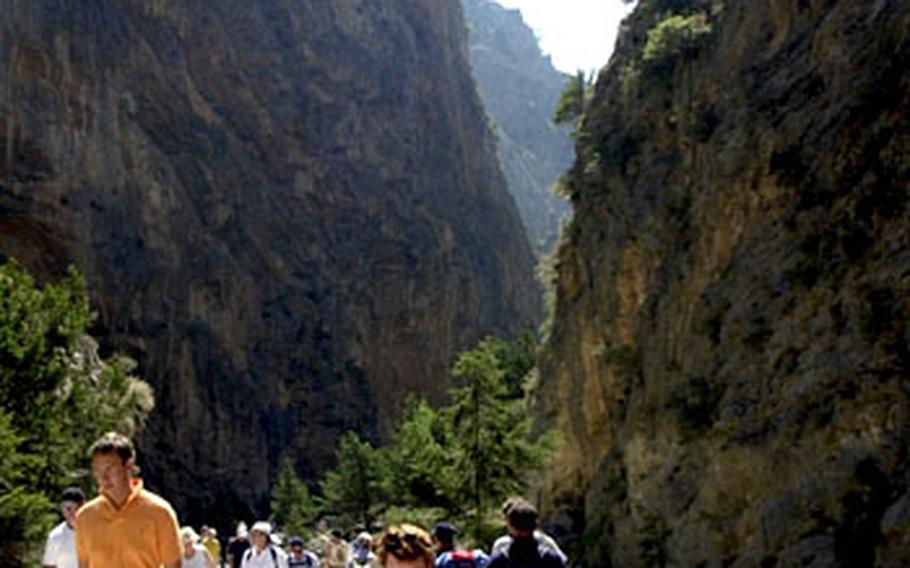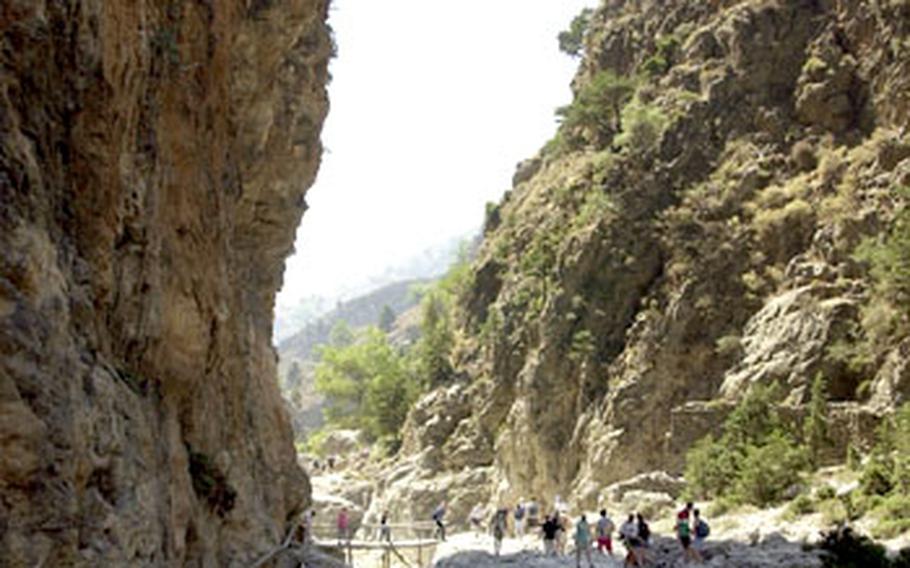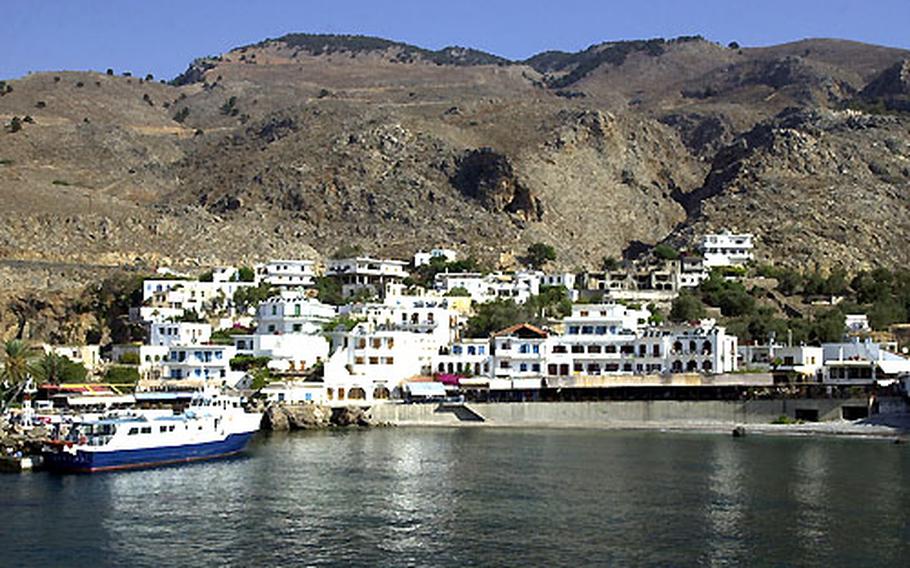 You can walk for three to seven hours, and it will only cost you 3-euros-50.
Of course, you don't have to trudge all 10 magnificent miles of the Samaria Gorge — one of Crete's grandest sights — but many do, and by most accounts it's arduous and sweaty and well worth it.
Most start inland at Xyloskalo and begin their long and rocky descent toward sea level — although the walk drops more than 3,000 feet during just the first mile and can be intimidating for the unprepared. We started elsewhere, at what's usually considered the trail's end — the seaside village of Agia Roumeli — and began the walk upward.
Well, don't do that, unless you just want to take a peek at the gorge for an hour or two before turning around. And that's just what we had in mind.
The sides of the gorge sweep up on each side in jagged beige sheets dotted with trees. These rugged flanks are home to the elusive Cretan goat as well as tourists in Gilligan hats and fanny packs. We saw only the latter.
The gorge is open from May through October to keep tourists from being swallowed up by the river, which swells beyond its banks during winter. Early May and late September are good times to go, as the place isn't so crowded. Or quite as hot. At other times, the gorge can see as many as 3,000 visitors per day.
We still stumbled past a fair number of tourists in early September. And at that time of year, the place had weird weather schizophrenia: Most of the trail was hot and dry and covered in loose stones. But occasionally we would round a corner and feel a breeze inflate our shirts like windsocks. Those refrigerated flukes were a blessing.
The paths and old wooden bridges we negotiated were apparently built by Mad Jack from "Grizzly Adams" for his faithful steed No. 7. Though that added character, it can pose a challenge to the improperly shod. Good shoes with good tread are a must.
The place was huge, looming and water- and wind-carved and ancient.
Halfway across the span there is an abandoned village, Samaria, which was vacated when the gorge became a national park in the 1960s. We would never see it.
Instead we turned around after maybe an hour and headed back, faces abrasive with dust and throats parched. We showed our tickets to the guy guarding the gate — it turns out you need to keep the stub during the hike to get back out — and headed toward the café we saw on the way in.
At trail's end we found the open-air bar and ordered tall and frothing mugs with beads of coolness sliding down the sides.
We didn't buy the certificates congratulating us for conquering the entire trail, as we didn't earn them. But we did get to those mugs sooner.
If you go ...
Several tour operators on Crete offer round-trip excursions to Samaria Gorge from cities around the island. Most include a bus ride to the walk's starting point at Xyloskalo, a boat ride from the gorge's end at Agia Roumeli to the village of Hora Sfakion, and then a bus ride back to your original departure site.
Another option is the short tour, which includes bus transportation to Hora Sfakion, a round-trip boat ride to Agia Roumeli with a few hour layover to walk into the gorge, and then bus transportation back to your departure site. Costs vary for both tours, but are reasonable.