Creglingen: Museum puts history at your fingertips
by
Michael Abrams
December 27, 2005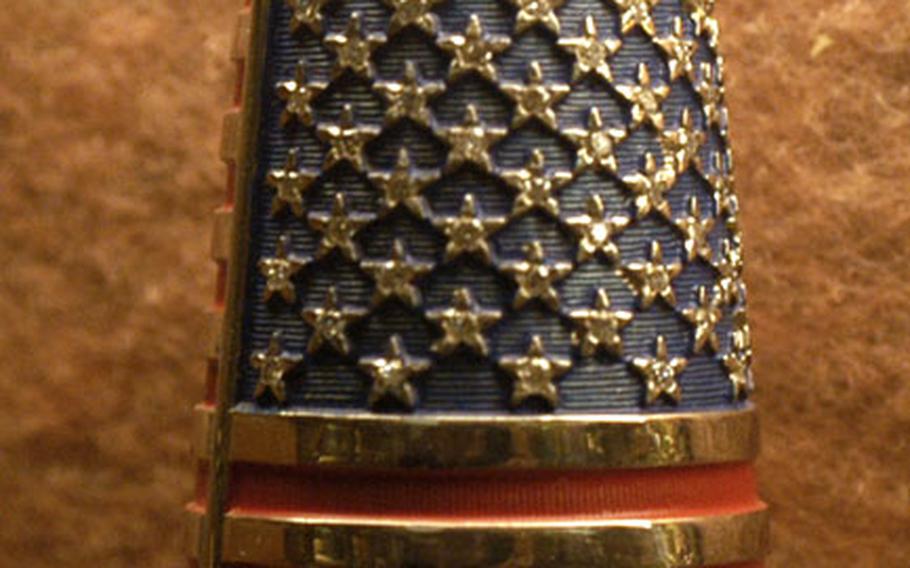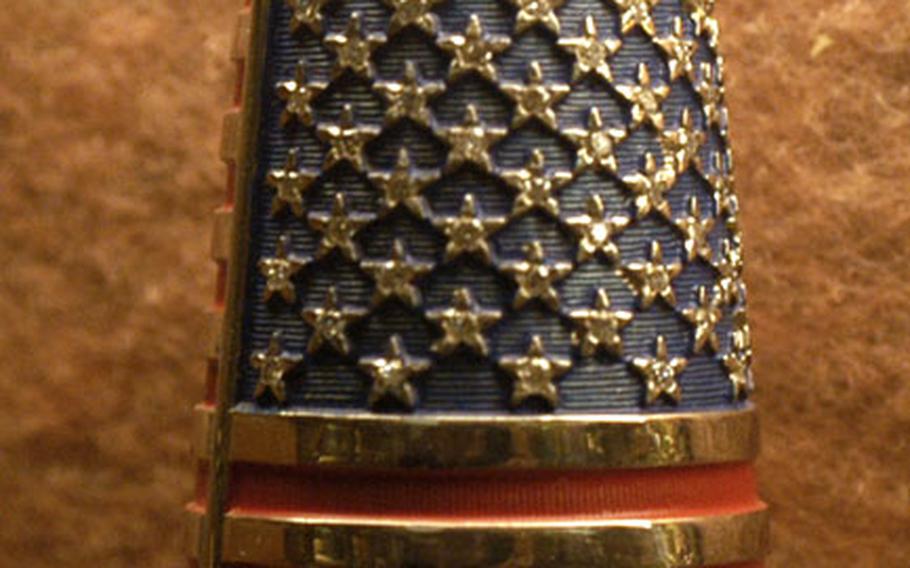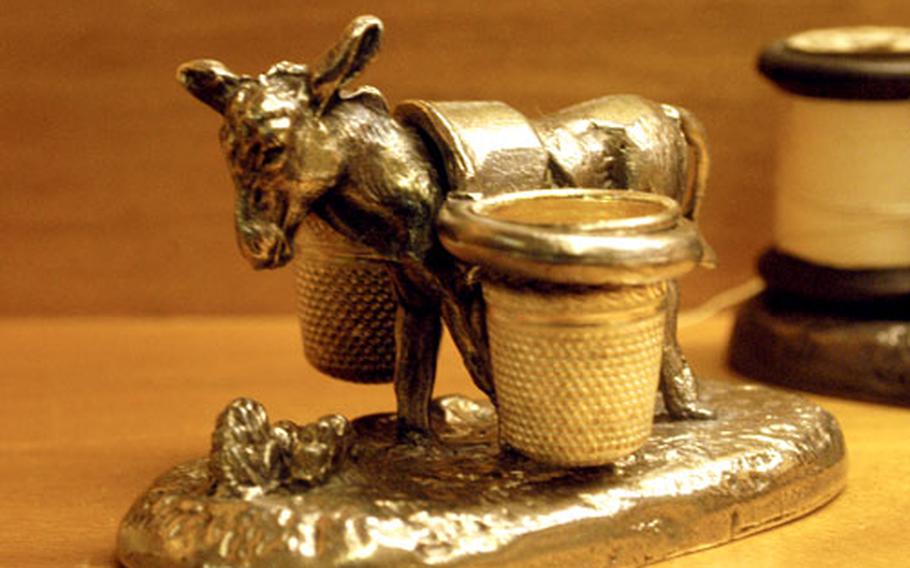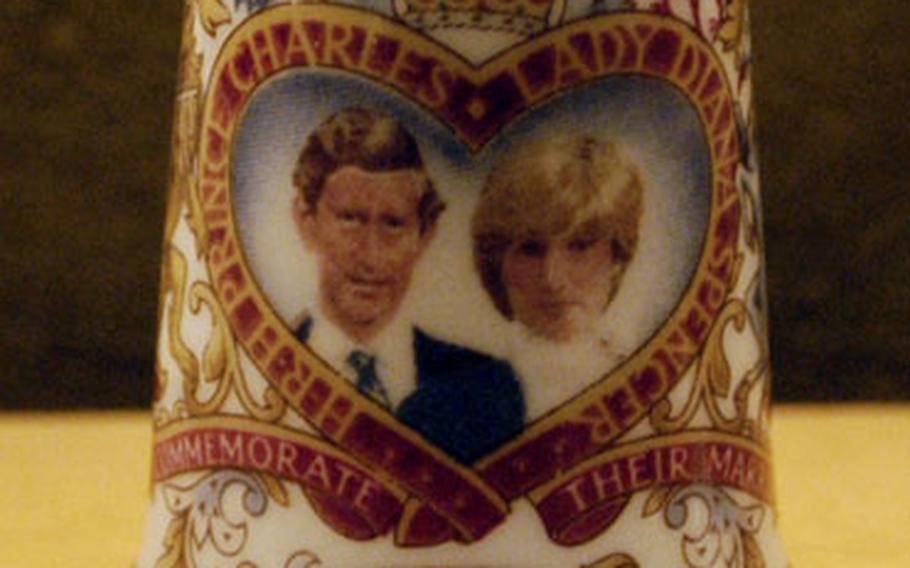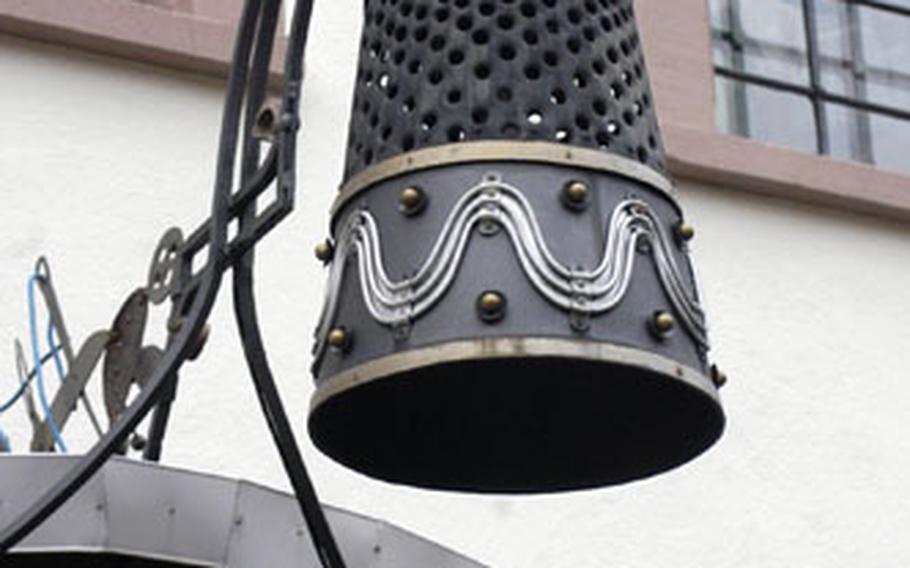 It is not a very big museum. Just one room, in a house in Creglingen, on Germany's Romantic Road.
But it doesn't need to be big, because the things on display fit on the tip of your finger.
Thimbles have been around for a long, long time. Back in the days before sewing machines, they were a much-needed piece of sewing equipment. They could help you press a needle through a piece of tough leather or cloth, and protect your fingers from the prick of that needle when it popped through.
The Fingerhutmuseum, or thimble museum, traces the history of this sewing accessory from prehistoric times to the present.
The oldest items on display are bone rings that hunters used to push needles through mammoth hide. Newer items include award-winning thimbles by the Greif family, which owns the museum and still makes thimbles in a goldsmith shop a floor above.
Bronze thimbles were used around the Mediterranean as long as 2,500 years ago, and the Romans probably brought them north of the Alps in the first century.
Nuernburg was the capital of thimble- making in Germany during the Middle Ages. The thimble makers' craft was so valuable, they were not allowed to leave the city. On the other hand, they were not sent off to war either. Thimbles were needed by shoe and saddle makers during war time.
Supposedly, Empress Maria Theresa even smuggled thimble makers into Austria to produce them for her.
Fine bone china thimbles were popular in Britain in the 19th century, as were porcelain ones made by the famous porcelain factory in Meissen, Germany.
Somewhere along the line, thimbles went from being a needed commodity to being pieces of art and collectors' items.
At the Fingerhutmuseum, you can see both functional and artistic thimbles. They come from an amazing variety of countries, including the United States. There are thimbles made from, among other things, bone, glass, leather, china, porcelain, silver and gold. There are thimbles from Japan, Italy, Mexico, Turkey and India. One has the face of Abraham Lincoln, another President George H.W. and Barbara Bush. And there is a collection of thimbles decorated with the smiling face of Princess Diana.
Because thimbles are small, and people don't want to lose them, there are also thimble holders on display, like the small donkey figure, carrying a load of two thimbles. A collection of sewing cases and other paraphernalia make up the rest of the museum's collection.
From simple, everyday brass thimbles to exquisite silver ones from Portugal, and from the filigree gold thimble topped by a spider to the one decorated like the American flag with 50 tiny brilliants for the stars, the Fingerhutmuseum is every digitabulist's — thimble collector's — dream.
On the QTDIRECTIONS: The Fingerhutmuseum is in Creglingen, Germany, on the Romantic Road between Rothenburg and Bad Mergentheim. The easiest way to get there is to exit Autobahn 7 at Rothenburg and follow signs to Creglingen. Once there, follow signs to the museum.
TIMES: The museum is open 1-4 p.m. Tuesday through Sunday now through Jan. 6, but closed Dec. 24, 25 and 31. It reopens March 1 with the same times, then will be open 10 a.m. to 12:30 p.m. and 2-5 p.m April 1 through Oct. 31, closed Mondays.
COSTS: Admission is 1.50 euros for adults, and 50 euro cents for children up to age 15.
FOOD: There is a restaurant next to the museum serving traditional German fare at reasonable prices. Closed Mondays. There are also restaurants in town and in Rothenburg.
INFORMATION: The museum's German Web site is www.fingerhutmuseum.de. After visiting the museum, check out the Greif's store for handmade jewelry, and the Herrgotts church across the street with its altar by Tillman Riemenschneider.
— Michael Abrams