Copenhagen's Tivoli Gardens: Delighting Danes for more than a century
by
Dennis A. Cavagnaro
November 27, 2003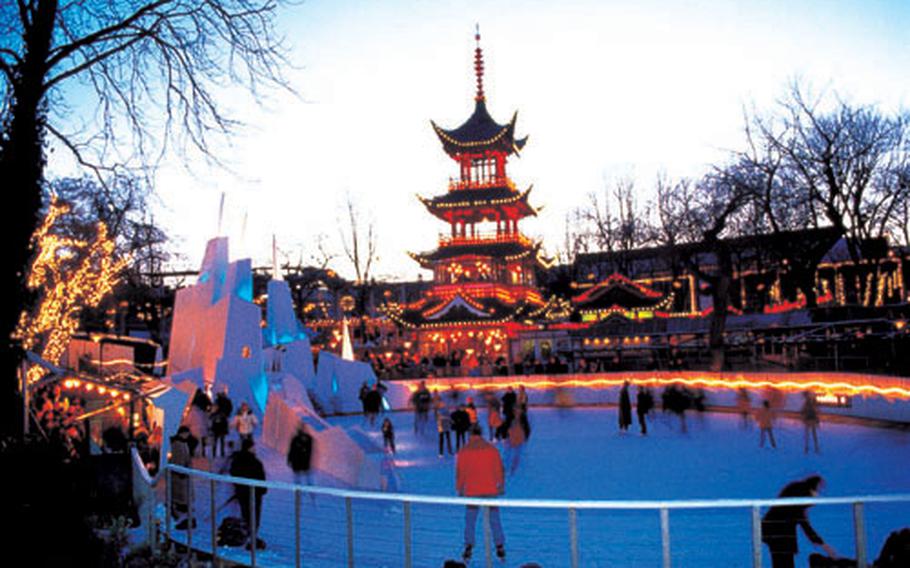 Tivoli Gardens has delighted Danes and visitors to Copenhagen for more than 167 summers — and opens in the winter for a Christmas market.
The park is a good place for Americans to visit because many of America's Christmas traditions were carried to the New World by Scandinavian immigrants.
Tivoli is decorated for the season with more than 1,000 fir trees, 450,000 Christmas lights, garlands, mistletoe, apples and Christmas elves. The fairy-tale lighting is designed by Tiffany of New York and is reflected in Tivoli Lake, which is transformed into a skating rink during the winter.
What would Christmas be without Santa Claus? In Denmark and at Tivoli, he is Father Christmas. Every afternoon as he walks around the garden, he visits with children, asking for Christmas wishes. Language should not be a problem — most Danes speak English and Father Christmas almost certainly does.
Another site to see is Elftown, the world's largest elf landscape, where 120 mechanical elves are working to get everything ready for Christmas. To help them are mechanical reindeer, rabbits, mice, bears and many other animals.
Elftown includes a market area with elf shops, a shopping street — Christmas decorations and presents will be on sale — and a Christmas booth selling homemade apple pancakes and mulled wine for the adults.
There are also a number of "villages" throughout the park that offer different Christmas atmospheres.
In the Nordic Village, for example, the sheep in the pen provide the wool for hats and scarves sold in one of the stalls. The English Village offers stalls with spices, Christmas sweets and decorations amid a wandering flock of geese. The Forest Troll Village has a pony pen and stalls selling handmade glass figurines, and arts and crafts.
Adults can also shop at 60 different stalls in the park's Christmas Market.
Tivoli Lake is available for ice-skating to the sounds of waltz music — visitors can use their own skates or rent them at the park — and a Fairytale Theatre offers performances by children from a local drama school every Saturday and Sunday. The show is an hour of magic, songs and dance as elves and humans go through a great ordeal before managing to save Christmas.
Twenty-four of Tivoli's rides are open, including the old roller coaster, the trolley bus that circles the park, the Ferris wheel and two new carousels an an interactive playgarden for children in front of the Concert Hall. Not to be missed is the Elf Train, a little old-fasioned train with room for six passengers. On the route through the Christmas exhibition, passengers can see the Cave of Presents and Ice Cavern, which can only be seen from the train.
Starting Saturday, the Royal Theatre will perform the "The Nutcracker" in Tivoli's Concert Hall.
Dennis A. Cavagnaro is a former Marine who has traveled extensively in Europe. He now lives in the States.
If you go to Tivoli ...
Tivoli Gardens is across the street from Copenhagen's Central Train Station. The Copenhagen Tourist Office in the station can assist visitors seeking accommodation.
The Christmas market is open through Dec. 23. Hours are 11 a.m. to 9 p.m. Sunday through Thursday, 11 a.m. to 10 p.m. Friday and Saturday; and 11 a.m. to 8 p.m. on Dec. 23.
Entrance for adults is 55 Danish krone (about $8.50) Monday through Thursday, and 65 krone on Friday through Sunday. Entrance for children is 30 krone Monday through Thursday, and 35 krone Friday to Sunday. Children under 3 are free.
For information, see Tivoli's Web site www.tivoligardens.com; call (+45) (0)3315-10 01; or write Tivoli Gardens, Vesterbrogade 3, 1639 Kobenhavn V. Denmark.
— Dennis A. Cavagnaro