Christmas markets: Europe puts on its holiday finery and invites you to look around
---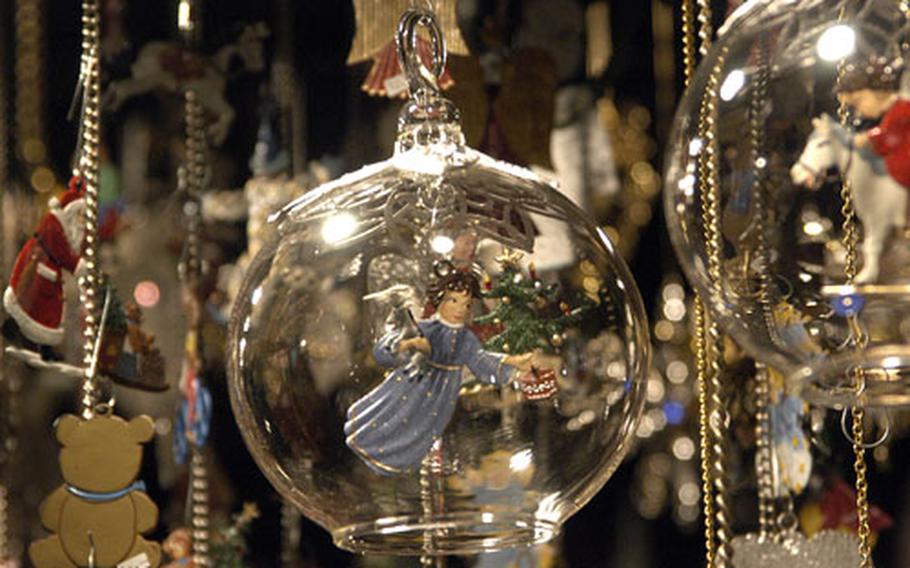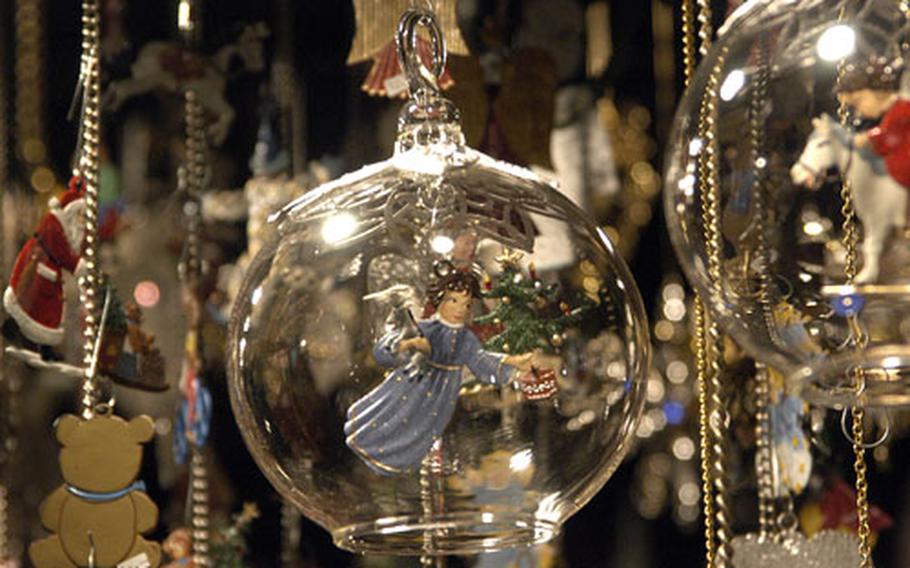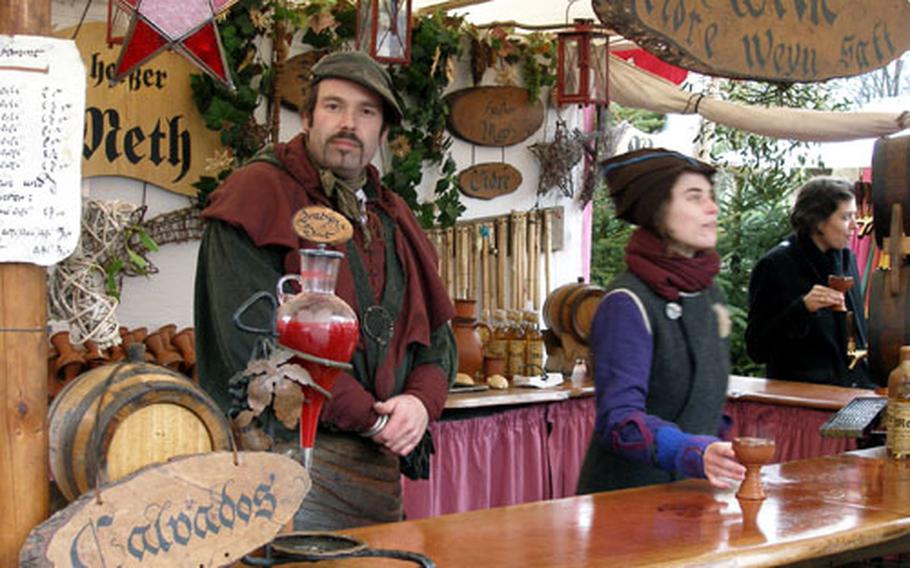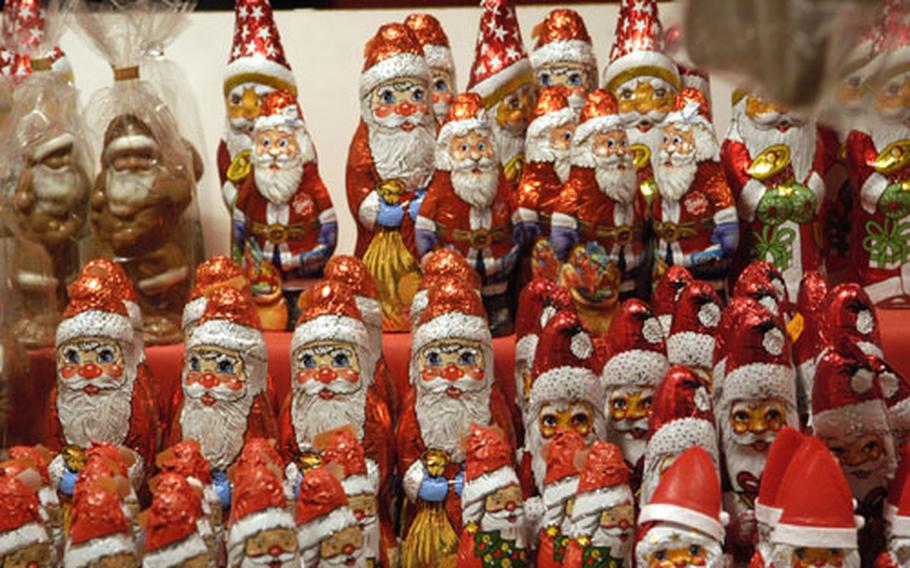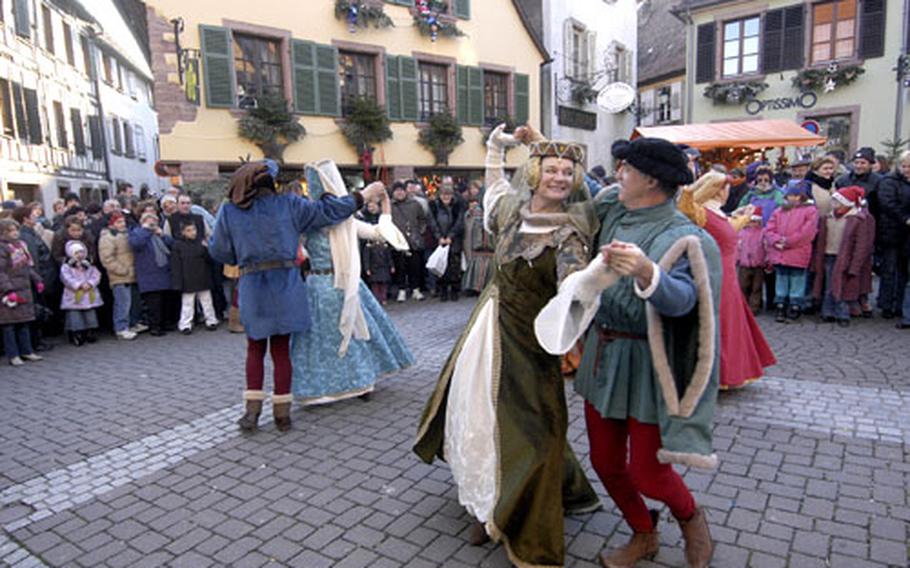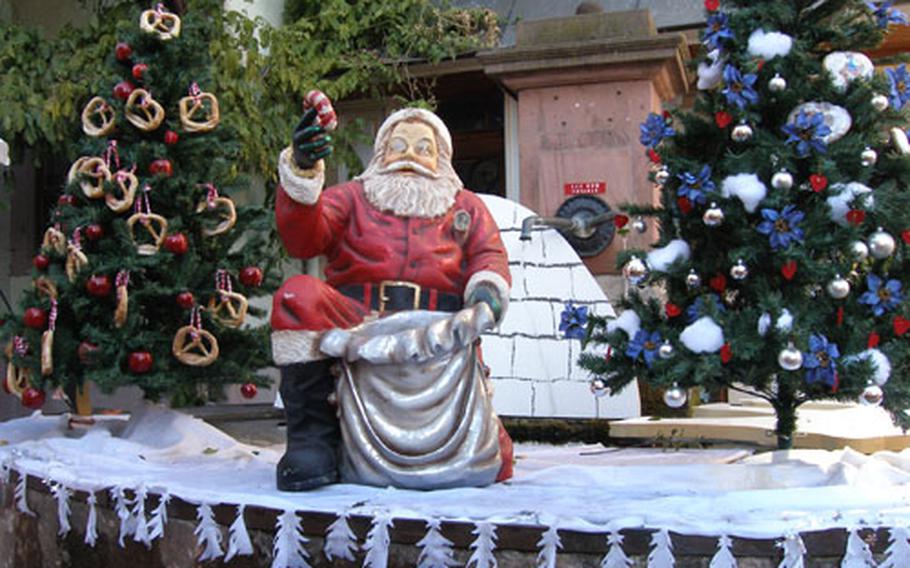 The holiday season is here: The time for caroling and tree decorating, for giving and receiving, for racking your brain trying to decide what to buy for family and friends. And for Christmas markets.
Europe's markets range from big, old ones - such as those in Frankfurt, Dresden or Nuernberg extending from now right up to Christmas - to small village affairs that last for a day or a weekend. They are big in Germany, but can be found in much of Europe.
Usually made up of stalls on a central square, the markets are a place to relieve gift-buying anxiety and to buy Christmas decorations.
But more likely than not, you will find they are also places to meet friends, to eat, drink, be merry and tank up on holiday cheer. Sausages and hot mulled wine are the staples, but everywhere you go you'll find regional specialties to try.
Here are some suggestions for where to go. It is something you will want to do at least once on your overseas tour. But be careful, Christmas markets can become addictive.
Basel, SwitzerlandThis is a city bathed in the lights of Christmas decorations. Its market takes place at the foot of the old Barfüsser church in the city center.
Vendors offer their wares from 120 merrily decorated huts lining the old city's narrow lanes. The items are international: glass from Italy; decorations from Germany and Switzerland; sweaters from Peru; and wood carvings from Africa.
The food is international too, but you'll want to try the Swiss specialties: dried mountain sausages, potato pancakes and Raclette, a melted cheese served on potatoes. And to drink, instead of Glühwein, the hot mulled wine, try a cup of Schoggi, a nonalcoholic hot chocolate.
If you want something with a kick besides Glühwein, try Feuerzangenbowle, a wine punch made with a stick of flaming alcohol-doused sugar that drips into the liquid.
The narrow lanes, the lights and the smells of the market along with a walk through the decorated old town make for a wonderful evening.
The market is open 11 a.m. to 8 p.m. daily from Nov. 25 through Dec. 23.
Riquewihr, FranceDown the Rhine and across the border in France lies Riquewihr, an old walled town considered the pearl of the Alsace.
Inside the city gate, there is a small market selling arts and crafts, but food is very big here - in fact, it is a very culinary affair. Macaroons, pretzels and Kougelhopf, an Alsatian cake specialty, are sold directly from the baker's open door or passed out as samples. Slices of hot bread, country-style, topped with bacon and a variety of cheeses, is on sale at one of the stands along Riquewihr's main street. Another stand sells spices, including the ones important for holiday baking, star anise and cinnamon.
Vin chaud, as the hot mulled wine is called here, is for sale in red and white versions.
The buildings around the market are decorated in holiday style, with Santas and bears decorating the facade of one half-timbered house, and presents wrapped with fancy bows adorning another.
And if you don't have enough holiday spirit already, there is a Käthe Wohlfahrt Christmas Shop in town. Think old Alsatian charm and modern commercialism.
The market is open from 10 a.m. to 7 p.m. daily Dec. 2-17, but is more extensive on weekends.
RibeauvilléIf it is true that Christmas markets originated from medieval seasonal markets where farmers and craftsmen sold their goods, the market in Ribeauvillé, just a few miles from Riquewihr, harks back to those times.
The marché de noël médiéval, or medieval Christmas market, inside this ancient Alsatian town is just that: Troupes in period garb dance on the town squares, jugglers and fire eaters entertain the visitors, and boars roast on a spit over open flames in front of city hall. The smell of vin chaud wafts through the cold December air along with the sound of medieval melodies.
As darkness falls, Christmas lights come alive on the town's squares, along the Grand Rue, its main street, and on its mighty Butchers' Tower gate.
On a square in the upper town, visitors sitting around a log fire sip potato soup and vin chaud as the stars come out on a frosty winter evening.
The medieval market on the streets and squares of Ribeauvillé takes place from 10 a.m. to 6 p.m. Saturdays and 10 a.m. to 6 p.m. Sundays on Dec. 9 and 10, 16 and 17.
Cologne, GermanyIf there were such a thing, Cologne could be considered the Christmas market capital.
True, it is a big city - Germany's fourth largest - but it has at least seven markets where you can spend time and money. All have food and drink in common, but each has its own atmosphere.
The only thing taller than the Christmas tree on Roncalliplatz is Cologne's majestic cathedral. The market here is big and bright, and on weekends, very crowded. It is also the most international. Not just because of the many tourists, but also because of the food and drink and the goods for sale.
In addition to traditional wursts, there are options from the Caribbean, Africa and Asia. Same with crafts. Near a stall selling African carvings is one selling South American knitwear. But despite a beer here or a Caiprihna there, the drink of choice is still a steaming Glühwein.
That cannot necessarily be said at the Christmas market on the Alter Markt. Here, even on a cold, wet evening, it seems the official drink of Cologne, Kölsch, a type of beer, reigns king. That might be because traffic from the market often drifts into the pubs that line the market.
The Alter Markt Christmas market is also popular with children because it features an old-fashioned merry- go-round, a puppet show and many toy stands. The fun extends to the Kornmarkt square next door where there is an open-air ice rink where you can burn off some Christmas calories.
Despite being on the Neumarkt, or new market, the Christmas market here is Cologne's oldest. The merchants almost never change and even the wood huts they use date to the 1970s.
But it is in the middle of the Cologne shopping district and is a local favorite. Choirs and bands entertain from a stage on one end of the square while friends meet for a drink at the Almhütte at the other end. In between are rows of merchants selling goods. There is a lot of kitsch here, but there is also a good assortment of Christmas decorations.
It is a fairy-tale Christmas market on Rudolfsplatz. Each hut is decorated with fairy-tale characters, Puss in Boots here, Snow White and her dwarfs there. Arts and crafts dominate the scene, much of it made on the spot by artisans. There are wood carvings, tin figurines, jewelry and knitwear, to name a few. If you are looking for something different for a gift, you probably will find it here.
Except for the setting, the medieval Christmas market in Cologne is more authentic than the one in Ribeauvillé. Located in front of the Chocolate Museum, there are no electric lights, everything is lit with candles, torches or lanterns. Making crafts here is also self-powered, be it the blacksmith hammering out his wares or a potter spinning her wheel. Steak and brats grill on an open flame and the Glühwein is served in clay cups.
Everyone is dressed in period costumes, and you have the feeling that the setting is real. And it is; at least some of the folks actually live this way as an alternative lifestyle.
The setting for another of the city's Christmas markets is a little unusual: on a Rhine River cruise ship. About 40 vendors offer goods on the MS Wappen von Mainz, moored on the Rhine. From here there is a nice view of the cathedral and the city lit up for the season.
Deutzer Freiheit square, across the Rhine in the Deutz district of Cologne, is home to the Düxer Advent. Art and antiques are for sale at this market, and Christmas concerts take place inside St. Heribert church. Here you can escape the tourist masses and meet the locals as you sip Glühwein.
The markets in Cologne are open from 11 a.m. to 9 p.m. daily from now until Dec. 23, except for the medieval market, which opens Dec. 1. All markets are closed on Nov. 26 for a religious holiday.
Entrance to the medieval market is 2.50 euros for adults; children shorter than a sword - about 4 foot, 6 inches - go free. Entrance to the ship is 1.50 euros Monday to Friday and 2 euros on weekends; children get in free.
Valkenburg, NetherlandsOne of the most unusual settings for a Christmas market are in the caves of Valkenburg, Netherlands. The marl stone has been quarried here since Roman times, leaving a network of caves beneath the town. Two of them, the Fluweelengroot, or Velvet Cave, and the Gemeentegrot, or Town Cave, hold the markets.
The markets' makeup is not that much different from anywhere else. Stands sell Christmas decorations, arts and crafts, food and drink. But you don't have to worry about the elements. It is a little damp, but it is warmer than outside.
Crystal, lace, clothes, CDs, videos and decorations are for sale here, but one unusual gift, or souvenir for yourself, is something carved from marl.
Each year the caves have a market theme. This year, in the Town Cave it is "The Saga of Reynout the Knight and the Book of Wisdom," and in the Velvet Cave, "Christmas Elf for a Day."
But the caves are not just about Christmas. They have been used as sanctuaries by knights, townspeople and even shot-down American airmen, and are filled with paintings and sculptures done throughout the years.
Valkenburg bills itself as the Kerststad, or Christmas city, and along with the caves has Christmas concerts in town, and a Christmas parade through the city center at 7 p.m. Wednesdays and at 8 p.m. Saturdays.
The Velvet Cave is open through Dec. 20. Hours are noon to 8 p.m. Monday through Thursday, noon to 9 p.m. Fridays, 10 a.m. to 9 p.m. Saturdays and from 10 a.m. to 8 p.m. Sundays. Admission is 4.50 euros for adults and 1.75 euros for children 4-11.
The Town Cave is open daily until Dec. 20. The hours are noon to 9 p.m. Monday to Friday; it opens an hour earlier on weekends. Admission is 3.50 euros for adults and 1.75 euros for children ages 5-12.
Wherever you go this year, have a jolly good time.
---
---
---
---