Canelli: At this Italian villa, couple serves food prepared according to ancient recipes
by
Leah Larkin
April 22, 2004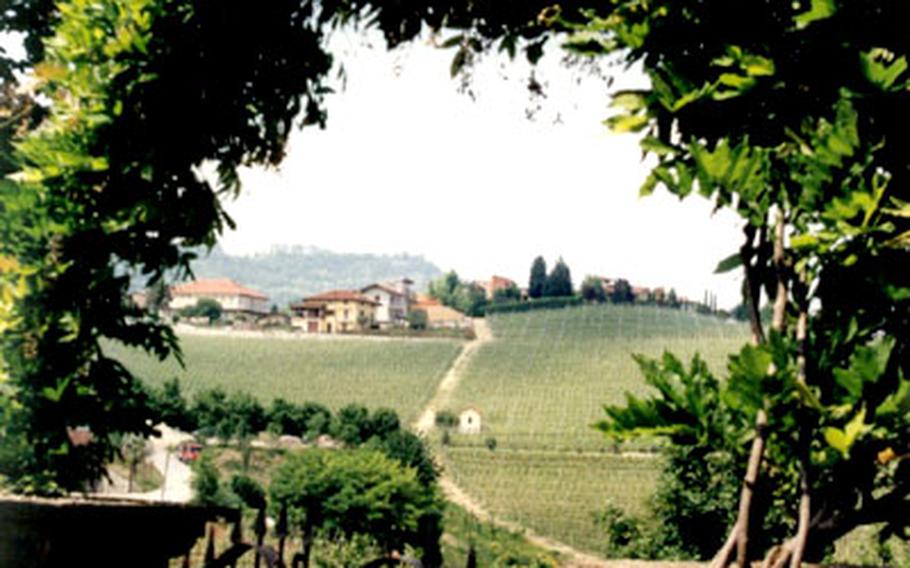 Sometimes while traveling you discover places so wonderful you wish you could stay forever. The food, the people, the atmosphere and accommodations, the setting and scenery — everything is perfect.
So it is at La Luna e i Falo ('The Moon and the Bonfires") outside of the town of Canelli in the hilly vineyards of Italy's Piedmont region southeast of Turin. La Luna e i Falo is a small inn categorized as agriturismo (agriculture tourism), the Italian version of bed and breakfast offered at facilities that are supposed to be some type of farm raising their own produce and/or livestock. Today the term is applied loosely and not all using the title are in the agriculture business.
Ester and Franco Carnero, who had a restaurant in Turin, bought a run-down farmhouse and a plot of land near Canelli in the early '80s.
"I fell in love with these hills. I saw it was paradise here," says Franco Carnero while talking to visitors on the flowered terrace of his hilltop home with rolling slopes of lush green vines spread out as far as the eye can see.
He and his wife were tired of the stresses of the restaurant business and city life. They wanted a tranquil life in the country raising grapes and producing wine.
They restored the house, a monumental task, planted a garden and grew grapes. The wine business, however, was tough, and they found they could not make a living from the vineyards. They decided to open a restaurant in their home and serve dinners in their spacious dining/living area, elegant in ambience with its bold Renaissance pieces, oriental rugs and impressive collection of artwork. Several bedrooms were renovated to accommodate overnight guests.
"We were the pioneers of this type of agriturismo," Carnero says. "Now too many do it and they are only interested in earning money. They don't offer quality."
Quality is foremost at La Luna e i Falo, where Ester does most of the cooking, specializing in antique Piedmont recipes. Franco is the pasta chef.
"Everyone uses modern recipes," says Ester. "I try to research and maintain old recipes."
She and her husband knew a doctor, who was also a gourmet, in the nearby town of Asti. He had a collection of old books, many from the 1500s, with recipes. They got copies of many of the recipes and began experimenting.
Franco's blue eyes light up when he mentions one such recipe, Torta della Sposa, a type of antipasto made when "young girls got married on this hill." The "cake" is made from zucchini, zucchini blossoms, amaretti (macaroons) and parmesan cheese … "an incredible delicacy," he says.
During a visit last spring, my husband and I savored many incredible delicacies from Ester's kitchen. Dinners consist of four courses. Our first night began with an antipasto, chicken salad with balsamic vinegar; followed by a first course, asparagus risotto; then the main course, roast veal with a delicate rosemary sauce to which chopped hazelnuts had been added, and small servings of carrots and asparagus. Dessert was two types of Bavarois (Bavarian cream): mocha and strawberry.
We drank Cortese, a white wine from local grapes, with our first courses, then the red Dolcetto, another wine of the area. Dessert was served with sweet, sparkling Moscato d'Asti from Franco's grapes. In true Italian fashion, as a finale he offers a shot of Grappa from his collection of many different kinds of this potent schnapps.
Classical music plays during the leisurely dinners. With flair and finesse, Carnero serves his guests the creations of his wife's kitchen, announcing the title of each dish as he sets the plate before you. He beams with pride and smiles, personifying that Italian gioia di vivere ("joy in living").
"This is the most beautiful work in the world, hospitality. People want to come to the country. They want to talk to you. We have a rapport. It's bellisimo," he says.
A German couple, who had been to La Luna e i Falo before, sat at the table next to ours. They spoke no Italian. Carnero speaks no German, nor English.
"He always tells a story with each course in Italian," the Germans remarked. "We don't understand, but we usually find someone to translate and we it enjoy it."
Our second dinner began with Vitello Tonnato in Salsa Antica. This popular Italian antipasto is veal with a tuna fish sauce usually made with mayonnaise. Ester's tasty version, according to one of her ancient recipes, eliminates the mayo.
The veal was followed by Ravioli del Plin, ravioli stuffed with a mixture of veal, pork and duck that had a delicious hint of sage. Chicken filet was the main course, but not your everyday preparation of the bird. This recipe was from the House of Savoy and featured the poultry in a cheese crust with fried acacia flowers. Strawberry semifreddo, frozen cream sandwiched between layers of cake, capped this culinary adventure. Again we drank three types of wine.
"I use lots of herbs [from her garden]," says Ester. "I like herbs. They make meat more digestible."
Rosemary is a favorite with veal. She often serves the meat as an antipasto (Vitello in Antica Salsa di Peperoni e Fici), using one of her antique recipes for a sauce of fresh figs and red and yellow peppers. In ancient times, they did not have sugar, so fruit was used instead, she explained.
La Luna e i Falo is named after a novel by Cesare Pavese that depicts a ritual still performed every August in this region. Hoping for a good harvest, local farmers gather old grapevines and set them aflame under a full moon. The blazing fires on the hillsides are said to be an amazing spectacle.
After roaming the vineyards and hillsides, there's no place like this B&B. Carnero told of a recent call from an American who wanted to talk to a human as he was fed up with recordings and numbers.
"You are not a number here," Carnero announces. "The most beautiful thing is to treat others as you treat yourself. We treat people as our friends."
He said that at the end of the day guests return from sightseeing excursions. "They say, 'We are at home.' That makes me happy."
The wonderful food and wines, the pretty countryside, the beautiful yet comfortable house and rooms — and Carnero's contagious cheer — all make for a home you don't want to leave.
Leah Larkin, a member of the Society of American Travel Writers, is a journalist living near Stuttgart, Germany.
If you go ...
La Luna e i Falo has three double rooms with private baths and two apartments for four persons. Cost per night for two with breakfast is 110 euros (about $135); with breakfast and a four-course dinner including wine, the cost is 160 euros for two per night. There is a two-day minimum stay.
The bed and breakfast is open March through November. Reservations a must.
Although English is not spoken, communication does not seem to be a problem. Contact by writing Ester and Franco Carnero at Localita Aie 37, Canelli (AT) 14053 Italy, or by telephone or fax at (+39) (01) 41-831643.
Finding La Luna e i Falo can be tricky. We relied on directions from "Karen Brown's Italy, Charming Bed & Breakfasts" that were confusing. Here are improved ones:
From Asti, follow the signs for Canelli. Continue past the town sign "Canelli," and follow the signs into town, but just before entering the heart of town, take a right up the hill to Castello Gancia. Look for the agriturismo signs. Drive up into the vineyards. The house sits on a hill on the right after Aie. There is a sign with "La Luna e i Falo" on the road.
— Leah Larkin
---
---
---
---