Burgbernheim: Cross marks sacrifice of soldiers
by
Steve Liewer
January 20, 2004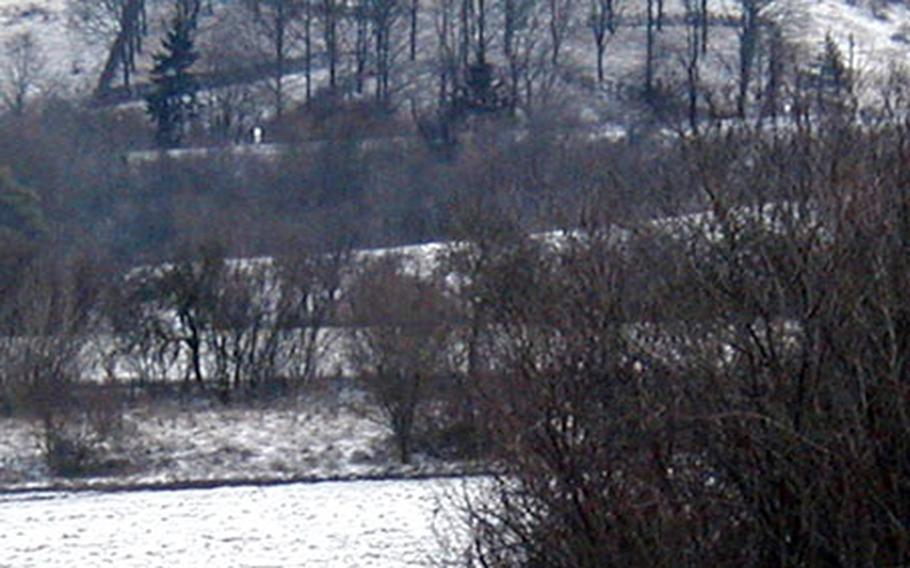 BURGBERNHEIM, Germany — Disguised most of the year by the surrounding forest, the war memorial leaps out in sharp relief against a snowy hillside outside this picture-book Bavarian village.
Sixty-four oak trees, bound together by vines, form the shape of a Maltese cross, an old symbol of Prussian military might. It is easily visible about four miles west of the U.S. Army's Illesheim Army Airfield, just south of the highway that connects Illesheim with Autobahn 7.
In the 1920s, 40 German army veterans — many of them just released from French prison camps — joined together under the leadership of Georg Duell to build this memorial to the 64 men from Burgbernheim who died in World War I. Duell was drafted while in his late 40s and managed to survive the war.
"My grandfather wanted to show he was with them in spirit," Horst Duell, Georg Duell's grandson, told a local U.S. Army newspaper last year while explaining the memorial.
"He didn't want their families to feel they had died in vain," added Duell, himself a 35-year German army veteran.
Today the memorial has matured into a modest park with a bench and commemorative sign, said Lisa Eichhorn, a spokeswoman for the 235th Base Support Battalion, which includes Illesheim. It is accessible by bicycle or on foot, which means in winter it is best viewed from a distance — especially right after a fresh snowfall.
Horst Duell, who still lives in Burgbernheim, mourns the fact that locals today don't show much interest in the memorial, Eichhorn said.
Ironically, though, the Maltese cross is well known to U.S. soldiers living in the area.
That's because pilots of Illesheim-based Apache helicopters from the 11th Aviation Regiment use it as an aerial checkpoint they call "Whiskey Outbound." Once they've passed it, they know they are almost home.
The Maltese cross is destined to live on in Army legend, even if U.S. forces leave Illesheim. In 1998, the 11th Regiment commissioned a painting that shows Apaches flying over "Whiskey Outbound." The painting hangs in the lobby of the regimental command suite in Illesheim, and many of the soldiers who served there own framed prints.
"I'm very pleased that it is something the American soldiers recognize," Duell said in last year's interview.
"It allows the memory of my grandfather and our war dead live on."
On the QT
Directions: Take Autobahn 7 to the Bad Windsheim exit, then head east. The cross is visible on the hillside south of the highway just east of Steinach and west of Burgbernheim.
Cost: Free.
Time: Visible during daylight hours, especially in the winter when snow is on the ground.
Food: Cafes in the nearby villages of Steinach, Burgbernheim, Illesheim and Bad Windsheim offer refreshment and a chance to warm up for those who have been tramping about in the snow looking for the cross.
More info: Check with the tourist information office on the town square in Burgbernheim. Also nearby and worth a stop is the famous medieval city of Rothenburg, which is one exit south on the A7, and the open-air museum in Bad Windsheim, about five miles to the east.