Bolzano: Plan a visit with the Iceman
by
Kent Harris
January 27, 2004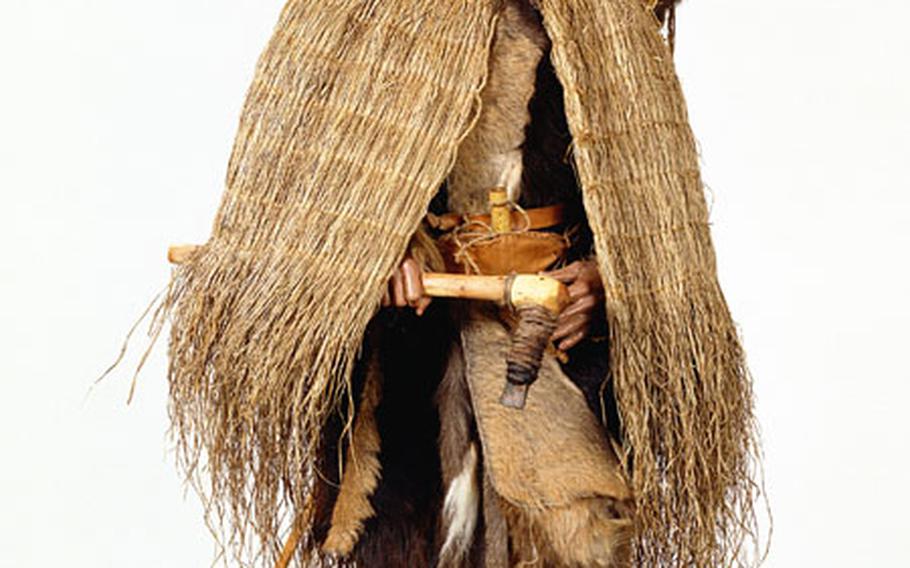 BOLZANO, Italy — It's a safe bet that it will never be known for sure what Oetzi was doing on the day he died 5,500 years ago.
But thanks to nature and — much more recently — two German tourists, rescue workers and scientists, it's possible to learn an amazing amount of information about a man who was dead long before the first Roman stuck a foot into the Tiber River.
Visitors to the South Tirol Museum of Archaeology can get a glimpse at "one of the most sensational finds of all time," as described in an audio guide that can be rented at the front desk. That find, commonly known around the world as "Iceman," is on display at the museum in this picturesque Alpine town about an hour's drive south of Innsbruck.
The locals refer to the man as "Oetzi," because he was found in 1991 in a valley with a similar name by a pair of German tourists. His body, encased in ice, was kept for a time in Innsbruck, before being sent back to Italy. It's been kept in what is essentially a climate-controlled display case since the museum opened in 1998.
Visitors can view the body, the clothes and the various tools that Oetzi had with him on the day he died. Judd Stephenson, who gives tours in English at the museum, said it's not known how the man died, but an arrowhead is still lodged in his back.
There is more to the museum than the Iceman displays. There's an array of artifacts and information from the Copper, Bronze and Iron ages as well as the Roman period. Those interested in learning more about those time periods can spend hours at the displays.
And, there's certainly more to Bolzano than the museum.
The city and its population contain a blend of Germanic and Italian cultures. The region was long part of Austria and has only been part of Italy since the end of World War I. Most residents speak both languages and most signs in the city, which German speakers call Bozen, are bilingual as well.
Bolzano is surrounded by the Dolomites, a mountain range that forms the southern part of the Alps.
Phyllis and Austin Sheridan, Americans who live in the city, suggest that visitors take a 3.50 euro round-trip ride on one of the cable cars that leave the city and head into the mountains. Once there, it's possible to walk to several mountain villages.
"It's a beautiful thing to do," Phyllis Sheridan says. "You can get the flavor of them with a 45-minute walk."
Intrepid hikers should dress appropriately, though, especially in winter.
It wouldn't do to look unprepared if you're discovered thousands of years in the future in a block of ice.
On the QT
Directions: Bolzano is on the A22 autostrada, about an hour's drive south of Innsbruck. It's about 90 minutes north of Vicenza via the A4 and A22, and about three hours from Aviano Air Base. There are several Agip stations along the way that will accept fuel coupons. The South Tirol Museum of Archaeology is downtown. Follow the signs for "Centro."
Cost: Expect to pay about 10 euros in highway tolls each way from Vicenza and about 16 from Aviano. One of the best bets is to park in a structure near the center; a five-hour stay in one near the train station cost 2.50 euros. The entrance fee to the museum is 8 euros, free for those 6 and under. If you aren't fluent in Italian or German, an audio guide is essential and can be rented for 2 euros.
Time: The museum is open from 10 a.m. to 6 p.m. Tuesday through Sunday, later on Thursdays, but the last admission is at 5 p.m. It's closed Mondays. The three cable car lines run at various times depending on the day and season.
Food: Much of Bolzano's fare would remind travelers more of Austria and Germany than Italy. But pizzas are plentiful. And, like many spots in Italy, there are regional variations on several types of dishes. A few streets near the museum are lined with fruit and vegetable stands daily.
Info: The museum can be reached at (39) 0471-320-100 or via e-mail at museum@iceman.it. The Web site is www.iceman.it. Several languages are spoken at the tourist office on Piazza Walter, telephone (39) 0471-307-000. The e-mail address is info@bolzano-bozen.it and the Web site is www.bolzano-bozen.it.