Bengal in Yokosuka offers curry like it's from Mom's Japanese kitchen
by
Erik Slavin
March 12, 2015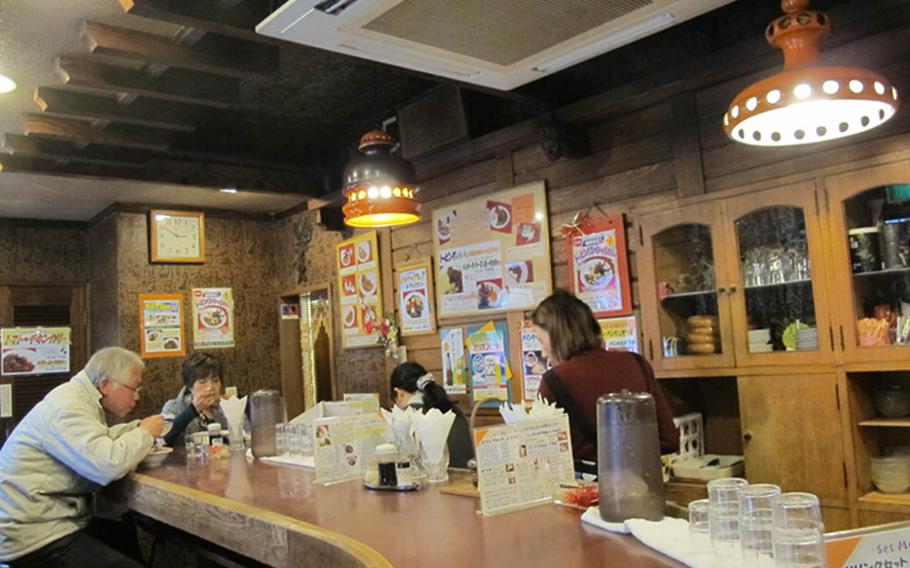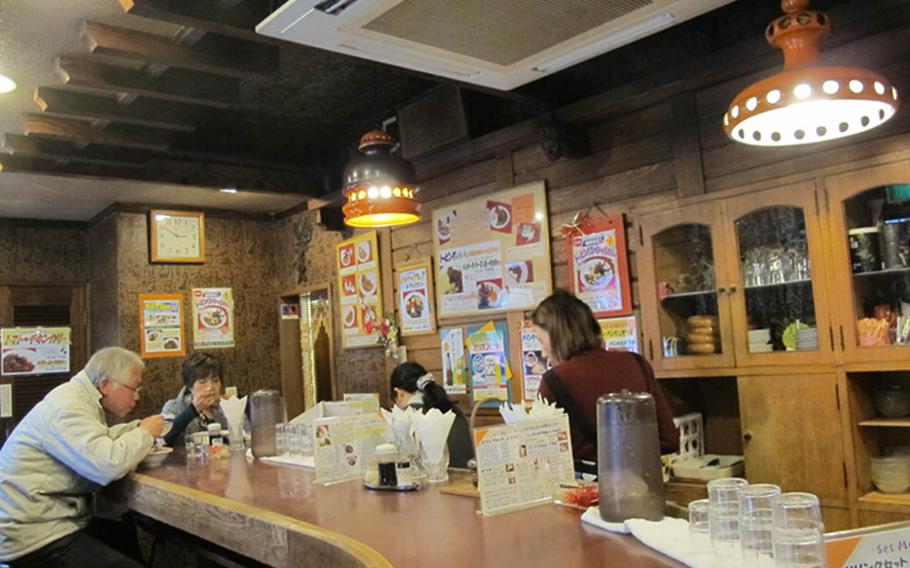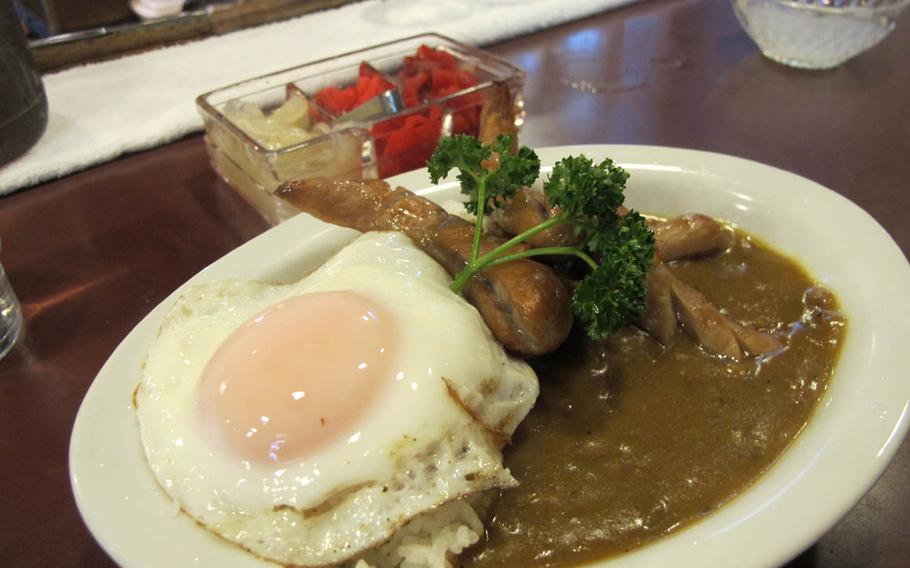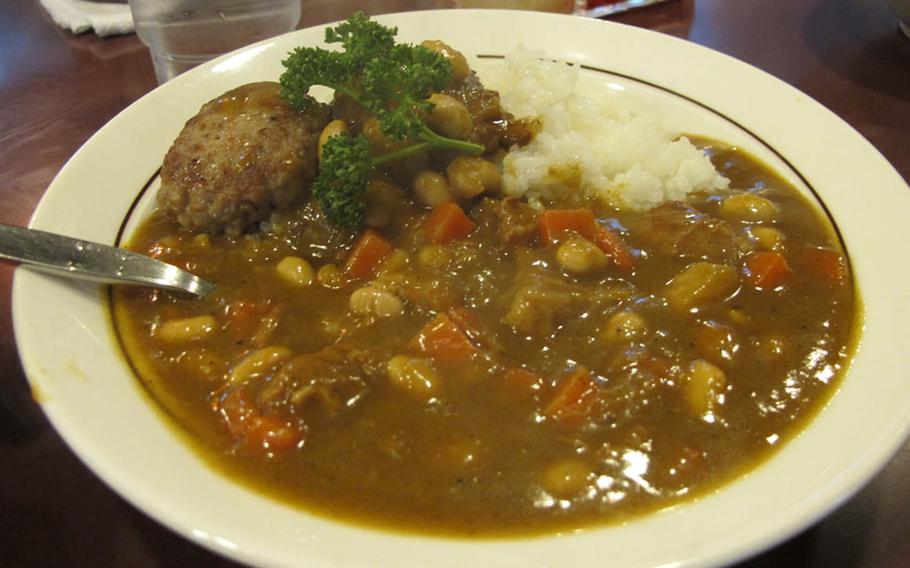 A meal at Bengal, one of Yokosuka's oldest casual restaurants, is a glimpse into the curious origin of food that traveled the globe before becoming uniquely Japanese.
Newcomers to Japan can be easily forgiven for walking by the Indian caricature outside and thinking the restaurant might serve tikka masala and naan bread.
Instead, they'll find pork and beans with a couple of mini-hanbagu, which taste like a cross between hamburgers and meatloaf.
This is one of the many varieties of Japanese curry, a cross between Western stews and Eastern curries that is wildly popular in Japan and barely known to the rest of the world.
Its base starts with a curry spice mix added to a thickened broth, but like most stews, its worth lies in the ability of the cook to unify lots of different flavors.
Cheap, instant curry rice meals sold at grocery stores crank up the salt but generally lack depth and fresh vegetables.
The Coco Ichibanya chain is a favorite place for servicemembers who like to order the "Level 10" spicy curry and watch newcomers' faces turn a deep shade of lava, but the meat is underwhelming.
Bengal is more like what you'd get in mom's Japanese kitchen. Spicy here equates to medium, though they will crank up the heat to chest-beating levels if you ask.
The potatoes and diced carrots may not be grown in mom's garden, but they do taste like real vegetables. The meat comes in chunks with a bit of fat attached, a reminder that it isn't supposed to come in super-saturated, fast-food blocks. It is also cooked at low temperatures, which is part of what makes the best stew cuts so tender.
However, it is the brown roux that really makes any Japanese curry. Bengal's is a pretty good example of for the uninitiated — salty, with lots of underlying spice and a touch of heat noticeable after a few spoonfulls.
The quantity of meat in most of the curries is scant in comparison with the average American's expectation; however, I don't know of many people who wouldn't leave the restaurant feeling full for under the equivalent of $10. If thick curry, vegetables and rice aren't enough, the add-ons should finish the job. An extra fried egg is only 50 yen, while a side of two hanbagu or a smattering of German sausages costs only 150 yen.
These are some unusual toppings for curry today, but Bengal's signs explain that when the shop opened in 1971, German sausages were the big curry craze. Given Japanese curry's cross-cultural origins, it somehow makes sense.
The exact introduction of curry to Japan is debatable. Spice maker S&B Foods tells the story of a 16-year-old warrior as the first Japanese person to eat curry, which he tried onboard a ship headed for the United States in 1871.
Multiple sources talk of the Japanese navy picking up the dish from the British Royal Navy, which took a liking to it on the long journeys between Britain and colonial India in the 19th Century.
The connection to Britain got curry, that most Indian of dishes, linked in the minds of Japanese at the time to yoshoku, or Western food.
By the 1920s, technology made curry dishes inexpensive and fast, which heightened their popularity. Japan's military seized upon its convenience and made it a staple. It remains so associated to Japan's forces that the Maritime Self-Defense Force publishes its curry recipe on its web site. mod.go.jp/msdf/formal/family/recipe/archive/currey.html
Since the 1980s, some foreigners might think of Japanese food and stop with sushi; however, curry probably stands next to ramen and bento boxes as the most common, and most beloved, meal in Japan.
Newcomers who don't like any other curry probably won't like the Japanese variety. But for those who do, a meal of well-made curry is, at the very least, an inescapable part of the Japanese cultural experience.
BengalHours: 11 a.m.-9:30 p.m. daily, last order 9 p.m.
Prices: Curries from 650-1,000 yen. Side dishes cost about $3.
English menu: Yes
Directions: From the Yokosuka Naval Base Womble Gate, exit and remain on the left side of the street. Cross Highway 16 and walk for 10 minutes on Sennichi Dori, the road parallel to "Blue Street." The restaurant will be on the left.