Basel: Keep a family busy all day
by
Terry Boyd
February 5, 2004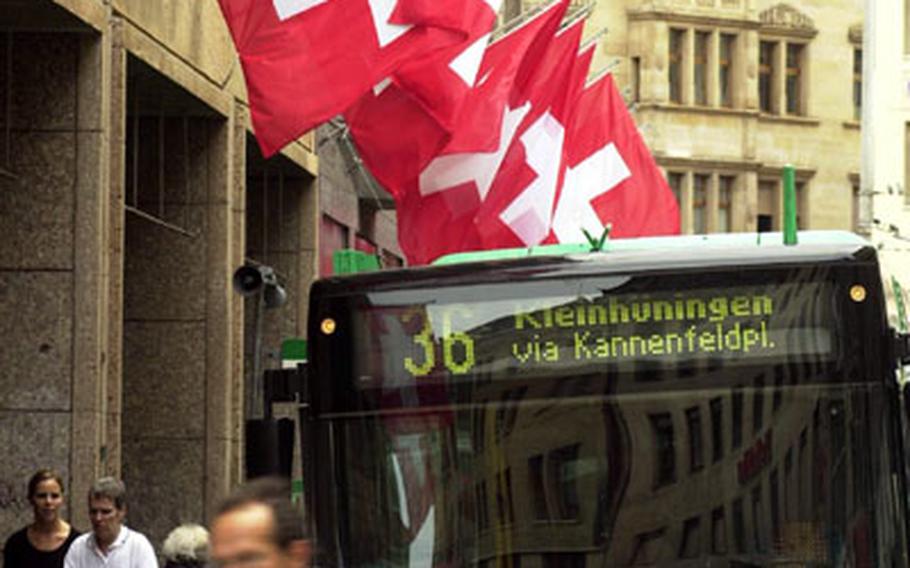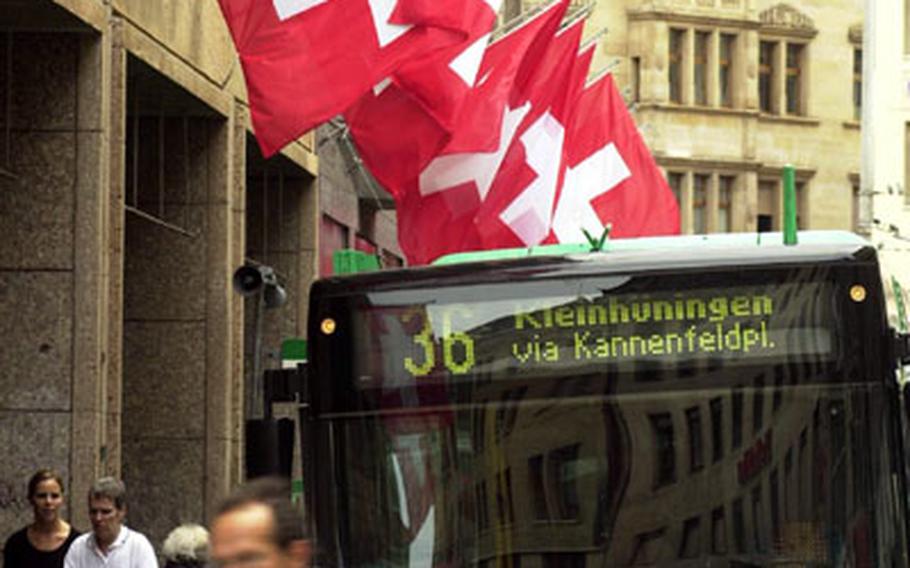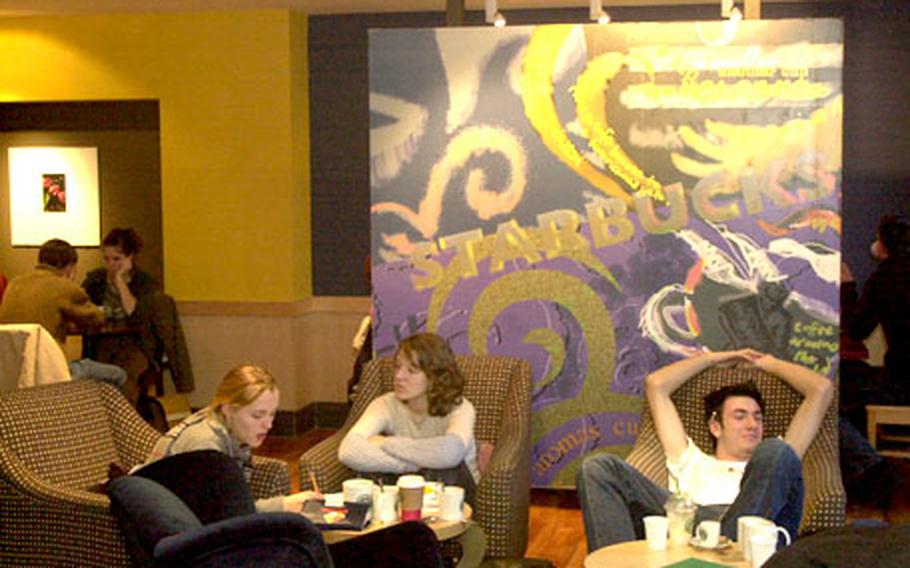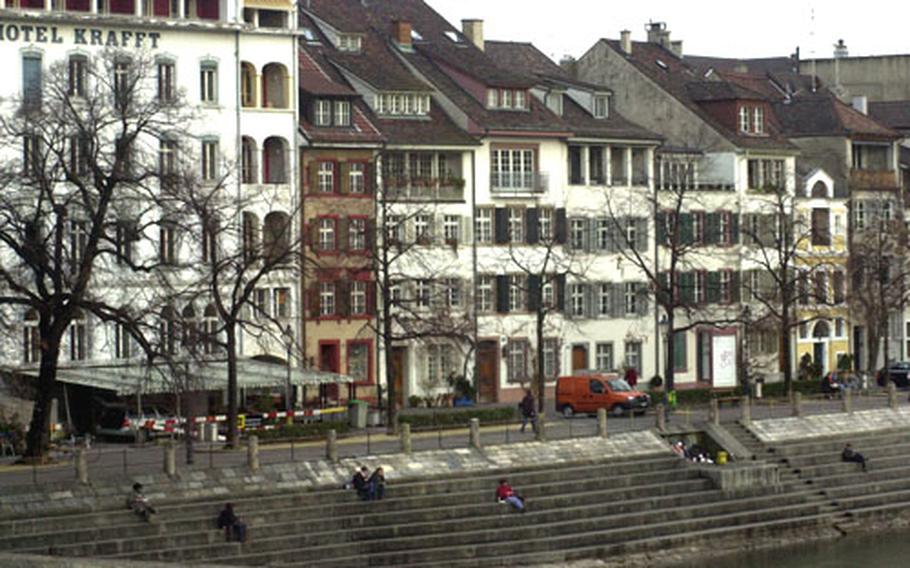 The incredible shrinking dollar is changing the lives of Americans living in Europe, and no one's more painfully aware than travel addicts. Especially travel addicts with kids.
Long stays in Venice, London or Oslo (which just replaced Tokyo as the world's most expensive city) are becoming prohibitive for American families earning dollars but paying in euros or pounds sterling.
So, are there any affordable European destinations out there short of a mud hut in Albania?
Yes, one surprisingly good one. Basel. Captivatingly cultured, and — considering it's in Switzerland — almost affordable.
If your family needs one reason to visit, it's the Basel Zoo.
We always start a weekend in Basel with at least a morning at the zoo. And every trip to the zoo should begin with the Vivarium, right at the main entrance. You could devote an entire day at the Vivarium alone, a complex of a dozen aquariums full of exotic water creatures from sharks to rare mangrove-dwelling frog- eyed fish.
My daughters, Lucy, 6, and Lale, 3, were amazed and delighted to meet in person Nemo, Dory and all the characters from "Finding Nemo" in the reef fish display. Salt- and fresh-water displays give way to terrariums for desert reptiles.
Other must-sees include the monkey house and the endangered gorillas living there, and the Gamgoas interactive exposition of savannah wildlife including crocs. That's just three of 32 exhibits on perhaps 40 acres just south of central Basel.
But don't spend all your time making monkeyshines. There is a lot more to do without emptying one of those numbered Swiss bank accounts.
Frankly, the reason Basel is reasonable is because it's not glamorous Switzerland — European movie stars and Formula 1 drivers living (close to their banks) on lakeside estates in Geneva, or Prince Charles skiing in Gstaad. It's not even the staid finance-and-fugitives Switzerland of Zurich.
While it has its charms, Basel probably has less than other Swiss cities, surrounded by factories and pharmaceutical labs, river ports and airports instead of Alpine peaks. It's a great place to make money, said Anja Neidel, a 23-year-old German who came to Basel via the Republic of Ireland and South Africa. And because it is, immigrants — mostly Kosovar Albanians, Italians, Turks and Greeks — make up about 60 percent of the population, with the Swiss a distinct minority, Neidel said.
Finally, in the interest of full disclosure, you can't stay there. A decent hotel is 200 euros per night.
The trick for an affordable family trip is to use Basel's location at the convergence of Germany, France and Switzerland to your full advantage. We stay in the Franche-Comté region of France, 45 minutes across the border in the little village of Etueffont and day-trip in. But you could as easily stay in a gasthaus in the Black Forest to the north or a pension a few miles southwest at Weissenstein in the Franche region's Jura Mountains.
So, what makes Basel worth crossing borders to zip in and out over a couple of days?
At its heart, Basel is a "fun" destination. A surprisingly multiethnic, multidestination city of about 200,000, that in addition to its endlessly fascinating zoo has good shopping and some of the best museums in Europe.
The attractions that make Basel a great place to live also make it a great place for your family to visit, according to Rose Marie Subasic and David Hughes, an American husband-and-wife software engineering team who have lived in Basel for 6½ years.
Subasic and Hughes describe a sophisticated collection of stellar English bookstores — one run by an American expatriate — and art galleries. The winding streets from the Munsterplatz down to the main Marktplatz have eclectic stores, some right out of Harry Potter's Diagon Alley. A Hughes/Subasic favorite is Abraxas, a shop at Rheinsprung 6 offering writing instruments, stationery, letter seals and sealing wax, parchment and even writing quills.
A trip to a bookstore often turns into an "aparos," or cocktail reception for an author, they said. And when they aren't at the Basel zoo, where they're members, Subasic and Hughes are hiking in the nearby Juras, or at inexpensive classical music concerts at cathedrals or at Basel's music school.
"Sometimes I think Basel must have the world's highest per-capita concentration of cello players," Subasic said. "You can't go into town without seeing someone carrying a cello."
Though the populations are roughly the same, "Geneva feels more like a big city," Hughes said. "Basel is more family oriented."
Divided by the Rhine River, the left bank is "Small Basel," and mostly residential.
The scenic quarters and squares, compact shopping district and zoo are in "Big Basel" on the right bank, the southern section of the city.
Basel's commercial heart running from the Mittlerer Rheinbrücke toward the Rathaus beats with an adrenaline-jolted rhythm.
In the Old City, in "Big Basel," you can buy everything from a $120,000 Vacheron Constantin watch to a $3 latte at Starbucks. Switzerland retains the Swiss franc, and prices seem slightly better than in Germany or in France on some items, such as shoes, for some reason. Gasoline is at least 25 U.S. cents per liter less than in Germany. Food, however, is more expensive.
But you can have a lot of fun for nothing. A great afternoon is just taking the Oberer Rheinweg walking path past stately homes, cafés and galleries along the left (north) bank of the Rhine. On the right (south) bank, the St. Alban Rheinweg takes you past magnificent buildings, cathedrals, squares and museums. On summer evenings, you can catch a movie at a giant outdoor theater on the east edge of the Munsterplatz.
Basel is an especially exciting place on a Saturday afternoon. Streets are crowded and festive no matter what the season. Basel's Christmas market is one of the most upscale in Europe. In early January, volunteers were selling small pins to raise money for Basel's upcoming Carnival celebration, touted as Europe's most unique. Street musicians play in rain, sun or snow.
If you get bored with all this, you can jump back in the car and drive an hour southwest to Weissenstein, then hike flowering meadows into the foothills for panoramic view of the Alps beyond.
When it comes down to it, we grade destinations by how welcoming they are, and Basel has been good to us. A destination lingers in our memories because of the people we meet.
Sitting in Starbucks on the "Small Basel" side of the Rhine recently, we met a young couple — she was Swiss, he German — seeking a smoke-free café (a rarity anywhere in Europe) to relax in with their three children. We had a long talk about the high cost of living in Basel, and about how people tolerate it because it's such a nice town.
As we were going back to our car, a well-dressed older man pointed at a block of apartment buildings and started telling us about how they were the most chic in Basel. We met lots of German families who had come — like us — just to visit the zoo.
All in all, Basel is one of those places — I hope I'm not tempting fate, here — where during five visits, we've never had a bad time. Where, even if we won the lottery, we'd still return.
But for the moment, we're content to look forward to that far-away day the dollar revives and we'll actually be able to afford to stay in Basel.
---
---
---
---