Ath: Land of giants
by
Kevin Dougherty
March 20, 2007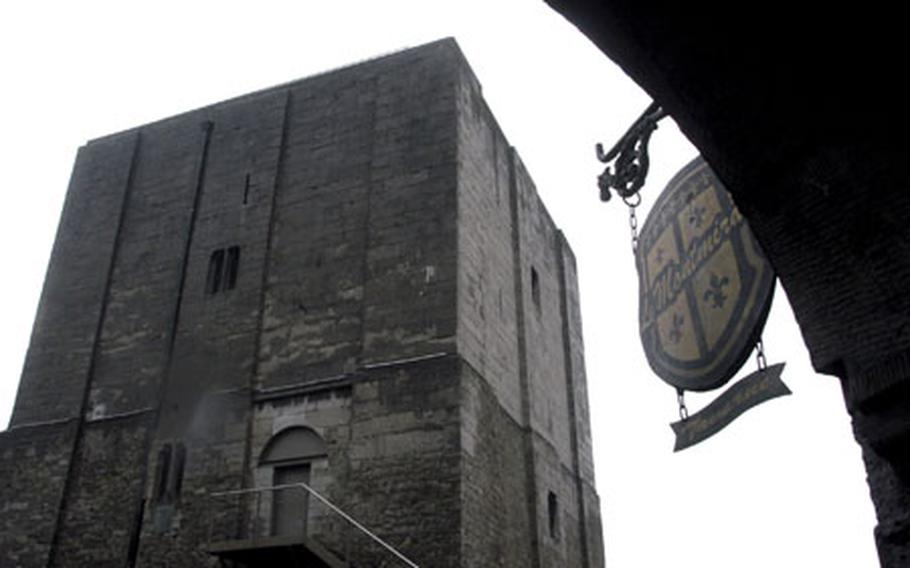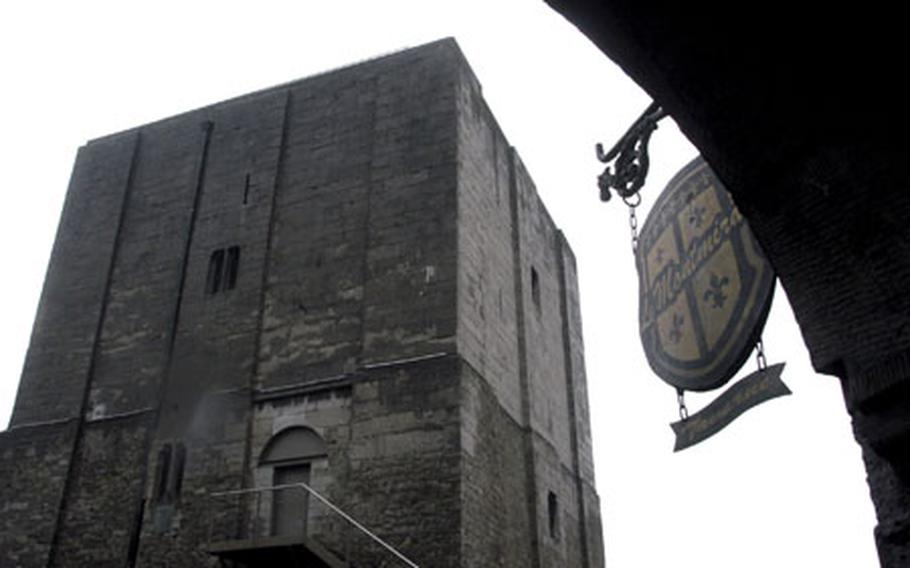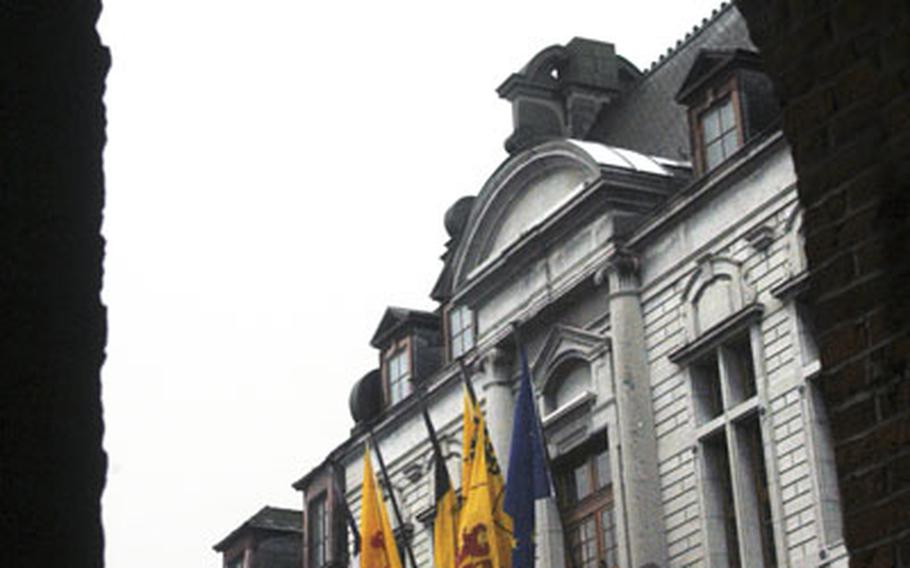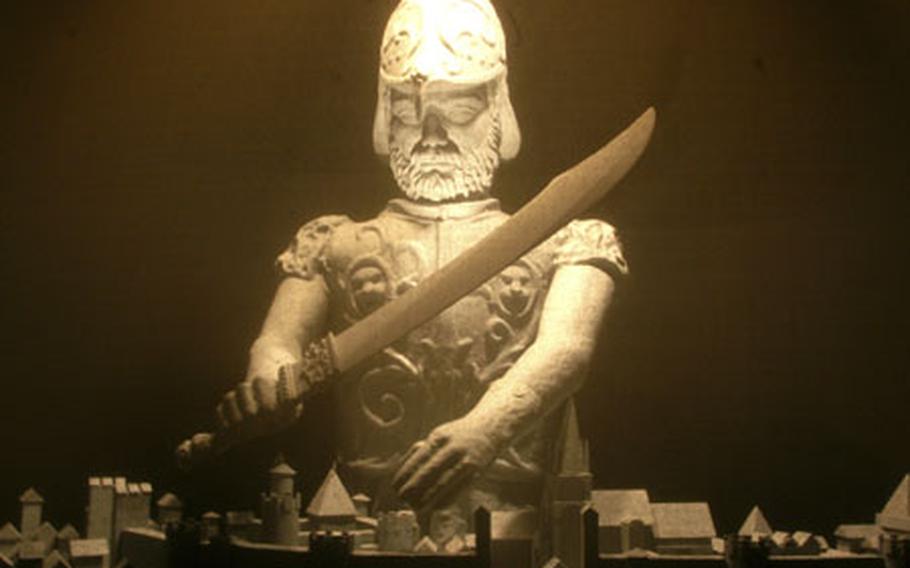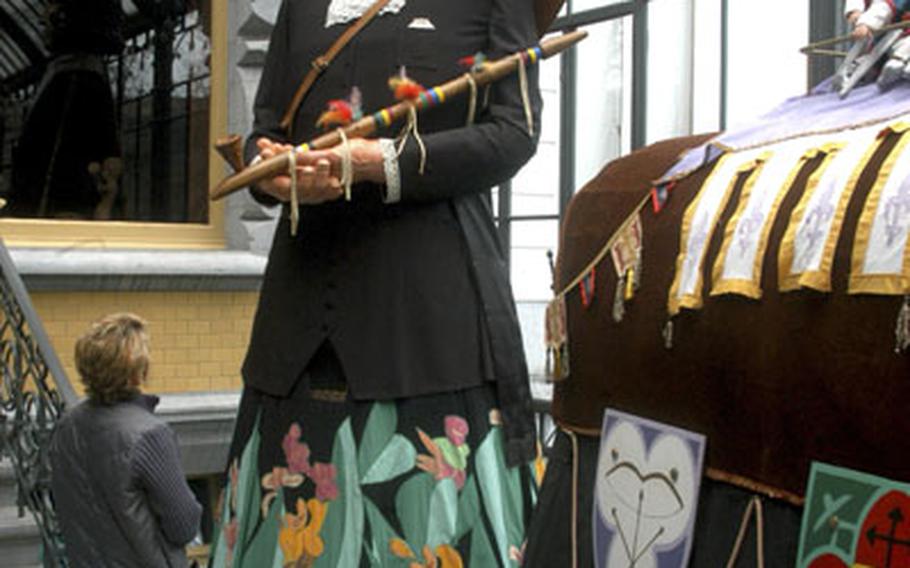 Every year in the late afternoon on the fourth Saturday of August, thousands of people cram into the town park in Ath, Belgium.
They come to watch David and Goliath trade barbs, and then fall silent once the taunting stops. For several moments after that the shepherd boy, played by a local youth, sizes up an effigy of the giant before engaging it in a ceremonial clash that dates back to the 15th century.
The battle is one of the main events of Ath's two-day procession of giant allegoric figures, such as Goliath and Samson. Regionally, the festival is known as the "Ducasse," which means dedication, or consecration.
"Ath is the 'City of Giants,' " said Anne- Marie De Kuyssche-Lowagie, a retired teacher and city tourist guide. The annual festival "is a time of joy."
Situated just a few miles from Daumerie Casern and Chièvres Air Base, Ath is popular with American soldiers and airmen. It's close, friendly and favored by local U.S. military officials.
"The nightlife is not so busy," said Loic Verheyen, a 19-year-old Belgian college student. "Brussels is better."
But Verheyen did offer one bar tip: In town along the Dendre Canal is a bar on a barge that locals call La Peniche. Young and old frequent the joint.
Another popular place to drift to is the square, where, in the summer, bars and restaurants go outdoors. Three establishments that draw a lot of traffic no matter the time of year are la Trattoria, an Italian restaurant, la Petite Riziere, which serves Thai food, and Chesterfields, a favorite watering hole.
Chesterfields "has atmosphere," said Sabrina Fermeuse, an Ath resident who works for U.S. Army Garrison Benelux. "It's cozier than other places."
Located in the Walloon province of Hainaut, Ath municipality has several points of interest, from Saint Julian's Church in the city center to Moulin de la Marquise, a working 17th-century windmill in nearby Moulbaix.
Another attraction is the Tour Burbant, a medieval military keep completed in 1166. The tower stands about 65 feet, its walls a stout 13 feet thick. Inside, a brief film recounts the history of the great tower and the forces that shaped Ath.
"It's very pretty," said Verheyen, the college student. "It's a small town. You feel comfortable here."
Another place worth mentioning is the Giants' House, a 18th-century manor where visitors can go during the year to see giant effigies and learn more about the procession. It is recognized by the United Nations Educational, Scientific and Cultural Organization for its World Heritage value.
One of the superstitions associated with the festival involves the fight between David and Goliath. Some in town claim if "David" slings his stone through a hole in the Goliath effigy, thus "killing" him, it portends good luck for the city. And if he misses, well, the opposite is said to be true.
"Last year, he missed," De Kuyssche- Lowagie said. "It's bad for the little boy. There's so much pressure on him."
On the QTDirections: From the SHAPE exit on the E42 motorway (west of Charleroi), head north on N56 away from Mons toward Ath. En route to Ath, pass through the towns of Jurbise, Lens and Chièvres. From Brussels, drive southwest on E429-A8 to the Ath exit. From Germany, pick up E40 near Aachen and take it into Belgium. On the west side of Liège, take E42 west.
Times: Tour Burbant is open July to September; hours are 2-6 p.m. every day but Monday. The Giants' House is open 10 a.m. to noon and 1-6 p.m. (5 p.m. October to March) Tuesday through Friday, and 2-6 p.m. on weekends and holidays.
Costs: Admission to the tower is 3 euros per adult, 2.50 euros for ages 5-12. Groups of 15 or more save .50 euros per person. Access to the Giants' House costs 4 euros for adults, 3 euros for ages 5-12; groups of 15 or more save one euro per person.
Food: There are several establishments around town, including la Trattoria, an Italian restaurant, and la Petite Riziere, which serves Thai food. Chesterfields and the Barge are two of the places people meet for drinks.
Information: There is a tourism office near Saint Julian's Church. The city Web site is www.ath.be; there is an English version.
— Kevin Dougherty
---
---
---