At Fukuoka, the robots walk among us
by
Juliana Gittler
April 1, 2004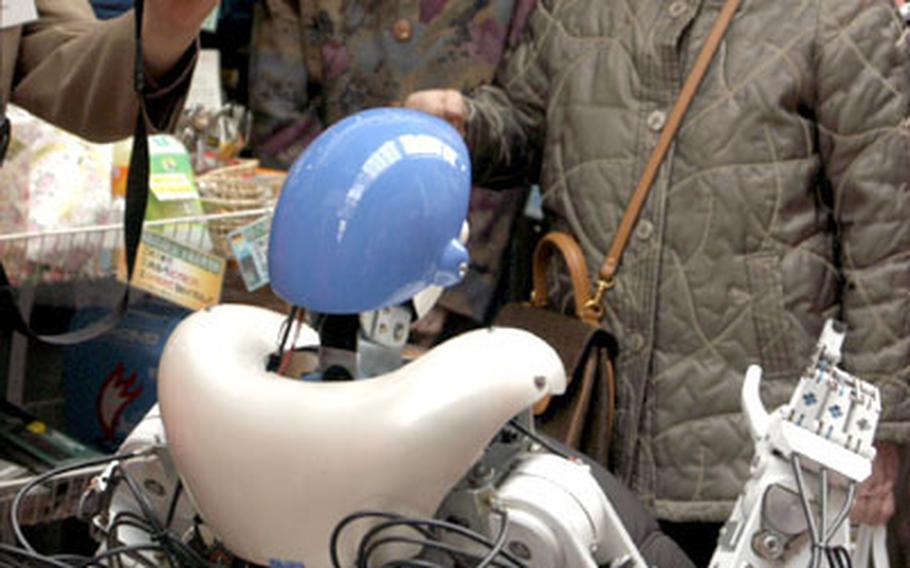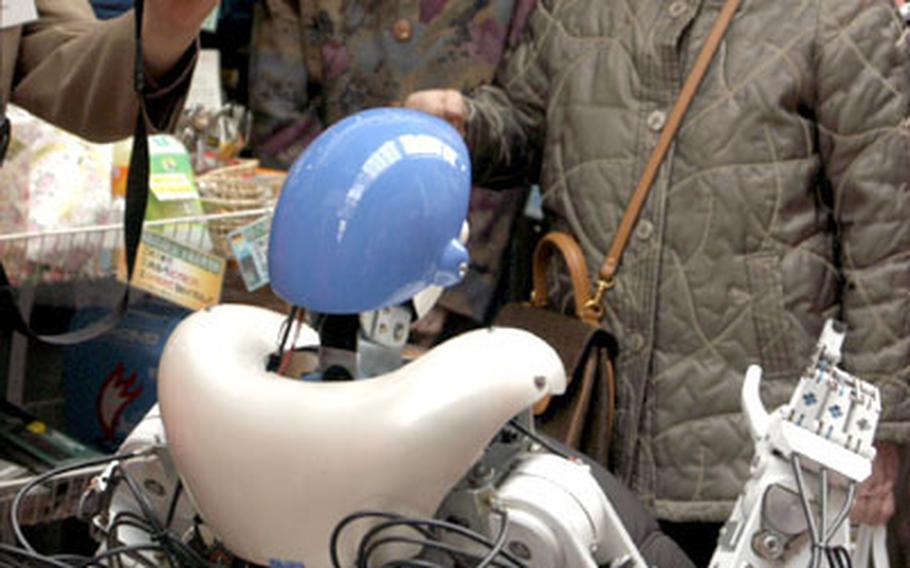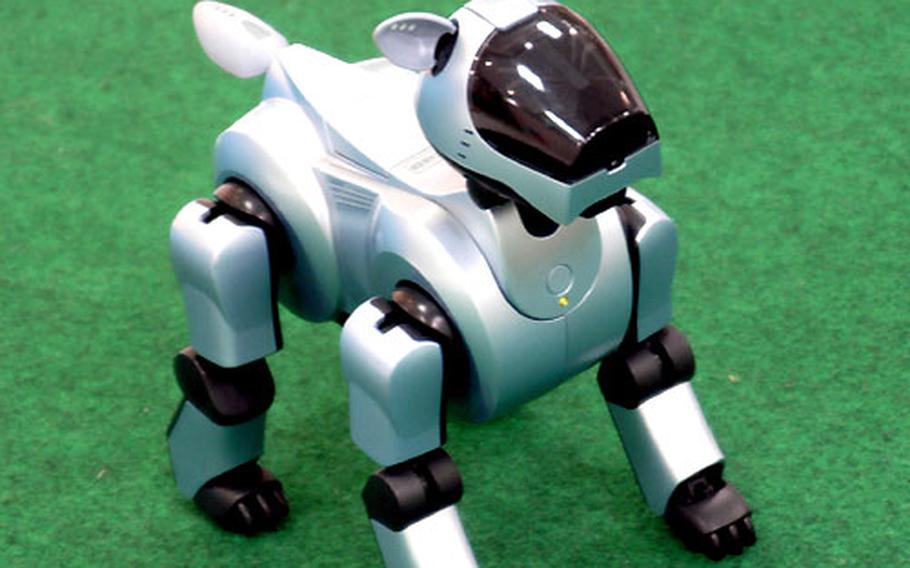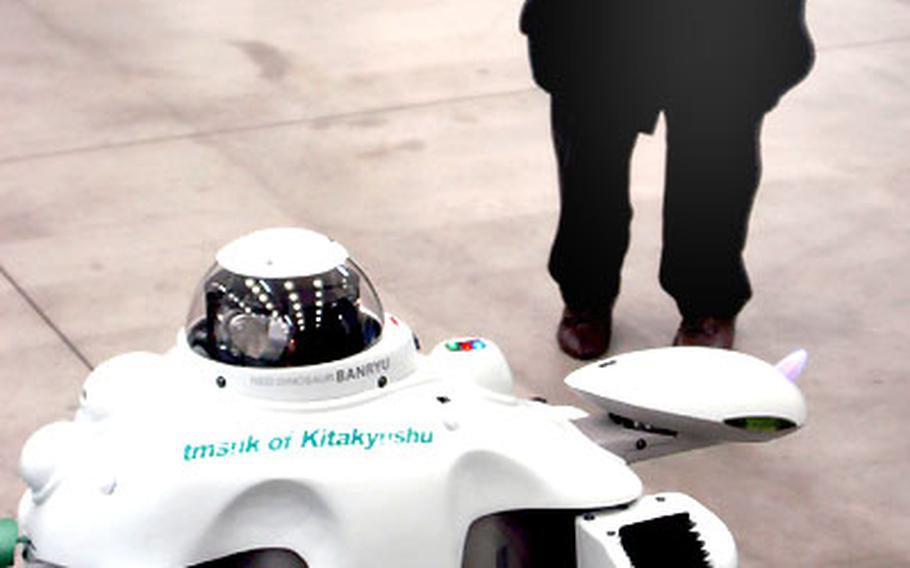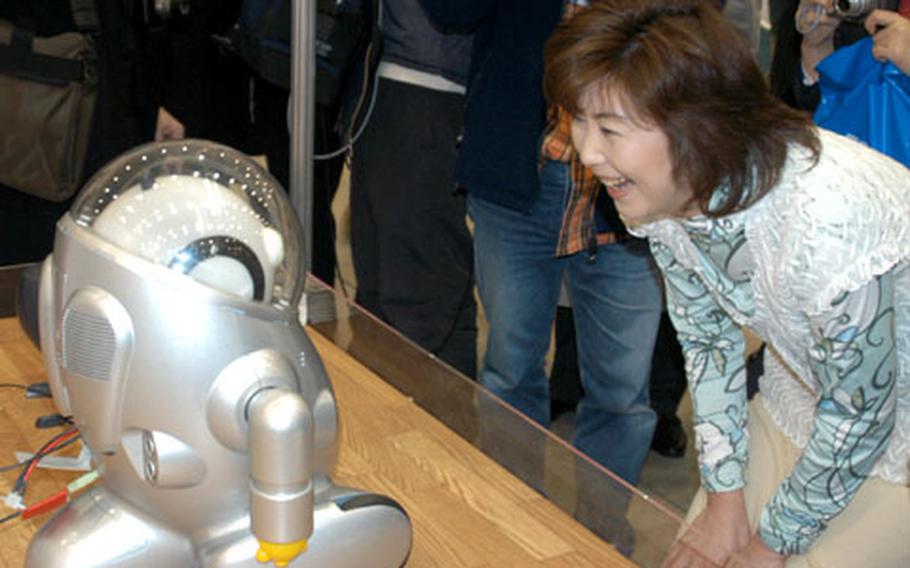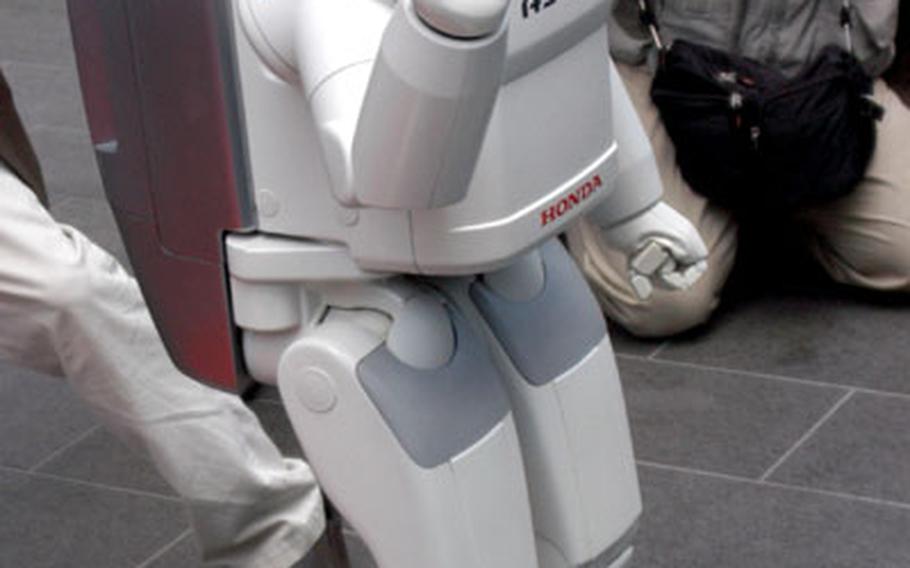 A robot ambles down a strip mall sidewalk, stopping by a coffee shop.
Tmsuk04, a tall blue and white robot on wheels, has more security than a pop star and usually garners as much attention.
Under a new government rule, Tmsuk04 and other robots in Fukuoka are now free to walk among humans, as part of a plan to test the interaction between humans and robots.
Welcome to Fukuoka, Japan's new robot-friendly prefecture. In the cities of Fukuoka and Kitakyushu in the north, robots can run free, and a host of businesses help bring the fantasy world of mechanized helpers to life.
The goal is to create a Silicon Valley of robotics, according to government leaders.
Fukuoka, between Sasebo Naval Base and Iwakuni Marine Corps Air Station, has all the resources to foster robotics: technology universities, electric companies, software and hardware developers and government support.
Robots have a long history here. Developed for industrial, medical and emergency use, they help build Toyota cars and rehabilitate patients in hospitals. But increasingly, companies are making 'bots that play, communicate and entertain.
Last month, the prefecture hosted an international conference of robot scientists, a convention on the latest and greatest machines, and, the first robot walk-about on public roads.
The appearance of Tmsuk04 in public was possible only after the city became an official "Robot Friendly Zone."
That designation means robots can go on streets but they probably won't make more than an occasional trip outdoors. A place exists, however, that guarantees visitors a robot sighting.
After Fukuoka won the worldwide RoboCup competition — a robot soccer game — in 1992, city and business leaders planned a robot incubator called RoboSquare to encourage and support interest in robotics.
It opened a decade later, in July 2002.
RoboSquare looks like a shop in Hakata's upscale Riverain Mall. But it's actually a robot factory and exhibition center open to the public.
Researchers and developers can study robotic technology there; children and adults can see, experiment with, and learn about robots.
According to the company, visitors can learn about robot history and mechanics and see some of Japan's most famous robots — autonomous and remote-controlled.
Visitors also can participate in robot-making and other classes for children and adults. They can play real RoboCup with computer-controlled dogs and explore and buy a variety of big and small robots.
The site is free, but there might be a fee to try some of the robots.
According to promoters, the goal of Robo- Square is not only to make Fukuoka Japan's premier robot center but also to attract interest in robotics and science among children and the public.
The square, just a few blocks from the Tenjin Post Office, is open 10 a.m. to 8 p.m. daily, except holidays.
A look at some of the robots ...
Tmsuk is a conglomerate that includes Sanyo and makes a series of remote-controlled robots for security and safety. They can be operated by cell phone and one is designed for home security:
Tmsuk04: This large blue and white robot is becoming the face of Tmsuk and was used in a recent walk-about on a street in Kitakyushu. It's also been taken to Europe to show off its remote controllability. One can control Tmsuk04 remotely by watching images sent to a monitor from a charge-coupled device camera on its head. It's not available for commercial sales; only to businesses, research institutes and universities that will co-develop future research.Banryu: This four-legged robot (seen in the large photo on page 3) is designed for home security. It detects any kind of movement or smell, will make an alarming noise and call a mobile phone, which will enable you to watch what's happening in the house. It costs around $18,000. For more information visit, www.tmsuk.co.jpIfbot is a domestic communication robot that responds to questions and reacts to emotions. It can learn to recognize several people's faces and voices and can react to them and exhibit a variety of his own expressions. And it's available in a variety of colors. It is a 5-year-old shy robot. It loves sweets but hates spiders, earthquakes and water. It is capable of recognizing up to ten persons' voices and calling them by name. It also can dance and sing songs. It costs around $4,500. For more information, visit www.ifbot.net.
AIBO — Sony's entertainment robot. Its name comes from "A.I." (artificial intelligence), and roBOt. Also, in Japanese, "aibo" means "companion" or "pal." This four-legged robot imitates a dog. It shows emotions, plays, charges and responds to touch in autonomous mode, and can be used through remote control to take pictures and play messages sent through e-mail. It understands and responds to more than 100 words. It costs $1,600. For more information visit, www.sonystyle.com.
ASIMO, or "Advanced Step in Innovative Mobility," by Honda. It walks, talks, responds to conversation, understands people and cuts ribbons at international robot conventions. ASIMO is a humanoid biped robot. Since 1986, the company has researched walking robots, in search of the perfect robot to help humans function. It is not available for sale. For more information visit, www.honda-robots.com.
---
---
---
---