Amsterdam: For a couple who met there, city never disappoints
by
Peggy Sijswerda
February 9, 2006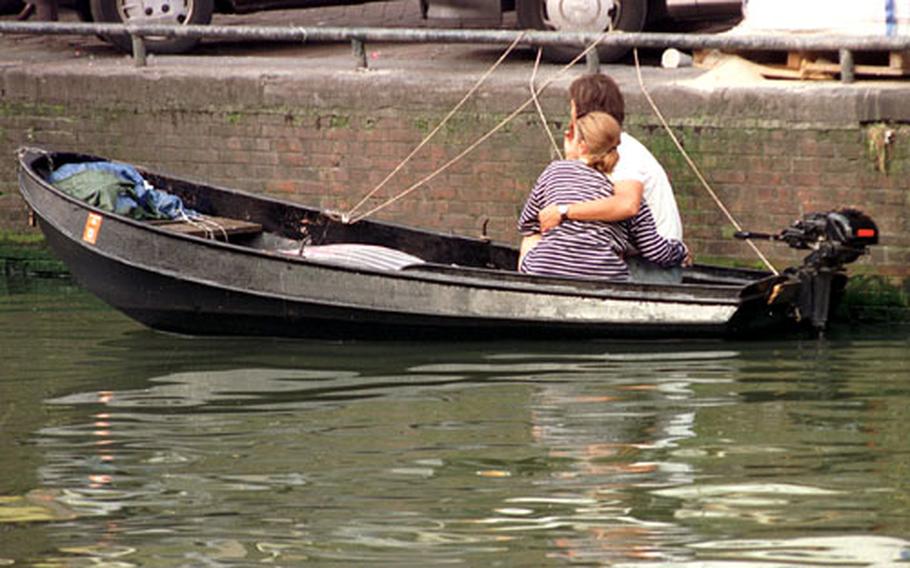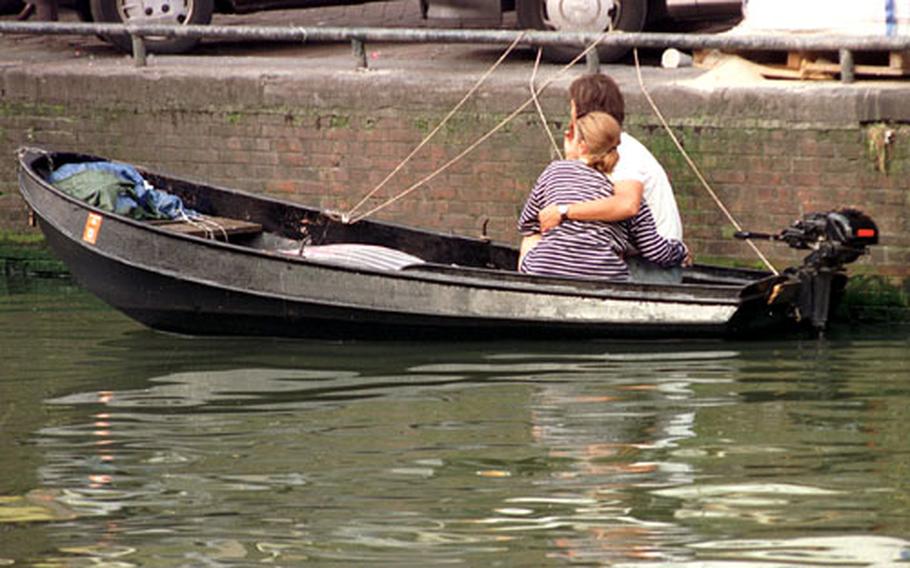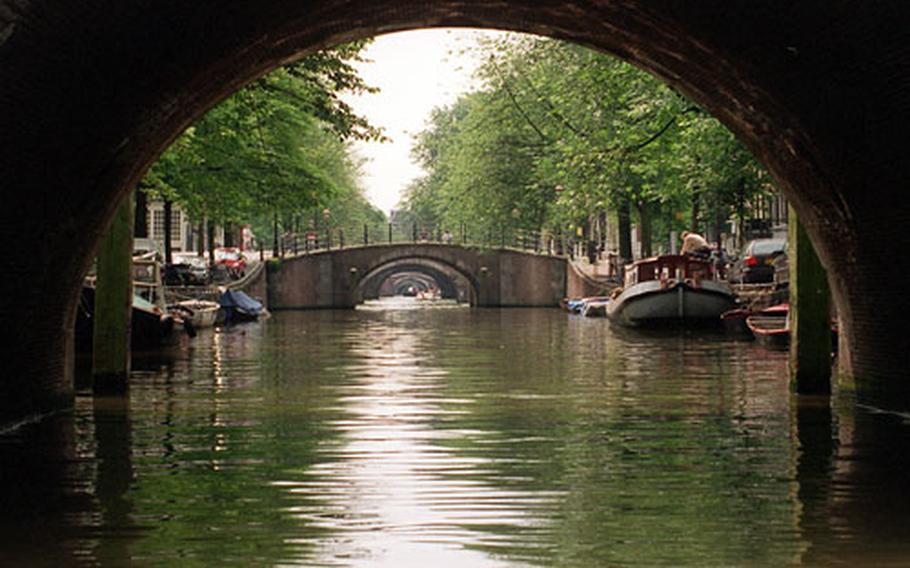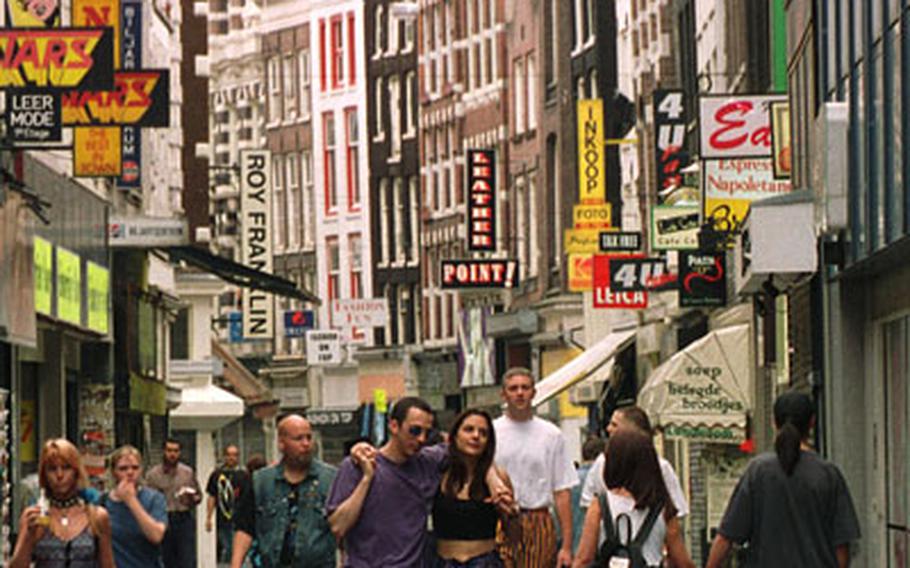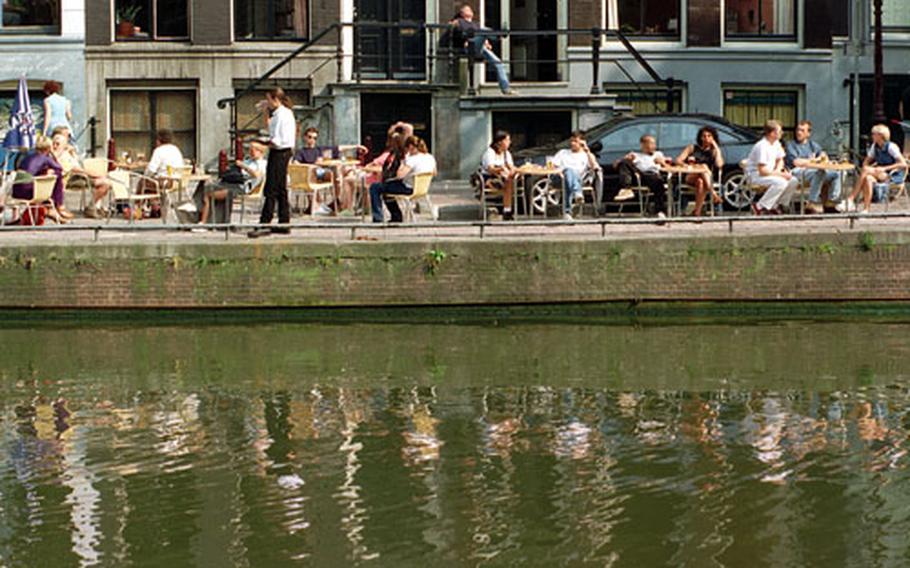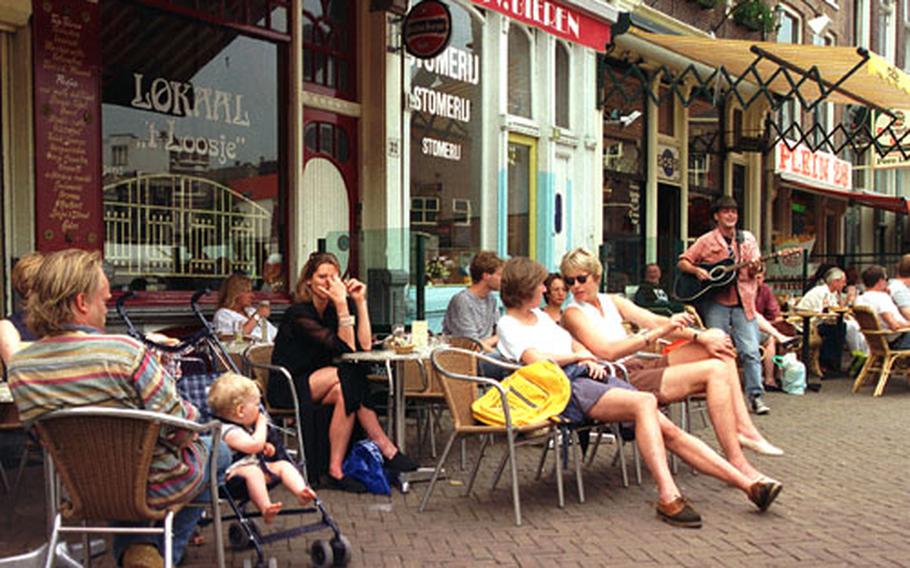 Rain began to fall soon after my husband, Peter, and I sat down at a cafe overlooking the Amstel River in Amsterdam. But we were cozy and dry, and the rhythm of the drops only served to double the ambience as we sipped wine and chatted about past travel adventures.
Sometimes we fell quiet, listening to the rain and watching the world go by. Cyclists holding umbrellas hurried along the narrow street before us, and just beyond, boats, big and small, chugged along the river to destinations unknown.
Peter and I spent 11 days traveling last summer — just the two of us — in celebration of 20 years of marriage. Part of the time we stayed in Amsterdam, where we met in 1982 when I was a young teacher and Peter was a handsome waiter with blue eyes, a charming accent and an infectious smile.
In a city known for its passion and energy, beauty and culture, we spent our first date sitting on a floating terrace under a starry sky. While a soft wind rippled, the canal underneath, we talked about our dreams, not knowing we were mapping out our future together.
Since then, Peter and I have returned numerous times to Amsterdam and explored its many corners, almost always accompanied by our children. Fond memories and stacks of photos document the fun we've had with our three sons visiting the Tropical Museum, seeing the zebras frolic at the Amsterdam zoo, eating French fries from the snack bar and watching puppet shows and street musicians on Dam Square. But on this visit, Peter and I opted to leave the kids at home and enjoy a romantic interlude in this colorful Dutch city.
Although Amsterdam may not make your list of the world's most romantic cities, it tops mine. I'm sure having met the man who would become my husband there makes me prejudiced. Yet somehow the city exudes sensuality. After all, it's where John and Yoko holed up in a hotel wearing pajamas and lounging in bed for a week in 1969. While I'm sure they enjoyed themselves, I think you can have a lot more fun in this seductive city by getting out and enjoying its charms.
Here are a few of my suggestions for a romantic interlude in Amsterdam.
Find a cozy terrace or grand cafe to pass the time. Peter and I love Dantzig aan de Amstel, near the Waterlooplein, a noteworthy outdoor market in the old section of the city.
We've whiled away our time at Dantzig both in summer on the terrace and in the middle of winter, where the Parisian-style interior offers the perfect setting for holding hands and simply enjoying each other's company. Spending time together without an agenda or time constraints is a simple pleasure, but so refreshing. Have a rich cup of Dutch coffee or a frothy glass of pilsner, and drink in your surroundings.
If you're lucky, you'll wake up to a rainy morning in Amsterdam. Fortify yourself with a large breakfast — I recommend the buffet at the Radisson SAS Hotel where Peter and I stayed — because you and your sweetheart have a lot of work ahead. Your mission is to grab an umbrella — just one to share — and walk in the rain to the nearest picturesque bridge.
You won't have to walk far because canals crisscross Amsterdam, and lovely old bridges abound around every corner. Walk halfway across the bridge and pause for a lingering kiss under the umbrella. Then find another bridge and repeat. You'll cherish the moment and the memory.
Amsterdam's floating flower market offers a dazzling array of colorful flowers, fresh from the growers. And what's more romantic than bunches of beautiful blooms? You'll want to buy at least a bunch or two to liven up your hotel room. And you'll feel just like a native walking through the streets of Amsterdam with your bloemen in hand.
Another way to go native and share a romantic experience is to rent bikes and explore the back streets of Amsterdam. You can use a guidebook or strike out on your own, map in hand, in search of adventures and perhaps a new bridge, where you can pause for another kiss. If you want to explore greener pastures, head to Vondel Park, Amsterdam's gorgeous park near Leidseplein, the perfect setting for my next suggestion.
Plan a picnic. Shop for groceries at an open-air market. One of my favorites is the Albert Cuyp market with its array of cheeses, bread, olives, fresh produce and rotisserie chicken. If you can't get to a market, visit a nearby Albert Heijn, an upscale grocery store with everything you'd ever want for a gourmet picnic. Grab a nice bottle of wine, your Swiss Army knife, a couple of cups and a blanket or beach towel and head to Vondel Park.
There you can share the afternoon, snuggling in the grass, sipping wine and lingering over lunch. If it is warm enough, take a nap or just lie side by side and stare at the clouds floating in the sky.
An evening in Amsterdam has its own special attractions. No, I don't mean the Red Light District, which is open for business any time of day, or the innocently named coffee shops, where the smell of cannabis wafts from within. I mean the romantic restaurants that add spice to the city.
On our visit, Peter and I decided to relive a special evening spent in a fondue restaurant behind the "New" Church. Crignon Fromagerie on Gravenstraat, not far from Central Station, is a cozy place with a large upstairs dining room. Downstairs, a single table sits by the window, and that's where Peter and I sat, savoring our surroundings, dipping crusty bread in our fabulous fondue, and sipping red wine. As dusk fell and the twinkling lights of Amsterdam brightened up the narrow street, Peter and I toasted to our next 20 years.
With the night still young, I knew exactly where to go. Years before, we left our sons with Peter's folks and came to the big city for a night out. We discovered a cool jazz club called Cafe Alto near the Leidseplein. A tiny place, Alto boasts some of the best jazz in town. The trick is to get there early enough to find a seat.
Peter and I arrived a bit too early and decided to stroll back to the Leidseplein to watch street entertainers. By the time we got back just after 10, people were jamming the place and spilling out onto the terrace. Not to be discouraged, Peter and I nudged our way in, snaked up to the bar, ordered a drink and shared a jazzy evening with a packed house of music aficionados.
Afterwards we strolled back to our hotel along cobblestoned streets, holding hands and forming dreams for the next 20 years.
Peggy Sijswerda is a freelance writer living in Virginia Beach, Va.
Know and go ...Some recommended destinations:
Radisson SAS Hotel; Web site, www.radissonsas.com, or call (+31) (0) 20-623-1231.
Dantzig on the Amstel, Zwanenburgwal 15; telephone (+31) (0) 20-620-9039.
Crignon Fromagerie, Gravenstraat 28; telephone (+31) (0) 20-624-6428.
Jazz Cafe Alto, Korte Leidsedwarsstraat 115; see www.jazz-cafe-alto.nl or call (+31) (0) 20-626-3249.
For a variety of unique, cozy accommodations in and around Amsterdam, visit www.bedandbreakfast.com/europe.html and click on The Netherlands.
For tourist information, go to www.amsterdamtourist.nl, or www.postwarmedia.nl/amsterdam.html for an insider's guide you won't forget.
— Peggy Sijswerda