Americans skiing in Japan find a familiar environment
by
Wayne Specht Jennifer Svan
January 23, 2003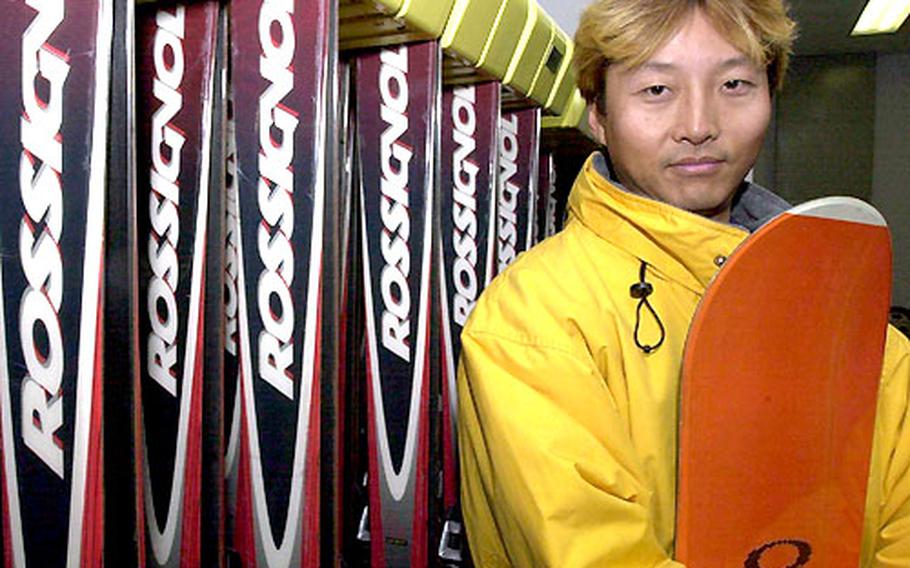 Skiing and snowboarding in Japan aren't much different from in the States, says Satoshi Oka, a recreation specialist at Yokota Air Base's Outdoor Recreation.
The Japanese, however, have something of their own après-ski tradition: onsens.
"Coming back from a resort, a lot of Japanese hit the hot spring," Oka said. "They have dinner after the hot spring, it makes the beer taste much better.
"We all enjoy the sport, and we all think we're the best."
For U.S. military personnel living in the Kanto Plain near Tokyo, about 400 ski areas are within driving distance.
Almost all provide beginner, intermediate and advanced trails; more than 90 percent permit snowboarding.
Oka said in Japan, snowboarding is more popular than skiing.
Skiers who try snowboarding "don't go back, myself included," he said. "There's lots of explanations, but that's the trend."
The average lift ticket in Japan costs 4,000 yen (about $32). Equipment rentals are available at most recreation centers on base or post. Skiers and snowboarders also may buy medical insurance from local agencies. "You don't need it, but it's highly recommended," Oka said.
The average cost is 2,000 yen ($16) for the entire season. The insurance, available at local insurance agencies off-base, covers one's own injuries, as well as those of others involved in an accident.
Coverage also may be purchased with a lift ticket or at the resort for same-day skiing or snowboarding.
It also can cover loss or damage of equipment. Many resort first-aid stations and hospitals do not recognize U.S. insurance or military ID cards as a form of payment, Oka said.
The slopes are almost empty on weekdays. Sundays and Saturdays — in that order — are usually the most crowded.
"Check your calendars for a Japanese holiday," Oka said. "Parking and traffic on the way home can be very aggravating."
Ron Stark, recreation program director at Misawa's 35th Services Squadron, said there are few cultural differences between how Americans and Japanese approach skiing and other winter sports.
"Compared to the U.S., all-day lift tickets with discounts are cheaper in Japan than at comparable slopes back there," he says.
Also, he said, good deals can be found at Japanese sporting good stores when end-of-season sales offer deep discounts on skis, poles, boots and clothing.