Alpine Schwingen wrestling is wholesome outdoor fun
by
Leah Larkin
May 20, 2010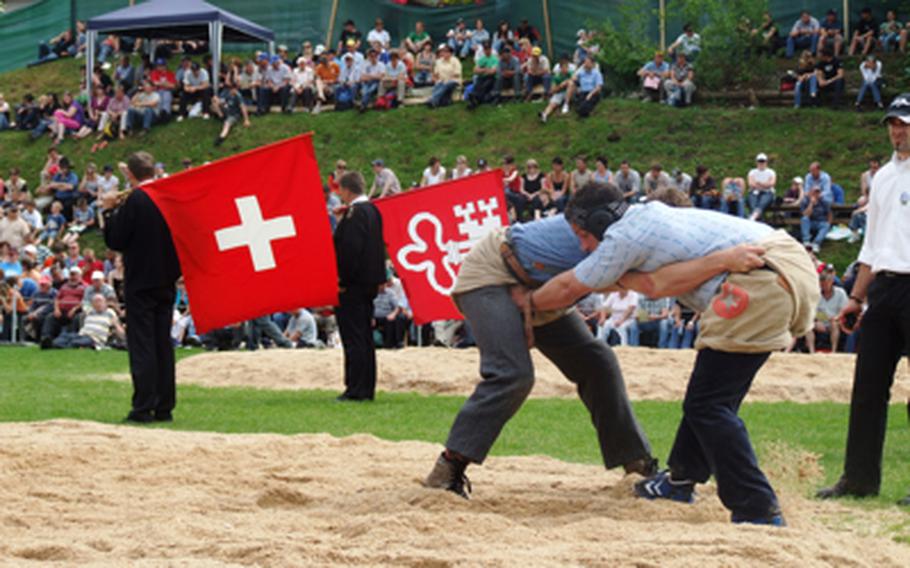 Forget professional wrestling. These grapplers don't have bizarre names or costumes, and their matches don't feature broken chairs or excessive blood. In Switzerland, Schwingen wrestling is wholesome outdoor fun, a national sport whose husky heroes have the same status as ski champions.
The sport, "swinging" in German, is practiced mainly in the Alpine regions of the German-speaking part of the country. Burly men watched by enthusiastic spectators have it out on sawdust rings.
The wrestlers, who must be at least 16 years old, wear shorts made of jute over long pants. Each holds his foe by the shorts and tries to throw him onto his back. The winner must hold his opponent's pants with at least one hand while both of the opponent's shoulders touch the ground. After the match, the winner brushes the sawdust off the loser's back.
There are several types of throws, some similar to judo. Referees judge the matches, giving points — a maximum of 10 for a winning throw. Each participant wrestles six opponents. The two with the greatest number of points meet for the last round.
Nathan Aufdermauer, 20, an American university student from California who comes from a family of Swiss wrestlers, was among the competitors at a match last year in Beckenried, near Lucerne. He's the third generation of his family to enter the ring. Aufdermauer, hailed by fans as "the American," was traveling around to various competitions. He did well.
But winning and losing matches is not all these events are about. Schwingen festivals go on for hours, with spectators moving from the stands to a beer tent with a band, souvenir stalls and a hall where the prizes are displayed. The latter are geared to country folk — perhaps a bull to the grand winner. Cow bells and carved furniture are other popular awards.
Between matches there's entertainment: flag throwers, yodelers and Alphorn blowers. Costumed women mingle with the spectators, raising money for local groups. It's a jolly, giant outdoor party surrounded by spectacular mountain scenery. The crowd — lots of families with kids in tow — is jovial and chatty.
"This is a fundamental part of our culture," a spectator said in a recent article about the competition. "It's a great sporting event, but also a great social event."