All roads lead to wine in Italy's Piedmont region
by
Leah Larkin
April 15, 2004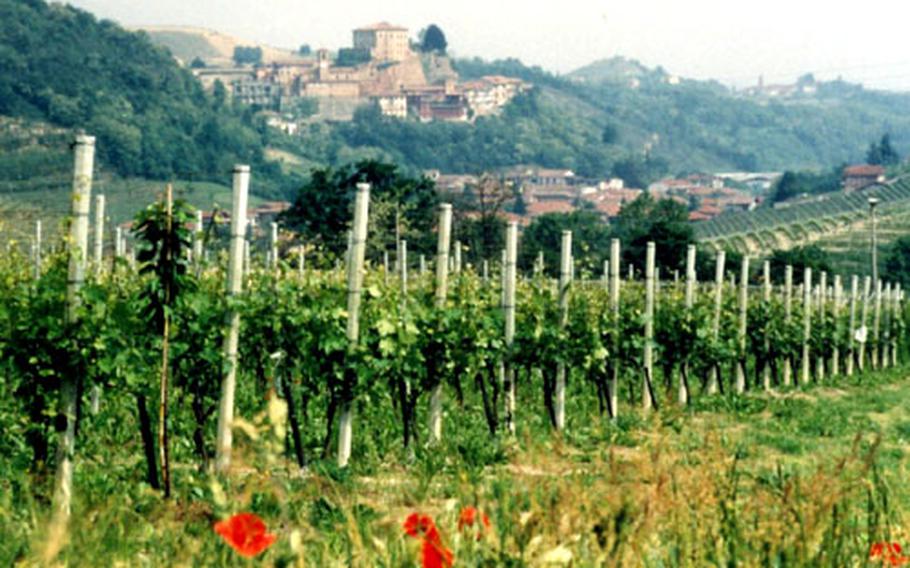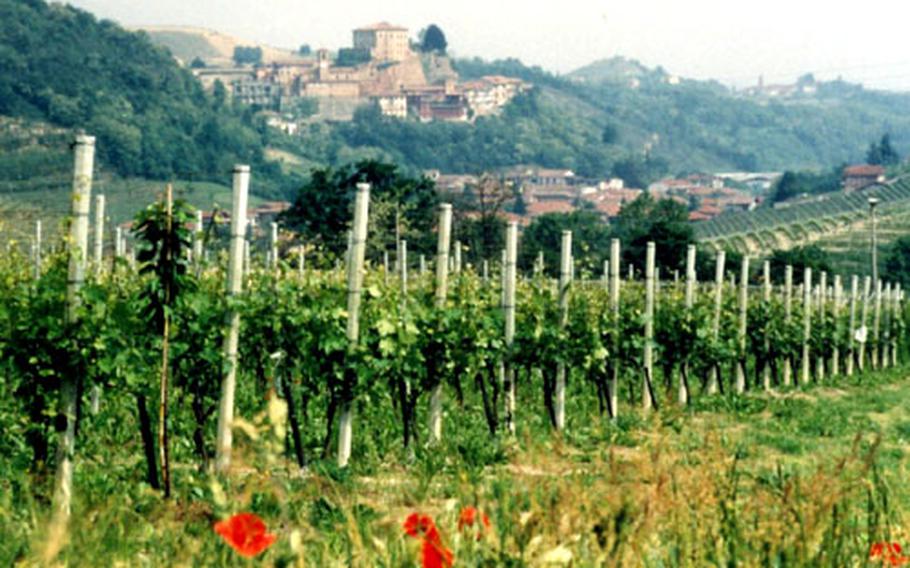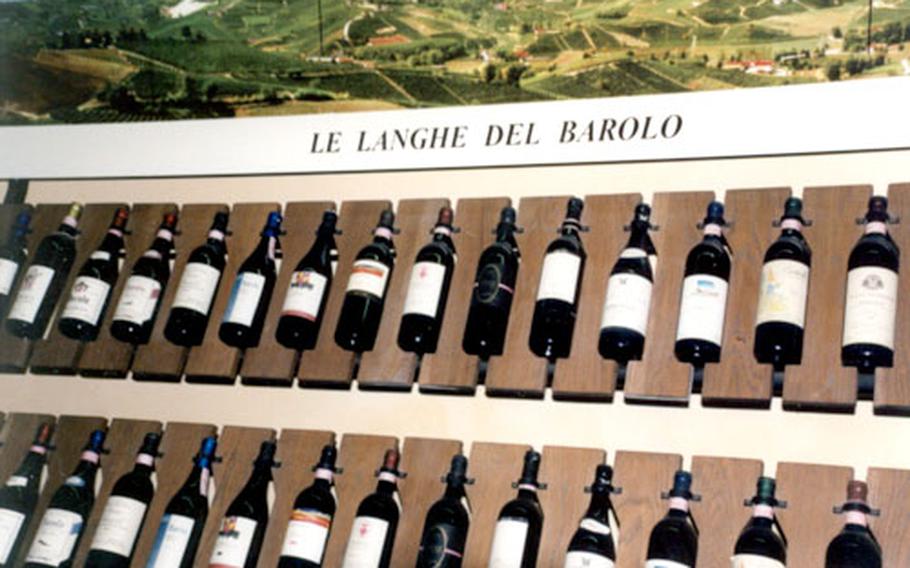 While Piedmont may be short on frescoes, it's long on treasures of the palate, both food and wine, and produces some of the country's best wine.
Westernmost Italy is a hilly region of old forts, castles, estates, churches, monasteries, villas — and vineyards. The skinny roads snake through the hills and valleys, in and out of pretty villages. Following a map is frustrating. But, if you get off course, no problem, you're sure to discover yet another picturesque village and encounter more splendid scenery.
My husband and I discovered the area and its wines several years ago on a stop en route back to Germany from southern France. We stopped in enoteche — wine cellars — and sampled the wares. We visited restaurants and ate fabulous meals. At one, we were served a red wine, Roero, which sent my husband, who usually only gets excited about bicycling, into ecstasy. We had to find where it came from and buy more.
The Roero was from Canale, whose regional cellars carried the wine and many more. Regional enoteche, often located in historic and splendid castles and villas, are found in most of the wine producing towns, and they stock a wide selection of wines from local vintners. We bought.
Last year we returned to buy more, and try wines from other towns.
It wasn't just the wines that hooked us. The area, laid-back and not full of must-see tourist attractions, has a captivating charm.
Piedmont means "foot of the mountain," as the area is hemmed by the Alps and the Apennine mountains. A majority of the region's vineyards are in the Langhe and Monferrato hills, which are connected to the Apennines in the southeast. Although Piedmont ranks only seventh in total wine production in Italy, it is the region having the greatest percentage of its wines officially classified.
In 1963, Italy established wine laws for its most important districts. Similar to the Appellation Contrôlée laws in France, the Italian laws are known as Denominazione di Origine Controllata, or DOC. They specify the geographical limits of each appellation, the grape varieties that may be used, the maximum amount of wine that can be produced per acre and the minimum alcohol content.
Some years later a higher and more select category of wines was created, Denominazione di Origine Controllata Garantita or DOCG. These laws reduce maximum production per acre and specify that every wine must be approved by a tasting commission before it can carry the DOCG seal. Piedmont has 50 DOC-DOCG zones.
The town of Alba, full of Italian flavor with a long, narrow pedestrian shopping street and lovely plazas, is the focal point of premium production. The most famous Piedmont wine, Barolo, an intense, robust wine known as "the king of wines and the wine of kings" is produced at the rate of about 6 million bottles per year in the nearby Langhe hills.
We visited the town of Barolo, after which the wine is named, tasted at its regional enoteca, but did not buy. Too expensive. The Roero we bought in Canale tasted just as good, we felt, but it cost less. In wine stores we knew back in Germany, the starting price is aound 30 euros for a bottle. A very good Barolo, Gaja, goes for 100 euros.
Even if you don't buy wine, the town of Barolo with its narrow stone streets and splendid castle which houses the enoteca is worth a visit.
Barolo, as well as Barbaresco, another well-known Piedmont red wine, comes from the Nebbiolo grape. Nebbia means mist, and the name of the grape apparently comes from the fog that often covers the hillside vineyards of Piedmont in the fall when the Nebbiolo grapes are harvested. Barbaresco, a dry, full-bodied wine, and Barolo are often compared to the Burgundies and Rhône wines of France, although this can be misleading as Barolo is known for its distinctly earthy bouquet which sets it apart from French wines.
Barbaresco is only slightly less expensive than Barolo. We also visited the wine town, Barbaresco, but the enoteca was closed for lunch, so we ambled around and took photos while waiting for it to open. These ancient towns with their alleys, churches, and old stone houses are fun to explore. Here, after our tasting, we did buy one bottle, though it was no bargain. Wine stores in Germany sell Barbaresco starting around 20 euros a bottle.
Other noted names for Piedmont reds are Nebbiolo, after the grape, Barbera and Dolcetto. Despite the name, Dolcetto, from dolce meaning sweet, is a dry wine. These wines cost far less than Barolo and Barbaresco — you can find them starting at 8 euros.
Barbera is becoming more fashionable because Barolo is too expensive, according to Holger Lange at Charles' vinothek in Echterdingen, a town near Stuttgart, Germany. Both Barbera and Dolcetto were previously considered table wines, but about 10 years ago it was discovered that they could be quality wines depending on how they are produced, he said.
The Piemontese drink more red wine than white, and about half of the red they drink is Barbera. My husband found a Barbera d'Asti much to his liking at one of the many enoteche we visited.
A popular Piedmont white wine is Gavi, starting at about 8 euros at Charles' vinothek. However, Lange recommended another Piedmont white, Arneis, from the Roero hills.
"The grape was long forgotten, the vines died out, but in the past years it has been revived and it's very popular," he said. It's full-bodied, spicy, and can age for several years. When it's ripe, it develops a pear flavor. He sells it starting at 10 euros a bottle.
Piedmont also produces sparkling wines from the vineyards near the town of Asti. The best known is Asti Spumante, bubbly and sweet, but it has a bad reputation, Lange claimed, because the distributor Cinzano sold only a very sweet version. No German would buy it, he said, so he does not carry it.
He does carry Moscato d'Asti, also sweet and bubbly, but with a slight hint of Muscat. We drank this with dessert when we stayed near the town of Canelli. It was heavenly. We bought a case, and it's a hit at dinner parties with dessert.
Since it is the "king of wines and wine of kings," I wanted to splurge and buy a bottle of Barolo for my husband at Charles' vinothek. But Lange discouraged me. "I think Piedmont wine is too expensive, actually all northern Italian wine … now wine from southern Italy is the best quality for the price."
So, instead I saved big bucks and bought a bottle of wine from southern Italy for 7 euros. Nonetheless, we still like Piedmont wine, especially Roero. It, too, is pricey at Lange's store, where it starts at about 20 euro a bottle. Take a trip to Piedmont where it costs far less.
Leah Larkin, a member of the Society of American Travel Writers, is a journalist living near Stuttgart, Germany.
---
---
---
---