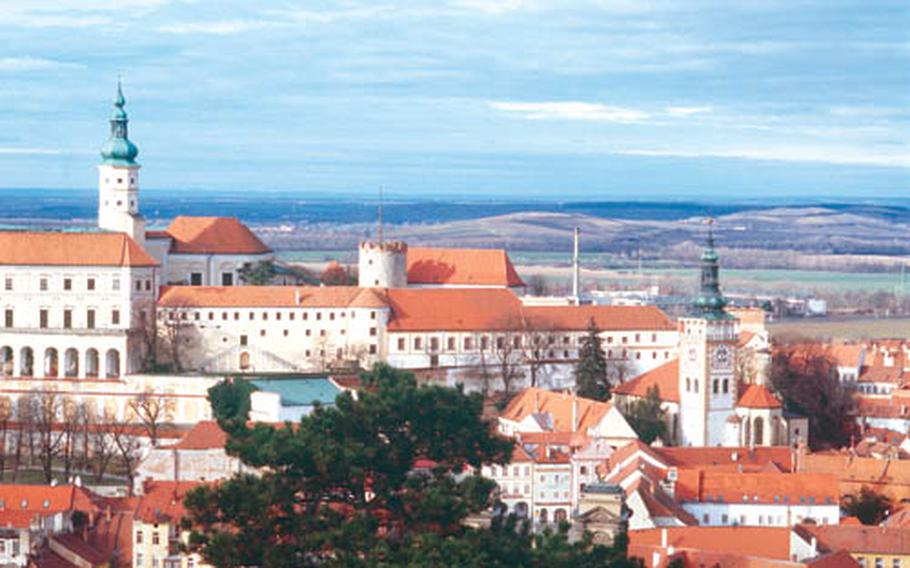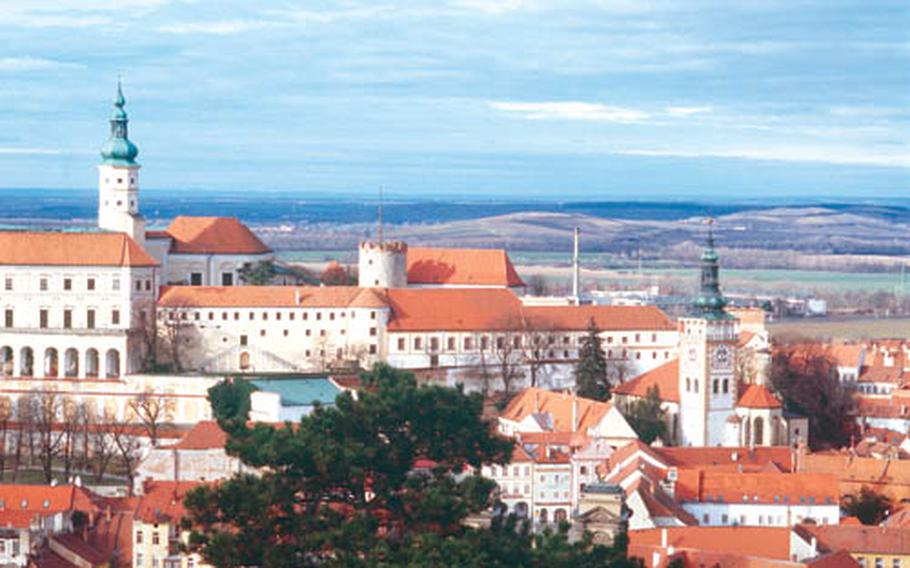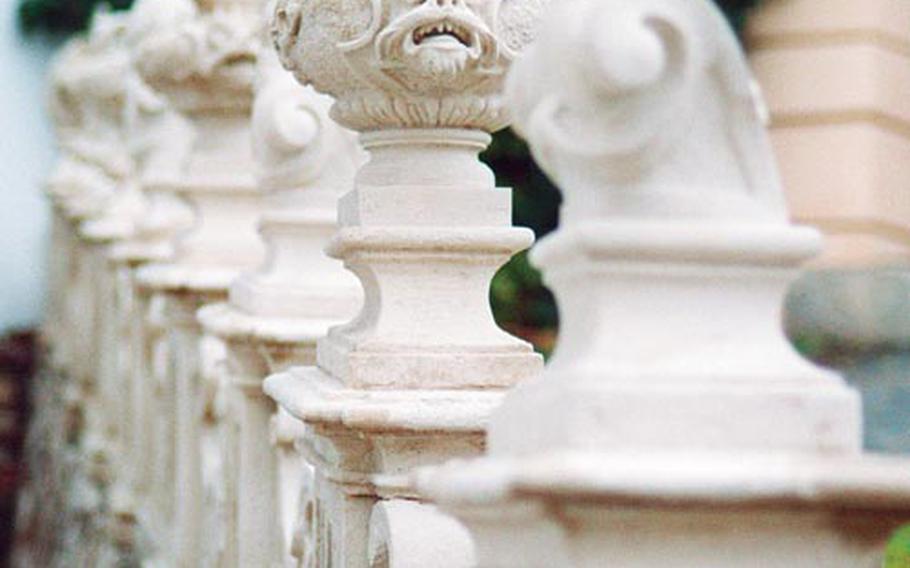 Every year, thousands pack the Czech Republic's capital for a taste of the country's world-famous brews. As a result, many visitors find themselves too busy bar-hopping in Prague to get into the countryside and try the other drink the country is known for.
Located along the Austrian border, about a four-hour train ride from Prague, is the region of southern Moravia — a smattering of small, picturesque medieval townships, collectively known as the Czech wine region. It is one of the country's best untapped resources, as far as foreign tourism is concerned.
Moravia, which accounts for more than 90 percent of the country's vineyard production, does get its fair share of visitors. But it is a decidedly different kind of crowd that holes up in this region's cozy, family-run pensions and wood-beamed wine cellars than the one in Prague. Here is where the natives come to escape the throng of tourists that descends on the capital each spring, lifting only when the weather starts turning to slush.
It is an area of expansive views, lovely hilltop vineyards and unpretentious attitude. There is an intoxicating, small-town vibe that envelops you almost as soon as you step off the train. Tacky souvenir stands and overpriced cafes don't line the streets, as they do up north. Last-minute tour deals or pub crawls aren't hawked shamelessly. And, mercifully, English rarely dominates the sidewalk and restaurant banter. In fact, it's quite easy to get lost in the moment, immersing yourself in the local culture, something that happens only sporadically in the slick-talking, fast-paced Czech capital.
The country's wine district is essentially broken into four sub-regions — Znojmo, Velke Pavlovice, Slovacko and Mikulov, the best-known of the bunch. It is estimated that some 500 wineries, big and small, are scattered throughout this terrain with dozens of centuries-old cellars happily nestled in the Mikulov area alone. This picturesque expanse, home to the Czech Republic's oldest wine school, encompasses 18 communities, including the town of Mikulov, a tile-roofed hamlet surrounded by hills and dominated by a striking 13th-century castle and bell tower.
During winter months, the town center, a delightful mix of charming storefronts and hidden passageways, remains virtually empty. The spring and summer are an entirely different story. The wine season officially kicks off around April and runs until early fall, when the grape harvest begins. Hotels fill up sometimes months in advance, and the town finds itself pulsating nearly every weekend with rollicking cultural events and throngs of young Czechs dancing in the streets, a truly spectacular tribute to the region's velvety drink of choice.
Comparatively speaking, the Czech wine industry is small, but it has managed to make quite a splash on the European market in the last two decades. Moravian wines, a sweet blend of tantalizing reds and whites, continuously rank among the best at annual international fairs.
"Wine from here is the best," gushes Petr Marcincak, who heads his own winery as well as two big-named hotels in the Mikulov area. He is not exactly an impartial judge, but as he cruises through his estate in a dark sport-utility van, passing rows of carefully manicured grape vines and rattling off facts about the wine industry, it's obvious he adores his job.
Like most Mikulov natives, Marcincak carries this fierce devotion on his sleeve. Asked how long he's been in the business, he offers a coy smile: "Since I was born." (He was actually 17 when he bottled his first wine.)
Most of Vino Marcincak's customers are Czechs. The Novosedly winery, just a 20-minute train ride from Mikulov, offers guided tours and daily tastings of its unusual brand of straw wines, sweet wines similar to ice wine.
"Only a certain number of wine bottles are produced each year," Marcincak is quick to note. "And when they sell out, they sell out."
Still, as is the local custom in these parts, Marcincak is not one to let his cellar run dry and always has enough wine to offer curious passers-by or weary
cyclists who stumble upon his doorstep out of breath.
More and more travel agencies have started highlighting southern Moravia, promoting weeklong bike trips through the enchanting winery towns. Still the region, for the most part, remains fairly unexplored by the typical tourist. The tourist bureau notes that only about 20 percent of the area's annual visitors come from outside the country. Locals are hoping these numbers will balloon in the next decade as industry leaders look for new ways to entice more Westerners to check out the neighborhood.
"I think it's getting better," says Martin Kamenik, who has been working at one of Mikulov's main tourist information centers for the past three years. "It really depends on the time of year. Summer sees a lot more people. It's increasing every year.
"We are starting to have a name, but we need to do more things, like better marketing."
The wine country is an easy weekend trip for those visiting Prague. For more than just a quick glimpse, however, you'll need to book at least three or four days if you plan to stop into more than a few cellars. You can dally on the castle grounds or visit the adjoining bell tower. The castle was founded by Czech King Premysl Otakar in 1218 and reconstructed into a Baroque-style chateau following a fire in the early 18th century. Now the site of a district museum, it has seasonal exhibitions as well as a cellar with a giant barrel and wine presses. Take a hike on the town's winding trails that stretch for miles over the foothills and provide stunning views of the vineyards below.
This might not be the Czech Republic that tourists know. But a few days here could make it the Czech Republic they won't forget.
Julie O'Shea, a California native, is an editor at the Prague Post. She can be reached at julie0616@gmail.com.
How to get there
Mikulov is 210 miles southeast of Prague, 31 miles south of Brno, the Czech Republic's second-largest city, and about a mile north of the Austrian border. Trains runs daily from Prague's Holesovice station and buses depart from Florenc station; both are accessible from the red metro line. Check www.idos.cz for departure times.
Where to stay
• Penzion Nike, Konevova 30; www.penzionnike.cz and info@penzionnike.cz. Friendly, family-run operation right off town center. Cozy, small rooms run between 430-800 Czech crowns (about $28-$52). Breakfast included.
• Hotel Mikulov, K Vapence 69; www.hotelmikulov.cz and provozni@hotelmikulov.cz. 600 crowns/per person/per night, breakfast included. It has an on-site restaurant, six pool tables and amazing hot chocolate.
• Hotel Eliska, Piaristu 4; www.hoteleliska.cz and infor@hoteleliska.cz. In season, rooms start at 900 crowns for a double to 1,600 crowns for an apartment. The hotel also offers guided wine tastings in its tavern for 250 crowns.
• Hotel MBZ M, K Vapence 609; www.mbzm.cz and hotel@mbzm.cz. Beds run from 650 crowns for a single to 2,100 crowns for a suite.
You also can rent a bike for a day for 200 crowns plus 20 crowns for a helmet.
What to see
• The Regional Museum of Mikulov — the castle and chateau — at Zamek 1; Web site: www.rmm.cz (in Czech); e-mail: rmm@rmm.cz.
• Vino Marcincak at Vinarska 6; www.marcincak.cz; vino@marcincak.cz.
• The Church of St. Wenceslas is at Kostelni namesti 3. History buffs will find this 18th-century church an intriguing site.
• The Jewish Quarter on Husova Street. The old Jewish cemetery, which lies at the edge of the Jewish Quarter by Goat Hill, is worth a look. Rabbi Hill, where all the local rabbis were buried, is the most visited part of the cemetery. The Old Synagogue also is on this street.
• Turold Hill: The limestone ridge in the northern corner of Mikulov houses a 3,600-foot cave that is open to the public and is said to house a large bat population.
• Holy Hill: The Church of St. Sebastian is at the top of the hill, a nice 25-minute hike from the town center. Stations of the Cross were erected along the path in the 1600s.
To learn more
Find general information online at www.mikulovskoregion.cz or www.mikulov.cz Each has an English version.
---
---
---
---