'You're constantly playing Whack-a-Mole': Army company commanders are overburdened, report says
by
John Vandiver
December 26, 2019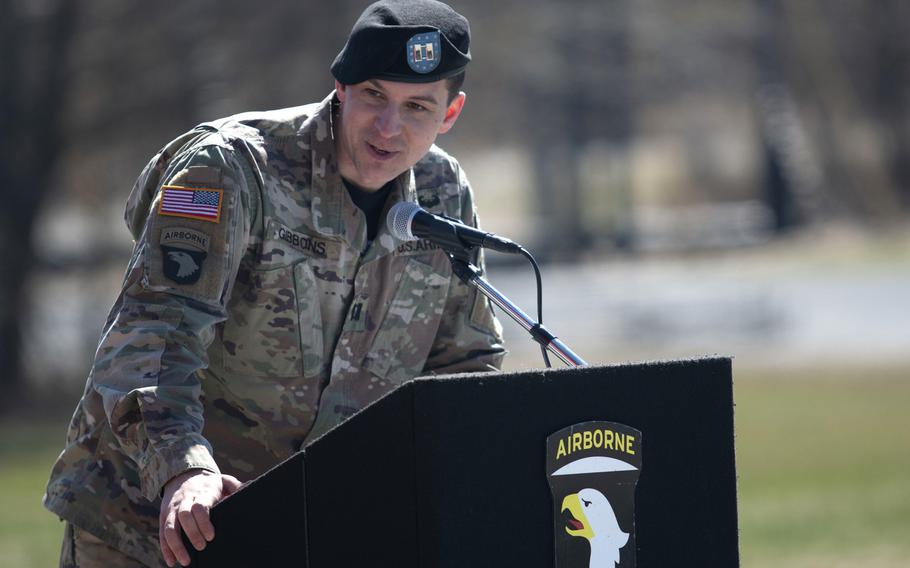 Army company-level leaders are overwhelmed by their workloads in part because they're reluctant to push back against excessive demands made on them by leadership, a new study suggests.
Company commanders and their senior enlisted leaders work on average 12.5 hours per day to complete tasks that range from ensuring unit combat readiness to cutting the grass on installations, said the report released this week by Rand Corp., a nonpartisan research group.
"There are so many different things that you have to track and do," one soldier told researchers who compiled the report on reducing time burdens for Army company leaders. "You are constantly playing Whack-a-Mole."
Work-life balance would improve for company leaders if on average they worked 12 hours less per week, the study said.
But to make that happen, the relatively junior officers who are today's company commanders need to learn to "selectively disobey" unreasonable orders from their chain of command, something they appear reluctant to do, the report said.
"Rather than pushing back on higher command tasking, soldiers may resort to lying, misrepresenting the truth, or seemingly tasking themselves and their subordinates beyond the limits of productivity and effectiveness," the study said.
Army leaders must encourage legitimate, tactful disagreement when garrison tasks consume more time than companies have to complete them, the report said.
Selective disobedience would also require "senior leaders [to] take the time to engage with their company commanders to ensure only those who have proven to be responsible custodians of unit time can respectfully decline a tasking," it said.
During focus groups, company leaders also said that the extra time they needed to execute seemingly simple tasks often went unacknowledged by higher command.
"Battalion and above have no visibility of what we are doing and what that takes," the report quoted one soldier as saying.
"Let's say a $100,000 tent was broken. The leaders that grew up in Iraq and Afghanistan used to be able to just buy a new tent, and it would be here next week. Now we have to go through a process and it takes time," the report quoted the company commander as saying. "Senior leaders see taskings across the boards but don't see the build-up."
In 2018, the Army took some steps to ease the burden on soldiers by abolishing some online training requirements that were unrelated to combat, the report said.
But more measures are needed now that the Army is largely a garrisoned force after the peak war years of last decade, the report said.
In addition to fostering an environment in which company leaders feel they can speak candidly about their time constraints and question unreasonable orders, the Army would help to ease the burden on them by providing them with more administrative resources, the study said.
Shifting tasks such as maintenance and grass cutting to civilians would enable soldiers to focus on more important tasks, the study said.
"Soldiers don't think that they are soldiers anymore," one service member said in the report. "We are gardeners. It's crazy."
vandiver.john@stripes.com Twitter: @john_vandiver