VIDEO
Wreaths Across America honors 9/11 casualties at the Pentagon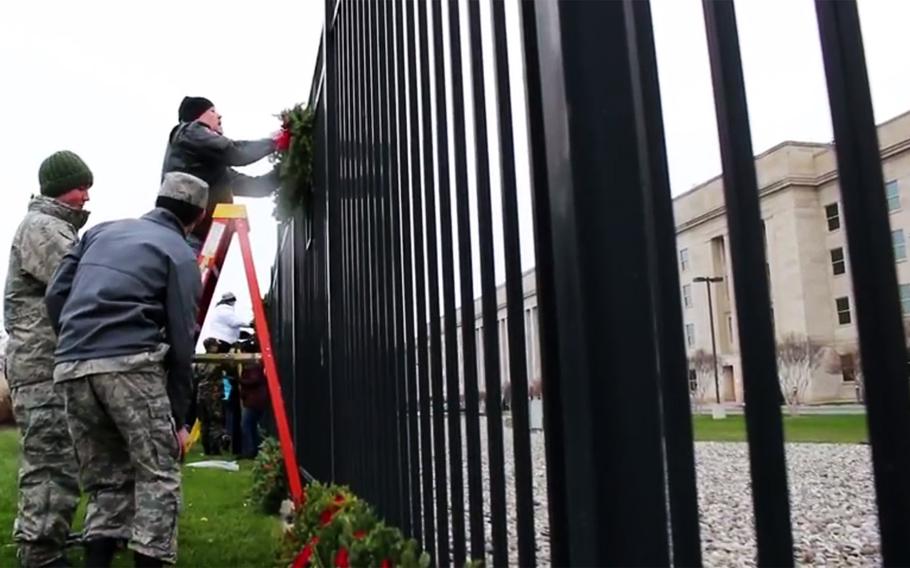 ARLINGTON, Va. — As the Wreaths Across America caravan neared its destination at Arlington National Ceremony, a group of participants in the annual event placed wreaths at the Pentagon's 9/11 memorial Friday in honor of those who perished there during the 2001 attack.
On Saturday, the trucks that started out a week ago in Columbia Falls, Maine were to arrive at Arlington, where thousands of volunteers turn out every year to place wreaths on the more than 240,000 graves. The co-grand marshals of this year's event are Vietnam War Medal of Honor recipient Roger Donlon and his wife, Norma.
"It's the longest veterans' parade in America," Roger Donlon said Friday of the 750-mile journey down the East Coast.
Wreaths Across America Executive Director Karen Worcester said the participation of young people in the weekend's event is particularly important. "We need to instill in our kids exactly what is great about this country that makes it worth fighting for," she said.
Roger Donlon, whose bravery during a Viet Cong Attack on Camp Nam Dong on July 6, 1964 resulted in his becoming the first recipient of the nation's highest military award, paid tribute to the fallen.
"To those who made the ultimate sacrifice, we owe everything," he said. "We owe our freedom, we owe our way of life."