Women's integration in the Marine Corps will only succeed if top leaders fully commit
by
Dianna Cahn
February 4, 2016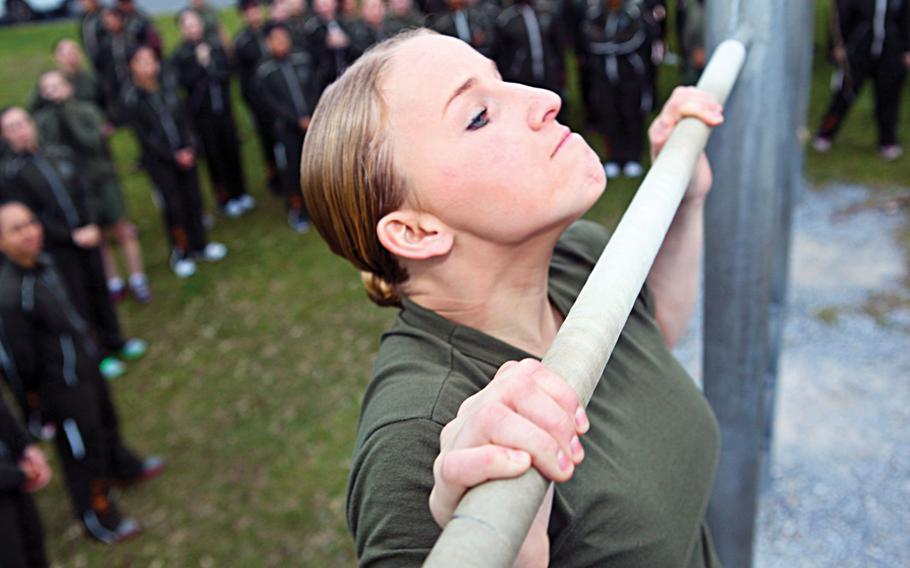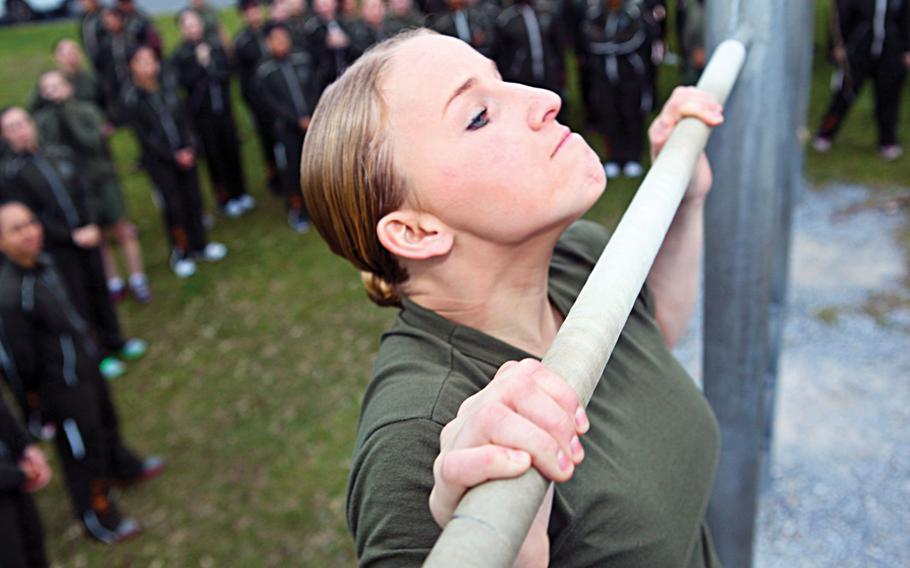 The Marine Corps and Special Operations Command are on the threshold of integrating women into combat roles, but unless leadership in those resistant units is fully committed to changing the cultures regarding women, the efforts will fail, a panel of experts advocating for integration warned Thursday.
"If your leaders don't back a change, it won't happen," said Ellen Haring, a retired Army colonel who is a senior fellow at Women in International Security and on the board of directors of the Service Women's Action Network, which spearheaded the push for women's' integration into combat roles.
"Any leadership that refuses to get on board has to be moved out," she said, "and there doesn't seem to be any willingness to move out leaders who are not getting behind this change."
The Marine Corps and special operations have been fighting integration of their most physically demanding combat units but have reluctantly come on board after Defense Secretary Ash Carter decided in December to open all units to women.
That integration begins April 1.
To prepare, the services have drawn up implementation plans and the Senate Armed Services Committee this week called the service chiefs to a hearing for updates. Top Army Gen. Mark Milley testified that he had no doubt that there were women capable of performing any job in the Army, while Marine Commandant Gen. Robert Neller said that the corps has accepted the need to integrate women and was moving forward.
Panel member Kate Germano said it appeared to be more lip service than full support.
"This is about more than just on paper saying that women have the ability to go into the infantry or ground combat roles that were previously closed to them," Germano said. "This is essentially about giving them the opportunities they need to be able to be successful."
Germano, a Marine lieutenant colonel who brought up the performance rates of women as commander of the corps' only female recruit training unit, was fired last year after her superiors said she'd created a poor command climate. Germano and her supporters insist she was just demanding the same standards from women as their male colleagues. She will be retiring in July.
"This is kind of like being a drug addict or an alcoholic - I mean the first thing you have to do is acknowledge you have a problem," she said, drawing laughter from the audience.
Every organization, no matter how high performing, has problems "except for the Marine Corps," she said to more laughter. "So I would say the first step of trying to challenge the culture in the Marine Corps is acknowledging it has a problem."
Haring said she was frustrated with the Special Operations Command integration plan, which was just two pages long and offered no commander's vision, no intent and no end state. She found it particularly troubling that there did not appear to be a gender component for career progression.
Haring and Germano referred to a Rand Corporation study of integrating women into the Marine Corps infantry. The study, which looked at the experiences of foreign militaries as well as police and fire departments, found that leadership commitment, sustained monitoring and a detailed yet flexible plan were critical to the success of that integration. It also noted that while recruitment and initial integration were critical, long-term success would depend on monitoring, accountability and helping women stay on career tracks after serving in combat units.
One of the key takeaways from the study: The message must come down from the top that the intent is success, said Agnes Schaefer, the lead author on the study. "This is not going to work unless there is leadership commitment from the top," Schaefer said.
Senior leaders set the command climate and enforce good order and discipline, she added. "Without that, this is not going to succeed."
Germano noted that in the current Marine Corps culture, women are expected to underperform and if women's performance is going to change, that culture of expectation has to change. She said the corps has to look at the way it recruits and trains women and should be seeking out top athletes and giving them the training they need to succeed.
"If we maintain the status quo all we are going to do is maintain the perception that physical weakness is the natural condition of women," Germano said. "If we expect women to fail, they will fail."
"Physical weakness is not the reality of women," she added. "I think everyone knows here that cultural change is necessary in the Marine Corps."
Cahn.dianna@stripes.com Twitter: @DiannaCahn