With Hagel out, who might lead the nation's military?
---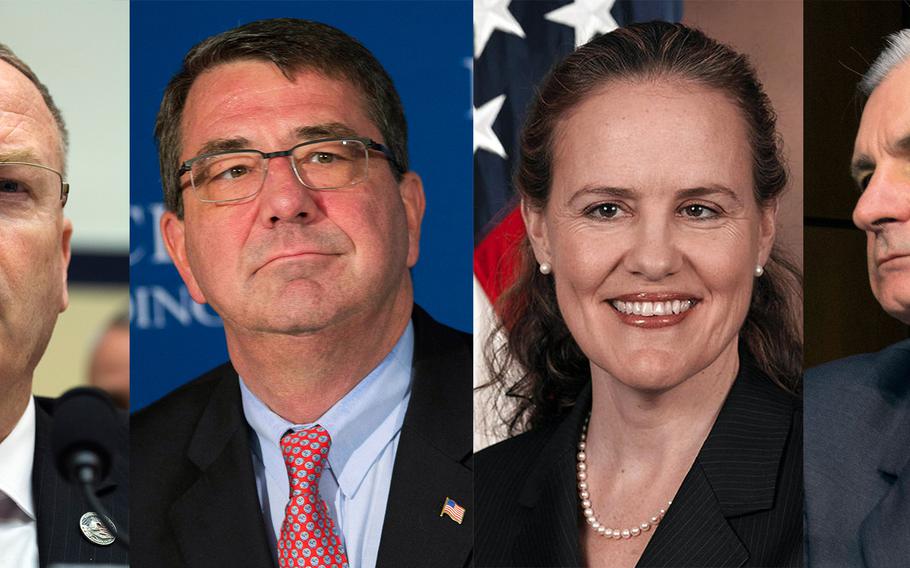 WASHINGTON — The Obama administration will likely be looking at a few top candidates when considering a replacement for Defense Secretary Chuck Hagel, including some former top Pentagon officials and lawmakers with expertise in military affairs.
Current Defense Department Deputy Secretary Bob Work could be in the running, and Michele Flournoy, a former under secretary of defense, and Ashton Carter, the Pentagon's former chief operation officer, have had their names circulated. Sen. Jack Reed, D-R.I., a former officer who is in line to become the top Democrat on the Senate Armed Services Committee, will likely get consideration.
Hagel's departure comes as the administration searches for a footing in the new war against the Islamic State in Iraq and adjusts plans for a drawdown in Afghanistan. His successor will be charged with forming and carrying out United States policy in those wars for years to come, as well as direct the department through a raft of global problems such as the Ebola outbreak and tensions with Russia over Ukraine.
Work is Hagel's No. 2 and worked on President Barack Obama's transition team after his election in 2008.
He has strong experience running the military's day-to-day operations and was under secretary of the Navy throughout the president's first term. He was appointed to deputy defense secretary earlier this year.
Flournoy, who founded and now runs a Washington think tank, was the top military policy adviser to Hagel's predecessor Leon Panetta when she served as policy under secretary from 2009 until 2012.
Recently, she has backed intervention in Iraq following the start of the Obama administration's air campaign and warned against the upcoming defense budget caps imposed through sequestration.
"The hard truth is that international security abhors a vacuum," Flournoy co-wrote in an August op-ed in the National Interest magazine. "If the United States is seen as abandoning its role as the primary supporter of international order, other powers — or the forces of chaos — will fill the gap."
Carter is a long-time Pentagon hand who was the second in charge, running the day-to-day operations of the nation's largest government agency, until he was passed over for defense secretary when Obama chose Hagel, and left in 2013.
Reed may offer some of the active-duty service and political chops that can be useful as the head of DOD.
A West Point graduate, he served as an infantry platoon leader in the 82nd Airborne Division, rose to Army captain, and went on to teach at the military academy. Reed also received a master's degree on public policy and a law degree from Harvard.
Reed sits on the Senate Armed Services Committee under chairman Carl Levin, a fellow Democrat set to retire at the end of the year. Before the GOP sweep in midterm elections, Reed was in line to become the Armed Services chair but now is set to become ranking member under Sen. John McCain, R-Ariz.
---
---
---
---