With death of 98-year-old muleskinner, only nine Merrill's Marauders remain
by
Wyatt Olson
September 20, 2019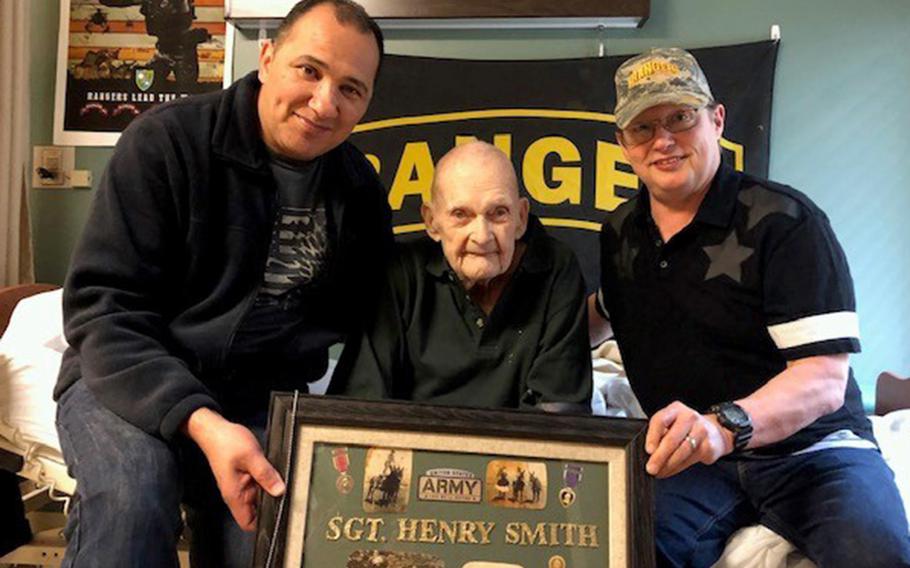 At age 98 and living his last days in a hospice facility in northern Michigan, Henry C. Smith wanted to set the Army's record straight on what happened 75 years ago in the jungles of Burma.
Sgt. Smith — a member of the famed Merrill's Marauders that waged guerrilla warfare on the occupying Japanese — was leading an intelligence and reconnaissance patrol of roughly a dozen men in April 1944.
They chanced upon an enemy patrol perhaps 20 times their size, and the Marauders fought it out for several days before running out of ammunition.
The five surviving Marauders were captured and "subjected to beatings, humiliation and starvation," according to the citation accompanying the Silver Star that Smith was awarded by the unit's namesake, Brig. Gen. Frank Merrill.
Smith, however, tricked one of his captors into untying the ropes binding him, and the 21-year-old soldier overpowered and killed him. He then single-handedly killed eight other guards before releasing the other U.S. prisoners and escaping into the jungle, the Silver Star citation states.
But it wasn't eight, Smith told Wes Goldman, a former Army Ranger who befriended the old veteran in the months before his death on Aug. 5.
"I don't think they're telling the truth about that," Smith told Goldman. "I think they're exaggerating. I think I only killed five guys."
On Saturday, Smith's cremated remains will be buried in a cemetery near the tiny town of Irons, Mich., where he'd lived before being hospitalized with cancer. A "celebration of life" will be held later at Oak Grove Tavern, according to his obituary.
"Henry was a local moonshiner and friend to all," the obituary said.
He leaves behind no surviving family, having never married nor having had any children. He has no living siblings.
With Smith's death, only nine veterans of Merrill's Marauders are known to be living, said Jonnie Melillo Clasen, whose father, Vincent Melillo, was a Marauder who died in 2015.
Descendants of the unit are urging lawmakers to award Merrill's Marauders the Congressional Gold Medal.
Officially designated the 5307th Composite Unit (Provisional), the Marauder's roughly 3,000 men used mobility and surprise to compensate for the far greater numbers of Japanese troops they fought beginning in early 1944.
In the unit's final assault that began in May 1944, the soldiers marched a grueling 60 miles over the Kumon Mountain range to the town of Myitkyina. There, the Marauders — winnowed to a force of just 1,300 men by disease, malnutrition and casualties — attacked and seized the town's crucial airfield.
It was not until August that the badly depleted Marauder force, joined by Chinese troops, finally took the town of Myitkyina. The 5307th was disbanded just days after that conquest.
Marauder veterans organized reunions for decades, and when they became too old to do so, their children organized Merrill's Marauder's Proud Descendants to help them stay connected.
That group deactivated in 2016, which meant no more news and updates would be sent to the veterans and their families, Clasen said. As Veteran's Day neared that year, she decided to send care packages to all living survivors to let them know they had not been forgotten.
After three months of research, she determined 28 remained alive — although in the following years she discovered a few she had missed. She attempted to contact each of them by phone.
"Henry Smith was one of the Marauders I talked to," Clasen said. "He was adorable. He was very funny. He said, 'I'm just an old muleskinner in a wheelchair and I live alone. If you call me and keep on calling and I don't answer, that means I've gone on. But while you're calling around, if you find another muleskinner out there, I sure would like to talk to him.'"
The muleskinner's job was to feed, pack and cajole the unit's mules, which were the primary way to move supplies, radios and weapons around the jungles of Burma.
Goldman, whose wife works at the nursing home that provided Smith's hospice care, said the old veteran preferred talking about his working years at an auto plant in Grand Rapids than about the war.
Getting him to talk about World War II was "like pulling teeth," he said, but as time went on, Smith grew more comfortable talking with the former member of the Army Rangers, which traces its lineage to the Marauders.
"He told me they started out with 200 mules in his group, and by the time it was over there were five mules left," Goldman said. "They didn't have any place to hide during the firefights, and airbursts from Japanese took out the mules because they didn't have a place to get down.
"After they got killed, they tended to become food."
Smith told him of the Marauders sailing for India in the fall of 1943 when a U-boat torpedoed and sank one of the ships in the Arabian Sea. Smith lost friends on the ship, and the unit lost a good many mules.
He received a Purple Heart for wounds to his wrist and forehead while in the jungle.
"He was very modest, very humble. He didn't necessarily think he did anything all that special," Goldman said.
With a chuckle, he added, "I disagreed with him."
olson.wyatt@stripes.com Twitter: @WyattWOlson