White House should call on Pentagon to do more to fight the coronavirus, House Armed Services chairman says
by
Corey Dickstein
April 7, 2020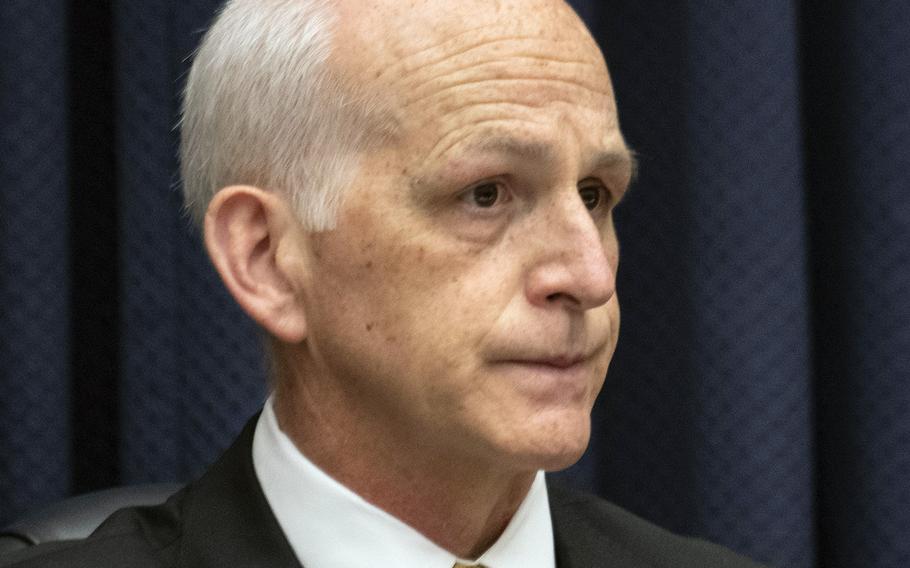 Stars and Stripes is making stories on the coronavirus pandemic available free of charge. See other free reports here. Sign up for our daily coronavirus newsletter here. Please support our journalism with a subscription.
WASHINGTON — The White House should enlist more help from the Pentagon as it battles the spreading coronavirus pandemic that has left Americans largely homebound, the chairman of the House Armed Services Committee said Tuesday.
Rep. Adam Smith, D-Wash., said the Pentagon should be involved in mass-producing components of testing kits, especially the critical swabs which are in short supply. He blasted President Donald Trump's handling of the pandemic, which has killed more than 12,000 people in the United States, calling his response to the crisis "pathetically slow."
"If you look at what's happened and where this is going, it's going to require a massive amount of testing before we can safely allow people to get back to work," Smith said in a telephone news briefing. "The truly pathetic part of this is on testing. We are testing fewer people today than we were a week ago … [because] we are running out of swabs."
The Defense Department with its existing relationships with industrial partners and its expertise in logistics is uniquely positioned to oversee the mass production of such swabs and other components of testing kits, Smith said. But, so far, Trump has not ordered the Pentagon's involvement in producing such supplies.
Smith blamed the Pentagon for not being "forward leaning" on leading efforts to build more kits, but he laid blame squarely on Trump's shoulders, saying it appeared the president had no interest in asking for the military's expertise.
Neither Pentagon or White House officials responded to requests Tuesday for responses to Smith's comments.
The House committee chairman did levy praise on Defense Department leadership for what they have been asked to do. That includes sending thousands of uniformed medical personnel to hot spots throughout the nation to support civilian health workers. Nearly 27,000 National Guard members have been activated in their home states to aid in response efforts, as well. The Pentagon is also involved in efforts to develop a coronavirus vaccine.
The Pentagon has a long history of quickly mobilizing efforts to mass produce products needed in a crisis. Smith cited the development of the Mine-Resistant Ambush-Protected series of tactical vehicles as an example. The hulking, large-wheeled, heavily armored trucks were quickly developed, built and deployed in the mid-2000s as American troops faced devastating threats from roadside bombs in Iraq and Afghanistan.
"No one in the United States of America is better at mass production in a crisis than the Department of Defense," Smith said. "Frequently throughout our history … we've had conflict come up where we suddenly needed something we didn't know we needed."
The pandemic is no different, he argued.
If the Pentagon was able to produce enough testing material for its own personnel, it would free up other testing kits for civilians. Smith said it could be critical as the government attempts to slow the virus primarily by containing it.
The lawmaker believes it will require heavy testing among the American population to determine who is sick and who has developed immunities to the virus. Until massive amounts of testing occurs, Smith said he did not believe American life would return to normal.
"If I have a message, it is test, test, test," Smith said. "The way the military thinks, maybe they can come up with a way to produce a billion swabs, I don't know. But I would love to use that logistical, innovative, problem-solving approach that DOD uses to meet problems."
dickstein.corey@stripes.com Twitter: @CDicksteinDC