White House: Obama will sign burial rights for female WWII pilots
---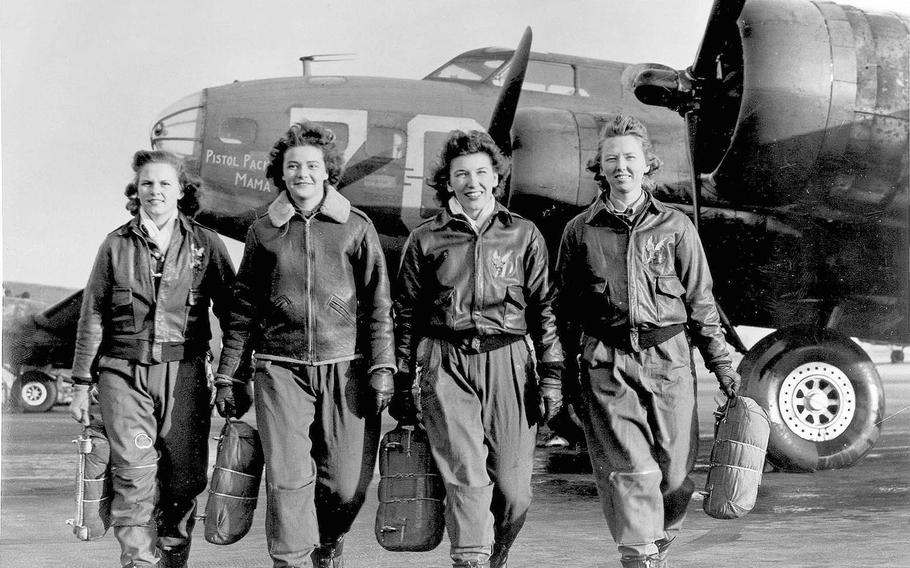 WASHINGTON — President Barack Obama is expected to sign a law this week allowing a group of trailblazing female World War II pilots to be laid to rest at Arlington National Cemetery, the White House said Thursday.
Amid overwhelming support, Congress on Wednesday passed the bill making members of the Women's Airforce Service Pilots eligible for above-ground urn space and full burial honors.
The WASP women lost the right last year when the Army reinterpreted a law from the 1970s to exclude the female veterans, who trained pilots and ferried combat aircraft from 1942-1944, from the national cemetery, where space is increasingly limited.
"The president intends to sign H.R. 4336, the Women Airforce Service Pilot Arlington Inurnment Restoration Act. We anticipate this legislation will arrive prior to the week's end," the White House said in a statement released to Stars and Stripes. "It is important to honor those surviving members of the Greatest Generation including these pioneering pilots, who served on active duty during World War II."
The Senate on Tuesday unanimously passed the legislation backed by Sens. Joni Ernst, R-Iowa, andBarbara Mikulski, D-Md. In March, the House voted 385-0 in favor of the bill sponsored by Rep. Martha McSally, R-Ariz., an A-10 Thunderbolt II pilot who was the first female to fly a fighter aircraft in combat and a champion of the WASP burial rights.
"It's been just 19 weeks since the Army's decision to kick out our pioneering female World War II pilots was brought to light, and we've been fighting ever since," McSally said.
The WASP pilots were not considered active-duty military at the time of their service but have since received the Congressional Gold Medal, veteran benefits and renown as role models for females serving today, including McSally.
More than 1,000 women graduated from the WASP training program during World War II, learning to fly nearly every type of aircraft in the U.S. fleet, and went on to ferry more than half of combat aircraft to bases across the country, according to the Air Force.
The WASPs suffered 38 deaths during their service, 11 while training and 27 during missions. The program was ended in 1944 and classified until the 1970s, a service history shows.
Beginning in 2002, the Army instituted an Arlington policy allowing the female pilots space. But former Army Secretary John McHugh overruled the policy, saying the law does not allow it.
On Capitol Hill, McSally pushed to have the rights restored, petitioning the Army with a letter signed by 50 lawmakers and orchestrating a news conference.
In a heated exchange during testimony, acting Army Secretary Patrick Murphy told McSally in March that he favors allowing the pilots space for their ashes but he is powerless to change the law.
He said only Congress has the power to make the required legal change.
"I am trying to right the wrong," he said at the time. "I agree with you, I support you 100 percent."
---
---
---
---