ANALYSIS
Webb, Sanders tangle on veterans issues in Democratic debate
---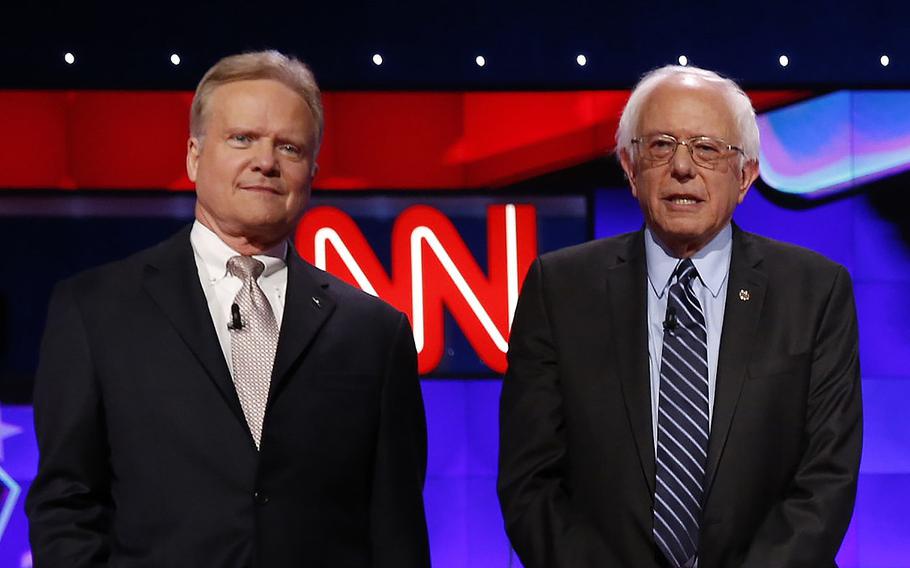 WASHINGTON — For Vietnam vet and presidential candidate Jim Webb, talk of his military service made for a poignant and awkward moment Tuesday night during the first Democratic debate.
CNN moderator Anderson Cooper asked candidates what enemies they are most proud of making over their careers — a question seemingly aimed at political enemies. The others mentioned Iran, the National Rifle Association and the coal industry, but Webb went to his experience as an infantry Marine in Vietnam.
"I'd have to say the enemy soldier that threw the grenade that wounded me, but he's not around right now to talk to," he said.
What might have been an "oorah" moment for veterans, fell with a thud on social media. Webb quickly drew ridicule for what was seen as an overly dark comment, and a lackluster overall debate performance.
The panel's only candidate with military service — a Navy Cross recipient and former Navy Secretary — struggled to connect Tuesday, and instead found himself in an unlikely rivalry over veterans' issues with Bernie Sanders, a self-described socialist who was a conscientious objector while Webb fought in the Vietnam War.
Both men were behind landmark veteran legislation while serving in the Senate, and each touted that during the debate. Webb resurrected the GI Bill for a new generation, while Sanders helped overhaul the Department of Veterans Affairs following its worst scandal in history.
For viewers who have served, it was part of a focus on combat experience and consequential veterans issues that had mostly been absent from the two crowded Republican debates.
The lack of mentions by GOP candidates had rankled some.
"Why should candidates care about vets issues? There are 20-plus million of us. And we vote," Paul Rieckhoff, CEO of Iraq and Afghanistan Veterans of America, tweeted during the debate.
Webb called the GI Bill passed in 2008 the "best piece of veterans' education legislation in history." It provides about $60 billion in benefits to people who served during the past decade, and has sent more than one million veterans to college, according to IAVA. Webb left the Senate in 2012.
But the debate also showed how military service alone is no guarantee of connecting with voters.
"In government service, I've fought and bled for our country in Vietnam as a Marine," Webb said. "I spent years as assistant secretary of defense, secretary of the Navy — in the Reagan administration."
Webb often appeared stiff during the debate and complained about unfair time allocations for responses during the nearly three-hour event. The debate is unlikely to shift his presidential prospects and past polling put him at the rear of the Democratic pack.
Meanwhile, Sanders claimed an historic victory for veterans too.
The independent senator from Vermont said he put more doctors and nurses in the VA and expanded veteran access to outside health care as part of the Veterans Choice, Access and Accountability Act of 2014. Sanders was chairman of the Veterans Affairs Committee while the VA scandal unfolded and worked with Sen. John McCain, R-Ariz., to craft the legislation.
"As a result of that legislation, we went further than any time in recent history in improving health care for the men and women of this country who put their lives on the line to defend us," he said.
The act provided $10 billion for veterans who could not get a timely appointment at VA facilities and instead wanted to seek outside care. But the roll-out was riddled with problems and the VA hopes now to reallocate some of that money to other areas of its budget.
Concerned Veterans for America, a conservative group, issued a statement Wednesday calling Sanders an "apologist for the status quo at the VA and [who] repeatedly minimized the deep-rooted problems within the department."
During the debate, Cooper asked Sanders about his avoidance of military service and pressed him to "tell an American soldier who is watching right now tonight in Afghanistan why you can be commander-in-chief given that you applied for conscientious objector status."
The question was a reference to Webb's military service. Sanders said he is not a pacifist and has supported air strikes in Syria and the war in Afghanistan.
"When I was a young man, I strongly opposed the war in Vietnam. Not the brave men like Jim who fought in that war, but the policy which got us involved in that war. That was my view then," Sanders said.
---
---
---
---