'We were forced to find answers': Burn-pit injury and advocacy shape the lives of veteran and his wife
by
Rose L. Thayer
December 2, 2019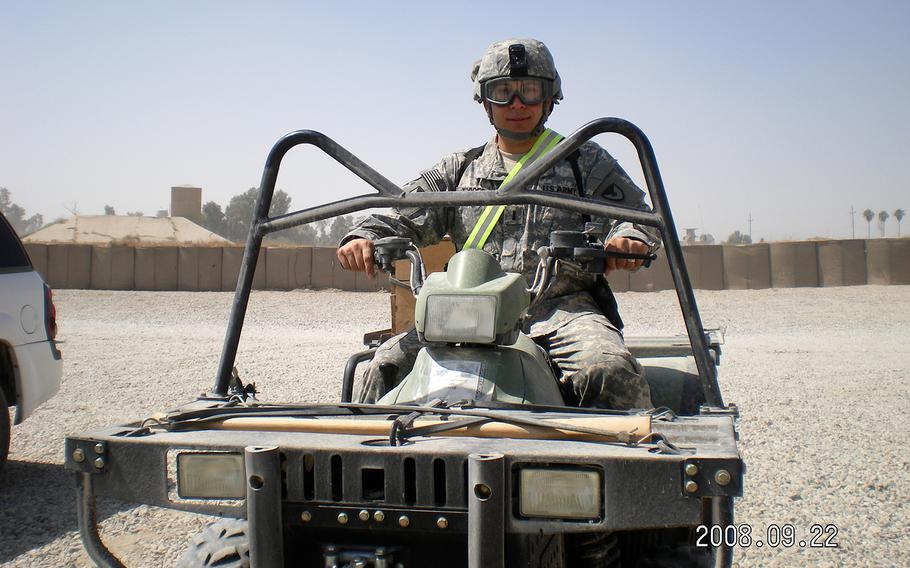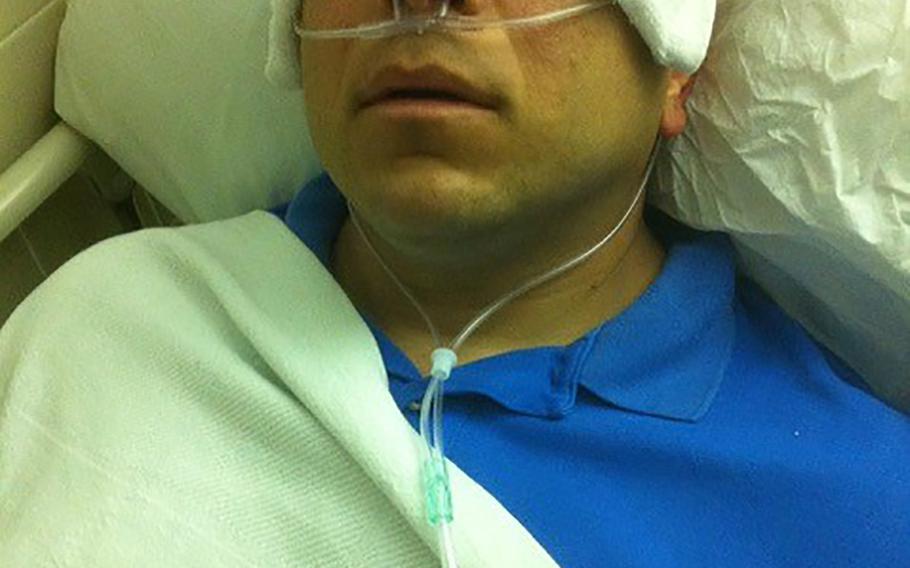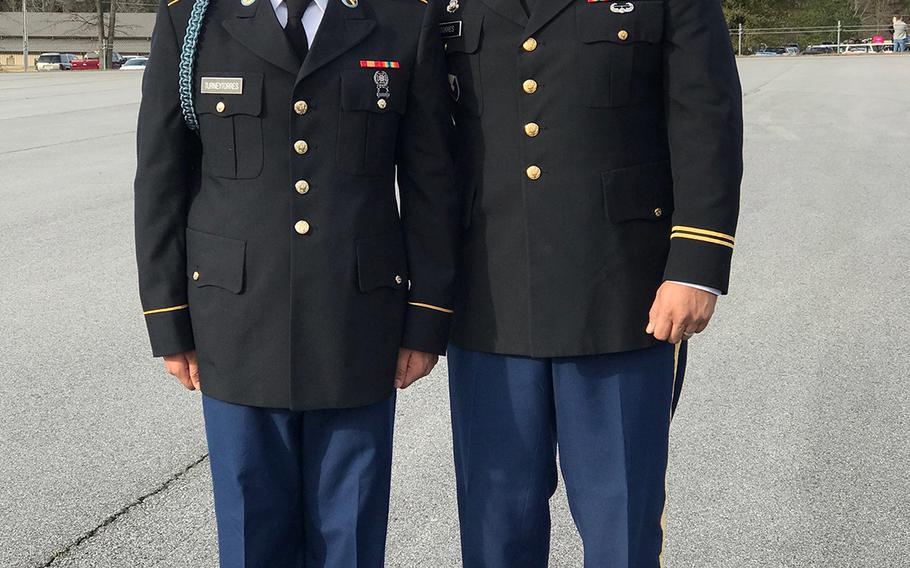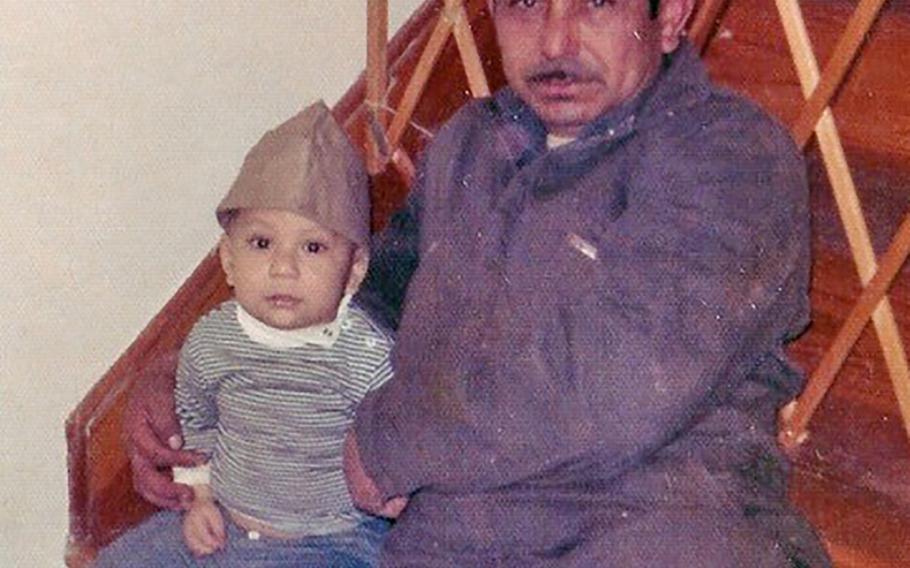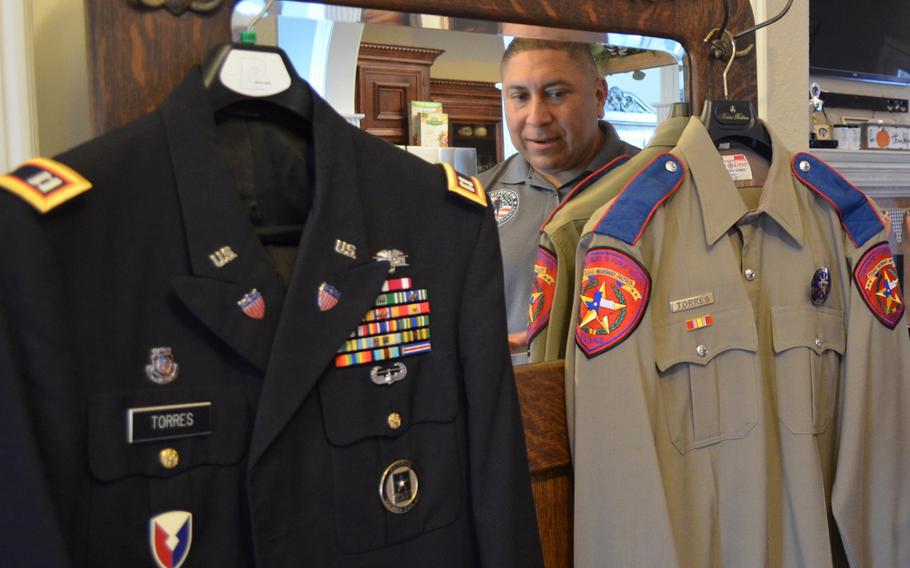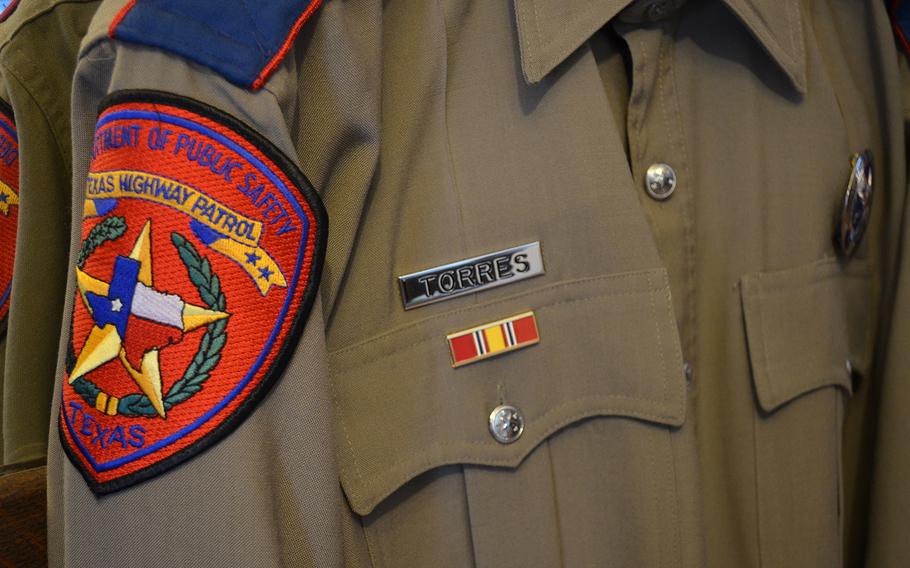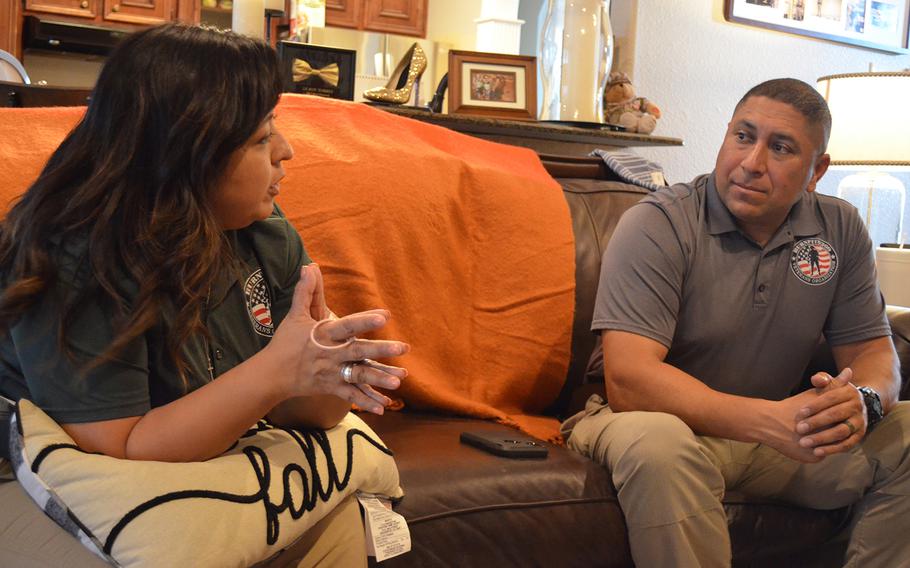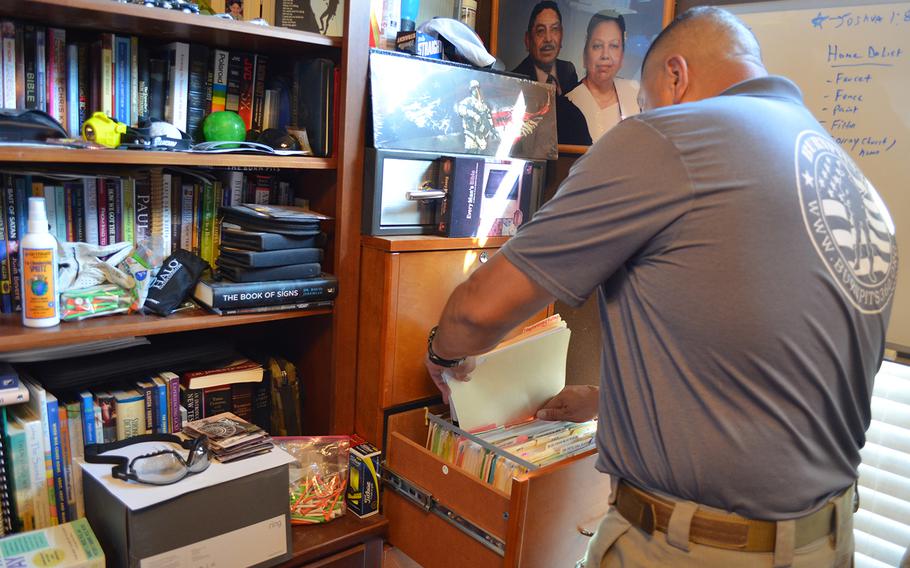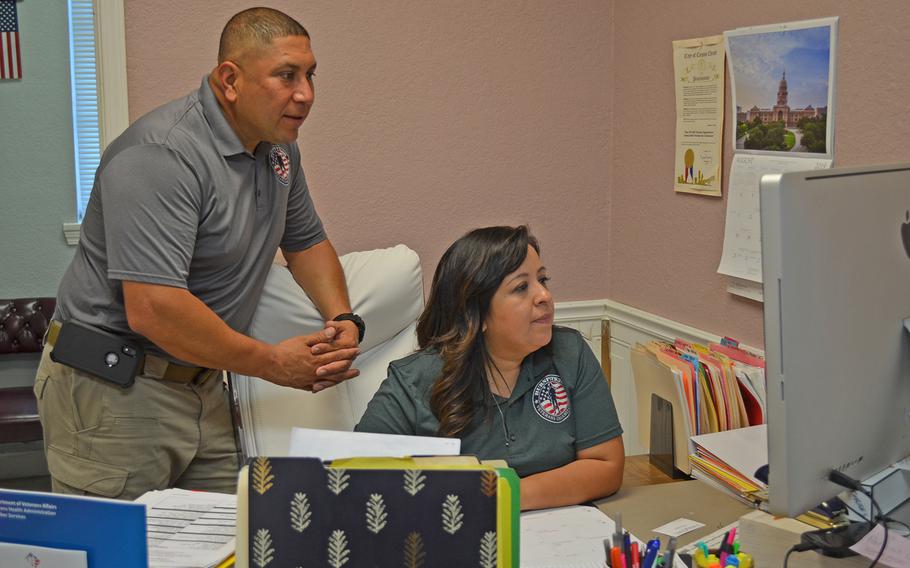 ROBSTOWN, Texas — Army Reserve Capt. Le Roy Torres' 2007 deployment to the Iraq War left a clear demarcation in the lives of him and his wife, Rosie Lopez Torres. Everything about their marriage fits neatly on either side of the line — before the war, and after.
Before the war, Le Roy was serving in the military like his father did during the Korean War. After transitioning from active duty to the Army Reserve, he became a Texas state trooper working in and around Robstown, the south Texas town where he grew up.
Rosie, from San Antonio, worked at the Department of Veterans Affairs, primarily with its homeless program. She did much of the work raising their three children while Le Roy's jobs kept him away from home.
When Le Roy returned in November 2008 from Iraq, Rosie was relieved to see him across the tarmac of the airfield.
"I thought, 'Great. He's not missing any limbs. We're good. We survived this. Everything's good. We're back.' Now it's about getting back to where we were," Rosie said.
That was not to be.
After just three weeks at home, Le Roy went to the emergency room with a severe cough and chest pains, and that's when life after the war began.
Since the wars in Iraq and Afghanistan, a contentious debate has raged over the effects of burn pit exposure. Thousands of veterans have linked their chronic medical issues, including cancer and severe respiratory illnesses, to burn pits. The VA contends that there isn't enough conclusive research to prove the connection.
A just-released 2019 annual report from the Wounded Warrior Project said about 70% of 134,000 veterans surveyed reported exposure to hazardous chemicals or substances. Only 9% of those veterans reported being treated through the VA while 12% said they tried, but did not receive toxic exposure treatment at the VA.
For more than 10 years, Le Roy and Rosie's lives have revolved around his medical needs and veterans advocacy related to burn pit exposure. They formed a nonprofit with Rosie as the executive director and have worked to raise awareness of post-9/11 veterans who suffer medical problems caused by breathing toxic fumes from massive piles of burning trash on U.S. military bases in Iraq and Afghanistan. Their goal is for the government to recognize presumptive illnesses from burn-pit exposure and award disability benefits.
"In his case, we were forced to find answers, which in a way was good and, in a way, we lost ourselves," Rosie, 45, said. "There's times that I've cried because I'm like, 'Should we ever have pursued it that much to find out what was going on?'"
Le Roy, 47, acknowledged the struggle. "We were dealt this card with this mission. ... We can't go back. We're just moving forward," he said. "But now it's helping thousands of other people."
Through their nonprofit Burn Pits 360, the couple advocated in Washington for the creation of a voluntary national registry of burn pit exposure in 2014 at the Department of Veterans Affairs. More than 187,000 veterans to date have provided their information. Before getting the legislation passed for the VA registry, Burn Pits 360 began its own registry, which it still maintains today. They worked with Texas lawmakers to pass a law this year to begin one at the state level. It is still in development.
Each registry collects slightly different information in different ways. While Burn Pits 360 allows family members to submit information on behalf of a veteran as well as update the information as symptoms worsen or change, the VA registry is static and only for veterans. The VA registry does not track veteran deaths like the others do. The Texas registry will function more like the nonprofit's when it comes to data collection.
Le Roy has also filed a lawsuit against the state of Texas because he believes that he was forced out of his job as a state trooper based on his war-related illness — a violation of the Uniformed Services Employment and Reemployment Rights Act of 1994, or USERRA, which protects civilian employment of service members.
The Texas Supreme Court picked up the case in September and its opinion, expected early next year, could set precedent on the rights of thousands of National Guard and Reserve service members who hold civilian jobs at a state agency. The ruling in Texas could also impact how other states interpret the federal law.
How it began Le Roy spent 2007 surrounded by toxic fumes from a 10-acre burn pit at Camp Anaconda in Balad, Iraq — the military's largest burn pit in the country, he said. His unit's living area was within a mile of the pit, where everything no longer needed was burned: medical waste, aircraft engines, computers, tires.
"It was dirty and nasty," Le Roy recalled while sitting in the conference room of the Burn Pits 360 headquarters in Robstown. "I eventually started putting a sheet over my head ... because it was so nasty you could smell it" in the housing unit where he lived.
He was sick every few weeks of the deployment, including one instance when he was quarantined. Most of the time, he treated his symptoms with over-the-counter medications.
"I'd wake up with headaches. It was painful, but I was able to deal with the headaches. There toward the end of my deployment, it started to get worse and the intensity was much more," he said.
When he made his first ER visit to a civilian hospital post-deployment, the doctor asked him whether he'd been recently exposed to anything harmful. Le Roy described the burn pit and the doctor said he had "Iraqi crud." The doctor provided Le Roy cough medicine and antibiotics, telling him to expect the "crud" to stick around for a couple months before clearing.
Le Roy's symptoms ebbed and flowed over time and began to impact his work as a state trooper.
"I was on a foot pursuit one morning. ... After I apprehended the guy, I thought I was having a stroke. I was having chest pains, like this pressure and burning. And that's when I realized there's something wrong."
The Texas Department of Public Safety moved Le Roy to temporary assignment in a driver's license office, where he was assigned to the phone room and wore a surgical mask over his nose and mouth. His symptoms continued to worsen. In August 2010, he said he was told to take time off to figure out what was going on with his health.
"And that's when the far journey started," Le Roy said. That night he and Rosie drove the two hours to San Antonio to the Audie L. Murphy Memorial Veterans' Hospital. Over the following days and weeks, he was seen in emergency rooms at Brooke Army Medical Center and Lackland Air Force Base.
"It sounded like he was going to cough up a lung," Rosie said. "It even got to the point where he collapsed in the bathroom and our boys were like trying to pick him up and get him to call 911. ... We were desperate."
He was prescribed everything from cough drops to psychiatric medication, as some doctors told Le Roy his illness was all in his head. Eventually Rosie discovered an online community of spouses and widows of service members with similar symptoms and found her way to the research of Dr. Robert Miller at Vanderbilt University Medical Center in Nashville, Tenn.
In 2011, Miller published a study of 38 cases of constrictive bronchiolitis in soldiers who deployed to Iraq or Afghanistan, which he linked to prolonged exposure to sulfur fires and burn pits on deployment. The diagnosis required a lung biopsy, an invasive surgery to remove a piece of lung tissue.
The couple paid their own way to Nashville, and Le Roy underwent a lung biopsy at Vanderbilt. As the doctors wheeled him into the operating room, they paused to allow Rosie to say goodbye.
"And she said, 'We're going to do something about this. We're going to fight. We're going find answers. We're going to get help,'" Le Roy recalled as his wife teared up at the memory. "And that's where Burn Pits 360 began."
'A dark place' Miller diagnosed Le Roy with nonreversible constrictive bronchiolitis, a small-airway disease that limits lung capacity and causes a dry cough. Years later, a scan of Le Roy's brain showed he suffered from toxic brain injury, which is similar to a disease attributed to people with repeated brain injuries or concussions, such as professional football players. Essentially, portions of Le Roy's brain are so constricted that there isn't blood flow. He struggles with short-term memory and mood regulation. It also puts him at higher risk for vision problems and dementia.
With his initial diagnosis in hand in August 2010, the Torreses took their findings to Texas DPS along with a memo outlining the type of work Le Roy was able to perform. He wrote how he could still be of service to the state without being a state trooper patrolling the highway.
"That's what I was asking for — just a job. Even noncommissioned. Of course, with the same pay, because that's what USERRA calls for," Le Roy said.
Instead, Le Roy said his service commander asked him to meet at a gas station. There, he gave Le Roy a memo telling him he was unable to return as a state trooper, because of the diagnosis.
"That's when I already knew, they're going to pressure me to leave," he said.
He said he was pressured to resign, which he did in 2012. He said he was told that in order to apply for disability retirement, he first had to resign. The state rejected his application.
It wasn't easy for Le Roy to realize that uniforms and financial stability did not define him. Photos on the walls of the couple's home showcase Le Roy's service to the state and to the country. In most photos, he is wearing some type of uniform.
A black-and-white sketch near the hall door features Le Roy and his constant companion and service dog, Hope. This drawing, along with framed copies of the laws the couple have helped pass, give a glimpse into their post-war life.
The couple built the home on family land, but nearly lost it in foreclosure in the years after his resignation from DPS.
Late one night in 2016, Le Roy said he slipped into "a dark place." He shut the door to his office and found his 12-gauge shotgun.
Hope, his service dog, became confused and ran to get Rosie, who opened the door to find Le Roy in his chair, gun in his mouth.
"I remember the look in his eyes; there's no turning back," Rosie said. She screamed to Hope for help. The German shepherd threw its 104-pound body onto Le Roy, biting his shorts and ripping him out of the chair to the ground. The gun fell out of Le Roy's mouth.
"I remember him telling me DPS took everything from me. I can never give you what I used to give you. I'm never going to be that man," Rosie said wiping away tears. Le Roy, too, wiped tears as his wife relived the memory.
"People need to know the reality behind how it affects people and how the hardship drives you to the point of no return, and so I knew the look in his eyes. I was trying to come up with every excuse for him to come back to me," she said.
Le Roy said he didn't name his dog, but it's clear to him now why someone did.
Hope saved his life that night.
'A long road' Le Roy's lawsuit, filed in 2017 in Nueces County, has yet to be heard.
USERRA states that if Le Roy wanted to continue to work, DPS was required to make accommodations for his service-connected disability. He's asking for more than $1 million in lost wages and retirement pay.
"All this ordeal and with job loss, I couldn't sit," Le Roy said. "Even through my ailments, I had to do something. We're going to fight hard for it. For our entitlement. And that's what I've been doing for 10 years. It's been a long road."
The state contends that the suit should be thrown out because Texas has sovereign immunity against private damage suits unless Congress has waived its immunity. Without that waiver, only the U.S. government can sue the state for a federal law, not a citizen.
Texas has its own similar laws, but Brian Lawler, Le Roy's San Diego-based attorney, said he is suing under USERRA because it offers greater protections.
"If the state wins, no service member employed by the state of Texas will have the right to sue under USERRA in Texas state court," Lawler said. "That's an absurd result."
Winning would give every service member employed by the state that right, and a similar lawsuit with Lawler's firm is pending — waiting for the court's decision.
"It's all or nothing, and a rather big deal if you ask me," Lawler said. The state agrees on the impact, stating in court documents that the outcome will impact millions of Texans.
A decision on Torres's lawsuit could come as early as January. If the judges rule in Le Roy's favor, the case will go back to Nueces County to be heard, but Lawler assumes the state will petition the U.S. Supreme Court. If he loses, that is what he intends to do.
God's will Earlier this year, the city of Robstown donated a building in its quiet downtown, allowing Burn Pit 360 to move from the Torres home and open as the Warrior Outreach Center — part headquarters, part gathering space, part educational center.
Derek Fronabarger, legislative director at the Wounded Warrior Project, described Rosie Torres as one of the most knowledgeable individuals about burn pits. He works alongside her and about a dozen other organizations on the Toxic Exposure in the American Military coalition. The group meets twice a month, and thanks to a grant from the Wounded Warrior Project, Rosie is able to travel to Washington to attend meetings in person.
"You get a lot of people who can bring anecdotal stories to the table which really help in trying to push the narrative. You have others that bring policy, wonky, they just know the issue really well, but they may not have the emotional connection. She actually brings both," he said. "She's personally been affected by this issue, but she's also dedicated her entire life and her professional career now on really understanding the policy."
Burn Pits 360 is working to raise awareness across the country. Rosie and Le Roy accept speaking engagements, as do members of their board who are scattered across the country. They recently teamed up with comedian Jon Stewart, who successfully lobbied on behalf of first responders who suffered toxic exposure from 9/11. They quickly recorded a public service announcement, which garnered buzz online.
Their legislative advocacy would be easier if the couple moved to Washington or had a more regular presence there, but family is important. Le Roy's mother is nearby, so they remain in Robstown to help care for her.
In rare moments at home, the two are learning what it means to be empty-nesters. Their three children are in their 20s; one of their two sons is an Army specialist serving in Hawaii. Le Roy had no reservations about his son's decision to serve.
"I took him to the recruiting office," Le Roy said. "What happened to me — they way I see it is every war has its price. It was obviously God's will for me, the way things happen."
Just before Le Roy was medically retired from the Army, he tried to transfer to become a chaplain. He believes that through Burn Pits 360 he is ministering to people — just not the way he imagined before the boundary separating the couple's lives was drawn by war.
"I would do it all over again, if I had a choice," he said. "If the Army called to say, 'You know what, maybe you can come back in.' I would."
thayer.rose@stripes.com Twitter: @Rose_Lori