'We just move immediately': Air Force trauma surgeons fly 16,000 miles to save soldier injured in Afghanistan
by
James Bolinger
November 8, 2019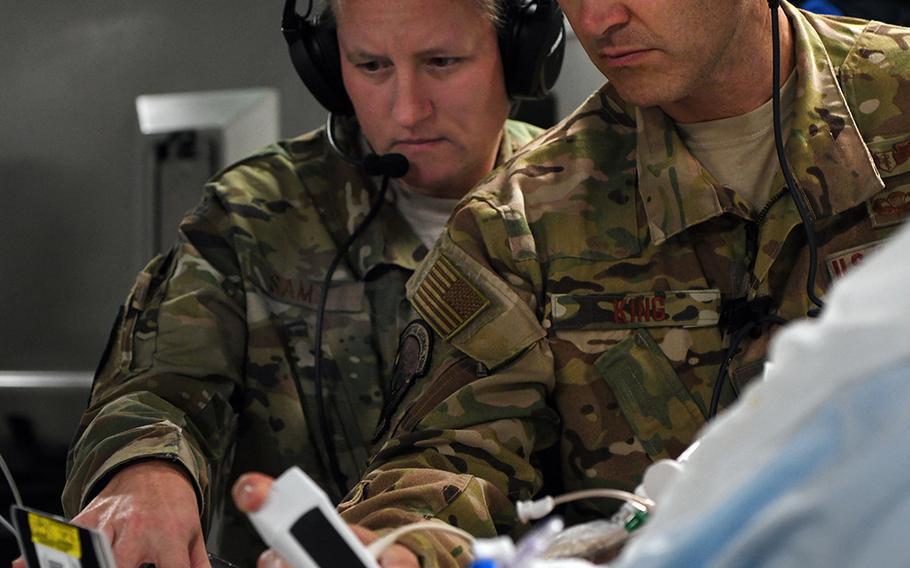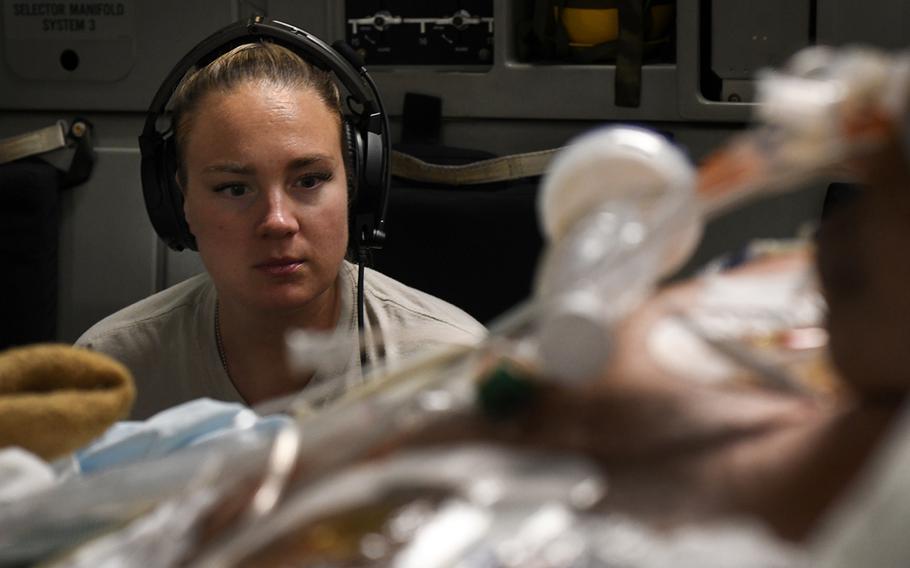 When an Afghanistan-based Special Forces soldier was critically injured in combat over the summer, medics in Texas jumped into action for a 16,000-mile, first-of-its-kind mission to bring him home alive.
The soldier suffered from serious wounds that in the past would have prevented such an evacuation. However, advancements in battlefield medicine and trauma care — honed from decades of fighting in Iraq, Afghanistan and Syria — have led to a solution being carried out solely by the 59th Medical Wing's ECMO program at Joint Base San Antonio.
ECMO stands for extracorporeal membrane oxygenation — a heart-lung bypass system that circulates blood through an external, artificial lung and sends it back into a patient's bloodstream. The technique allows diseased or injured lungs to heal and enables the wing's ECMO team to transport critically ill patients around the world while caring for them.
"We don't delay to see if they're going to get better. We just move immediately," Col. Phillip Mason, director of the wing's ECMO program, said in a recent Air Force video.
On Aug. 16, within hours of being notified about the injured soldier in Afghanistan, a six-member ECMO team was aboard a commercial flight to Germany, Lt. Col. Valerie Sams recently told Stars and Stripes by phone. She's one of only two critical care surgeons in the Air Force able to perform ECMO.
"We hooked up with a C-17 Globemaster III in Germany and left for [Bagram Airfield in Afghanistan], where surgeons were working on him," she said.
Once at Bagram, the team determined that the soldier didn't need ECMO, but that his kidneys were failing because of the muscle damage. He risked going into cardiac arrest.
"He needed continual renal replacement therapy — continuous dialysis for the entire flight home, which can be difficult," Sams said. "He was critically ill but demonstrated enough physiologic reserve to tolerate his critical illness, and I felt he would survive the flight home."
The nonstop, 20-hour journey back to San Antonio with patient in tow required two nighttime mid-air refuelings – once somewhere over Europe and again over Maine.
The injured soldier has been "doing outstanding," Sams said in a recent email, and should soon enter rehab after being discharged from San Antonio Military Medical Center at Joint Base San Antonio.
While there's nothing groundbreaking about ECMO itself — the treatment was developed in the 1950s — Sams said her team's missions are unique because of the great distances they travel.
"The building and development of the ECMO program was born out of the wars in Afghanistan and Iraq," she said. "If we can provide it, the survival rate is very high. Without it, patients would certainly die."
The Air Force began using ECMO in 2012, Sams said, adding that the program has grown exponentially since 2016. The service the 59th Medical Wing provides is now a certified ECMO Center of Excellence, according to the Extracorporeal Life Support Organization.
In 2005, a group of Air Force critical care transport specialists out of Landstuhl, Germany, explored transferring patients suffering pulmonary failure using a Novalung. However, that program was phased out when casualty rates in Afghanistan decreased, according to the 57th Medical Wing's website.
Sams said going through such lengths is the least that can be done for those who put their lives on the line.
"I am certain they would do it anyway, but we should absolutely assure them that if they are injured or killed, we will be here, either to patch them up or bring them home to their families when we can't patch them up," she said.
bolinger.james@stripes.com Twitter: @bolingerj2004