GALLERY
Vintage aircraft set to fly over DC to mark the anniversary of World War II's end
by
Carlos Bongioanni
September 24, 2020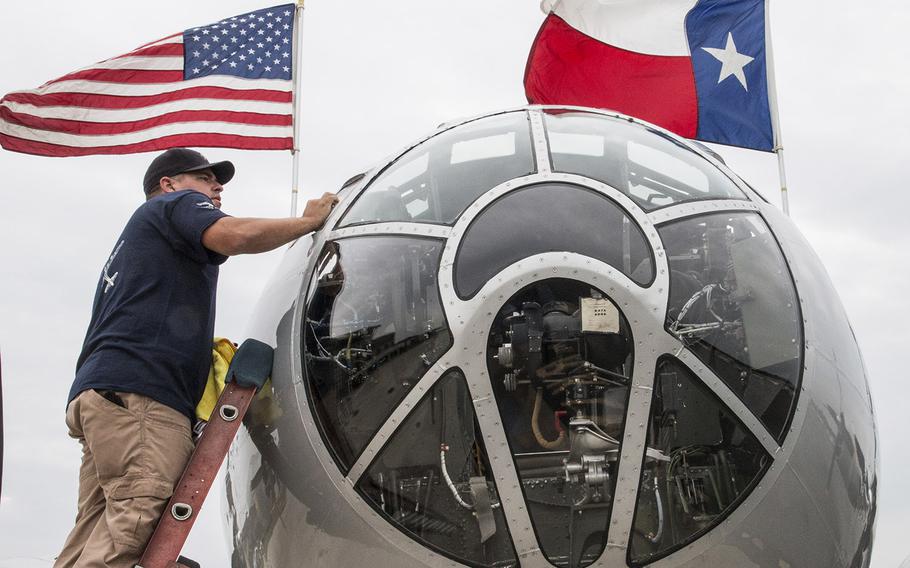 EDITOR'S NOTE: The flyover was first postponed on Friday then canceled outright on Saturday due to weather conditions.
WASHINGTON — Dozens of warplanes are slated to buzz the nation's capital on Friday in tribute to the generation that courageously rose up to fight during one of the most perilous times in world history.
More than 60 vintage WWII-era aircraft are to take part in the Arsenal of Democracy flyover to commemorate the 75th anniversary of the end of World War II.
Though the scope of the event, originally scheduled for May, has been curtailed somewhat due to the coronavirus pandemic, a few WWII veterans have plans to participate.
Retired Marine Sgt. Paul Hilliard, who flew in 45 missions, including in the Battle of Midway, as a radioman and gunner in an SBD Dauntless dive bomber, will be flying aboard a B-29 Superfortress known as "Fifi."
During a presentation Thursday in northern Virginia, Hilliard, 94, told of his lifelong passion for airplanes.
"When I was a kid on the farm, if an airplane went over and we heard that thing, everyone ran outside," he recalled.
When he joined the Marines in 1943 at the age of 17, Hilliard was ever so grateful when his superiors assigned him to an aviation job. Flying over targets and dropping 500-pound bombs was much better than crawling through the mud as an infantryman, he said.
As he viewed the aircraft Thursday prepping for Friday's flight, Hilliard expressed delight. "It's still a big thing to me … I think it's a marvelous tribute to the endless and infinite ingenuity of mankind that we get those things in the air."
Also flying will be Connie Palacioz, one of the famed "Rosie the Riveters," who was 18 when she got a job working at a Boeing plant in Wichita, Kansas. On Friday, she'll be aboard a B-29 known as "Doc."
Palacioz, 95, noted with pride that she was part of a team that built "Doc," and that only seven of the original rivets, which she helped place in the nose section of the aircraft when she was 18, needed to be replaced when the aircraft underwent restoration. And that, she said, was after "Doc" spent decades in a desert graveyard where it was stored after decommissioning.
Friday's flyover will feature training, fighter, bomber and transport aircraft. They will include P-40 Warhawks, P-39 Airacobras, P-51Mustangs, F4U Corsairs, B-25 Mitchells, B-17 Flying Fortresses and the B-29s. The aircraft will fly in formation. The first wave is set to fly over the Lincoln Memorial at about 11:30.
Coordinating such an event is no easy task, noted Hank Coates, president of the Commemorative Air Force and an Arsenal of Democracy Executive Committee member. It takes a good amount of time to launch that many aircraft, he said. Once airborne, the aircraft must meet up in a predetermined holding zone, circling until all the planes get in proper formation and then depart just at the right time.
Retired Air Force Lt. Col Bob Vaucher knows a little about the difficulty of such coordinated flights. Vaucher, who will be aboard a C-45 Expeditor known as "Texas Dolls" on Friday, recalled how he played a major role in a symbolic show of strength over Tokyo Bay in 1945 at the end of WWII.
"I never thought I'd still be talking about it at this age," Vaucher said Thursday. "I'm only 101."
Because the Japanese surrender ceremony was to be held aboard the Battleship Missouri in the Tokyo Bay, Gen. Douglas MacArthur, had a problem, Vaucher recalled. MacArthur, a renowned scholar of warfare, knew that, historically, vanquishing forces often made some sort of victory lap before their defeated foes.
How was that to be done in the water?
Simple, send a mass formation of every B-29 available in the region to flyover the Missouri at the precise moment when the signing was to take place. Vaucher was selected to be the "major domo," as he put it, to lead a formation of 525 B-29s.
MacArthur and his Japanese counterparts were set to sign the surrender document on Sept. 2 at precisely 9:04 a.m. aboard the Missouri in Tokyo Bay.
For hours leading up to that moment, B-29s launched from Tinian, Saipan, Guam.
"We had to rendezvous hundreds of miles outside of the target area which was the Battleship Missouri … and we arrived over the Missouri at 9:04 a.m. and that was a feat of my lifetime to make it happen," said Vaucher. "I wondered about it all my life, because it was quite an event."