Victims of C-130 crash in Afghanistan identified
---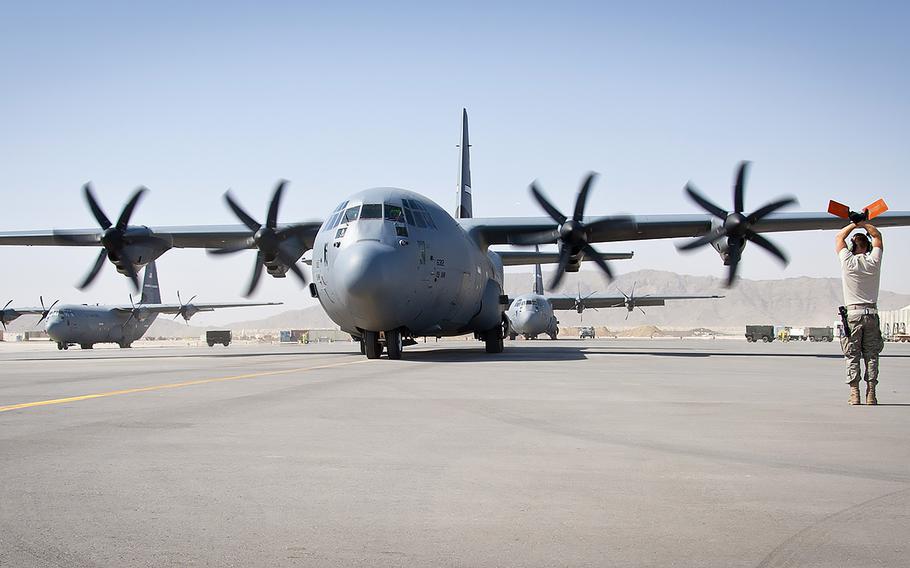 The military released on Saturdy the names of the six airmen killed a day earlier in the crash of a C-130J Super Hercules at Jalalabad Air Field in eastern Afghanistan.
Six crewmembers and five contractors assigned to the 455th Air Expeditionary Wing died early Friday when their transport aircraft crashed at takeoff. At least two Afghans on the ground also died in the crash, according to media reports.
The Defense Department identified the victims as:
Capt. Jonathan J. Golden, 33, of Camarillo, Calif.; Capt. Jordan B. Pierson, 28, of Abilene, Texas; Staff Sgt. Ryan D. Hammond, 26, of Moundsville, W. Va.; Senior Airman Quinn L. Johnson-Harris, 21, of Milwaukee, Wis.; Senior Airman Nathan C. Sartain, 29, of Pensacola, Fla.; Airman 1st Class Kcey E. Ruiz, 21, of McDonough, Ga.
Pierson, Golden, Hammond and Johnson-Harris were deployed from the 317th Airlift Squadron at Dyess Air Force Base, Texas. Sartain and Ruiz were from the 66th Security Forces Squadron at Hanscom Air Force Base, Mass.
The cause of the crash is under investigation. A senior official at the Pentagon said Friday the aircraft hit a ground object as it was ascending, lost control and crashed into a guard tower at the end of the air field. Afghan civilians in the guard tower were killed in the ensuing fire, the official said, speaking on condition of anonymity.
On Saturday, the wing held a fallen comrade ceremony to honor the victims.
"We've taken a blow, but I'm proud of the way we've come together and supported each other," said Lt. Col. Mitchell Spillers, 774th Expeditionary Airlift Squadron commander, according to a Win news release. "That must continue."
"This was one of my best crews; they had a positive impact on everyone around them," Spillers said.
Chief Master Sgt. Matt Grengs, 455th command chief, said airmen across the wing, though grieving, should continue the mission to honor their sacrifice, the release said.
"We can only hope that the anguish of the families of these fallen heroes is tempered with the knowledge that their loved ones died doing what they loved for the nation they loved," he was quoted as saying.
---
---
---
---