Victims' families: Forget Hasan and focus on heroes
---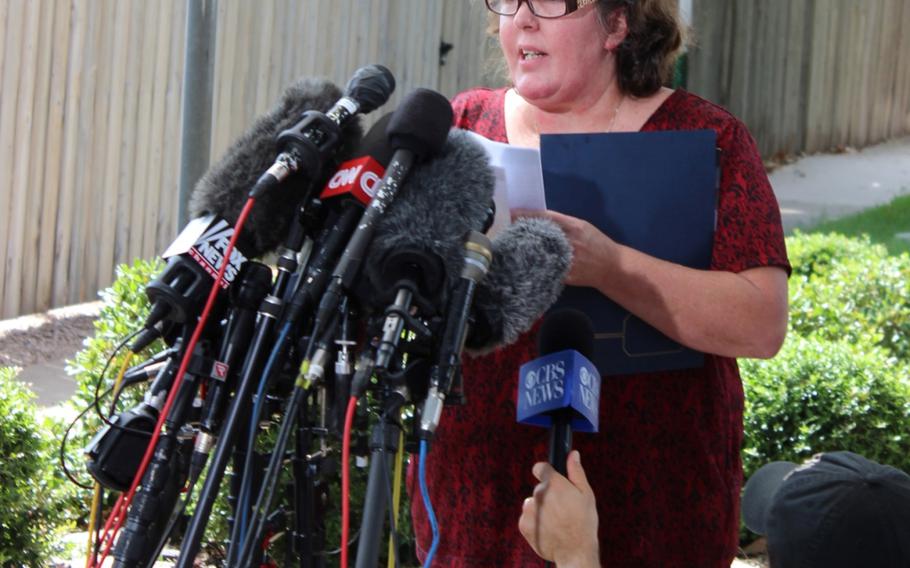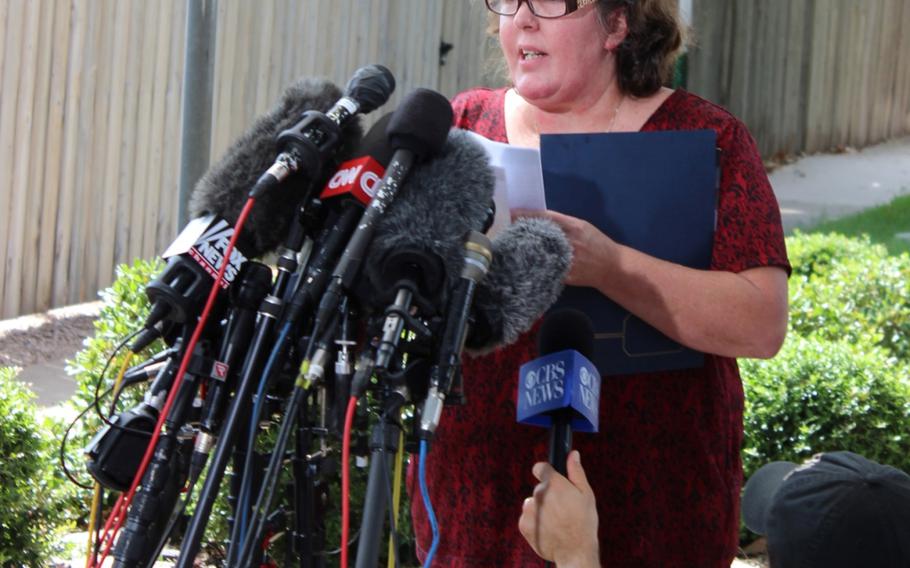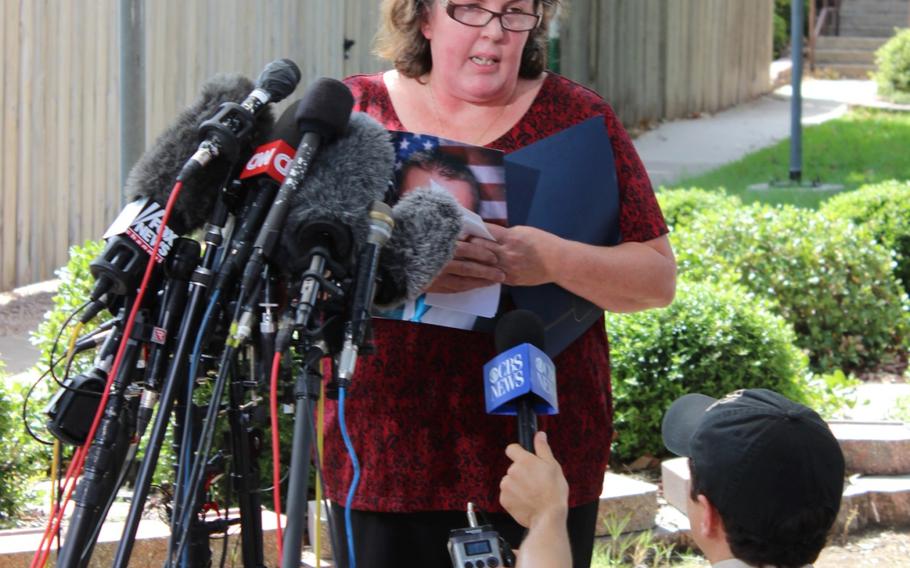 FORT HOOD, Texas — Now that the man who murdered their loved ones has been sentenced to death, the families of the soldiers killed in a mass shooting on post three years ago are asking the public to forget Maj. Nidal Malik Hasan and focus instead on the heroes who emerged that day.
"Anyone who would use their religion to commit acts of terrorism serves no god except their own hatred and self-interest," said Gale Hunt, mother of Spc. Jason "J.D." Hunt. "Nidal Hasan is a coward and an unrepentant murderer."
Hunt held up a picture of her son, saying he "never had a bad word to say about anybody" and had wanted to deploy again, not to hurt anyone, but to save the lives of other soldiers.
Hasan was convicted of 13 specifications of premeditated murder and 32 specifications of attempted premeditated murder for the Nov. 5, 2009, attack against unarmed soldiers waiting for medical clearance at a processing center.
He had wanted to use a "defense of others" strategy in court — to claim that he killed soldiers as they were preparing to deploy in an effort to save Taliban leaders. Prosecutors told the jury that Hasan felt it was his "jihad duty."
The strategy was rejected by his defense counsel, who he then fired, as well as by the judge presiding over the case.
Melissa Czemerda, daughter of Lt. Col. Juanita Warman, hoped the media would stop focusing on Hasan's extremist views and concentrate instead "on the impact tragedies have on the survivors.".
"These types of murders thrive on media attention. It promotes violence for other disturbed individuals seeking a platform for their sick and twisted views," Czermerda said in a written statement.
The family of retired Chief Warrant Officer Michael Cahill said they are glad that "justice has been served."
But Cahill's oldest daughter, Keely Vanacker, said the family hopes people will not focus on "the voice of murderers and terrorists," but rather "the voice of those who stood and those who continue to stand in a true and honorable defense of others."
Cahill, who had been recovering from surgery to place a stent in his heart after a heart attack, had returned to work at the medical processing center early because taking care of soldiers was so important to him, his family said.
When Hasan stopped briefly to reload, Cahill charged him with a chair in an effort to bring him down, several witnesses said. He was shot six times, the only soldier not in uniform killed that day.
"My father took care of soldiers 'til the end, and I ask that we as Americans do the same," Kerry Cahill said.
Kerry, Cahill's younger daughter, urged the American public to remember "our fallen soldiers, our wounded warriors and the unfortunate, growing number we are continuing to lose to military suicide."
She also praised the medics, first responders and others who saved lives that day.
"There's two messages leaving that courtroom: There's the one of hatred, cowardice and betrayal, and there is one of loyalty, dedication and honor," she said. "I hope we as Americans can honor and remember and be inspired by all those heroes we have lost."
Many family members expressed relief that the trial is over, and Hasan has been sentenced.
"We have finally come to the end of one long, emotional journey," said Jerri Krueger, mother of Staff Sgt. Amy Krueger. "Although the pain of losing Amy will always weigh heavy upon us, we have some relief knowing that Hasan was found guilty without doubt and that he will pay for what he did."
Teena Nemelka, mother of Pfc. Aaron Nemelka, said that while Hasan may think the death penalty will make him a martyr, she knows "he is a coward, a traitor and a murderer."
Kimberly Munley, one of two police officers who responded to the shooting, responded to the sentence on her Twitter account: "Sentenced to DEATH! But meanwhile, he will wither away to nothing in his jail cell while waiting on the appellate courts! He is now NO ONE!"
Autumn Manning, whose husband was injured in the attack, called Wednesday the "Best.Day.Ever" on her Twitter account.
And Michael Cahill's widow, Joleen, who attended nearly every day of the court-martial and pre-trial hearings, said she was grateful the trial was finally over.
"Today, a weight has been lifted off of my shoulder," she said.
hlad.jennifer@stripes.comTwitter: @jhlad
---
---
---
---