Veterans fueled edge for Democratic takeover of House
by
Nikki Wentling Claudia Grisales
November 7, 2018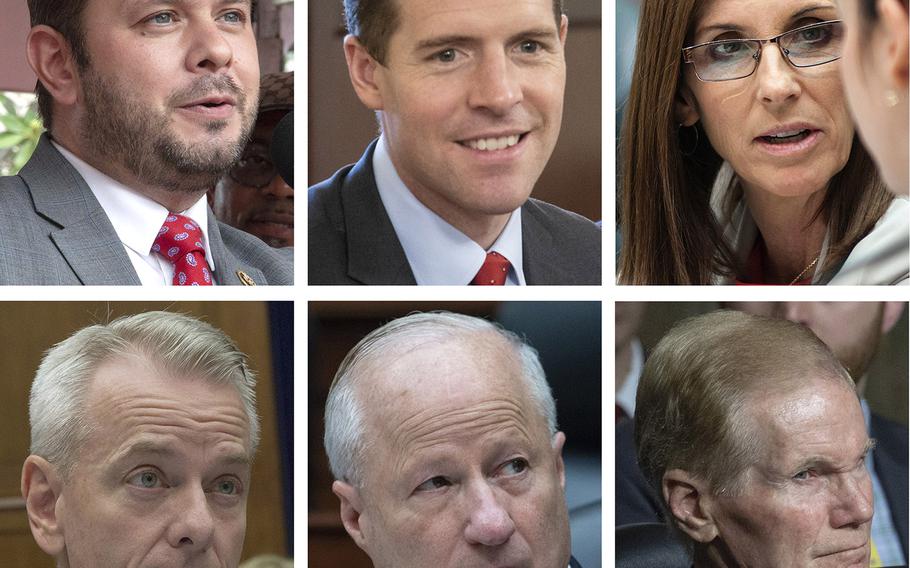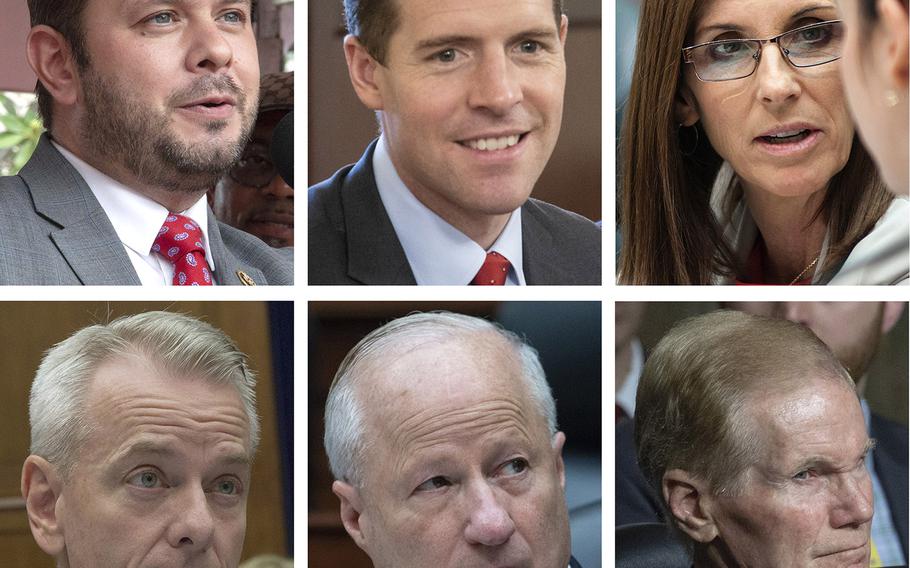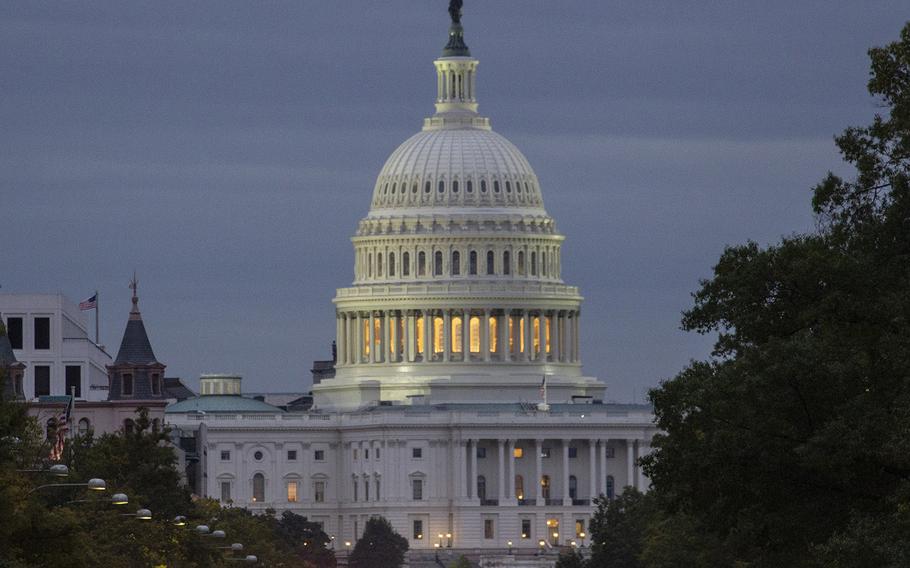 WASHINGTON – Military veterans running as first-time Democratic candidates helped fuel the large swell of voter turnout in Tuesday's midterm elections that led to their party's takeover of the House of Representatives.
At least six candidates pulled upsets or won open seats, allowing Democrats to claim victory in the lower chamber of Congress.
By Wednesday morning, The Associated Press said Democrats looked to control the House by 219 to 193 seats, with nearly two dozen races yet to be decided.
"I think it's pretty clear now that veterans are the reason that Democrats are going to take back the House," said Jon Soltz, chairman of progressive political organization VoteVets. "It's definitely a great night for veterans who are Democrats."
A new cadre of military veteran lawmakers, which includes dozens of Democrats and Republicans who scored wins Tuesday, will begin their terms in January and could help steer major defense issues.
The more than 200 veterans who ran for seats in the House and Senate was an uptick of former servicemembers seeking office, according to With Honor, a new "cross-partisan" group focused on electing candidates with military service to public office. That followed more than 400 who ran in primary races earlier this year.
Many veterans ran in high-profile races such as Republican Reps. Martha McSally and Duncan Hunter, who are part of a traditional Republican block of candidates running in district and statewide races. But others were part of a new generation of Democratic politicians with military experience.
With Honor saw 17 of nearly 40 Republican and Democratic candidates who they endorsed claim victories by Wednesday morning. Several races were still too close to call even hours after polls closed.
"We need leaders on both sides who will put country first," said Rye Barcott, Marine Corps veteran and co-founder of With Honor, a super PAC group. "The problems we are taking on – hyper-partisanship, dysfunction in Congress, and the decline of veterans in public office – are debilitating to our country."
All 435 seats in the House and 35 of the Senate's 100 seats were up for grabs in Tuesday's elections.
The winning veterans include incumbents such as Reps. Mike Gallagher, R-Wisc., Adam Kinzinger, R-Ill., Ted Lieu, D-Calif., and Ruben Gallego, D-Ariz., who have made their mark in short tenures in Congress. Others, such as Democrats Elaine Luria of Virginia and Max Rose of New York ousted incumbents in upsets Tuesday to win their first terms as House lawmakers.
In an overnight reversal, The Associated Press and others cancelled their call that Republican Rep. Will Hurd would win Texas' 23rd District, reporting Democrat Gina Ortiz Jones, an Air Force veteran, was leading in the voting.
In one of the midterm elections more controversial races, Hunter, a Marine Corps veteran and incumbent from California, won his district while facing 60 criminal charges. Despite Hunter being saddled with claims of misusing $250,000 in campaign funds, he defeated his Democratic opponent Ammar Campa-Najjar for a seat that he took in 2009 after his father retired from office.
At least six other races featured two veterans facing off. In Florida, incumbent Democratic Sen. Bill Nelson, an Army veteran, and the state's Republican Gov. Rick Scott, a Navy veteran, were headed for a potential recount despite Nelson's camp having conceded earlier. In Massachusetts, Democratic Rep. Seth Moulton, a Marine Corps veteran, won re-election to a third term against Republican Joseph Schneider, a former Green Beret.
This year's increase in veteran candidates follows dwindling representation of former servicemembers in Congress for several decades. Their percentage fell from peaks of 81 percent in the Senate in 1975 and 75.2 percent in the House in 1969 to recent lows of 20 percent or less by 2015, according to the most recent figures from Pew Research Center.
More vets, more bipartisanship With some pundits pointing to the dwindling ranks of veterans as contributing to toxic partisanship on Capitol Hill, the hope is now that more former servicemembers in Congress could reverse that trend.
Of the 200 House candidates tracked by With Honor, 102 were Republicans, 61 were Democrats with the remainder third party and write-in candidates, said With Honor spokeswoman Ellen Zeng. The group endorsed 20 Republicans and 19 Democrats.
"We hope a critical mass of these With Honor candidates can help fix our broken politics," Zeng said.
Lawmakers will be taking on a long to-do list for defense matters when the new Congress convenes in January. The fate of an ongoing military buildup, war and deployment oversight and decisions on who can enlist in the service will be directed by lawmakers in Washington for the coming two years.
In addition, President Donald Trump's growing demands for the military — from expansions in overseas war operations to surprise efforts to install budget cuts to plans to deploy about 15,000 troops to the U.S.-Mexico border — could also come under additional congressional scrutiny.
This, as Pentagon officials are slated in January to roll out two proposed fiscal year 2020 budgets: a $733 billion plan that would stay on track with a military expansion and a $700 billion plan that would undo much of its initiatives from the last two years. Lawmakers will also contend with budget caps that would otherwise keep defense spending to $576 billion for the 2020 fiscal year.
The new Congress also might have to contend with several costly Trump plans to create a "Space Force" as a new military service and a military parade through the streets of Washington that was put on hold until 2019. There's also ongoing debate over whether transgender personnel and certain immigrants should be eligible to serve in the military.
By early Wednesday, while several media outlets had called House control for the Democrats, control of the Senate remained with Republicans.
Military veterans see easy wins, upsets Several military veterans who won re-election bids were especially vocal on the role of the military in their previous, short tenures on Capitol Hill. And in several cases, their wins could be considered upsets.
Rep. Conor Lamb, D-Pa., won the seat for his state's newly drawn 17th District on Tuesday with only months in Congress after a close, upset win in a March special election. Lamb won that previous race for the state's 18th Congressional District, a traditionally Republican stronghold, by less than 700 votes.
With Tuesday's win, Lamb ousted sitting Republican Rep. Keith Rothfus, who represented the state's 12th District since 2013.
Gallagher, a Marine Corps veteran who won a second term in Wisconsin's 8th District, made headlines during his first term for criticizing Trump, and particularly the roll out of the president's travel ban last year.
Gallego, an Arizona Democrat and Iraq War veteran, was elected to his third term in the House on Tuesday, defeating Green Party candidate Gary Swing. Gallego, an outspoken Trump critic, faced no Republican challenger for Arizona's District 7.
Gallego has said publicly that he's considering vying for a Senate seat, possibly during the 2020 special election for the remainder of John McCain's term. McCain, an outspoken Republican senator from Arizona, died in August.
In Delaware, incumbent Democratic Sen. Tom Carper, a Navy veteran, fended off Republican Robert Arlett, a Naval Reserve veteran.
In Illinois' 12th Congressional District, Republican Rep. Mike Bost declared victory over Democrat Brendan Kelly, a Navy veteran. In Pennsylvania's 10th District, Republican Rep. Scott Perry, an active member of the state's National Guard, won over Democrat George Scott, an Army veteran.
And in Colorado's 6th District, Iraq War veteran and Democrat Jason Crow upset another veteran, Rep. Mike Coffman, a Republican who was seeking a sixth term in the House. Crow is a former Army Ranger and first-time political candidate. During the campaign, he criticized Coffman's "A" rating from the National Rifle Association. The 6th District is home to Aurora, where a 2012 mass shooting took place at a movie theater.
In the Houston area, Republican Dan Crenshaw, a former Navy SEAL, won a first term in the state's 2nd Congressional District. Crenshaw unwittingly drew national attention this past weekend when he was the subject of a joke on "Saturday Night Live" for his war injury. Crenshaw, who saw five deployments, was hit by a bomb blast during a mission in Afghanistan that destroyed his right eye. Crenshaw now wears an eye patch that became an iconic symbol in his campaign.
"I think we're doing well, we're excited," Crenshaw told a Houston crowd late Tuesday ahead of the official results. Of the SNL joke, "I'm from the SEAL team, we don't really get offended."
This, as Greg Pence, a Republican, Marine Corps veteran and older brother of Vice President Mike Pence, won a House seat in Indiana's 6th District by a large margin.
Some veterans lose, others await results In the race to replace outgoing Republican Sen. Jeff Flake in Arizona, McSally, an Air Force veteran, remained in a tight race with her opponent, Democratic Rep. Kyrsten Sinema, by early Wednesday.
In New Hampshire's 1st Congressional District, Navy veteran Eddie Edwards, a Republican, lost his race. Edwards, a former police chief, lost to state lawmaker Andy Sanborn.
Democrats Amy McGrath of Kentucky and Randy "Ironstache" Bryce of Wisconsin, an Army veteran, drew national buzz in their congressional bids but fell in their races Tuesday to win first terms as House lawmakers.
Though McGrath lost her fight, she impressed election watchers with how close the veteran Marine fighter pilot came to pulling an upset.
"This race was never supposed to be competitive and McGrath ran on a background of being an independent," Zeng said. "She only lost by (about) 3 points."
Female vets draw buzz, then upsets In New Jersey's 11th Congressional District, veteran Navy helicopter pilot Mikie Sherill, a Democrat, beat her opponent, Jay Webber, a Republican state assemblyman. The two were vying to fill the seat for retiring Republican Rep. Rodney Frelinghuysen, who held the seat for 12 terms.
Chrissy Houlahan, an Air Force veteran, won a first term for Pennsylvania's 6th District while Luria pulled an upset in Virginia's 2nd District.
And Air Force veteran Mary Jennings "M.J." Hegar, a Democrat, lost in a tight race with incumbent Republican Rep. John Carter in Texas' 31st District, a deeply conservative swath Trump won in 2016.
Luria, Sherill, Houlahan and other female military veterans running for office are part of a new, energizing movement, political watchers said.
"These amazing women leaders are part of the changing face of the military who have attracted attention because of their willingness to shatter every ceiling first in the military and then in politics," Dan Helmer, vice chair of progressive political organization VoteVets, said ahead of Tuesday's election. "These strong women military leaders have captured the attention of the whole country and it's not a surprise."
grisales.claudia@stripes.com Twitter: @cgrisales
wentling.nikki@stripes.com Twitter: @nikkiwentling
---
---
---
---