VA policy restricts 'meaningful access' to benefits for Native Americans
---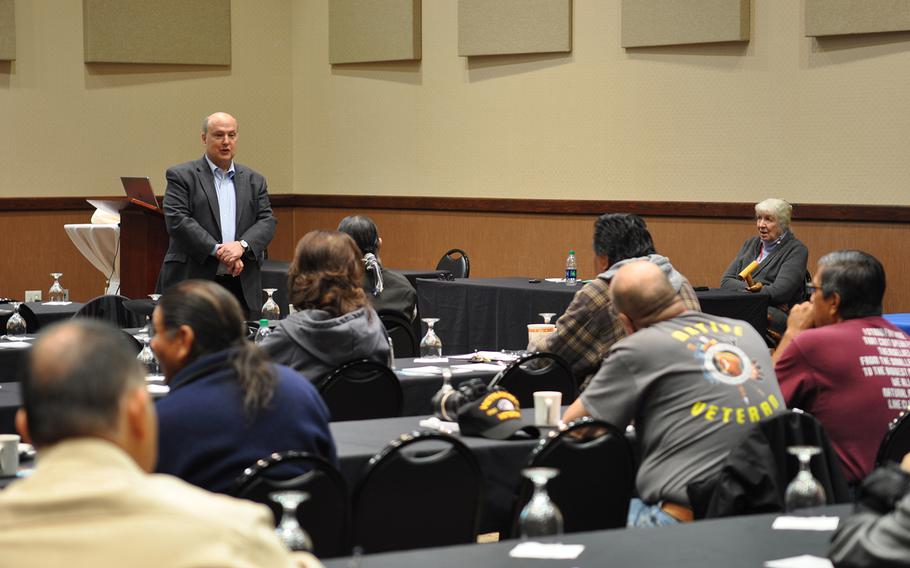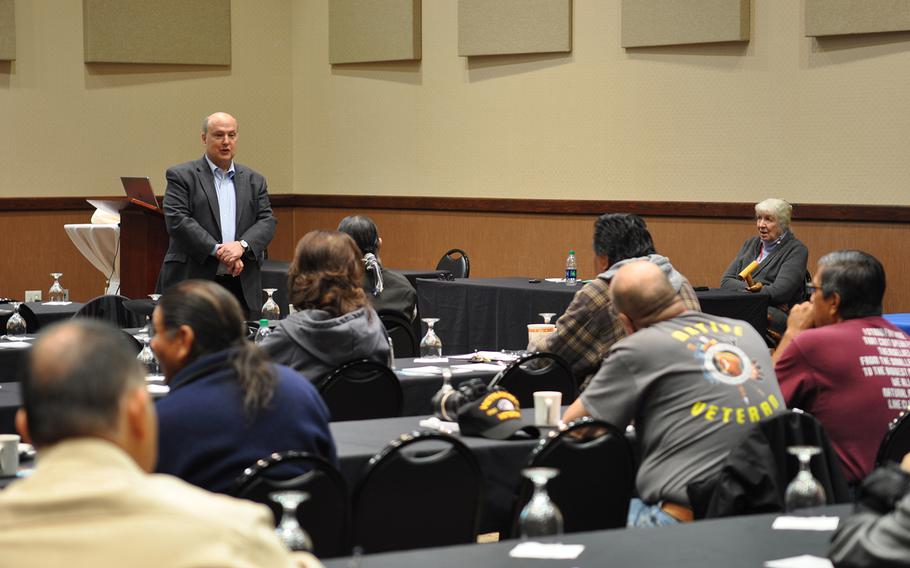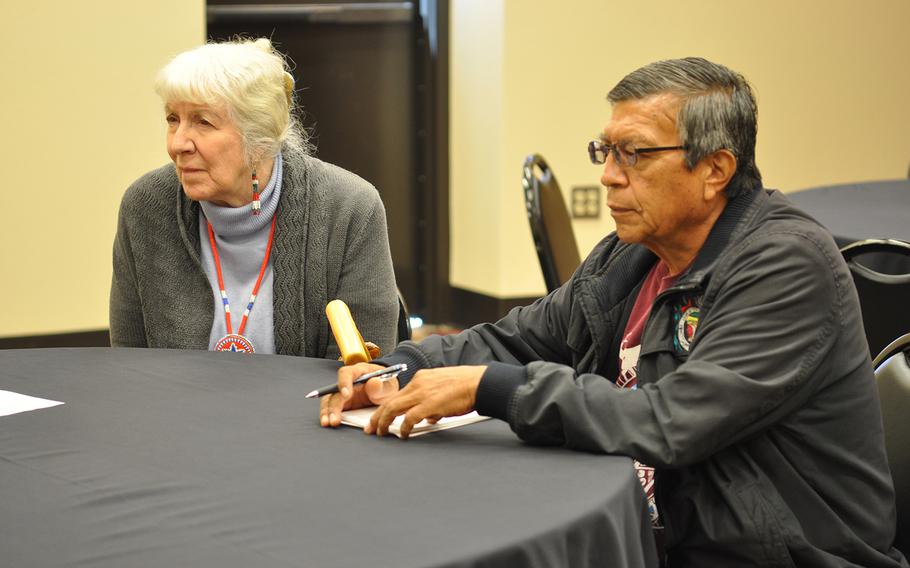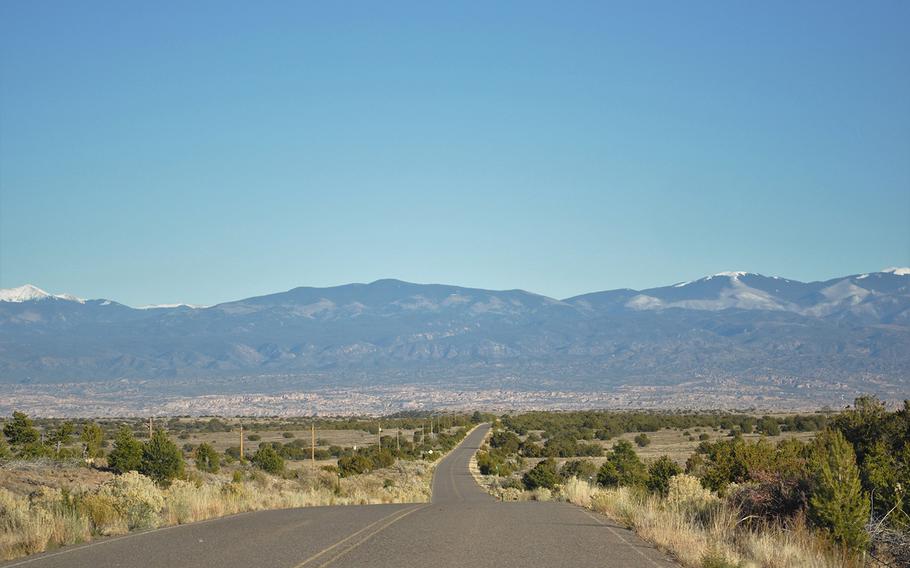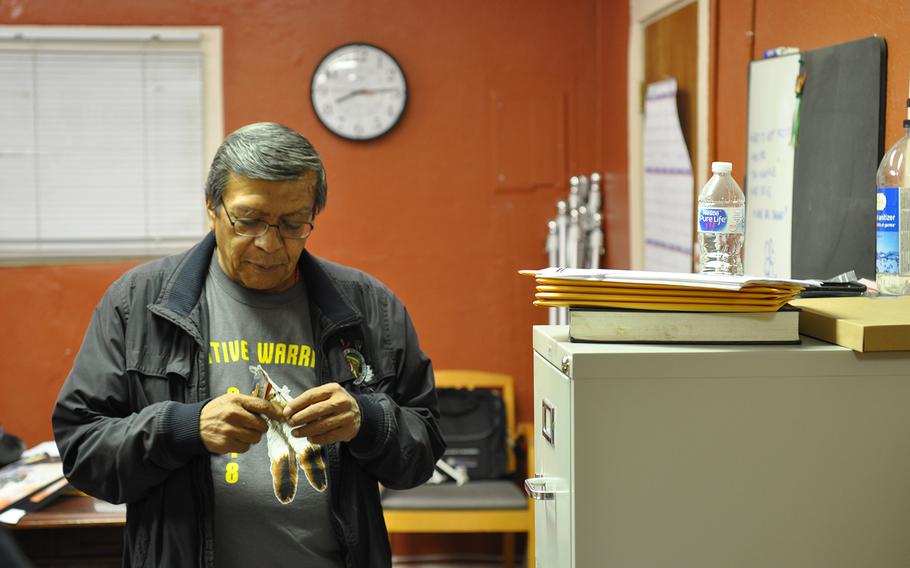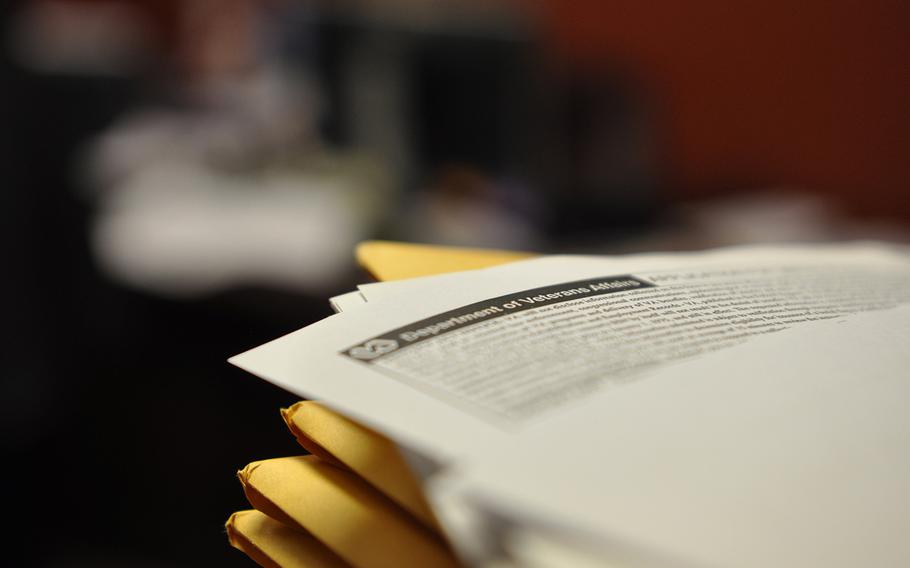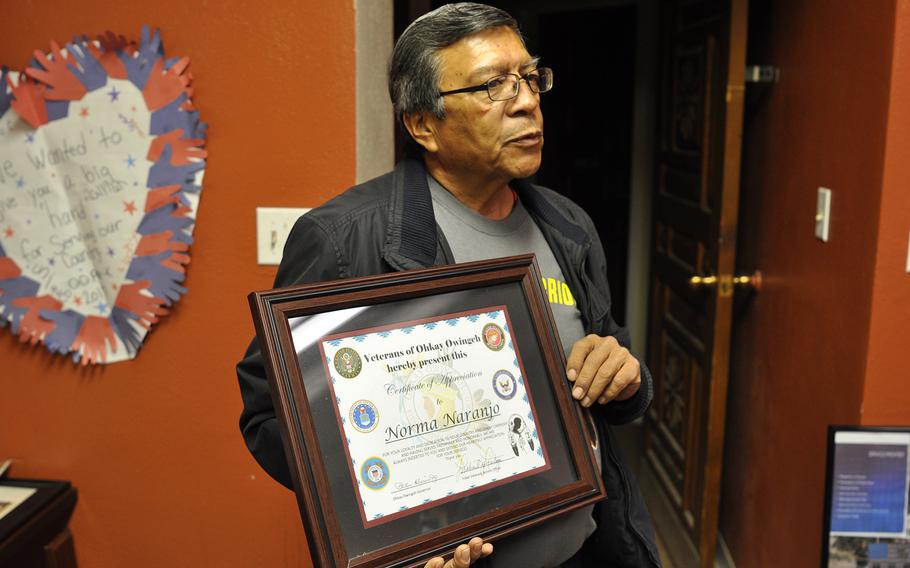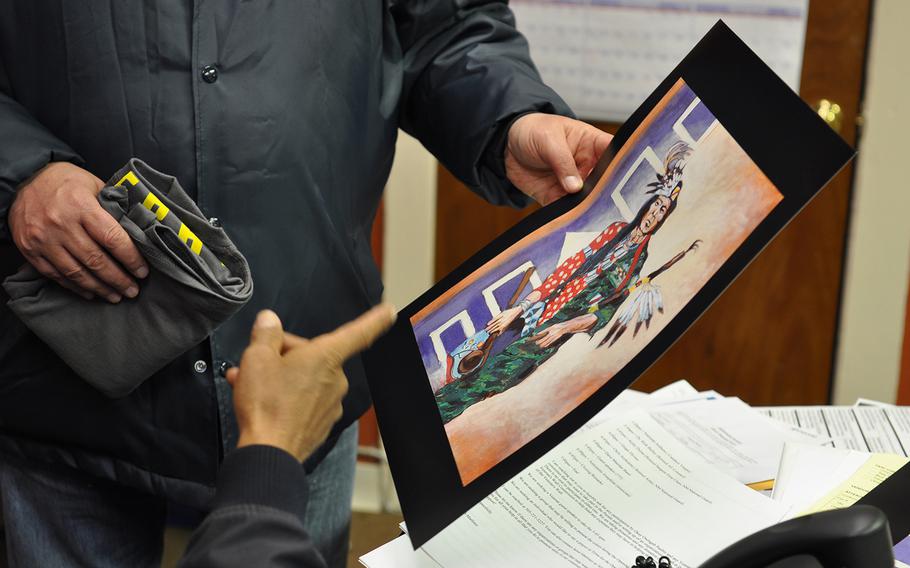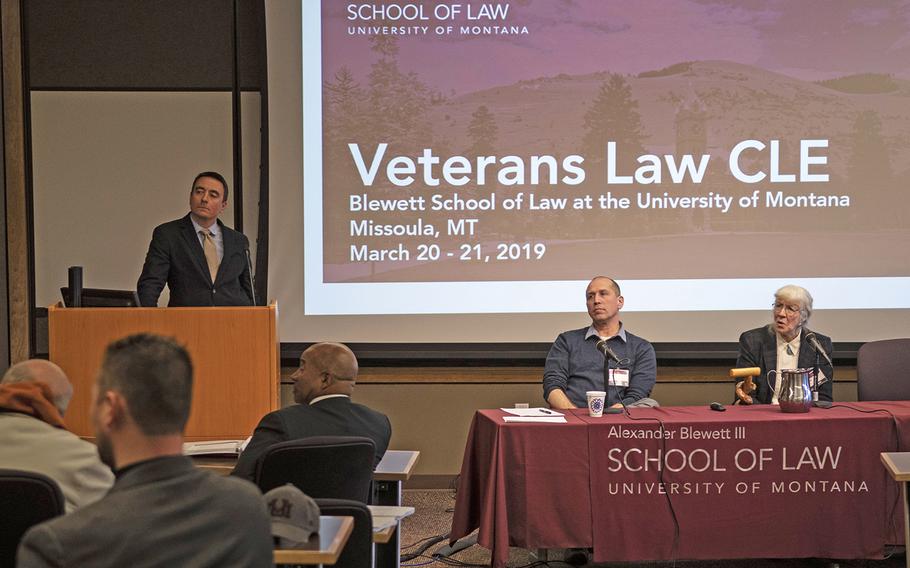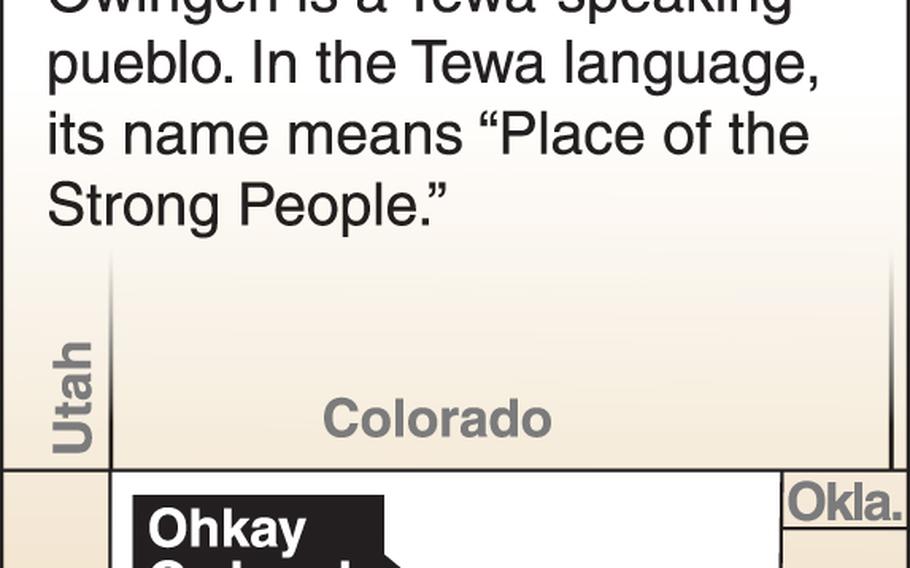 OHKAY OWINGEH, N.M. — Inside a small conference room in a hotel-casino on the Ohkay Owingeh reservation, attorney Carol Wild Scott sat across the table from veterans and their families, one group after another, who were there to find answers they couldn't get anywhere else.
There was a Vietnam War veteran who filed a claim for disability benefits with the Department of Veterans Affairs in the late 1970s. When it was denied, he thought "that was that" and wasn't aware he could file an appeal — potentially losing out on more than 40 years of income.
Then came a widow, accompanied by her daughter and granddaughter, who didn't realize her husband's military service would have entitled their children to education benefits if they would've transferred them in time.
One Gulf War veteran walked into the room clutching a tattered DD-214 discharge document and revealing he struggled with nightmares and suicidal thoughts. He wasn't aware he could get free counseling at the Vet Center in Santa Fe, and he had not heard of the Veteran Crisis Line.
Before the 9/11 terrorist attacks, American Indians served in the military at a higher rate than any other ethnic group, according to VA data. Resigned from military life, many of them have settled in rural places, far from VA facilities and without culturally competent assistance for getting connected to their earned benefits.
New Mexico is among the states with the largest populations of these veterans, with more than 8,000 as of 2015. Despite that, the VA employs only one person to reach out to tribes in the state. That person's workload also includes all of Colorado, Arizona and Utah.
Scott, who works as chairman of the Veterans and Military Law Section of the Federal Bar Association, has spent much of her long career advocating for more assistance for tribal veterans. At 78, she travels to reservations across the country, offers assistance and reports to Congress about what she sees.
She's described to lawmakers a general lack of awareness among Native American veterans about VA services and how to get them, as well as their limited access to trained advocates and higher than expected rates of denial of veterans' claims.
"We believe American Indians are an underrepresented and underserved group worthy of prompt and greater attention by our government," she wrote in one report to Congress. "Our bottom-line conclusion is that our Indian veterans deserve better than they are currently receiving from the government of the country they served."
Among a host of inequities, the most important problem to address, Scott insists, is a VA policy that prevents tribes from having their own accredited advocates who can log into VA systems and help veterans and their families with benefits claims — a process that is notoriously time-consuming and complex.
If the policy were changed, issues such as health care, economic opportunity and education among tribal veterans would "readily fall into place," Scott believes.
Hampered by regulations Among the handmade jewelry, weavings and pottery inside the art gallery and shop on his home pueblo, Michael Montoya's eyes settled on a small sculpture — a depiction of a Native American man, arms outstretched, symbolically lifting up his tribe.
"That's how I feel," Montoya said. "Like it's all on my shoulders."
Ohkay Owingeh Pueblo is nestled along the Rio Grande River in north-central New Mexico. The volcanic Jemez Mountains rise to the west and the Sangre de Cristo Mountains to the east. To the north, Carson National Forest stretches across 1.5 million acres to the Colorado border.
The main street of Ohkay Owingeh is one block of adobe-style buildings, including the art gallery, a Catholic church and tribal headquarters. On one end of the block is Montoya's office, a squat building that once housed the tribal court.
Three years ago, Montoya repurposed it as a meeting place for veterans from Ohkay Owingeh and neighboring pueblos. He uses the space to help them through the process of securing disability compensation and other VA benefits.
In this pocket of country 30 miles from Santa Fe, Montoya is the only person who provides that kind of support. He does it on a voluntary basis, spending evenings at the office after his full-time job working construction.
The 60-year-old Army veteran speaks with the cynical tone of a man who has long dealt with sprawling bureaucracies, but when it comes to veterans in his community, he has the keenness of a tribal leader eager to help.
VA regulations limit what Montoya can do. His one-man operation doesn't qualify to be recognized as a tribal organization or be accredited through the VA — credentials he needs in order to log into the VA system and file and track claims.
Sometimes, he said, it feels like he's on his own.
"Here we are, the ethnic race who has most served this country, and yet we're the least recognized and assisted," Montoya said.
In November, Montoya invited Scott to hold a workshop with veterans and families in his pueblo. Paul Sullivan, who does veteran outreach with the law firm Bergmann & Moore in Bethesda, Md., accompanied her.
Veterans were called into the small conference room one at a time from a larger room across the hall where they waited, some for half a day, for assistance.
Word got out in the pueblos about the first workshop, and the demand for another one drew Scott and Sullivan back to New Mexico in April. Both times, Montoya took detailed notes about what kind of records the veterans needed and the paperwork he could help them file, even without access to VA systems.
"It's one thing for Carol [Scott], as an attorney, to go there and help veterans. But what's most important is the Native Americans on or near reservations have their own trained, accredited and culturally competent advocates," Sullivan said. "Otherwise, they have to depend on everyone else."
He added: "They have advocates with heart — they absolutely have heart — but they need accreditation."
A dead-end effort The VA allows individuals with federal, state and local organizations to log into VA systems to file and track benefits claims. In March 2017, after realizing the gap in resources for Native American veterans, the VA announced it would give the same credence to tribes.
The agency altered its regulations and opened applications for groups to receive a designation through the VA as a "tribal organization," positing it as an avenue for veterans to get support where they live from people who understand their cultural distinctions.
"Often, these veterans cannot reach existing veterans service organizations or may not be using them due to cultural barriers," the VA wrote at the time. "It is believed that accredited tribal organizations can provide Veterans with better, more culturally competent services."
Scott, who had been pushing the VA for a regulation change, was optimistic. She quickly realized, however, that the requirements were unduly burdensome.
The outcome? What was supposed to be an easier path to benefits for Native American veterans has been a dead end.
Since the VA began accepting applications two years ago, only three tribe-affiliated groups have applied. One was rejected, and another has waited longer than a year for an answer. The third couldn't be reached for comment, but the VA said a final approval decision hadn't been made for it, either.
One of those three groups is the Rocky Boy Veterans Center in Box Elder, Mont., 40 miles from the Canadian border. The group assists veterans across north-central Montana.
Chauncey Parker of the Chippewa Cree Tribe is the organization's executive director. He's 36 and a major in the Army National Guard, which he has been part of for half of his life.
He doesn't know Montoya, but like him, Parker believes he was called to assist veterans in his tribe. The Rocky Boy Reservation was home to 176 veterans in 2011. Of those, 36% had been identified as having physical or mental health problems.
The center was founded in 2015, and Parker and three other staff members help veterans "with anything that can improve their quality of life," he said.
While doing research last year for resources, Parker learned of the VA's process to be recognized as a tribal organization. For now, the reservation's only hands-on help with tracking and filing claims comes from Montana Veterans Affairs, which sends a state representative one day each month.
Parker applied last April. As of January — the last time he heard from the VA — the department said it was still reviewing his submission.
"I would definitely be helpful ... we could start assisting veterans with VA enrollment and benefits," Parker said. "I think the big thing would be if the VA could somehow make this process easier and communicate about it more to other tribal organizations."
The veterans department for the Seneca Nation of Indians in New York also applied for the designation over a year ago but was denied, department director Tisheena Jimerson said. The reason given by the VA was that her organization was too small, she said.
"I think it would have helped to be able to access and file claims out of our office," Jimerson said in an email. "Otherwise, we offer the assistance but do not have access to claims like service officers/service organizations do."
Problems with VA policy Carol Scott has made it her life's work to advocate for veterans. A critical component has always been directed toward Native American veterans, in particular.
She married Michael Allen of the Assiniboine Tribe of Montana, a Vietnam War veteran born and raised on the Fort Belknap Reservation there.
The first time Scott visited Allen's home, she came across a veteran attempting to hitchhike to the closest VA hospital for chemotherapy. At the time, the nearest facility was 300 miles away in Helena.
The moment surprised and alarmed her, and Scott credits it for inspiring her career.
These days, Scott is a regular on Capitol Hill, where she can be easily spotted walking from office to office with the help of her hand-carved spiral cane, her long, gray hair swept into a bun, and turquoise and silver rings adorning every finger.
Her primary mission has been to push Congress and the VA to develop an avenue for tribes to be their own advocates.
"The single most important issue with tribal veterans is the utter failure of the VA to provide for accreditation," Scott said.
The process the VA established in 2017 wasn't the answer Scott had hoped it would be.
The regulations say that for a tribe to have representatives trained and accredited through the VA, they must establish and fund an organization that has the sole purpose of assisting veterans and survivors with their claims.
Scott and the Veterans and Military Law Section of the Federal Bar Association have argued the rules are discriminatory and infringe on tribal sovereignty. The federal VA doesn't require state departments to be certified as organizations, so it shouldn't require it of tribes, Scott said.
When the process was proposed in 2017, Scott predicted fewer than 1 percent of the nation's 500 tribes would be able to apply. So far — with just three applicants — she was right.
"The First Peoples of this country serve and have served since before the Revolutionary War in far greater proportion than any other ethnic group in spite of the violation of ever treaty into which they have entered," Scott wrote to the VA at the time. "They are entitled to meaningful access to all the benefits and services to which their brothers and sisters in arms are entitled. They deserve better."
Montoya also wrote to the VA after the department first proposed the rules. He was supportive of any way to receive training and accreditation, but he expressed concern about the funding requirements.
When Montoya served as Ohkay Owingeh's lieutenant governor in 2015, he saw the need for a representative to help veterans and their families access VA benefits. First, he asked for and received a computer, and then a printer. Eventually, his program took over the old tribal court building.
The operation continues with the help of grants and his willingness to be a volunteer, not a paid advocate.
"I'm in a period of no funding right now," Montoya said. "I'm doing the construction thing because the bills don't stop coming."
A possible turning point The issue of accrediting tribal advocates is being taken up by Jefferson Keel, president of the National Congress of American Indians, the largest indigenous rights organization in the country.
The group is hosting a mid-year conference this week in Sparks, Nev., where Keel planned to bring up the problem with representatives from the VA Office of Tribal Government Relations. Keel, of the Chicksaw Nation of Oklahoma, served in the Vietnam War, which led to a 20-year Army career. He's a former platoon leader and instructor for the Army Rangers. Since his retirement, he's been heavily involved on national boards and committees that aim to protect and improve the quality of life in Indian Country.
"We've been asking for the VA to certify native veterans ... because, you know, we see it as a real necessity," Keel said. "We've got people who are totally competent to get into the system and know how to process veterans claims sometimes better than those who are certified by the state. They're closer to the culture, and they understand the need for veterans in their local communities."
Scott is also there to talk to the group at large Thursday. She hasn't seen much progress on this issue, but there have been recent indications of increased awareness.
After years of advocacy for Native American veterans, Scott senses a turning point.
"I've been going up on the Hill for over 10 years, and only now are people beginning to listen," she said. "We finally have the ear of staff on the Hill of the Indian Affairs Committee and the Veterans Affairs Committee, and I'm working with both of them to try now to do something about this mess."
She credits some of that success to Rep. Mark Takano, D-Calif., the new chairman of the House Committee on Veterans' Affairs. In his first few months in the job, he has turned his attention toward overlooked minority groups, often listing them among his top priorities.
Takano tasked his staff this spring "to better understand the hurdles that Native American veterans face in attaining earned VA disability benefits." Staff members are now reaching out to gather information about their specific challenges.
In the Senate, lawmakers introduced legislation this year to improve VA outreach to Native Americans. It was led by Sens. Jon Tester, D-Mont., Dan Sullivan, R-Alaska, Tom Udall, D-N.M., and Lisa Murkowski, R-Alaska, all from states with large Native American populations.
The measure establishes a VA Advisory Committee on Tribal and Indian Affairs to "facilitate communication and understanding" about veterans' barriers to VA services. Its 15 members who would meet face-to-face with the VA secretary and send to Congress recommendations for bettering Native American veterans' access to VA health care and benefits. The Tribal Advisory Committee Act was discussed at a Senate hearing in May, but it hasn't been taken to the floor for a vote nor has it gained traction in the House.
In addition to a handful of lawmakers, VA Secretary Robert Wilkie has recently given some attention to the issue.
"One of my programs is to go to states that I believe have been ignored by both parties, both Republican and Democratic administrations, and that's Native and rural America," he said.
Wilkie said during a visit to Alaska, he asked the Alaska Federation of Natives to double the number of tribal representatives who specialize in veterans' issues. The federation is a nonprofit that advocates for Alaska Native people.
He has not spoken publicly about boosting the VA's resources for Native American outreach.
Few existing resources The VA has an Office of Tribal Government Relations, which the agency has recently touted as producing results. But there are indications that success exists only on paper.
VA Press Secretary Curt Cashour said the outreach office and other VA staff held 32 claims clinics in 2018 with 24 tribal governments, producing 730 benefits claims. He asserted in an email that the office's outreach efforts were working.
However, at least one staff member in the field has called for more resources to make a real difference.
The office has been appropriated an annual budget of $1.2 million — less than 1% of the VA's total budget for fiscal 2019, which surpassed $200 billion.
Speaking at a clinic in Missoula, Mont., in April, Peter Vicaire, a member of the office, said, "We do the best with the money and time we have."
The office has six people, including five field staff who are responsible for communicating with hundreds of tribes across the country. Vicaire is responsible for 14 states, from Montana to Massachusetts. The remaining states are split between four other employees.
Vicaire is a member of the Listugui Mi'gmag First Nation in Quebec, Canada, and a former U.S. Marine. He earned American and Canadian law degrees, with specialization in indigenous law.
"We're a tiny office with a big job, so sometimes it's really difficult," Vicaire said. "If Congress could tell VA to give us more money to hire more people so we can better cover the tribes that we're assigned, that would be fantastic." At the same meeting in Missoula, Robert Davis, the chief judge of the U.S. Court of Appeals for Veterans Claims, also lamented the office's size and budget.
Davis, a Navy veteran, has held a seat on the Court of Appeals for Veterans Claims for nearly 15 years and is expected to retire at the end of 2019.
"You're in an office of six people as I understand it, and your responsibility is to travel across the country to meet with tribes. That seems like almost an impossibility," Davis said. "The VA budget is huge, billions of dollars. To devote such scant resources to Native American tribal matters, to me, is ridiculous. It is shameful."
With decades of experience, Scott continues traveling to reservations across the country and walking the halls of Congress, where she tells lawmakers and their staffs of her belief that tribes, given their own credentialed advocates, would be better off as a whole. Benefits from the VA would bring money and educational opportunities into these communities, she said.
While she believes the culmination of her work is closer than it's ever been, sometimes it still feels out of sight.
"This battle seems never-ending to me at times — even when there is a glimmer of light in the far distance," she said.
Wentling.nikki@stripes.com Twitter: @nikkiwentling
---
---
---
---